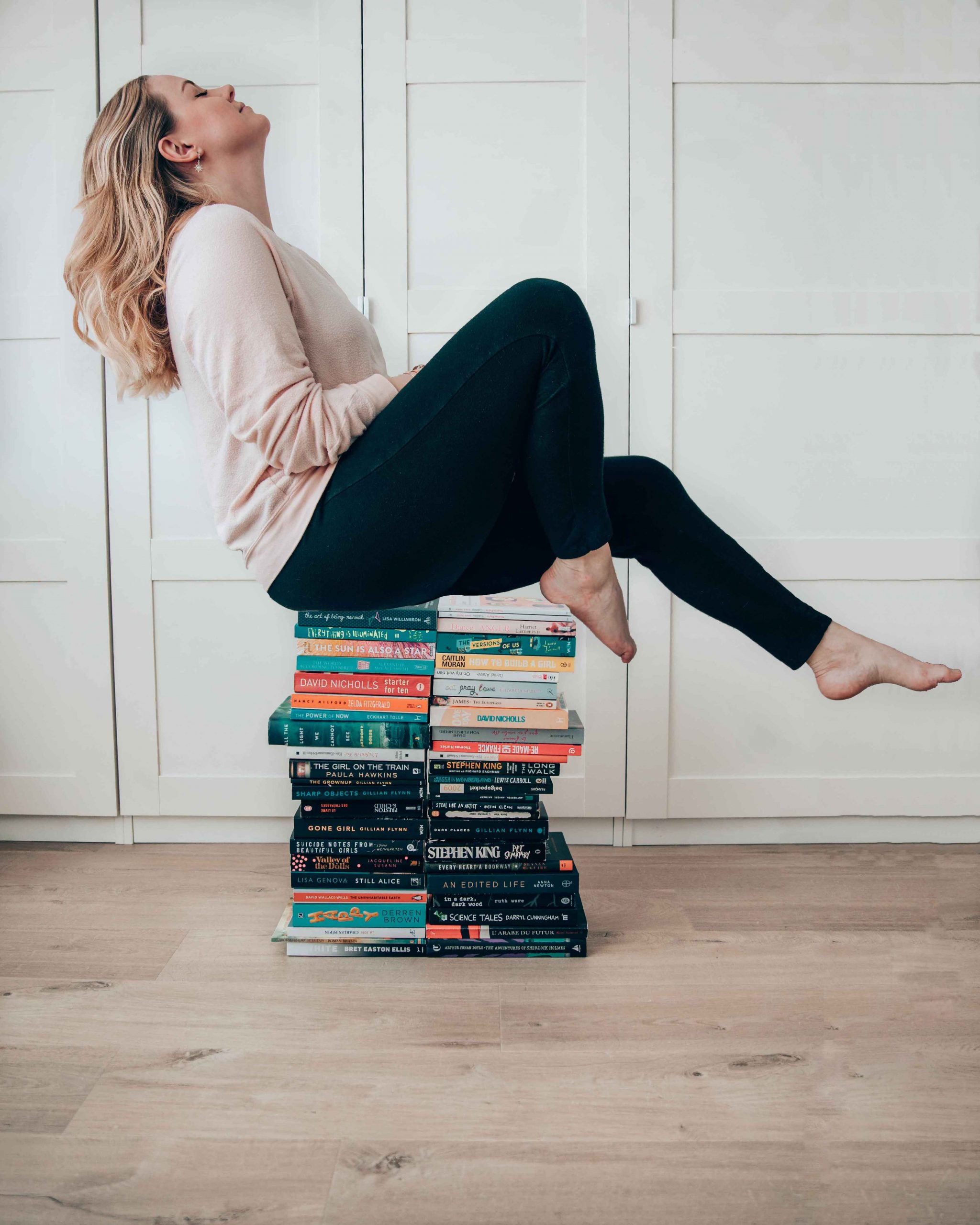 Hello everyone!
I hope that you're doing good today and that you're staying safe and healthy at home. I know that these stressful times can really impact us all, both physically and mentally, so today I wanted to share with you 10 books that I really loved and that are easily available as e-books or as audiobooks, and that will hopefully distract you for a few hours.
All 10 of these books are really different from one another. Some are memoirs, some are thrillers and others are just plain amazing. But they all have something in common: these are all books that I keep recommending to people, as they truly had a big impact on my life.
And if you'd like to read more book content, check out my favorite thrillers &  my tips to read more.
---
Sharp objects – Gillian Flynn
Gillian Flynn is my favorite thriller author. I loved Gone Girl and The Grownup, but my favorite is by far Sharp Objects. In this chilling story, reporter Camille Preakers comes back to her hometown to cover the murders of two young teenagers. She temporarily moves back to her childhood bedroom at her mom's house and she's quickly drawing in her own troubled past.
Available on Kindle & Audible.
Becoming – Michelle Obama
Over the last few years, I've found myself reading more and more memoirs about American politics but Michelle Obama's book was one of my favorites. I listened to the audiobook while we were in Japan last year (I highly recommend it as she's narrating it herself) and I loved getting a glimpse of what living at The White House with two kids must have been like. Furthermore, I loved hearing about Michelle's childhood and education and I found it as interesting as it was touching and even funny.
Available on Kindle & Audible.
Educated – Tara Westover
When I picked up Educated for the first time, I had no idea how much I would love this true-life story. Tara Westover was born and raised in a survivalist family in the mountains of Idaho. Her time was spent working in her dad's junkyard, stewing herbs for her midwife mother or dealing with difficult siblings and it wasn't until she was 17 and away from home that she set foot in a classroom. So how exactly do you succeed in life when you haven't opened a school book before or even heard about the Second World War? Well, Tara not only managed to educate herself on her own, but she also managed to get into Harvard and Cambridge universities. A real touching story of resilience, courage, and positivity.
Available on Kindle & Audible.
Talking as fast as I can – Lauren Graham
As a teen, I remember sitting down every evening with my mum to watch Gilmore Girls. It was our mother and daughter ritual and we loved those two quirky and funny characters. So when I saw that Lauren Graham, the actress who played Lorelai Gilmore, had published her memoirs, I couldn't resist long! I listened to the audiobook that she narrates herself and let me tell you that I had some strange looks from strangers as I was randomly giggling while listening. If you liked Gilmore Girls, you'll love reading this and hearing about anecdotes about the show! And spoiler alert: she's even funnier than Lorelai!
Available on Kindle & Audible.
The power – Naomi Alderman
Imagine a world where everything changed in just a few seconds. One day, teenage girls around the globe discover that they have immense physical power, something that can cause immense pain -or even death- as they please. This book kept me on the edge of my seat and truly explores what the world could become if the power was in the hands of women.
Available on Kindle & Audible.
Behind her eyes – Sarah Pinborough
This thriller is like no other I've read and I remember sitting still for a few minutes to recover after I finished it.
When Louise kisses a man in a bar, she's far from imagining that she'll soon discover that he is her new boss. David, the man from the bar, is also married to Adele and they seem to form the perfect happy couple. But one day, Louise finds herself becoming close friends with Adele, and with time, she gets sunk into their world and she starts to uncover disturbing things…
Available on Kindle, Audible & Scribd.
Wild – Cheryl Strayed
Wild is the wonderful journey of Sheryl, as she's hiking the Pacific Crest Trail by herself with absolutely zero prior experience. Alternating between sadness, suspense and humor, this real-life story is really touching and healing. I absolutely recommend it to anyone that feels a bit lost or that recently experienced a loss or a life-altering moment.
Available on Kindle, Audible & Scribd.
Room – Emma Donoghue
Room is one of those rare books that brought tears to my eyes and that sent my heart racing. While it took a bit of time for me to get into it (it is told by the point of view of a 5 years old kid) I am so glad that I stuck with it.
Jack has only known one place his entire life: Room. Room is where he was born and where he has been living ever since with his mum. Sometimes, his mum hides him in the closet where he has to pretend to be asleep when Old Nicks comes around. In reality, this room is where his mum has been kept captive by Old Nick for over 7 years.
Available on Kindle, Audible & Scribd.
Still Alice – Lisa Genova
Another book that made me cry is Still Alice by Alice Genova. This book is the story of Alice, a 50 years old professor who gets diagnosed with early onset Alzheimer's disease. We follow Alice's daily life as the disease progresses and, having lost my grandfather to Alzheimer, let me tell you that Lisa Genova knows what she's talking about. This book truly captures the essence of Alzheimer's disease and while it is heartbreaking and truly sad, it's also a great demonstration of courage and determination.
Available on Kindle, Audible & Scribd.
Middlesex – Jeffrey Eugenides
My final book on this list is one that I read as a teen but that I keep thinking about all the time. I actually encouraged my husband to read it last year and he confessed to me that it truly resonated with him.
This is the story of Callie who will soon transition to Cal. This book explores gender identity but also intersex, immigration and social commentary. Some parts of the book can feel a bit slow and a bit boring but I promise that this book will change your life on so many levels.
Available on Kindle, Audible & Scribd.
---
Shop the post