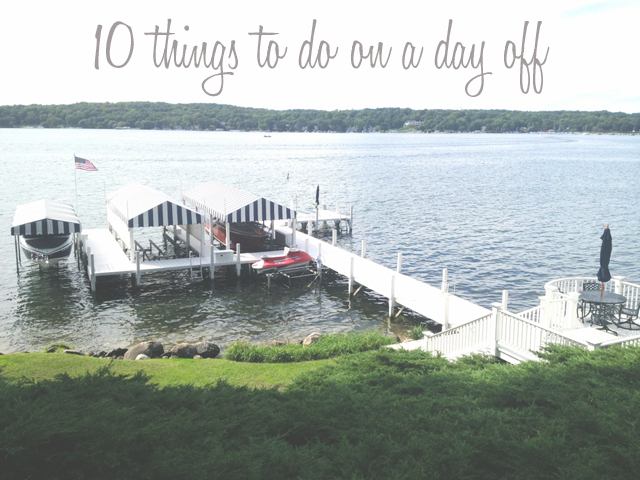 May is probably my favorite month of the year. Not only does it comes with warmer weather and longer days, it is also packed with days off!
Here are my 10 favorite ways to spend a day off:
Play tourist in your own town
Although I grew up in Brussels, I am constantly amazed by the amount of things I still need to discover.  For example, I never ran in 'Le bois de la Cambre' until last weekend and I've never been on top of the famous Atomium (or even inside of it for that matter). Take full advantage of your day off and visit your own town. Visit that museum you've never been to, explore the mythic street in the city center or simply go to this area that you've heard so much about but never visited. You'll be amazed at how beautiful your city is!
Re organize your place
It is no secret that I love a good organization project, especially when it is a fun one. Think about an area of your home that could be improved. Maybe you need a new makeup organization, or maybe your books are slowly invading your place. Head over to Pinterest to get inspired. You'll be amazed at how the smallest change in your home can have a big impact on your life!
Go for a long walk with your loved onesTo me, nothing beats a good old walk with my love and my dog. It is a true moment to ourselves, where we talk about everything and anything and truly enjoy our time together. My dog comes back happily exhausted and so are we! Don't be ashamed to take a little nap afterwards, you've earned it!
Stay in bed all day
Most people will tell you that it's a shame to stay  in bed all day when really it isn't. If it makes you happy then do it! Put on your comfiest pajama bottoms and start a marathon of your favorite TV show (my current obsession is Homeland!). Or make yourself a tea and start a new book. Spending your day browsing Pinterest and Tumblr is also acceptable 🙂
Pamper yourselfI think it is fair to say that we all live busy lives. Always stressed out and always running from a place to another. Make this day off yours and take time to relax and pamper yourself. Start with an early yoga session (there are great yoga videos on Youtube!) and run a hot bubble bath. Exfoliate your skin, apply your favorite mask and style your hair in your favorite hairstyle. It will boost your self esteem and your body will thank you!
Plan a one day trip
Jump in a train or start your engine and head north (or south, or west for that matter!). Spend the day at the beach, go to another town, head over to the countryside. A fun day trip with your friends can be full of surprises! Try a new restaurant out of town or rent bikes by the sea, I promise it will be fun!
Cook for the week ahead
My yummy bites Pinterest board is packed with mouth watering recipes that I rarely try. Why? Because I don't often take the time to cook a (semi) complicated meal from scratch. Beat the lazyness and get cooking! Make a big batch of curry and freeze it for future dinners, bake that apple pie you've been craving for days or try your hands at something completely new, like a mushroom fried rice! Make big quantities and save everything in glass containers in your fridge (or freezer) for the week ahead. I swear you'll be so happy you did when you'll come back exhausted after a long day at work.
Spend the day with your besties
I don't spend as much time with my besties as I should. Sure, we do text pretty often and run into each others at the grocery store, but nothing beats a full day with them. Invite them over for drinks, or coffee, or cupcakes (or all the above) and talk, talk, talk. At the end of the day you'll be full of positive vibes and really, really happy.
DIY project
You should see my garage. Or maybe not. It is packed with stuff for 'future do it yourself projects' that I never did. Put on your old pair of jeans and get started on something you've been wanting to do for quite some time. It can be a nail polish rack (watch my tutorial here), a dainty necklace or a Ikea hack. Make sure to have everything you need on hand and start creating! Do not hesitate to ask for help if you need it. And don't forget to reward yourself at the end of the day with your favorite movie or the latest issue of your go to magazine!
Plan your next vacation
As much as I love travelling, I hate dealing with bookings. I spend hours comparing hotels and flights and eventually give up before booking anything. Gather books and online resources about your dream destination and start planning. Where do you want to go? Who will you be travelling with? What is the best time to go? Even if you don't book anything just yet, save possible hotels and must sees into your browser favorites.