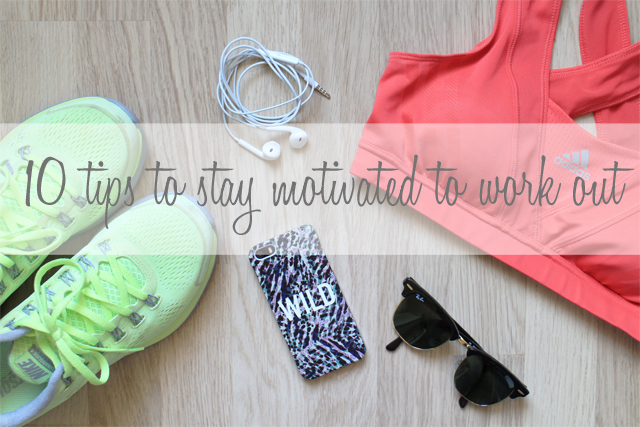 It seems that when it comes to working out, we are the champions of excuses. 'I just washed my hair' 'I don't have enough time' & 'my phone battery died' are all great excuses, but truth is that they don't help anyone.
Now I know that putting on your sneakers and going out for a run might sometimes seems harder than climbing the Mount Everest but I find that with the right motivation and a bit of inspiration you'll be amazed by what you can do.
Click on 'see more' to read my 10 tips to stay motivated to work out!
Set yourself some goals
Setting yourself some goals is the key to see your progress and to keep you going. I am sorry to disappoint you but you're not going to lose 5kg by next Friday or run a marathon in two weeks time. You want to set yourself realistic & manageable goals, both short term and long term, so that you'll be able to reach them and be proud of yourself. Write them down on your phone or in a notebook and check them regularly.
Get a buddy
My boyfriend and I go to the same gym and that is part of why we keep on going. There's always one of us that wants to go and that drags the other one with him! Try to find someone around you that is willing to get in shape as well and start planning 'work out dates'. It could be your sister, your best friend or your neighbor, but the one and only rule is to make it a date that you can't cancel.
Buy cute workout gear
As silly as it sounds, I am more likely to work out if I have something fun to wear. I know that it's pretty superficial, but as long as it works I am fine with it! Lululemon is my go to brand for cute & high quality workout clothes but Forever21 and H&M have some great affordable options as well!
Get inspired
If you're anything like me, you probably spend an unhealthy amount of time on Pinterest, Tumblr & Instagram. If that's the case, make it a great place for motivation. I often reblog inspirational photos on my tumblr or save pretty sneakers on my Pinterest board.
Never stop learning
When I started working out, I had no idea of what I was doing. I would sweat on a bike first thing in the morning and then replace my breakfast with coffee. Bad idea. By reading magazines such as Women Health or Shape, I slowly educated myself about exercise, food and general health. So head over to your local newspaper agent and stock up!
Try something new
If you're bored of lifting weights or running on the treadmill, try something new. Search yoga classes in your neighborhood, go swimming or get into boxing. If you have fun while working out, I guarantee that you will keep going!
If you fail to plan, you plan to fail
I swear by this simple, yet mind blowing quote. If you want to stick to a workout routine, you have got to plan it. Add a monthly calendar to your planner, and start planning running sessions, yoga classes and, of course, rest days! The best part? You get to cross it off when you're done!
Get an app
If you have a smartphone, there are a couple of apps that can turn it into a real personal trainer. Apps like Myfitnesspal, Nike running+ & Mapmyride will help you keep track of your progress but will also help you achieve more.
Do it at home
You don't have to go the gym, or run down the hill to get a proper workout. Watch workout videos online (I personally love Blogilates & Tone it up), get yourself a set of dumbbells and a yoga mat and get ready to turn your living room into a mini gym!
Be proud & reward yourself
This is probably the most important part of it all, be proud of yourself. Keep track of your progress and look how far you've come. Maybe you just managed to run a mile without stopping, or maybe you made it to the gym three times this week but trust me, you should be proud of yourself. Not only did you take the decision to be healthier but you also work for it, so reward yourself! Buy that new pair of shoes you've been eyeing for months, organise a pampering session at home with your best friends or watch your favorite movie… You've earned it!