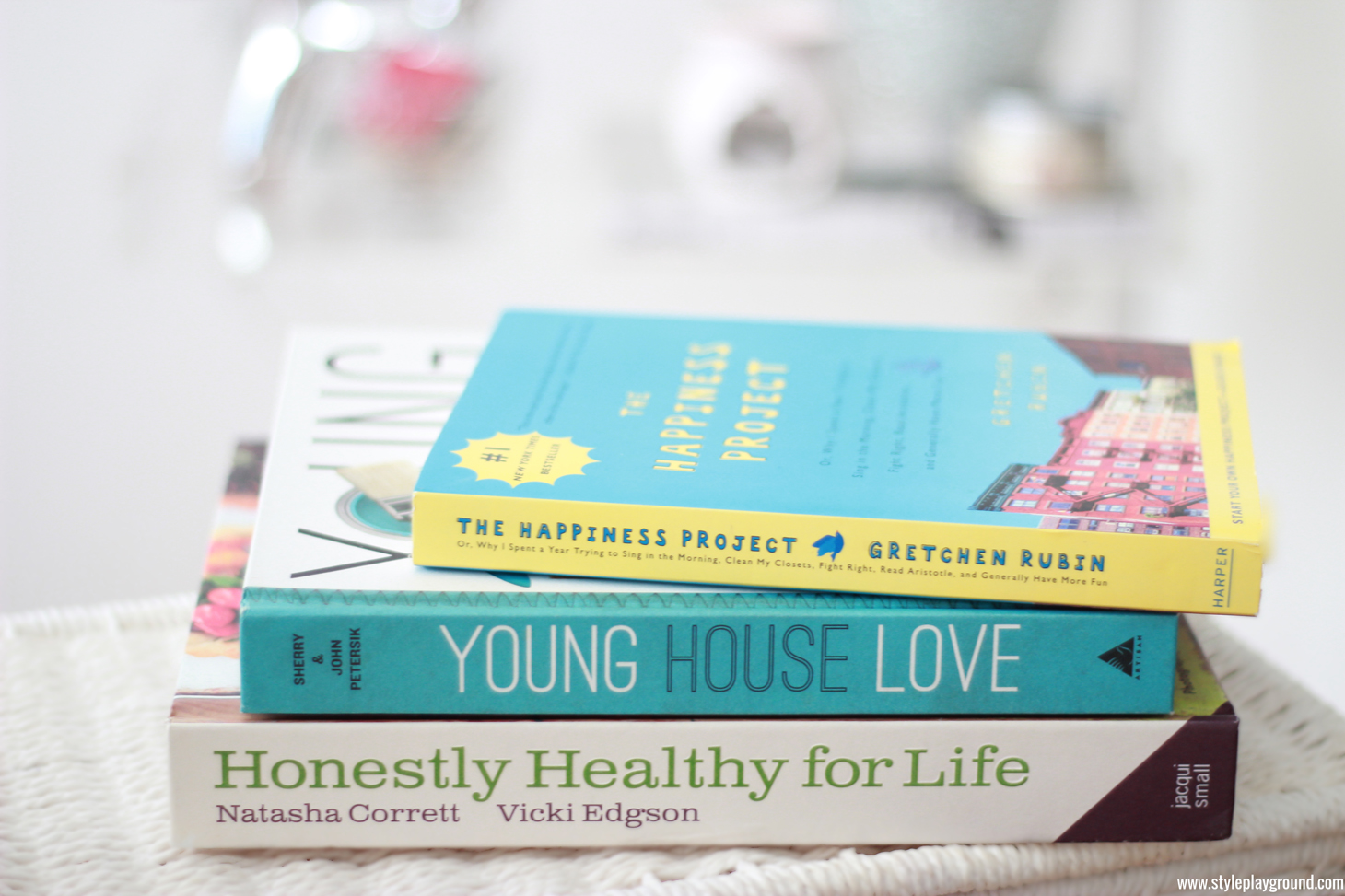 As I told you in my post last Saturday, I tend to do most of my reading on my iPad. I love reading novels, biographies and lifestyle books on there but sometimes I can't resist a pretty book, especially ones that have to do with cooking, fashion or decor. These books are books that I tend to read once and then come back to from time to time. So today I wanted to introduce you to three fabulous books that are just perfect for this time of the year where all we want to do is be happier, eat healthier and show some love to our home!
The happiness project was a book that I was really intrigued by. I heard a few people talking about it here and there but it wasn't until I was at Chicago airport back in 2013 that I picked it up. I made a mental note to read it through 2014 and it was a fantastic book to read. This book shares the story of Gretchen as she makes continuous and conscious decisions to be a happier person. She took a year to really focus on what matters and she shares her personal experience in this inspiring book. What I love about it is that the book itself is divided into months, each focusing around one primary subject. Therefore, it's the perfect book to keep on your nightstand and to read little by little to make small changes in your life that will have big impacts.
Young house love is a book that I already talked about here but it's just THAT good. This book is packed with gorgeous photos, great inspirations and easy DIY projects to transform and update your home. I love to keep this book on my coffee table as it is the perfect book to flip through. I guarantee that you'll find some great projects and that you'll hit the home improvement store in no time!
This book is by far one of my favorite cookbook ever. First of all, it is packed with breathtaking photos that will make you hungry and want to get in the kitchen as soon as possible. But what I really love about it is that it contains recipes for everyday as well as for special occasions. From a sundried tomato pesto (perfect to snack on) to lemon risotto (ideal for a casual diner with you besties), this book is my go to. The recipes are easy to recreate and all the ingredients are pretty easy to find in your local grocery store. My personal favorites? The chia seed porridge for busy mornings and the velvety Bounty bars that satisfies your sweet tooth while being actually good for you!
Do you have any book recommendations? Make sure to send them my way!