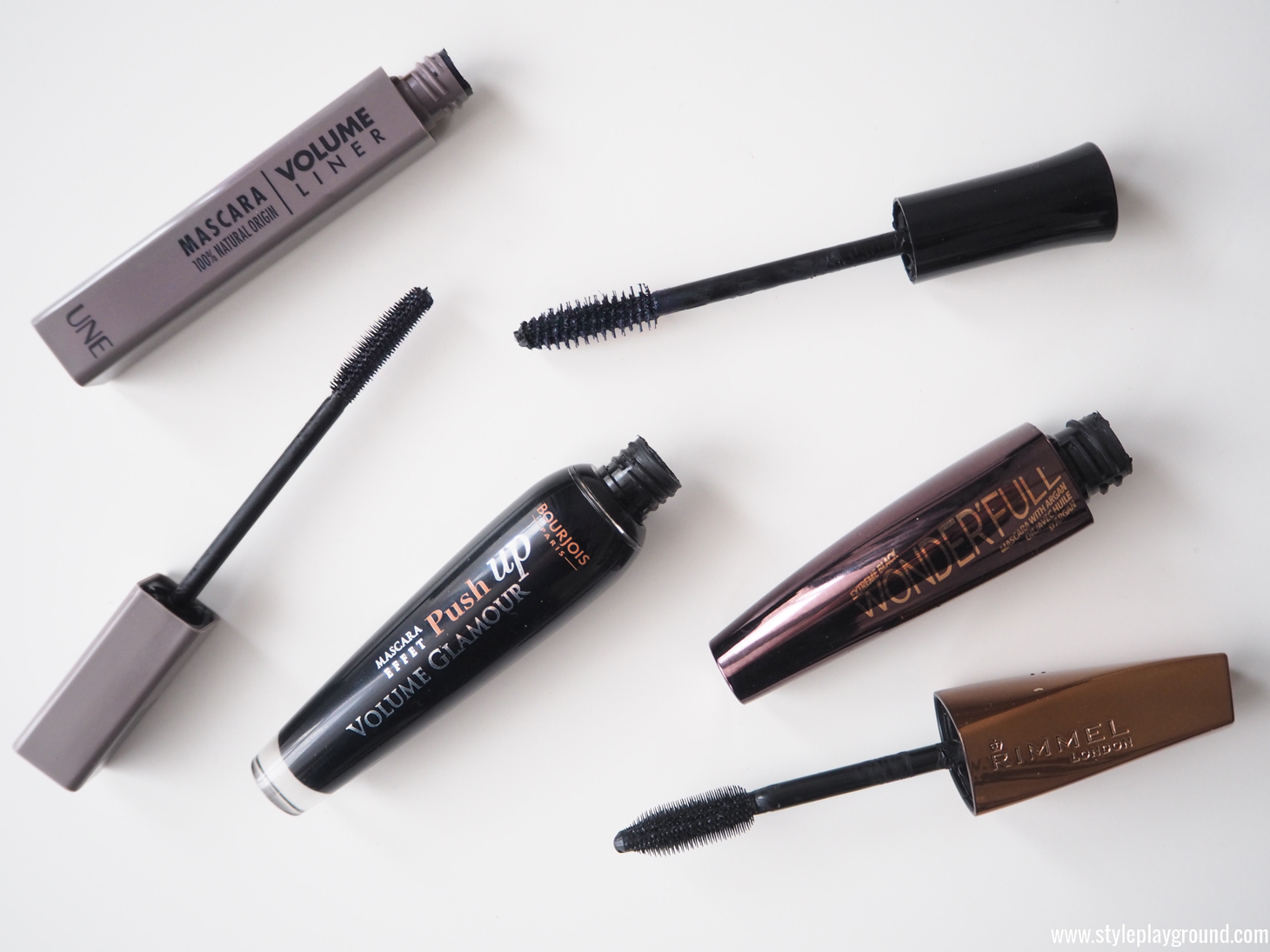 If there's one beauty product that I like to try, it has to be mascara. Finding the perfect formula and the perfect brush is a never ending quest for me and honestly, I love it. Recently, I've been trying three new ones that I really like for different reasons.
Une | Volume liner mascara
It took me a good week or so to fully appreciate this one, but now I am pretty much addicted to the stuff. This mascara has a very liquid formula, which combined with its super skinny wand, allows you to properly coat each and every one of your lashes. The color is really black and the formula really makes your lashes appear longer, which is my favorite thing when it comes to lashes. It claims to fake the illusion of liner and while it certainly doesn't replace a subtle flick, it pretty much create the effect of black eyeliner applied on the waterline. This one stays in place all day long and doesn't crumble after a few hours.
Bourjois | Push up volume glamour mascara
Bourjois is a drugstore brand that I really like but their mascaras are always a big hit or miss with me. Luckily, this one is a big hit! The formula reminds me a lot of the Benefit 'they're real' mascara, which is one of my all time favorites. While this doesn't really coat the lashes as well as the Benefit one, it really gives a ton of volume without feeling crispy or clumpy. The wand is pretty good as well as it is skinny enough to grab all the lashes but still delivers a decent amount of product. The only thing is I do find that this one doesn't hold the curl as great as the Benefit one but it definitely does the job for a night out in the city.
Rimmel | Wonder'full mascara
You might remember this one from the 'new beauty launches' video that I did a couple of weeks ago where I applied in on camera. A few weeks down the line and I pretty much love it. The whole idea behind this mascara is that it is made with argan oil, which conditions the lashes and help them to grow healthier and longer. I love the idea behind this but I wasn't wowed by the result at first. This mascara looks very natural when you put it on and its color isn't as black as I like it. But, despite all of that, I reach for it a couple of times a week. If I am heading to the office, this is the only thing that I apply on my eyes. It subtly defines my lashes and never looks over the top. But what I really like, is how my lashes feel afterwards… They feel more moisturised than before and I don't have any fallouts at all. If I want to go for a bolder look, I use this as a primer before applying another mascara on top to make my lashes look longer and more voluminous.
Have you tried any new mascara recently? Or do you have an all time favorite? Let me know in the comments!