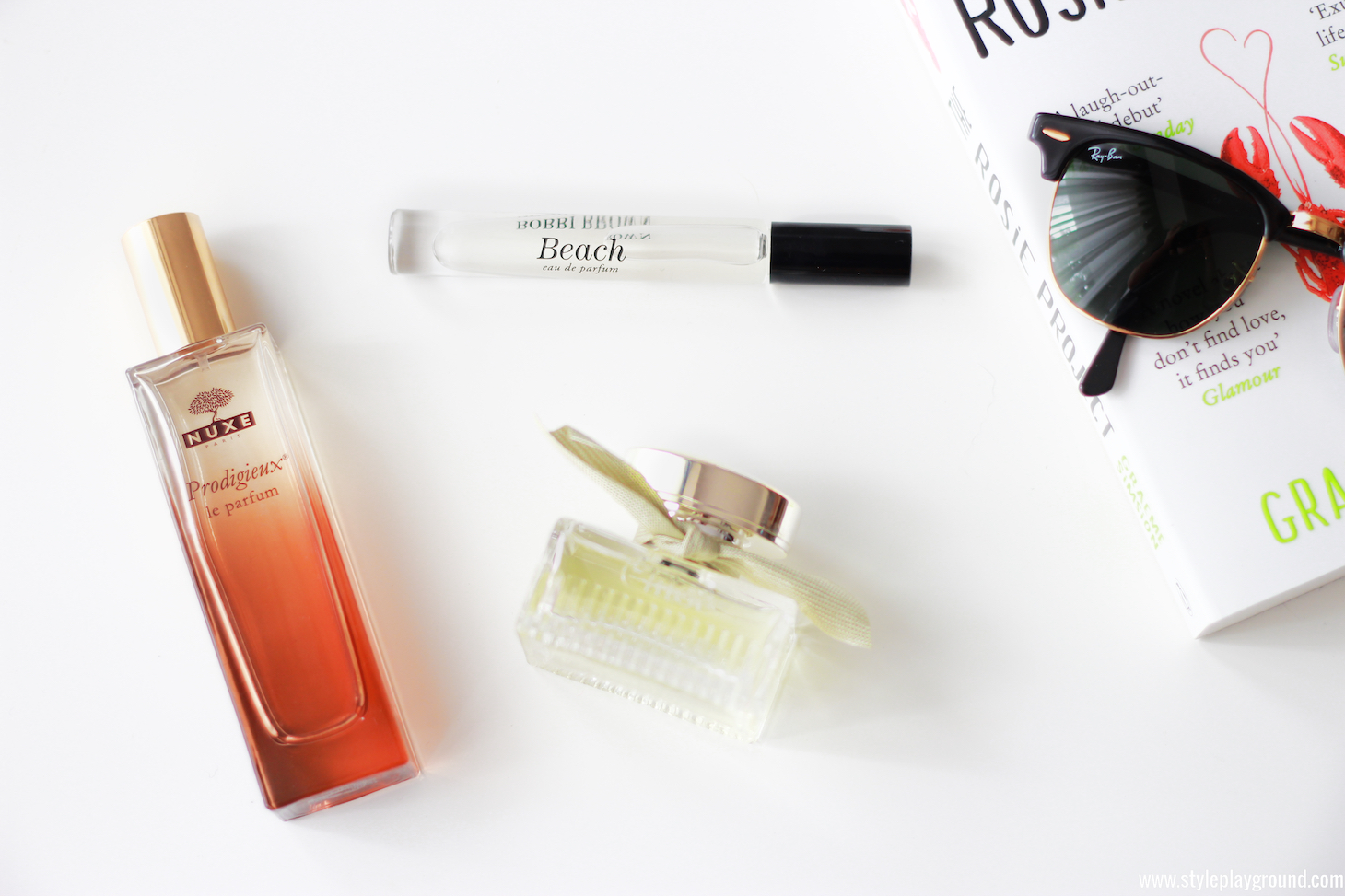 Switching scents in summer is something that I've done quite naturally for a long time. I like to move onto a lighter scent that reminds me of lazy days at the beach and endless nights with my besties. This season, I have three favorites that I absolutely wanted to share with you.
The Nuxe prodigieux perfume has been a staple in my collection for two or three years now. I even bought it for my mum since I love it so much. Totally inspired by the wonderful scent of their huile prodigieuse, this scent is summer captured in a bottle. This perfume has strong notes of vanilla, coconut and even gardenia, which makes it powerful & sweet but with a splash of freshness as well. This is the perfect scent to spray on before a long day at the beach since it lingers for a long time. The Bobbi Brown beach perfume is quite different to anything else that I own. After I sniffed it countless times at their beauty store here in Brussels, I finally caved in and got the rollerball in Chicago earlier this Spring. This scent is very fresh, with notes of lime, salt water & a hint of jasmine. This is pretty empowering at first but it attenuates within minutes. This scent is definitely the most discreet of the bunch and sadly it doesn't last very long on the skin. This would be perfect for an early morning at the farmer's market since it is very fresh but I wouldn't recommend it for a night out. But, if you like fresh scents and want something a little more present, l'eau de Chloe* is the perfect pick. As you might have noticed by now, I am having a real thing for Chloe fragrances at the moment and this one is no exception. This scent smells like peach & patchouli with a freshness that makes it great for summer. It lingers on the skin for a long time and I am yet to meet someone who wears it, which makes it really unique. I absolutely love this one for summer weddings as it is light but unforgettable in the same time.
Do you switch to lighter scents for summer? If so, which are your favorites?