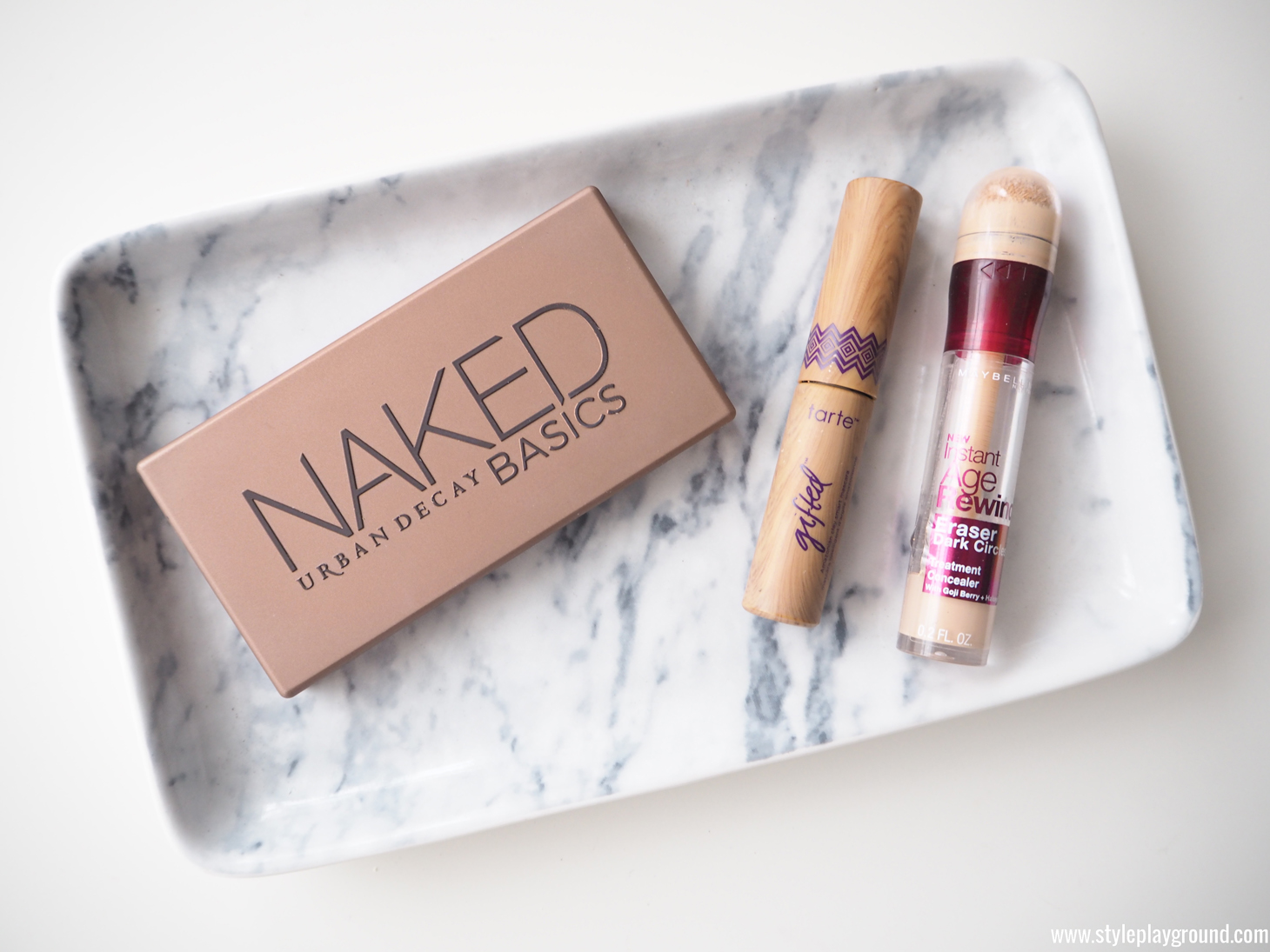 When spring arrives, I always feel a bit blah. I absolutely adore this season as it feels like the perfect time to start fresh, but when the weather outside is gloomy and rainy, it's not exactly the most motivating thing… To avoid that feeling, I've been switching my makeup and doing a little clean up in the same time. Which made me rediscover these three goodies that I absolutely love!
The Maybelline 'instant age rewind' concealer is by far the best concealer that I've tried from the drugstore. I got it last summer in Florida and ever since, I've been reaching for it over anything, including my Nars 'radiant creamy concealer'. This concealer is very easy to apply, thanks to its little sponge applicator. And although this put me off at first (let's be honest, it looks a bit gross after a while), it's honestly very practical to apply the product exactly where you need it. I use it all around my face on blemishes and imperfections but I particularly love it underneath the eyes. It hides dark circles without creasing and leaves the under eye area as flawless as possible. The shade that I have (light pale) is the perfect match for me but I really want to try the highlighting shade as well!A small nifty palette that I've been using for years now is the Naked basics palette from Urban Decay. I am all about matte eyeshadows on a daily basis as I find them perfect to define the eyes without being too obvious and this palette is perfect for that as it contains 6 shades, amongst which there's only one shimmery shade (Venus) which is actually great to highlight the inner corners of the eyes. I like to mix 'foxy' & 'wos' all over the lids and I use a mix of 'naked2' & 'faint' to define my crease. If I am feeling fancy, I'll even take an angled brush and use the shade 'crave' as a subtle liner. These eyeshadows are really creamy and easy to blend but I always use a primer underneath, like the Nars 'pro prime smudge proof' one, to keep things looking fresh all day long.
Finally, a mascara that I've been obsessed with lately is Tarte 'gifted'. I got it as part of a VIB reward set at Sephora and I've been loving it so much that this little travel size is actually completely gone now. I already repurchased the full size one, which is quite rare for me, especially when it comes to high end mascaras. I love its ultra black formula which lengthen and adds volume to the lashes. It stays around all day long without budging and doesn't give my lashes this crispy feel that I absolutely hate. Bonus points? It's very easy to remove with a micellar water or a cleansing oil!
Have you been trying out new beauty products recently?