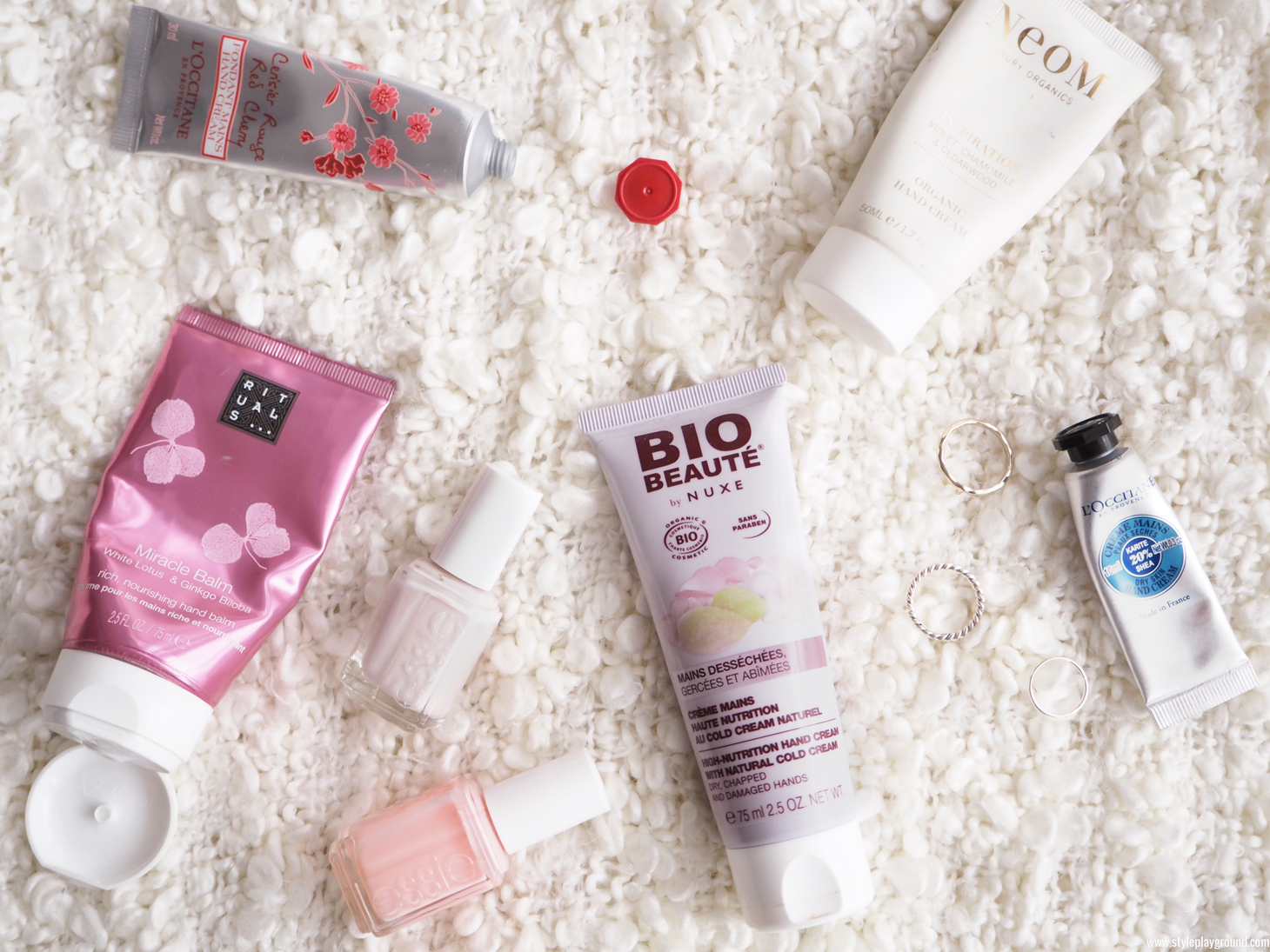 The cold days are definitely back in town and it's time to show some love to our hands! I am not the biggest fan of gloves, so a good hand cream is an essential for me. I always have one in my desk, another in my purse and one in my night stand. Since I've tried my fair share of these over the last year, I thought it was time to introduce you to my favorites.
The Rituals 'miracle balm' holds up to its name. This pink tube sits on my nightstand and is the last beauty bit I do each day. I like to apply a pea size amount of it on my hands and massage it in for a long as I can. This stuff is really thick, so be prepared to squeeze the tube to get it out! It really moisturise your hands but it is extremely greasy as well, which is the reason why I only use it before going to bed.
I am a huge fan of the 'red cherry' perfume from l'Occitane, so it comes as no surprise that I absolutely adore the coordinating hand cream! This cream has a very light & fresh perfume and its gel like consistency sinks into the skin within minutes. This is the one to throw in your handbag for applying on the go.
It's no secret that I am pretty picky about my beauty products. I like things to be as natural as possible while still being glamourous and efficient! Bio beauté by Nuxe is one of my favorite brands and their hand cream with cold cream didn't disappoint. This one has a strong almond scent and makes you crave Ladurée macarons like nothing else. But beyond its incredible smell, it keeps my hands moisturised but not greasy, which is my biggest concern when it comes to hand creams. This is the one that I like to keep in my desk to reapply through the day without having to stand still until it sinks in.
This one is by far the most famous one out of the bunch. This super rich hand cream has been a part of my beauty regimen for countless years and I still love it to this day. Its smell is very comforting and I love to use it during the colder months, just before I cuddle on my couch to watch Love Actually.
Neom 'inspiration'
With a blend of violet, chamomile & cedarwood and an all natural ingredients list, this one is probably the most luxurious of the bunch. I love to save this one for manicures and Sunday pampering session as it instantly transforms my routine into a spa like experience. I've heard that they do the matching candle as well and I am thinking of picking it up to add to my bathroom shelves.