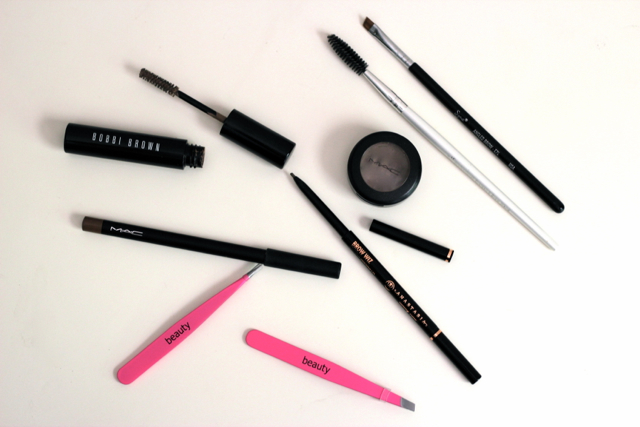 When it comes to my everyday makeup, I like to keep things simple. Beautiful dewy skin, long black lashes and moisturized lips are all I want. But this year, I've been experiencing more with my eyebrows and now I can't think of a single time I haven't fill them in. Beautiful shaped and defined brows really accentuate the structure of your face and add that little je ne sais quoi to your makeup.
But finding the perfect eyebrow product seems to be an endless story on my side. Being a real blonde, I find pretty hard to find the right color from my eyebrows, it is always either too brown or too ashy for me. But over the last few months, I gathered a good amount of tools and products that keep my brows looking rather good!
Products:
Mac eyeshadow in the shade Omega,
This eyeshadow is the closest match to my natural brow color and is loved by blondes all around the globe. Applied with the Sigma angled brow E75 brush, this matte shade will give Cara Delevigne brows within minutes. A couple of months ago this was my everyday eyebrow routine but for the warmer months I've switched to my new favorite…
Anastasia Beverly Hills Brow Wiz in the shade Ash blonde

This little guy only entered my brow department recently but has been well loved ever since I got my hands on it (it even made the cut to my June favorites). This retractable pencil has the finest tip ever, which allows you to draw the most natural looking brow ever and the color is the perfect match for my hairy friends. Score!
MAC Impeccable Brow Pencil in the shade Blonde

This pencil was the first brow product I ever used and I still use nowadays. I find the color to be a bit too brown for me, but this comes in handy when I need to fill in my brows on the rush.  The only annoying bit? This is a real pencil, which means that every other day it needs to be sharpened to remains precise…
Bobbi Brown Natural Brow Shaper in the shade Blonde

This Bobbi Brown eyebrow gel is the latest entry in my makeup bag, thanks to the girls over at (in)significant. This tinted gel isn't exactly the perfect match for me but I love how easily it applies. A few light strokes on my brows and they look more defined and, most importantly, they stay in place the whole day! It would be amazing if it was waterproof tough.
Tools:
The Sigma Angled Brow brush is my go to to apply powder to my brows but I also sometimes use it to pick up a bit of color on a pencil for a less dramatic effect. And this ELF Brow Wand does the job very well and cost only… 1€!
As far as tweezers go, I use this neon pink set that I got at Forever21. It is surprisingly good and I love the fact that I now have pointy tweezers to get to every single hair!