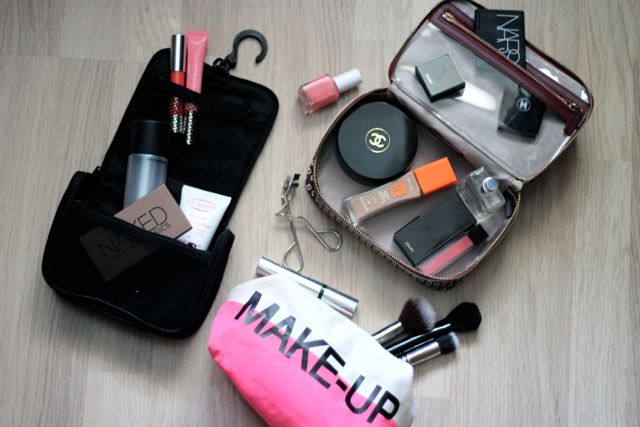 Make up bags are probably one of the most used items in a girl's life. Whether they're lying my our bathroom sink, lost in the depths of our handbags or thrown in our suitcases, they house everything we need to make ourselves prettier. But the truth is that we often neglect them, overpack them or hang onto that 10 years old dirty bag that we love so much.Over the years, I've accumulated quite a serious collection of makeup bags, but these are my favorites. I also made a selection of my favorites ones especially for you!
The top photo gathers my bigger companions. The one on the left is from Muji (get it here) and is the most compact and practical of them all. It has mesh pockets and compartments to divide your makeup and even has a hanger which makes it the perfect companion for weekends getaways.The one on the left is from Diane von Furstenberg (available here). It fits a lot of makeup, as you can see in this post, but lies completely flat at the bottom of a suitcase! The last one, and the biggest of them all comes from Primark and can hold all of my makeup! I even add my makeup brushes in it and everything sits nicely together!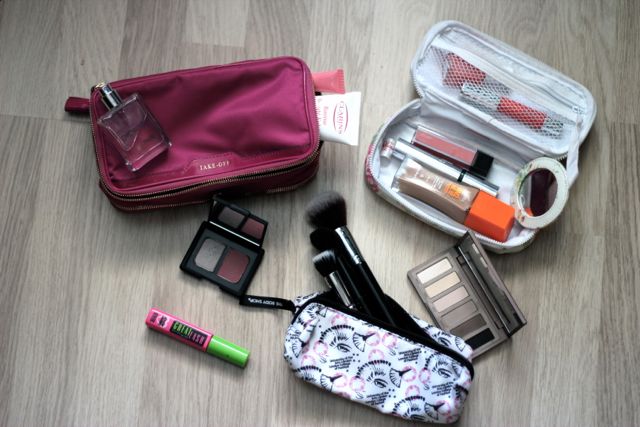 The pink one on the top left might be the most expensive makeup bag ever, but I luckily got it on sale last season. It is from Anya Hindmarch (get it here)  and is dedicated to in flight beauty with two separate pockets maked as "take off" and "touch down". The one on the right is from Cath Kidston and is the perfect companion to carry around a bit of makeup in your handbag. It comes with a mesh pocket and a compact mirror, perfect for touch ups on the go. The bottom one was limited collection at The Body Shop but holds a nice about of brushes while keeping space to a minimum!
Here's my current selection of makeup bags for you! Some fun, practical and cute bags that will follow you in your everyday life!