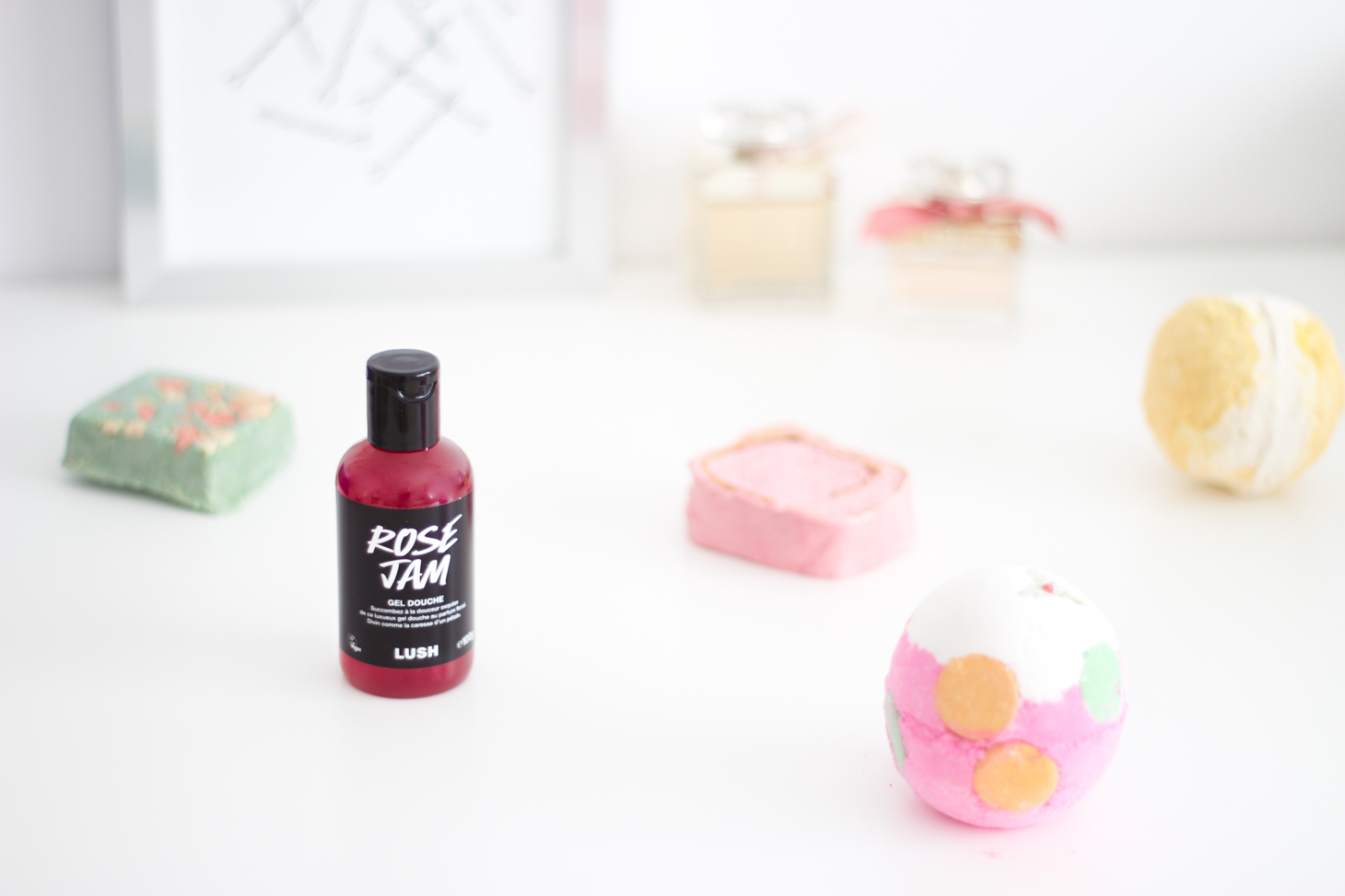 Although Christmas is only a few weeks away, it seems quite far in the same time. The days are getting shorter and shorter and I've found myself craving quiet evenings at home more and more often. And one of my favorite things to do right now in the evening is to take a hot bath while reading my latest favorite book (I just finished this one and it was soooo good!). And to make the whole experience that much better, I love to use a couple of Lush goodies!
My most recent discovery from the brand is the Rose jam shower gel. While I usually crack out a bottle of hot toddy during this time of the year, I decided to try something new this year and got my hands on this after hearing Alix raving about it. And she was absolutely right. This pink shower gel is the perfect mix of rose, vanilla & lemon, which makes it perfect to use in the morning. The scent is very fresh & floral but the fact that this has argan oil in it leaves your skin nice and moisturised after your shower. I've found myself using it on a daily basis recently and I totally plan to stock up anytime soon since this is a limited edition product.
Next up, we have salt & peppermint bark, a gorgeous, very invigorating body scrub. And although this scrub is very efficient, it doesn't leave the skin feeling too dry or too tight afterwards. Its unique peppermint scent is very refreshing which makes it that much better to use.
But when it comes to taking a bath, things are getting even more exciting! I picked up two bath bombs that are fast becoming my favorites. In case you're not familiar with them yet, bath bombs are big fizzy balls that you pop into your bath and that deliver incredible colors & scents. The first one that I chose is yog nog, a vegan bath bomb that smells exactly like traditional egg nog. While it turns the water in a very unflattering yellow color, this bath bomb is actually very nice if you have dry skin. Because it's made of soy milk powder & shea butter, this turns the water into a milky texture that leaves your skin plumped and nourished afterwards. A real must after a long day outside! The other one that I picked up is the now famous luxury Lush pud. This is simply the best thing if you're feeling a bit tense or have trouble sleeping. With its incredible scent of lavender, this bath bomb is the secret to feeling totally relaxed in no time. Finally, the last product of the bunch is probably the strangest one. The icing on the cake roulade is in fact, a sort of shower cream. While this is a bit messy to use (I recommend lathering up in your hands before using it), its incredible scent of chestnuts & lemon makes it the perfect treat after an evening workout for example. This literally melt onto the skin and feels very moisturising as well. One last tip before I go, make sure to store it on a soap holder otherwise it will melt everywhere!
Do you have any special beauty products that you love to get during the colder months? Let me any recommendations down below!