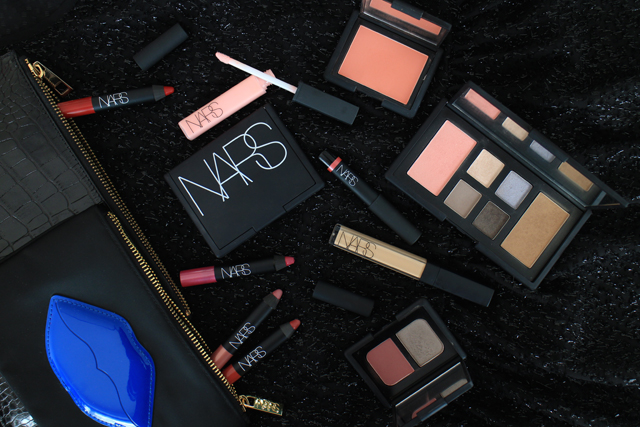 Entering a beauty hall (or a Sephora for that matter) is always a moment of pure joy for me. From exclusive brands to the latest launches, they're always something new to see and try. On the other hand, it can easily feel overwhelming. To avoid you the trouble of walking around like a lost kid and ending up with a bright yellow eyeshadow that you didn't need, I will share with you my favorite products from brands that usually occupy a good spot in those beauty halls. And today, we're starting off with one of my favorite makeup brands: Nars.
I discovered Nars when I was living in Paris. I was drawn to the brand because of their super sleek packages but I came back because of their insane colors. To me, Nars is all about rich highly pigmented colors and creamy textures. Their bronzer in the shade Laguna is my go to color to fake that beach babe tan. It has the perfect shade of golden brown with just the right amount of shimmer in it. I usually pair it with Gilda, a bright coral powder blush that applies like nothing else and stays on all day. When I am travelling, I always bring my At first sight palette as it is really compact but contains everything that I need as far as color go. It comes with a laguna bronzer, an orgasm blush and four eye shadows to create natural looks or subtle smokey eyes. When I fancy something a bit different on my eyelids, I reach for my Grand palais eye shadow duo. I dust a bit of the pink all over the lid before smudging the shimmery gun metal shade along my lash line.
The latest addition to my stash is the Radiant creamy concealer in the shade Custard. This creamy concealer hides everything, from dark circles to red spots and doesn't dry out my skin. I use it every day without fail and feel naked when I don't have it on hand!
Last but not least, Nars has every shade and finish of lipstick that you could dream of. Their velvet matte lip pencils are the easiest way to go if you want a bold matte lip that doesn't look flaky or dry. I currently have four shades hanging around (they all came in a set). The one I reach for the most is Dolce vita, a faded redish rose lip that turns out to be really wearable in everyday's life. If I am feeling a bit more fancy, I reach for Cruella, a true deep red color that surprisingly doesn't me look like a ghost! Never say never is a true fuschia color and I have to confess that while fuschia isn't really my thing, this one ticks all the right boxes. Lasty, Sex machine, is the perfect nud-ish pink shade for a 'your lips but better' result. If you are more of a gloss girl, I highly suggest their Velvet gloss lip pencils. The shade that I own is New lover, a highly glossy coral pink that looks flattering on anyone. Last but not least, their lipgloss in Turkish delight is the lipgloss that made me love lipglosses. The formula is on point, creamy and pigmented without feeling tacky or sticky. And don't get me started on the shade. It is simply the most beautiful pale pink that you'll ever see.
Nars cheat list
Go for: blushes, bronzers, eye shadows and lip colors.
Stay away from: face powders & mascaras.