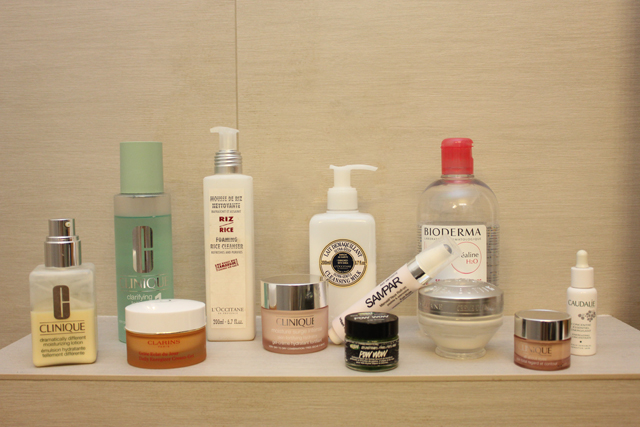 I've always had trouble finding a good skin care routine. As a teenager, I had acne and used Garnier Pure to clear it. It did work but I killed my skin but scrubbing it way too often.
Ever since then, it has been a nightmare to find something that works great with my skin.
My skin is really sensitive and gets dry really easily, especially during winter. So, the key for me is hydration!
I've also learned by experience that my skin needs a constant change so stay at its best. So I switch between a couple of products to keep it nice and healthy.
(Be prepared for a lot of "smooth" and "moisturized", just sayin')
Here's what I use:
Clinique dramatically different moisturizing lotion
This is my day time moisturizer. I apply two pumps of it every morning or so and it keeps my skin moisturized all day long. It doesn't leave a greasy feeling so it is perfect to apply right before your makeup.
Clinique clarifying lotion for dry skin
This is probably one of the only product that I don't switch. It works great on my skin to make it super clean and removes any residue of makeup or pollution left on my skin.
Clarins daily energizer cream gel
This is the day moisturizer that I use when I am not using my Clinique one. I tend to use it more during summer because it is a gel formula so it is not as moisturizing as my other creams but it works great on my skin and leave it fresh.
L'Occitane foaming rice cleanser
I had a little bit of a hard time finding a good cleanser. It was either too much foam (I look at you Aloe cleanser from the Body Shop) or too drying. I decided to give this one a try after I went back to using l'Occitane products, and it is great! It doesn't really have a smell or anything, but it really removes all my makeup and leaves my skin super clean. The only thing is that when I first used it, it broke me out for about a week, but after that, my skin started to look healthy and fresh.
Clinique moisture surge intense
I've been using this gel cream formula for the last two weeks or so and I am totally in love with it! It is super moisturizing and it leaves my face looking glowy and smooth. But the really good thing is that it improves my skin after a while. My skin is now super soft and look super hydrated. Bye bye dry skin!
L'Occitane cleansing milk
I am not a huge fan of cleansing milks but I tend to use it during the colder months just to get extra moisture on my skin. I use this one of my skin to remove my makeup and it works great.
Sampar eye rule roll-on
This eye serum is a real life saver! I've always had trouble sleeping, so this one comes handy for those mornings where I have awful dark circles. It depuffs your eyes and keep the whole eye are hydrated and helps you to look awake!
Lush pow wow lip scrub
I always wanted to try a Lush lip scrub but never decided to spend 10€ on it. I finally got one during sales (this is the Xmas edition one I believe). Ever since then, I am addicted to it! I use it every night (which might seems like a lot but I have really dry chapped lips) and it does wonders (I highly recommend it and I will buy again, but probably not the same one). My lips are beautiful and smooth, like never before! The only surprising / weird thing is that this special one is made of popping candies, which is a bit weird to use!


Bioderma Crealine H2O
I bought this one over a year ago and I've gone through at least 3 bottles of this! I use it to remove my eye makeup (I put a fair amount on a cotton pad that I let it sit on my eye for about 30 seconds before wipping it off). I also use it on my skin and lips.
L'Occitane shea butter face cream
A life saver! I use this one at night time to keep my skin highly hydrated during the night and I wake up to a super smooth skin! The cream itself is really thick, so I make sure to work it a little bit between my fingers before applying it.
Clinique all about eyes
This is the eye cream that I use at night, right before going to bed. It is a simple eye cream that keeps my eye area hydrated and smooth.
Caudalie energizing concentrate serum for sensitive skin
I use this serum under my night cream when I feel that my skin could use some extra moisture (after a day outside for example). It really sinks into my skin and help it to recover.
❤
Axelle
You can also follow styleplayground there: TWITTER | BLOGLOVIN | FACEBOOK