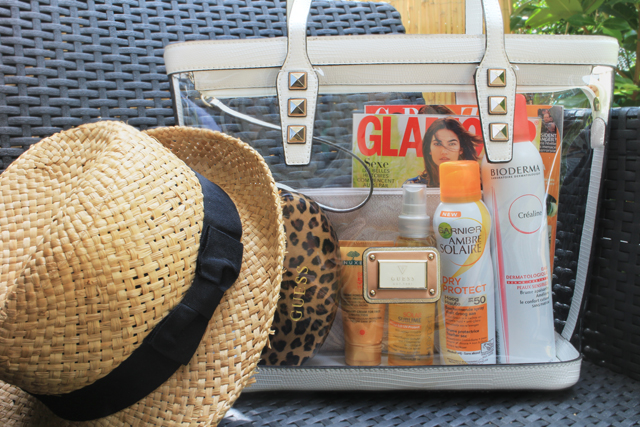 Since I am heading to Florida tomorrow, I thought it would be fun to share with you my beach bag must haves.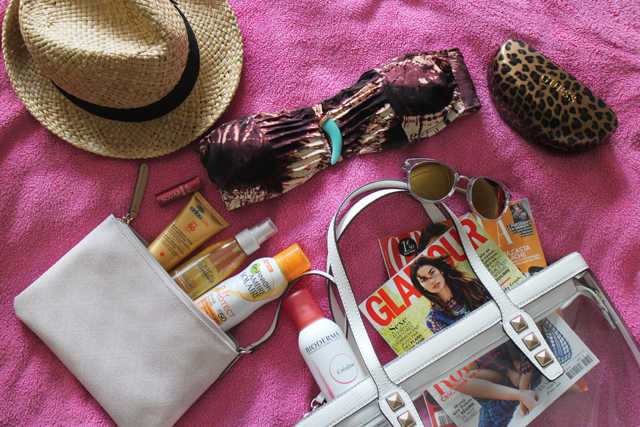 First things first, choosing the right beach bag is essential for me. This one from Guess fits the bill perfectly as it is made of clear plastic (so easy to wipe clean!) but still has some nice features, like the studs on the handles and the detachable pouch that is perfect to store your phone and wallet in.
I always start with a good dose of SPF. For body, I love the Garnier 'Ambre solaire dry protect SPF50' as it comes in a spray and does leave a white cast on the skin. For my face, a pea size amount of Nuxe sun 'fondant cream SPF50' is usually enough to cover my whole face. While I love the smell of it, it's really its fondant texture that sold me. A few spritz of the l'Oréal professional 'solar sublime advanced protection conditioning spray' in my hair, and I am ready for some chill time on my towel!
A new addition to my beach bag is the Bioderma 'crealine eau dermatologique', a cooling and soothing spray specially designed for sensitive skin. Whenever I am feeling a bit too hot, I use a bit of it on my face and it makes the world of a difference. For my lips, I usually go for a tinted lip balm, such as the Fresh 'sugar passion lip treatment' that has a light SPF in it. Not only does it keeps my lips nourished, it also delivers a nice wash of color to my pout.
Once all of that is packed, I add in a pair of fun sunglasses, like this pair from Guess. These are super light and have fun reflective glasses on them! I also throw in my favorite bikini of the moment in the bag, which is this fun bandeau one from H&M as well as a straw hat and a couple of magazines and I am good to go!
Do you have any must haves for the beach? Let me know in the comment section below!