When you live in a city that never sleeps or next to a beauty salon, it's easy as ABC to get perfect nails all the time.But when you don't, it's a different story.My hands are far from perfect. They look masculine, have short square nails and I also have a big scar on the right one (but thank God, no one notice it unless I tell them).So, having fun nails and rings is a real must for me.
Everytime I have a spare hour, I like to treat myself to a little manicure.
Here are all my tips!
Quand on vit dans une ville qui ne dort jamais ou à côté d'un salon de beauté, c'est super simple d'avoir des ongles parfaits tout le temps.
Mais quand ce n'est pas le cas, c'est une autre histoire.
Mes mains sont loin d'être parfaites. Elles sont masculines, mes ongles sont courts et carrés et j'ai une énorme cicatrice à la main droite (mais heureusement personne ne la remarque si je n'en parle pas).
Alors, avoir de beaux ongles et de belles bagues est un vrai must pour moi.
Dès que j'ai une heure de libre, j'en profite pour me faire une petite manucure.
Voici toutes mes astuces!


Step 1: prepare everything you will need:
Etape 1: préparez tout ce dont vous avez besoin:


Nail polish remover / Du dissolvant
Cotton pads and buds / Des coton tiges et des disques à démaquiller
Cuticule oil / Un soin pour cuticules
A base / Une base
A polish / Un vernis
A top coat / Un top coat
A wooden stick / Une bâtonnet en bois
A cuticule remover / Un outil pour les cuticules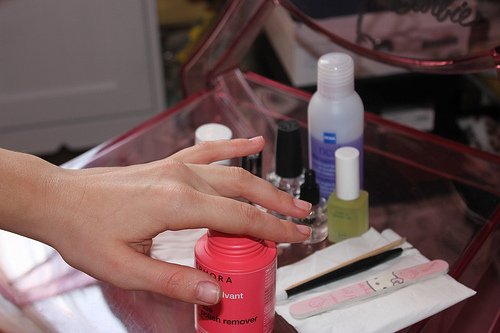 Step 2: remove your old polish
Etape 2: enlever son ancien vernis
Use a cotton pad first to remove most of it, and finish with cotton buds. Make sure to remove all of it!
Utilisez d'abord un disque à démaquiller et finissez avec des coton tiges. Assurez vous de bien tout enlever!
My tip: I always use the Sephora express nail polish remover (it's so easy, all you have to do is put your nail in it and your old polish is alerady gone!).
Mon astuce: j'utilise toujours le bain dissolvant express de Sephora (il suffit de plonger son ongle dedans et hop, l'ancien vernis est parti!).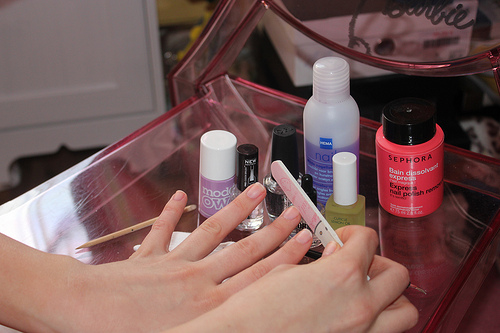 Step 3: file your nails and buff it if necessary
Etape 3: limez vos ongles et polissez les si nécessaire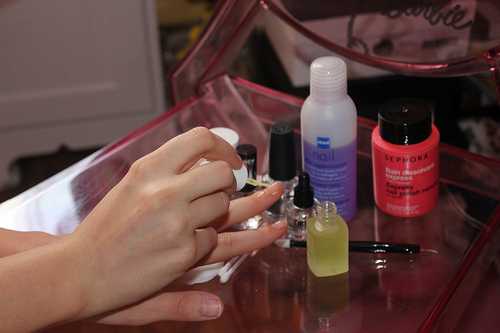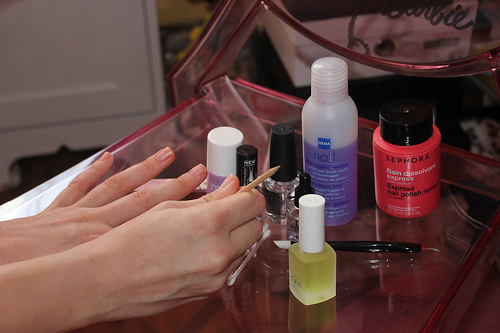 Step 4: cuticule work
Etape 4: s'occuper des cuticules
Wash your hands and brush your nails to remove small particules / Lavez vos mains et brossez vos ongles pour enlever les petits résidus
Apply your cuticule oil all around your nails / Appliquez votre huile à cuticule tout autour des ongles
With a wooden stick, push back your cuticules / Repoussez vos cuticules à l'aide d'un bâtonnet en bois
Remove any excess oil / Retirez l'excédant d'huile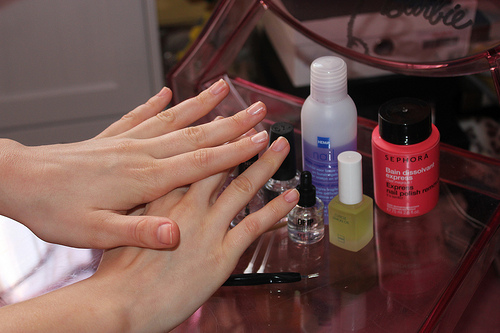 This is how your nails should look / Voici la tête que devraient avoir vos ongles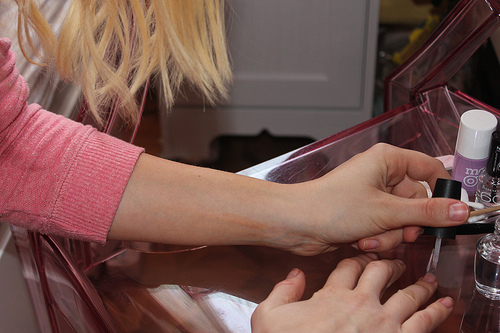 Step 5: apply a base
Etape 5: appliquez une base
Always apply a base under your color. It helps your polish to stay longer but it also protect your nail from turning yellow!
Appliquez toujours une base avant votre couleur. Non seulement il  aide la couleur à tenir plus longtemps mais il empêche aussi votre ongle de jaunir!


My tip: I love OPI start to finish. It works as a base and as a top coat and dries quickly!
Mon astuce: j'adore le OPI start to finish. Il sert à la fois de base et de top coat et sèche rapidement!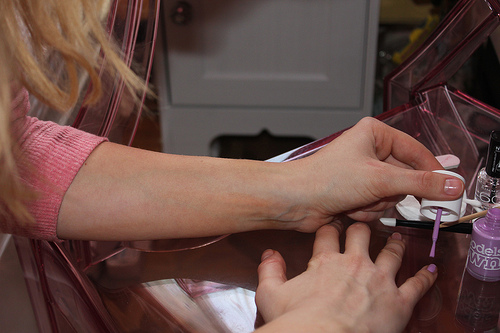 Step 6: apply your color
Etape 6: appliquez votre couleur
Start from the center, and then do the sides.
Commencez au centre et faites ensuite les côtés.
My tip: apply 3 thin coats than 1 thick, you color will dry quicklier that way!
Mon astuce: appliquez 3 couches fines plutôt qu'une épaisse, votre couleur sèchera plus vite!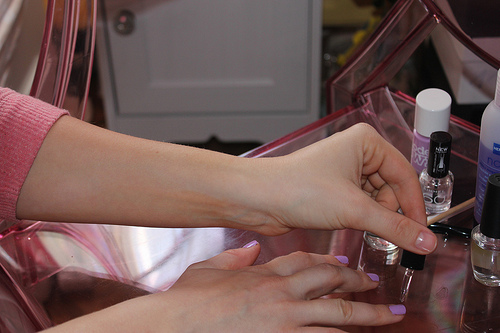 My tip: I always use OPI drip and dry. One drop per nail and you color dries in a minute! Mon astuce: j'utilise toujours les goutte OPI drip and dry. Une sur chaque ongle et la couleur est sèche en une minute!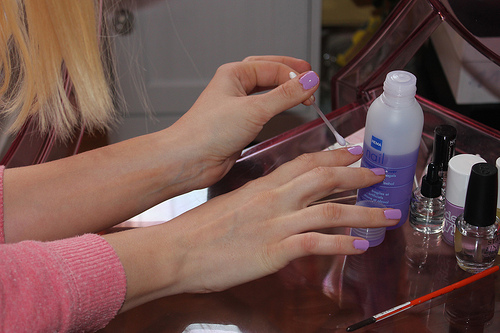 Step 7: clean up the mess
Etape 7: nettoyer le bazar


Use a cotton buds with polish remover to remove any smudges.
Utilisez un coton tiges imprégné de dissolvant pour enlever toutes les bavures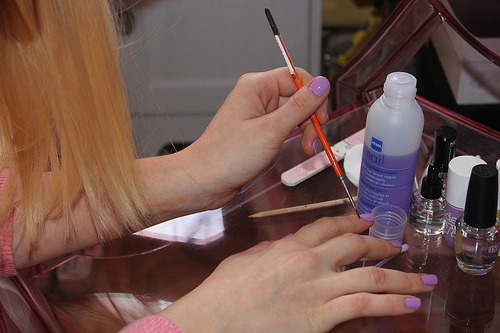 My tip: I use a thin brush to do the trickier parts
Mon astuce: j'utilise un pinceau fin pour faire les parties les plus compliquées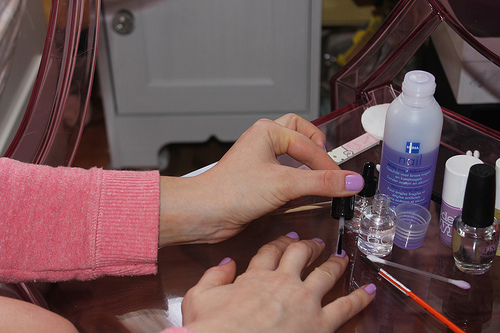 Step 9: apply your top coat
Etape 9: appliquez votre top coat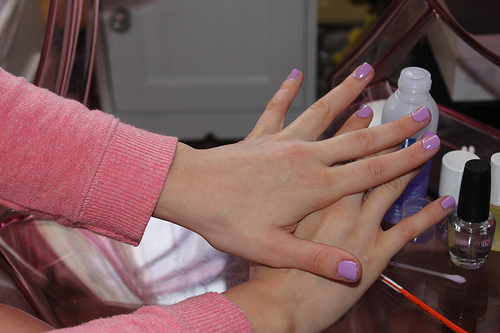 And you're done!
Et voila!


Sephora express nail polish remover
Hema nail polish remover 
Hema cuticule oil
OPI start to finish
OPI drip dry
Rimmel London 30 seconds transparent polish
Models Own in lilac dream