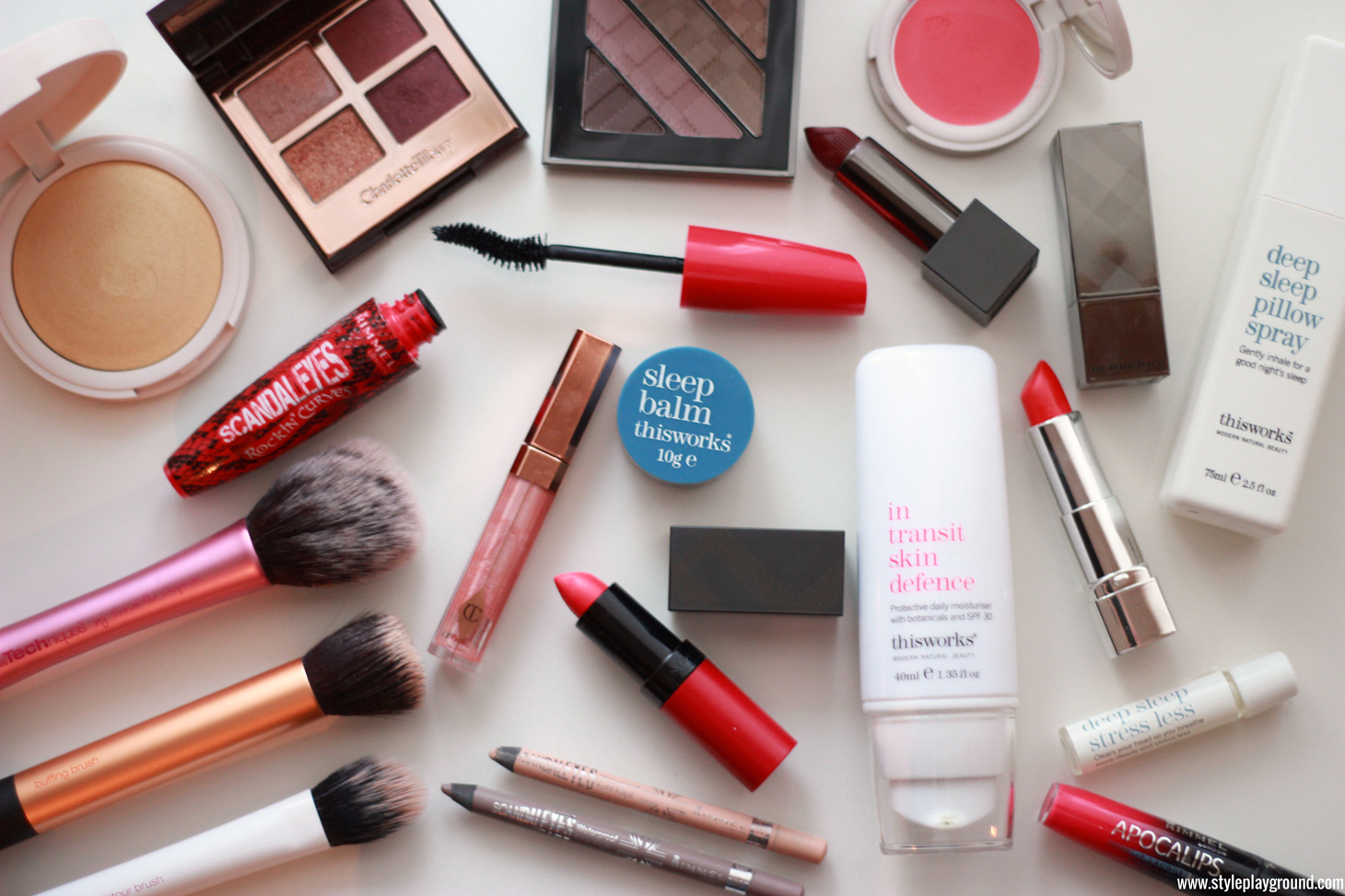 Every time I hop on a train direction the UK, I get utterly excited about two things: the food & the beauty shopping. I can easily spend an afternoon lost in the aisles of Boots and call the Liberty beauty department my second home. My wallet is packed with beauty loyalty cards from across the pond while I only have two for mainland Europe (Sephora & Di in case you're wondering). So it was about time that I shared with you which British beauty brands truly rock in my opinion!
Topshop
Topshop is my go to place for cool & affordable basics. I love their jeans and could spend my life in their maxi jumpers, but recently I've been getting more & more into their beauty offering. Their collection has expanded massively these past few years but I think that they nail it when it comes to face products. My two favorites are the 'neon rose' blush, a creamy coral shade that looks as beautiful on the cheeks as it does on the lip and the highlighter in 'sunbeam', a gold & shimmery highlight that looks surprisingly natural when you have a tan.
Charlotte Tilbury
When I first watched this video of Charlotte Tilbury, I knew nothing about her. After a few minutes, I was already googling her only to find out that she is one of the most famous makeup artist in the world! It wasn't until last year that I picked up some bits from her counter at Selfridges but since I've been adding more & more of her products onto my wishlist. My current favorites include her luxury palette in 'the vintage vamp' that offers 4 incredibly pigmented eye shadow shades. I love to use this palette in conjugation with her iconic liquid eye pencil in 'elizabeth violet' for those nights out where I fancy wearing something a bit sexier than usual. My other favorite from her range is the lip lustre luxe in 'Blondie'. This nude gloss is something that I would usually stay away from, but somehow, it is the perfect pairing with a bronze smokey eye.  This 'my lips but better' shade is not sticky at all and the pearly shimmer inside of it makes your lips look fuller. Oh, and for those of you who are not in the UK, you can order her line on Net à Porter!
Burberry
Oh Burberry, Burberry, Burberry… When I am not drooling after one of their fabulous trench coats, chances are that I am swatching all their lipsticks at their one (and only) counter here in Belgium (at Inno Louise for all of you Belgian ladies!). Their makeup range is flawless and the perfect illustration of what the brand is all about. Think simple products & neutral shades for a polished but very natural look. I love their complete eye palette in 'pink taupe' which has 4 very different shades inside. And surprisingly, even the pink & the khaki shades are incredibly easy to wear. I also adore their lipsticks that come in the most luxurious packaging ever. Although these are fairly small (only 3,5gr) they are worth every penny. The pigmentation is on point while the texture is really comfortable. My go to shades are 'bright poppy', a dark oxblood matte shade & 'feather pink', a beautiful peachy pink that ticks all the right boxes.
Rimmel
Rimmel is a brand that doesn't need an introduction anymore. But it's easy to feel a bit confused when you're looking at their counter at the drugstore, right? My personal favorite include the Scandaleyes 'rocking curves' mascara that has a totally unique brush. But one of my all time favorite beauty products (and by all time, I mean all time) is the Scandaleyes Kohl Kajal eye pencil.  I own pretty much every shade that they make but my two favorites are 'nude' and 'taupe'. These pencils are creamy, really soft and stay a long long time on your eyes, even on the waterline. If you're more of a bold lips kinda gal, I highly suggest having a lot at their Apocalips, Kate Moss lasting finish & moisture renew lipsticks. These have all very different textures but they are all equally fab.
Real Techniques
Makeup brushes can get pretty expensive, and while I love a good MAC or Bobbi Brown brush, I have to say that the Real Techniques brushes are quickly taking over my entire brush collection. These brushes are made with synthetics bristles and are perfectly designed to suits every need. I use the 'blush brush' everyday to apply bronzer, I swear by the 'buffing brush' to apply any foundation or tinted moisturizer and I reach for my 'duo-fiber contour brush' to apply any cream product to the cheeks. I could go on and on about these but we'll still be here tomorrow night!
This works
This works is a brand that does it all in my opinion. Their product range is quite unique and I often find things that I didn't know I needed until I tried them. The 'deep sleep pillow spray' is a must for long nights of sleep while the 'deep sleep stress less rollerball' comes in really handy during bumpy plane rides. Basically, all their range of 'deep sleep' product is totally fabulous. Last, but not least, I use the 'in transit skin defense' SPF every single day. It's really liquid and therefore sinks into the skin within seconds without leaving any white cast behind. While the formula isn't 100% perfect ingredient wise, it's the closest that I've found to the perfect sunscreen.
Do you like any other British beauty brand that I didn't mention? Do not hesitate to leave your suggestion in the comments section!