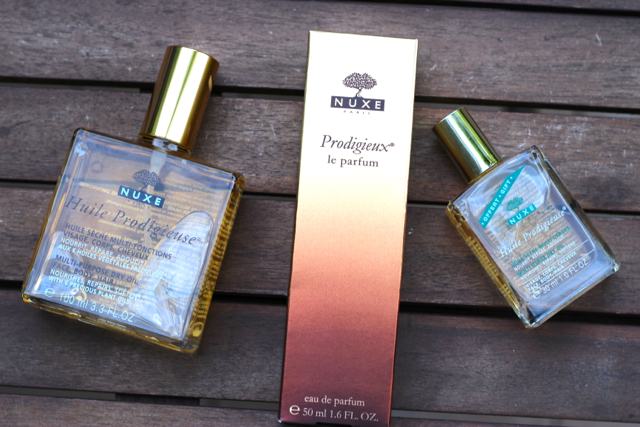 Bonjour tout le monde, j'espère que vous allez tous bien!
Je pars à Paris ce soir pour quelques jours dans la capitale avant de m'envoler pour Chicago jeudi mais je tenais à vous proposer un petit concours avant de partir! L'été touche tout doucement à sa fin mais grâce à Nuxe vous allez pouvoir faire durer l'été un peu plus longtemps!
Cette semaine, je vous propose donc de gagner un lot Nuxe composé de deux Huiles Prodigieuses (une full size et un format voyage) ainsi que le dernier né de la marque, Prodigieux le parfum. Si vous lisez mon blog régulièrement, vous savez que je suis une vraie fan de Nuxe et tout spécialement de l'Huile Prodigieuse. Je l'ai déjà mentionnée dans de nombreuses vidéos ainsi que dans cet article. Je l'utilise à la fois sur le corps et les cheveux mais aussi dans l'eau du bain pour un pur moment de relaxation!
Pour participer, rien de plus simple, suivez les règles ici dessous, et bonne chance!
——
Good morning loves! I hope you're all doing well!
I am leaving for Paris tonight for a couple of days before flying to Chicago on Thrusday, but before that I wanted to spoil you with a little giveaway!
Summer is slowly coming to an end but I teamed up with Nuxe for a really cool giveaway this week to make summer last a bit longer!
The prize? Two Huile Prodigieuse (a full size and a travel size) as well as their latest release Prodigieux le parfum!
If you read my blog often, you will know that I love Nuxe products, especially the Huile Prodigieuse. I mentionned it in countless videos as well as in my "oiled up" post. I use it on my body, my hair and in my bath for a true relaxing moment!
To enter, simply follow the rules below and good luck!