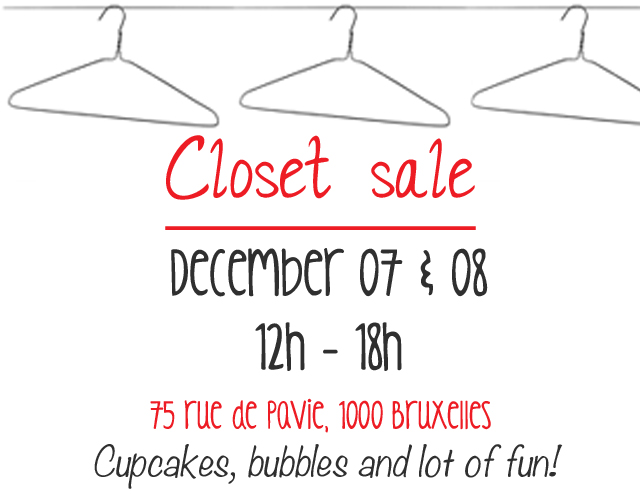 I feel like we've all been there… You know the deal, a wardrobe packed with way too many clothes, some with their tag still attached… And I am totally guilty of that. Instead of continuing to accumulate clothes and accessories in my closet, I decided to organize my first ever closet sale with one of my best friend. I feel like I have some great pieces that deserve to be worn more often and I wanted to give you the opportunity to give them a second life!So, be prepared for a lot (and by a lot I mean A LOT) of clothes, shoes and accessories but also delicious cupcakes hand made by my friend Aurore, some bubbles and a good dose of fun!
Rendez-vous is set on December 7th and 8th at 75 rue de Pavie in the center of Brussels and we'll be waiting for you from noon to six in the evening.
Don't forget to join the Facebook event by clicking here as I'll be posting previews of what we'll be selling!
P.S: if you can't make it to the closet sale, we'll have a couple more items up for sale in my Tictail store!