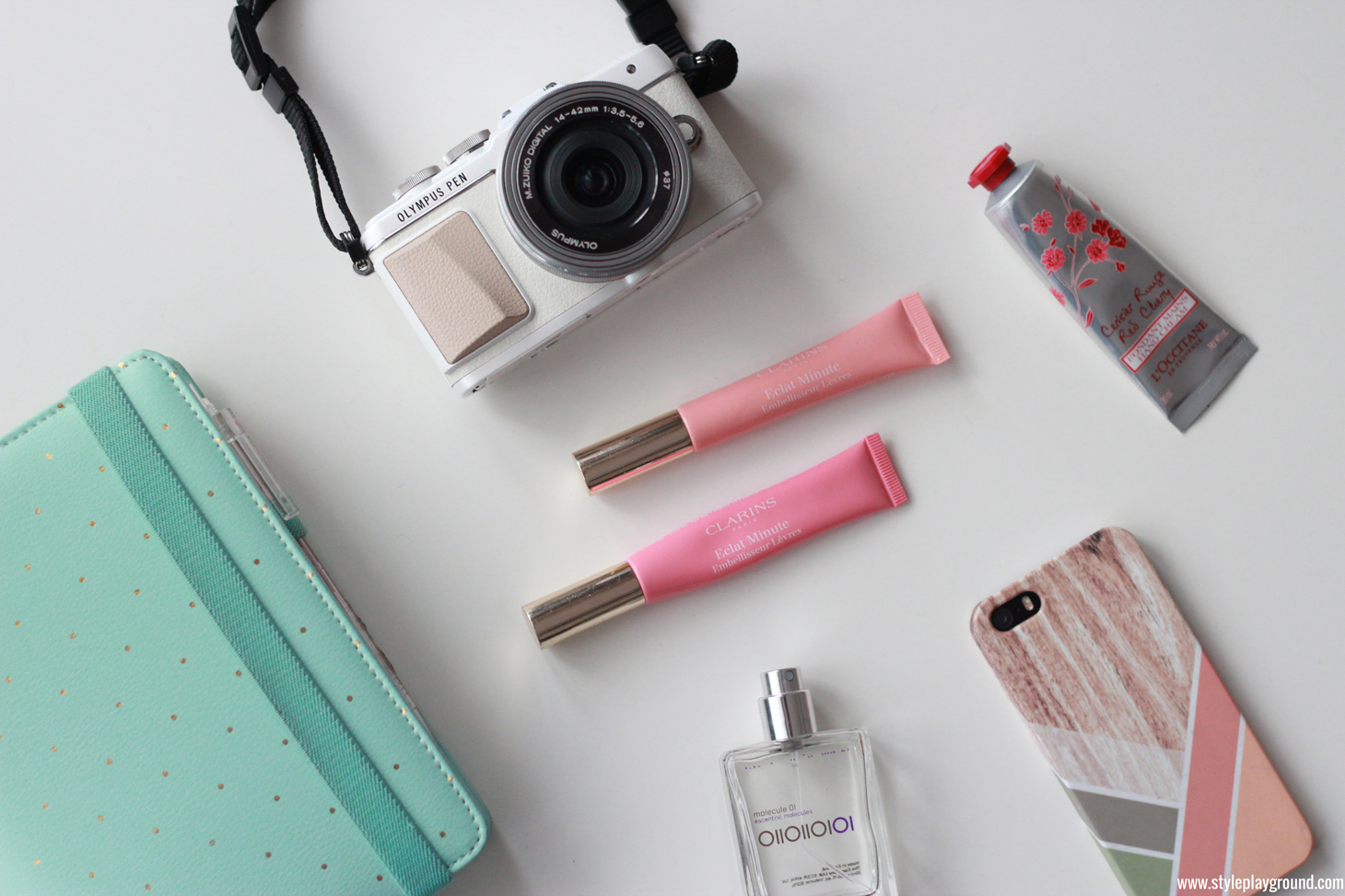 I don't know about you guys, but I find myself gravitating towards the same things each and every day. I call these my 'daily essentials' because that is exactly what they are. And since it's Monday (bouh!), I thought it would be fun to share them with you!
Olympus PEN E-PL7
Ever since I got my hands on this camera back in September, it has been following me everywhere. Whether I am shooting photos for the blog, taking an instagram shot (the camera connects wirelessly to my phone) or vlogging on the go, this little goodie comes in very handy everyday. I love how retro and stylish it looks without compromising on the quality! If you're curious about this camera, you can read my full on review right here.
Clarins – Instant light lip perfector
Do these really need an introduction anymore? I love them so much that even my fiancé's friends know these as Axelle's must have (true story!). These lip glosses are simply the best out there. They're creamy, deliver a subtle wash of color and keep your lips moisturized without being sticky. No more hair stuck on your pout! My favorite shade out of the bunch is #01 'rose shimmer', a bright pink, but I also love #05 'apricot shimmer', a beautiful peachy shade. Read a full review of these here.
L'Occitane – red cherry hand cream
L'Occitane hand creams have been part of my beauty regimen for years now. While I love the shea butter formula, I find it a bit greasy for everyday use so I rely on the Red cherry one on a daily basis. The smell is just divine and this gel like formula keeps my hands soft without all the fuss! Read my full review about it here.
iPhone 5S
I am pretty sure that we're all on the same bandwagon here… Pretty please! I am kind of addicted to my phone and I obviously use every single day. Whether I am replying to tweets or playing Two dots, I always have it in my hands! This pretty cover is from here on Etsy and I really like its unique design.
Escentric Molecules – Molecule 01
This perfume is like no other. It's basically designed to contain only one molecule that will react to your own skin and deliver a unique scent. It is said to attract people and to add a bit of a mysterious vibe about you! While I can't really testify on this last point, I can defenitely say that I get a ton of compliments when I am wearing it! I tend to layer it with other scents, like Coco Mademoiselle or Jimmy Choo, but I pretty much use a few spritz everyday!
Kikki K medium planner
If you've watched this video on my Youtube channel, then you probably know that my love for my Kikki K planner is kind of endless. This planner follow me everywhere and I really can't function properly without it. I recently switched to new inserts from Life is crafted (video coming up soon!) and I simply adore them! There's a page for everything, from personal goals to meal planning and every day meetings.