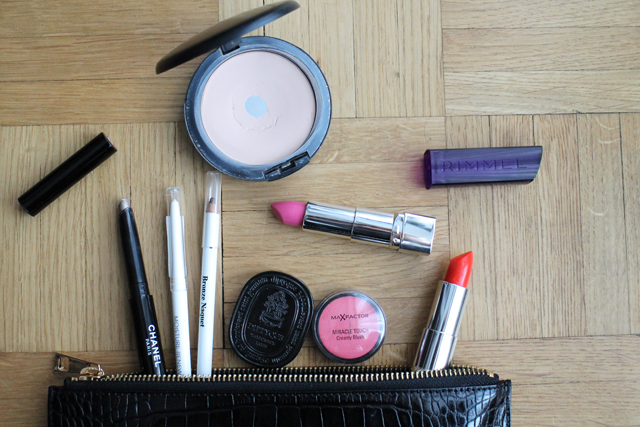 It is fair to say that this month's beauty bag is the proof that I did some shopping while I was in London. Like you needed one!
Anyways, back to the beauty bag topic. First of all, the bag itself is new. It is one of the classic small clutches from Whistles and, considering the amount of stuff I bought at their different stores, I now know that I need to stay away from any place that sell the brand. Including their website. Even if they're currently offering 20% off? Damn!
Now, into what's in the bag. I felt back in love with my MAC studio fix foundation powder in shade NW20 as I find that my skin need a bit more coverage recently. It is the perfect on the go product to add a bit of coverage and matify everything quickly. I love the fact that it comes with a big mirror and a little sponge all housed into the compact. For eyes, I've thrown in my Chanel stylo eyeshadow in the shade moon river as well as & other stories eye pencil in bronze naquet. These two paired together allow me to create a nice smoky-ish look on the go without any brushes. I apply moon river directly from the tube onto my eye lids and then run a bit of Bronze naquet on my lash line, and done! Perfect to grab drinks after a bit of Christmas shopping!This month, I am all about a beautiful statement lip. As much as I crave matte red lips, it doesn't really fit into the "apply in your rearview mirror" category. But that doesn't mean that I stay away from color! The new Rimmel moisture renew lipsticks are all I want to wear right now. The perfect color pay off, a lot of moisture and an incredible staying power? Count me in! I picked up two beautiful shades to keep in my purse at all time. The first one, in love with ginger, is a gorgeous orangy red color while the other, Oxford street fuchsia, is a pretty Barbie pink. To pair with these, I also popped in another new release from Rimmel, their Moisture renew universal transparent lipliner. I always struggle to apply lip pencil on the go and found this one to solve all my issues. It is transparent, so I don't need to be extra precise with it, but it helps to keep my lips looking good -and neat- for a good chunk of time.Next up, is Dyptique l'ombre dans l'eau solid perfume. While I love the idea of a solid perfume, I must admit that this one is far from being purse friendly. It comes in the prettiest package… that weight as much as a baby rhino! While I love its powerful floral scent, I might have to relegate this one into my car beauty kit as I can already feel my shoulder getting sore.Last but not least, my blush of choice for this month is Max Factor miracle touch creamy blush in soft pink. This cream blush is creamy enough to be applied with your fingers, but not to the point where it takes away your foundation when you rub it in. The subtle pink color imitates a natural blush to the T and, appart from the cheap plastic packaging, this is one of the best cream blushers available for under 10€.