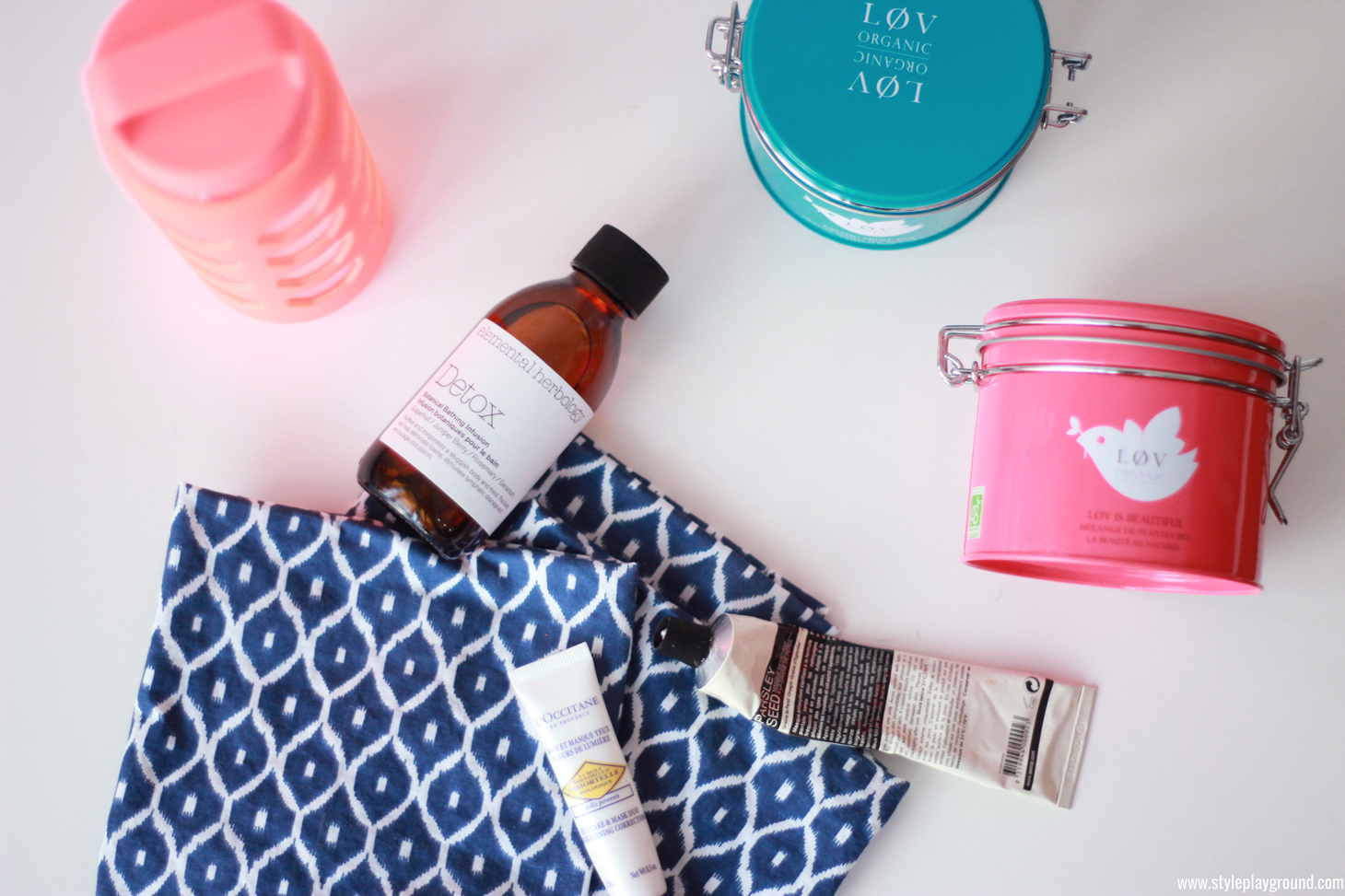 When January comes back around, all I want to do is start fresh. I know how cliché it sounds, but it's true. I want to reorganise everything around me, do a big closet clean-out and eat as healthy as possible. But the ugly truth is that I feel totally sluggish. I've eaten my weight in candy during the holidays and I've drank more champagne than water. My skin is really dehydrated and I feel exhausted. That's why yesterday I cracked out my detox favorites to help me feel (& look) my best!
Now, I am not talking about green juices or pilates lessons here, but more about small things that really helps me to feel energised again. First and foremost, drinking plenty of water is the best way to get rid of all the toxins in your body (chocolate cake, I am looking at you!) and to rehydrate your skin from the inside. Trust me, I am the worst at drinking my daily dose of water so I rely on both an iPhone app and a cute water bottle that follows me everywhere. This one is from J Crew and I absolutely love it because it is made of actual glass but has a colorful silicone cover all over it in case I drop it. I fill it with filtered water and if I am feeling fancy, I'll add a slice of lemon or two. I also switched my morning soy latte for a more relaxing offering: herbal tea. I really like these two blends by Lov Organics which is my all time favorite tea brand. These teas are organic and caffeine free, which means that I don't experience that afternoon crash anymore.
I also like to take some time for myself in the bathroom and indulge in a relaxing bath when I feel like absolute crap. This Elemental herbology 'detox bath infusion' is my favorite thing at the moment. It smells absolutely divine and keeps my skin nourished for the whole day. While I can't really testify of its detox effects, I can totally agree that this is positively dreamy. While I am at it, I crack out the face masks. I first apply a rather thick layer of the l'Occitane 'brightening eye care & mask duo' underneath my eyes to brighten everything up. I really like this gel because it comes with the world's coolest applicator which helps to de-puff the eyes while its formula works great on dark circles. I then apply my trusty Aesop 'parsley seed mask' all over my face and let it sit for about 15 minutes. Yes, I look like a total freak but afterwards my skin feels spotless clean and ready to get some love!
What are your favorite ways to start fresh again?