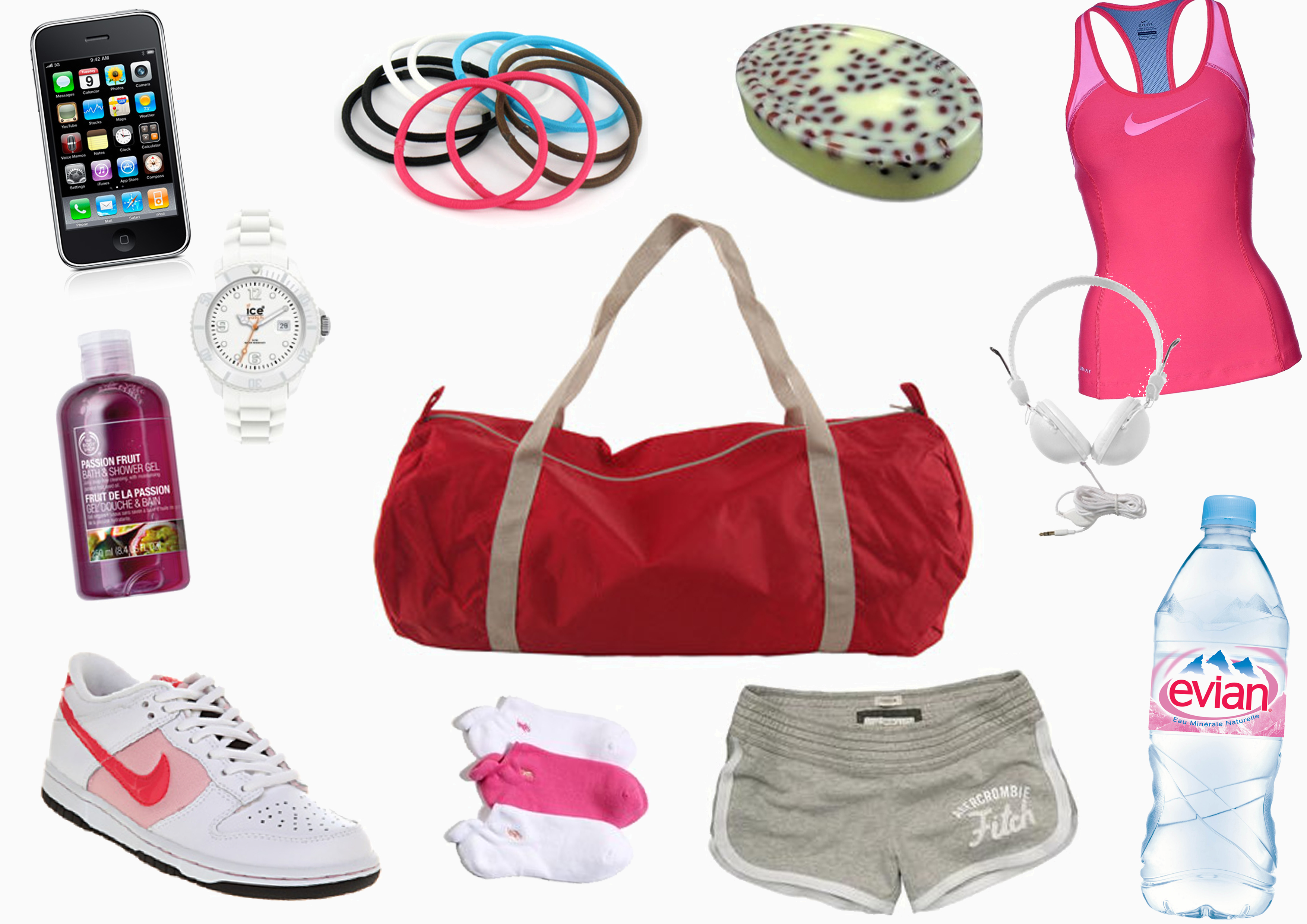 Wanna see what's in my gym bag?
Vous voulez voir ce qu'il y a dans mon sac de sport?
You might not know this, but I love going to the gym. I go pretty much every other day (but with the new apartment and all the work that needs to be done in it, it has become really hard to squeeze a workout).But anyway, I wanted to show you what's in my typical gym bag. I sometimes add a bikini and a swimming pool towel if I want to hit the pool.So what do we have?
American Apparel gym bag, super light and easy to carry
My iPhone, to listen to music
A white Ice watch, perfect to check your workout length
Body Shop passion fruit shower gel, I love the smell of it!
Nike sneakers, I have a huge collection of colorful sneakers, they keep me motivated
Ralph Lauren socks, I love love these, they are really thick which makes them super comfy
Abercrombie and Fitch shorts, I love the soft feeling of the fabric
Evian mineral water, my favorite one
Hema headphones, great when you're running on the treadmill
Nike top, this one has a bra incorporated, which is so convenient
Lush Wiccy Magic Muscle massage bar, I hate the smell of it but it does wonder on sore muscles
Elastic bands, to tie my hair up in a poneytail
Vous ne le savez peut-être pas, mais j'adore aller au sport. J'y vais plus ou moins un jour sur deux (mais avec le nouvel appartement et tout le travail qu'il nous reste à faire dedans, c'est assez compliqué de caser un entraînement).Mais bon, je voulais quand même vous montrer ce qu'on trouve typiquement dans mon sac de gym. J'y ajoute parfois un bikini et une serviette de piscine si jamais je veux faire quelques longueurs.Alors, qu'est ce qu'on a?
Un gym bag American Apparel, super léger et facile à transporter
Mon iPhone, pour écouter de la musique
Une Ice watch blanche, parfait pour garder un oeil sur la durée de son entraînement
Un gel douche Body Shop aux fruits de la passion, j'adore son odeur!
Des baskets Nike, j'en possède plusieurs paires colorées, ça m'aide à rester motivée
Des chaussettes Ralph Lauren, j'y suis accro, elles sont super épaisses et donc super confortables
Un short Abercrombie and Fitch, j'adore la matière toute douce
De l'eau minérale Evian, ma préférée
Un casque Hema, idéal pour courir sur un tapis de course
Un top Nike, avec un soutien gorge incorporé, super pratique
Une barre de massage Lush Haricots Magiques, je déteste l'odeur mais elle fait des miracles sur les muscles douloureux
Des élastiques à cheveux, pour les attacher en queue de cheval