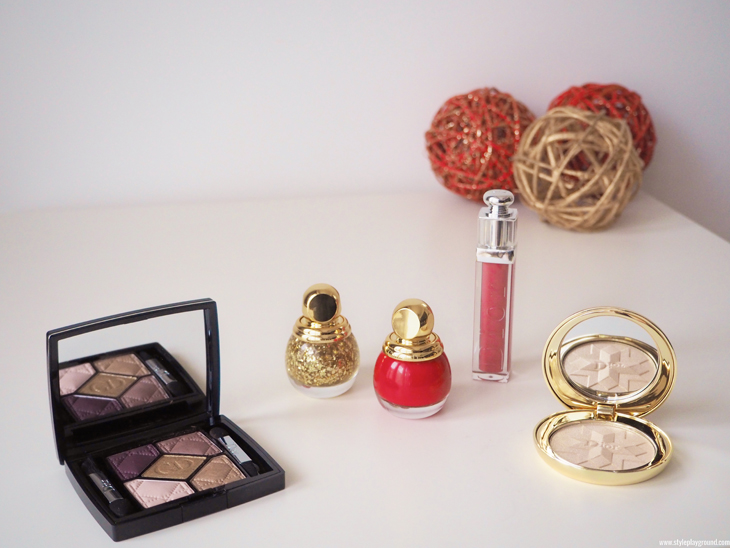 If there's one counter that is hard to ignore in a beauty hall, it has got to be Dior.
Whenever I head over there, I always end up staring at their display and rarely leave empty handed. Their shelves are always filled with pretty perfume bottles, chic body lotions but the one thing that keeps me going back is their makeup. And if there's one collection that is going to be turning heads this Holiday season, it has got to be this one.
Golden shock, the catchy name behind this collection, is what holiday dreams are made of. Gold shades mixed with berry tones and soft violets are on the menu this season.
First of all, my favorite out of the bunch has to be the 5 couleurs eyeshadow palette in '756 golden shock'. This small palette houses 5 colors ranging from shimmery pink, to soft violet and glittery gold. It's totally out of my comfort zone and that is exactly why I love it that much! I like to apply a mix of the two right shades all over my lids, a subtle line of violet across my lash line and a touch of the gold shade in the middle of the lids. Violet is the perfect shade for blue eyes and it really makes them pop while a bit of gold adds a festive touch to the look. My other obsession in the collection is the Dior addict gloss in '663 pink excess'. I've been a fan of Dior lipglosses for the longest time (the oldest one in my collection might be over 6 years old but shhh, no one has to know) and this one is no exception. It delivers the perfect shade of raspberry red with just the right amount of shimmer to make your lips look like a million dollars. As with all Dior lipglosses, this turns out to be long lasting AND not sticky!
Of course a nail polish freak as me had to fall in love with these two limited edition ones. The perfect shade of red has been found and it goes by the name Diorific '762 shock'. The perfect blend of red & orange, a super shiny finish and a long lasting power is exactly the right way to describe this one. If you want things to look a bit more festive, a coat of the 'golden shock' top coat over the top should do the trick.
Lastly, the Diorific illuminating pressed powder in 'golden shock' is probably the most beautiful product of the whole collection. Housed in a really luxurious gold compact, this mega shimmery highlighter delivers a high dose of glitter on your cheeks. To be honest with you, I am not head over heels about this one since I tend to prefer matte highlighters but if you're on the market for a golden highlight, look no further!