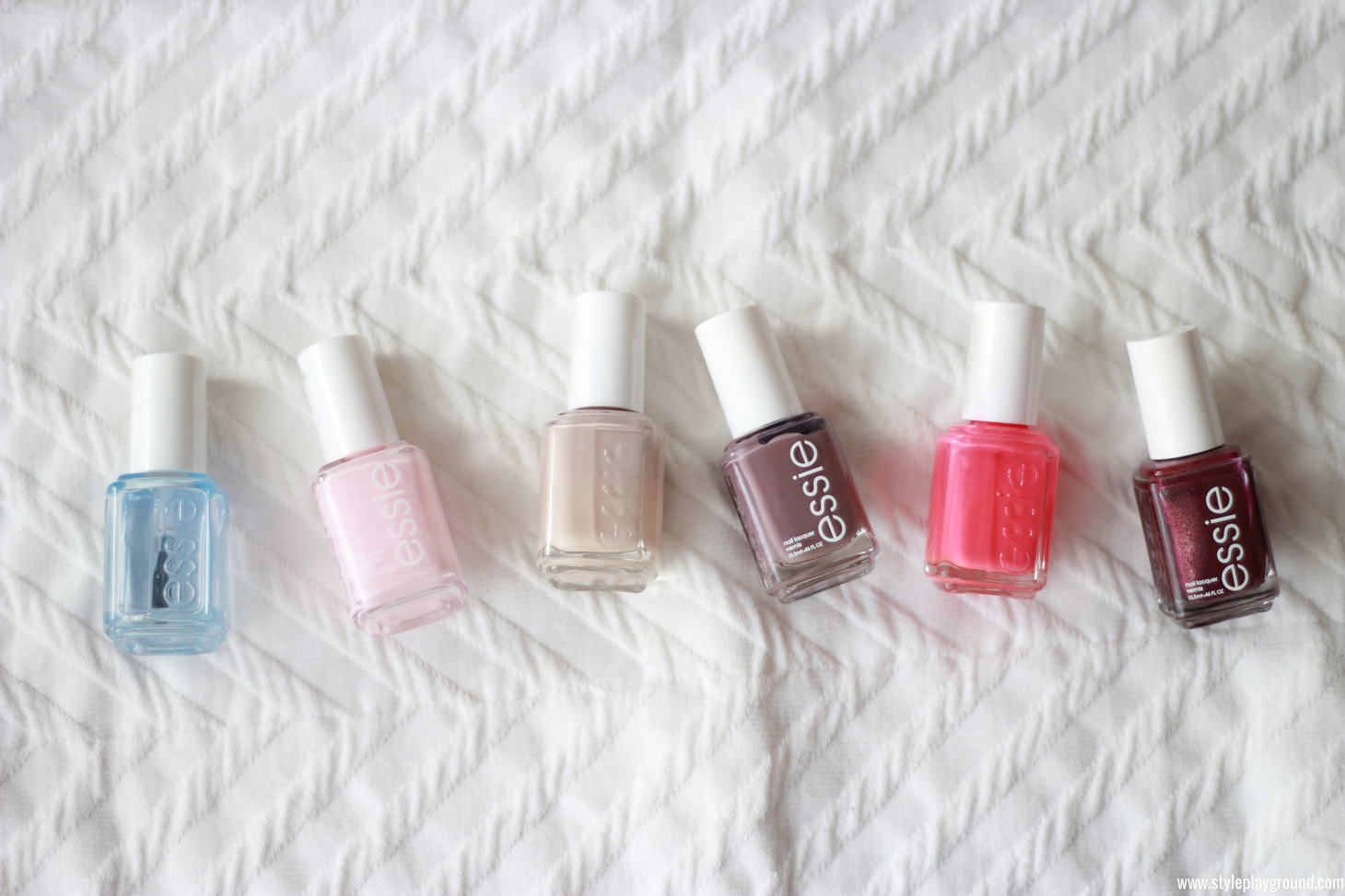 When it comes to nail polishes, Essie is my favorite brand. Their nail polishes are affordable, long wearing and come in hundred of colours. Since a lot of you have asked me what are my favorite shades, I thought about putting together an 'Essie starter kit' with 6 polishes that I absolutely adore.
First up is the 'all in one base' base coat. A great base is a must when you wear color on your finger tips. It protects your nail, avoid it looking yellow and make your polish last a bit longer. I like this one because it helps to strengthen your nails and dries really quickly as well. If I had to choose one shade of pink for the rest of my life, it would be this one. 'Fiji' is a blend of baby pink and white, which creates an almost light neon pink shade. It looks gorgeous when you have a tan and makes even the shorter nails (aka mine) look longer. My nude of choice is, without surprise, 'sand tropez'. This shade is the perfect nude because it's not too pink or too flesh colored. I love how neutral it is and this one also makes my nails look like a million bucks. Always apply two coats with this one though, as it tends to be a bit too sheer with only one. Then we have 'merino cool', a shade that I've considered getting for quite some time but finally purchased after a mani/pedi using this shade. It's perfect for fall and winter as it's a beautiful blend of cocoa and berry. I love to wear it on its own but I love to add a sparkly top coat on top as it really brings it to life. The next one is one of the most famous shade of nail polish around the globe. 'Cute as a button' is the perfect coral color. A beautiful blend of orange and pink make this my go to shade in summer. It looks great with any outfit but looks especially good with a pretty pair of sandals! Last, but certainly not least, is 'it's genius'. I don't hear a lot about this shade which is a shame because it's bloody good. This is my only shimmery pick but trust me, this one is a stunner. This deep plum shade has a ton of micro gold glitters in it, which makes it totally unique. It's my favorite shade for fall as it's neutral enough to be worn everywhere but still is a bit fun in the same time.
Do you have any nail polish shade that you absolutely adore?