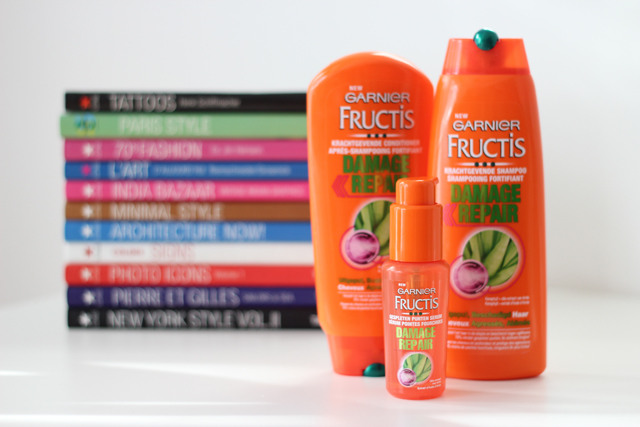 When it comes to hair care, I am everything except loyal. I like to change things up and try new combos, textures and finishes. The last hair care line that landed up on my shower shelf is the new Fructis damage repair. While my hair isn't as damaged as it used to be, I have more than a couple of split ends and my hair is in desperate need of a good chop. But the truth is that I always wait for the end of summer to get a new hair cut as my hair usually gets damaged because of the sun, sea and chlore combo; so this range arrived at the perfect time!
I hadn't used Fructis in years although I used to be obsessed with it as a teen (my bathroom was packed with their green packaging) so I was really curious to rediscover it. I tried the damage repair shampoo & conditioner on a Sunday night, during one of my much loved pampering sessions. Did the usual two shampoos in a row (I always do that as I find that it works best) and let the conditioner sit on my ends for a good 3 minutes. Then, I put my wet hair into one of those oh-so-sexy head turbans and left it there for a good 15 minutes or so. I then applied two pumps of the serum onto the very ends of my hair and blow dried it. By the time I was done, my hair was looking great. It was full of volume and body (which is something rare enough over here to be mentioned!) and looked really clean and almost fluffy. My hair looked shiny but not greasy at all and was overall looking its best. I was already in love.
I get a lot of questions about my hair routine, and I think that an updated hair care routine might be on its way to StyleplaygroundTV really soon… In the meantime, here's my number one rule for healthy hair: don't wash it too often, and certainly no more than three times a week. I only wash my hair twice a week, and change up my shampoo & conditioner every time. For example, I'll use the Fructis range early in the week and use a clarifying shampoo, like Bumble & Bumble Sunday shampoo on the weekend. Since I started doing this, my hair has never been more healthy and beautiful!
Do you have any tips for healthy hair? Do you always stick to the same routine?