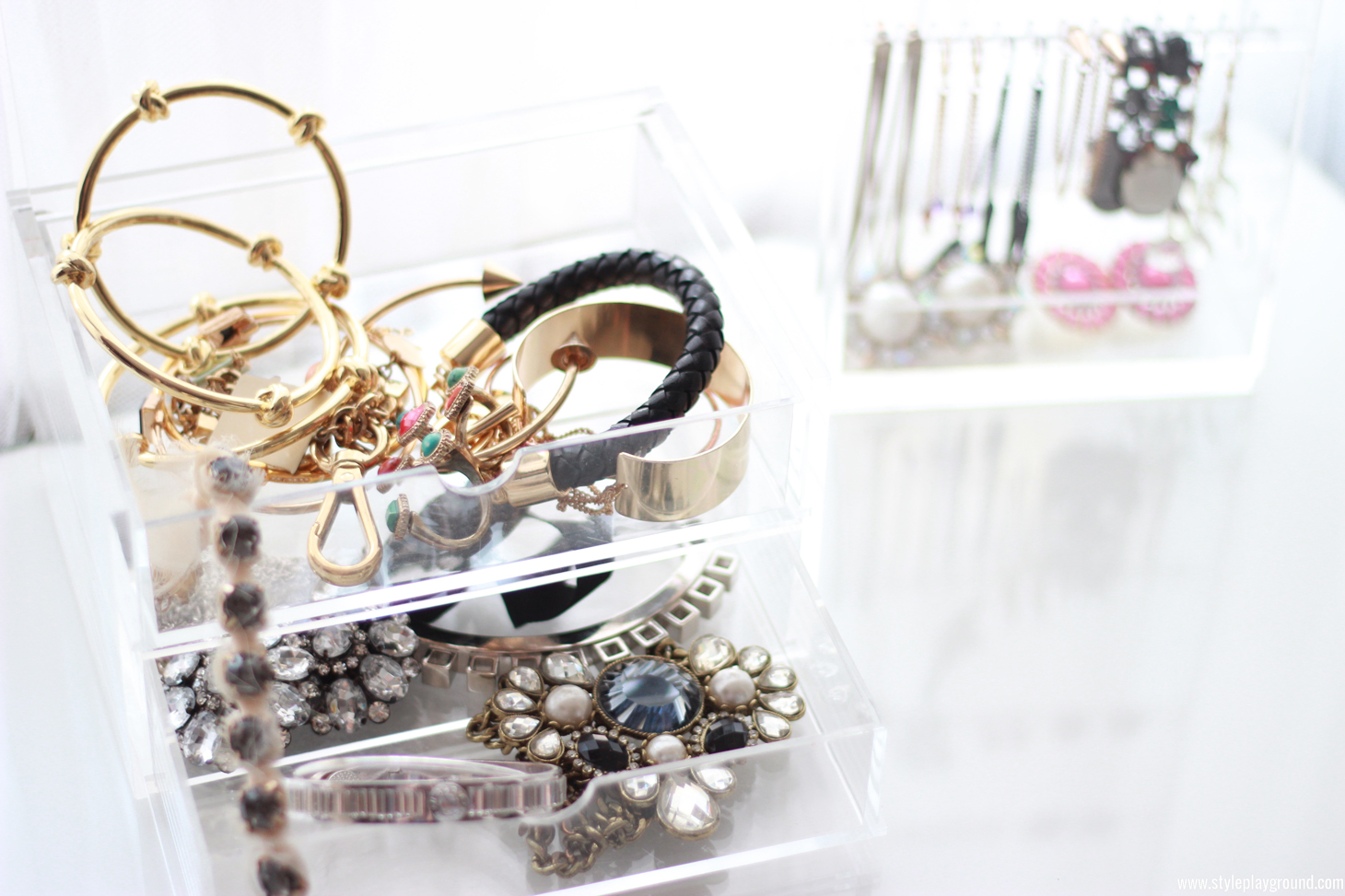 Even though I absolutely love my closet, I still haven't find the perfect way to store all of my jewelry yet. That being said, I currently use different things to store my ever growing collection and I really enjoy them for now, so I thought I would share them with you in case you're looking for inspiration! On the photo above, you can see how I store all of my metal bangles and smaller statement necklaces. I use this box from Muji which has a lid on the top which makes it super convenient. This is actually the same storage unit as I use on my desk (seen here) and I used it before to store my daily makeup in. I really like these boxes because they're clear and really sturdy as well.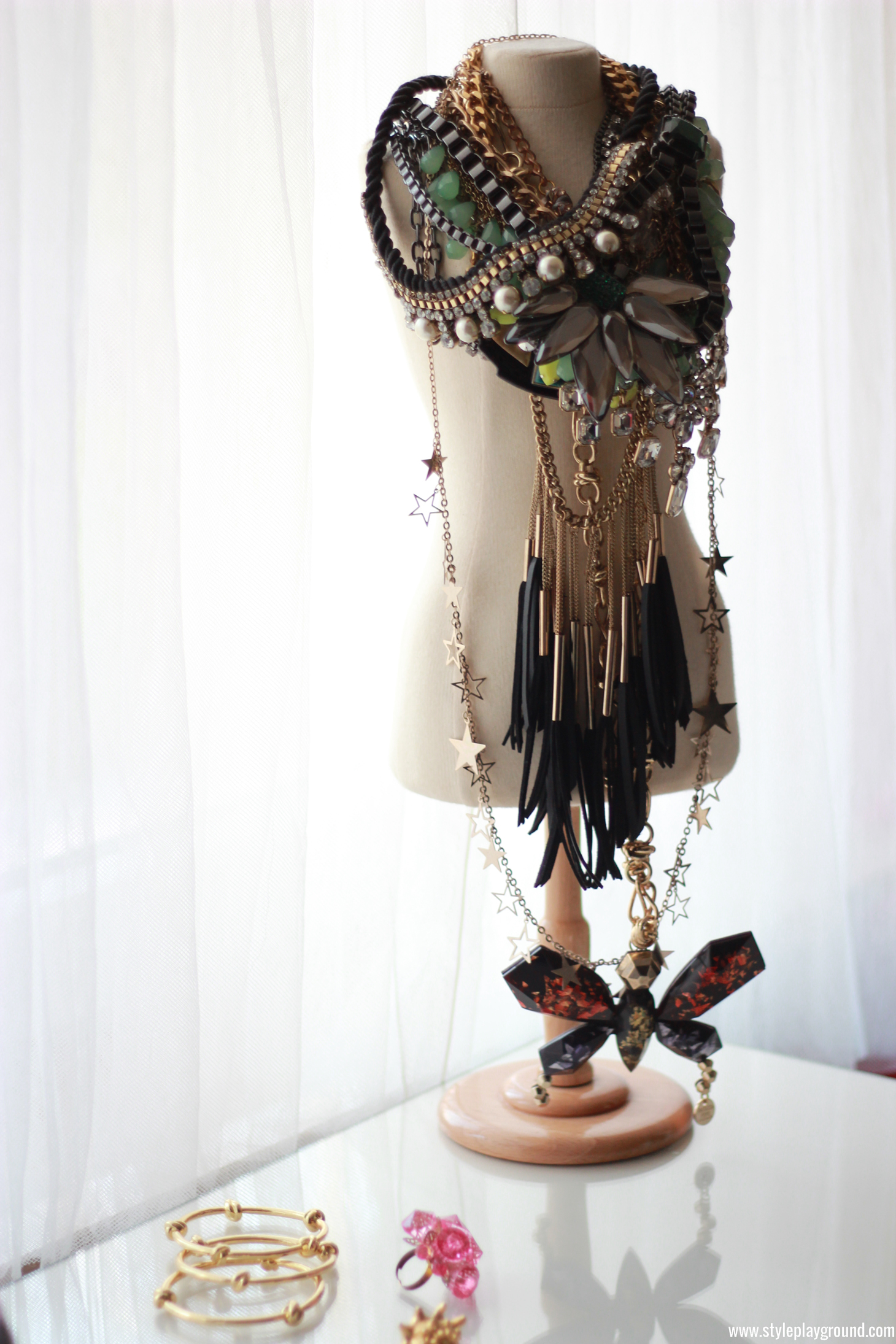 For my larger statement necklaces, I use this mannequin that was actually something that I used when I was studying Fashion Design in Paris. I like to store my bigger necklaces that way because I am able to see everything at once while keeping them untangled and tidy as well.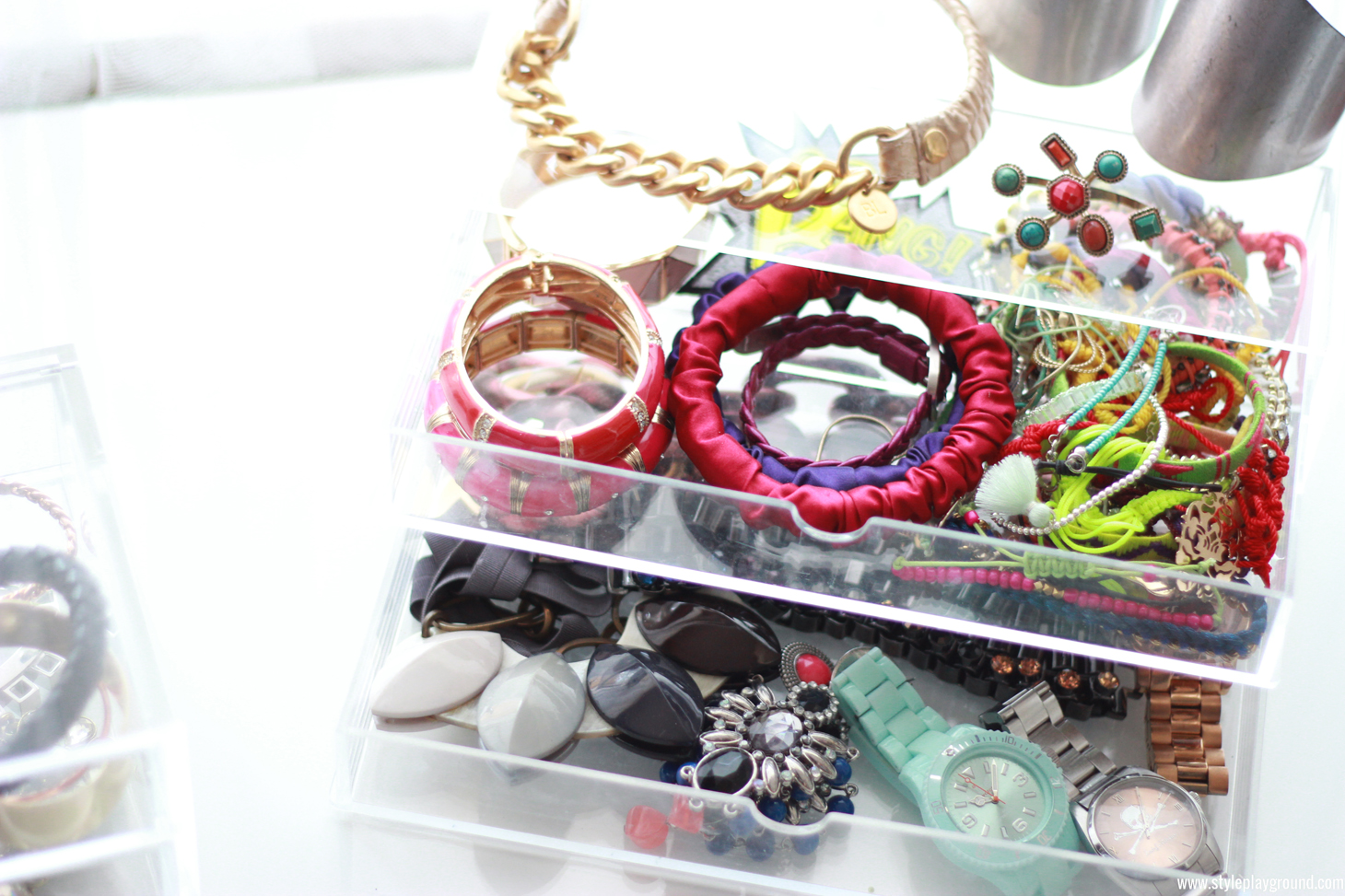 For my colorful bracelets and watches, I use a bigger storage box from Muji as well. The drawers on this one are deeper and allow me to store a ton of things in it. The top doesn't open so I keep some extra items on top as well. I love how colorful this looks and it displays my jewelry neatly without it collecting dust.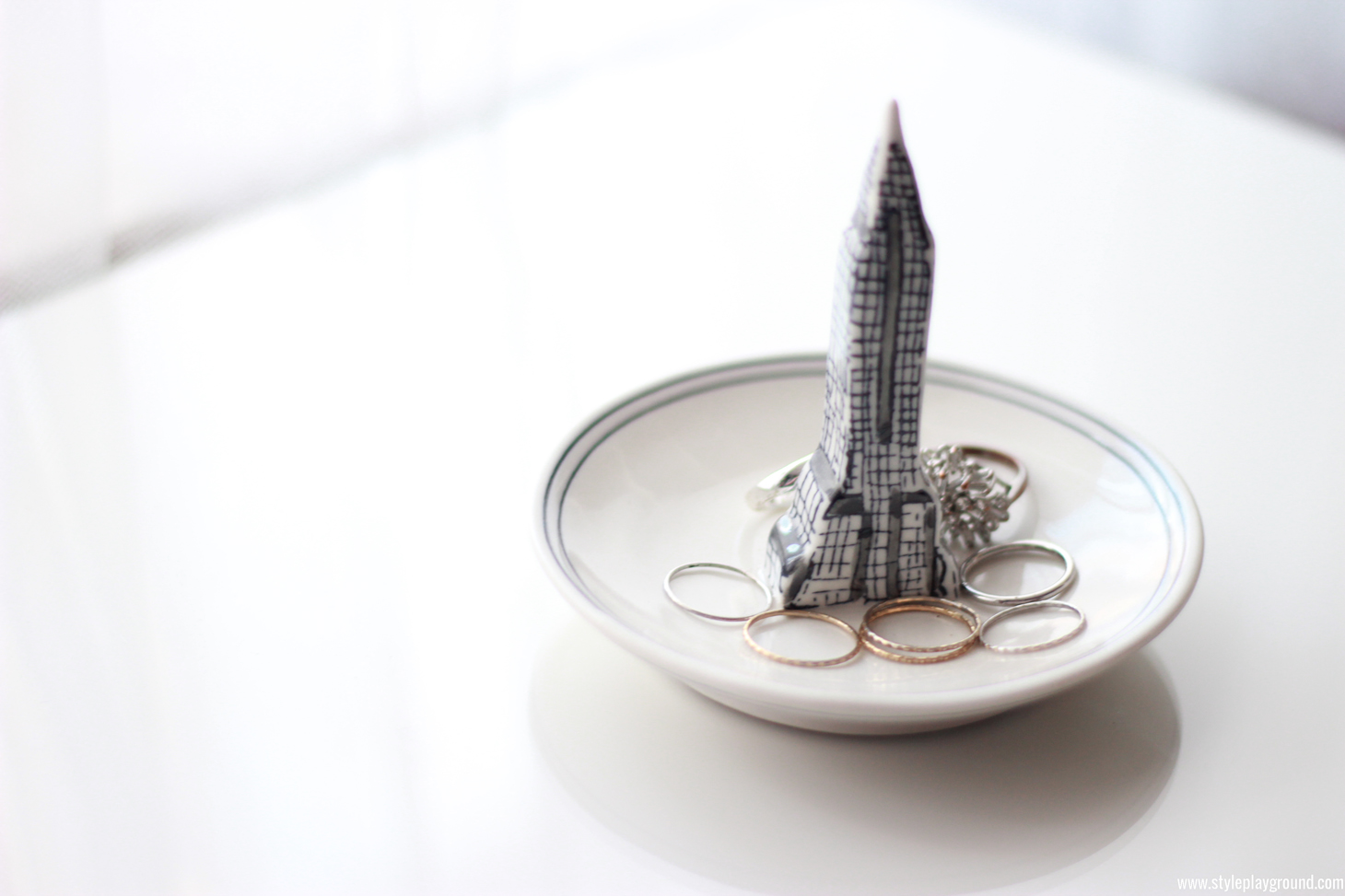 For my smaller rings, I use this cute little dish from Anthropologie. I love how simple yet beautiful it is and it simply makes me smile every time I look at it.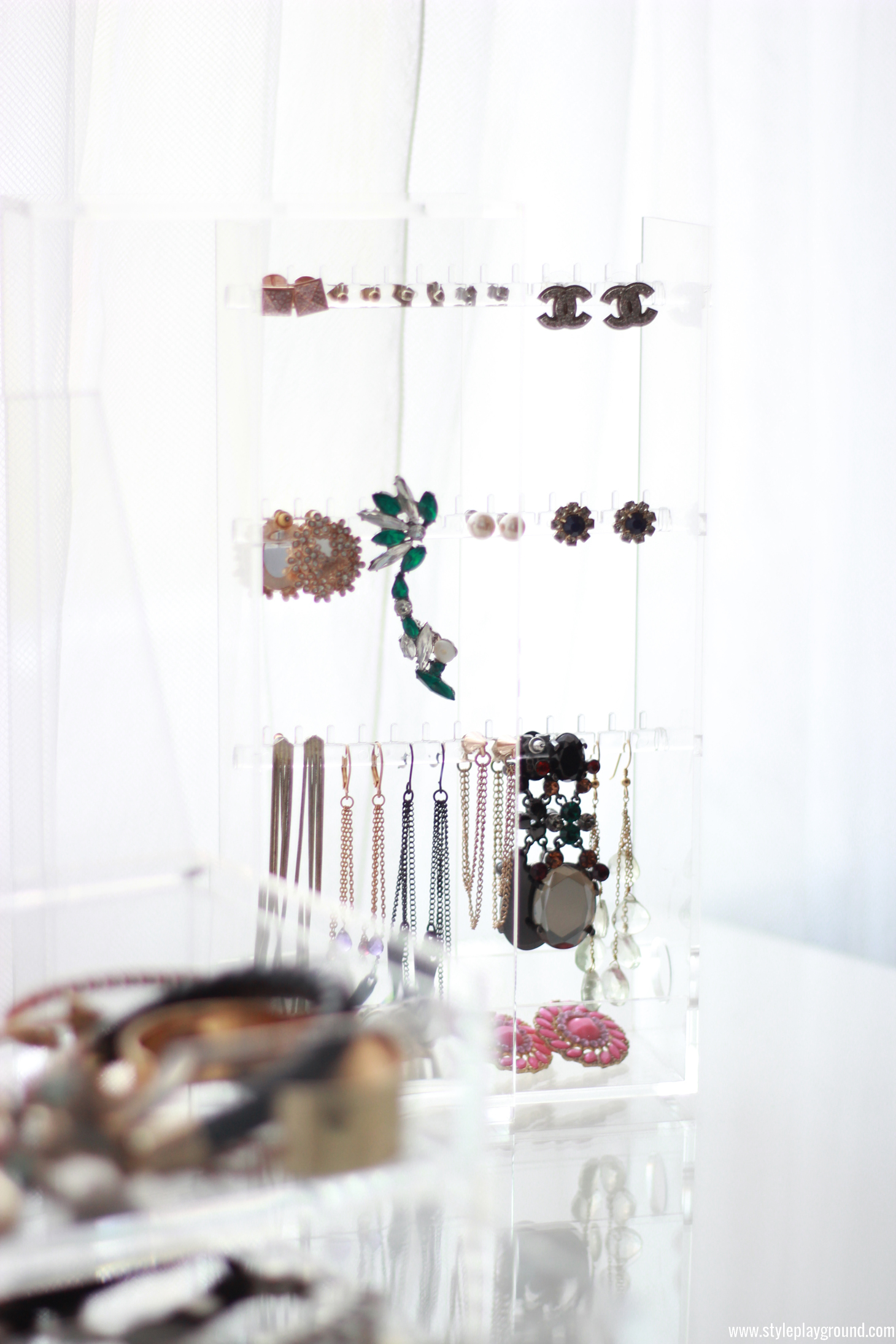 This earrings storage is simply a genius idea. Again, this is from Muji and I actually got it after seeing my best friend Aurore using it. She hung hers on her bedroom wall and it displays her amazing earring collection in such a fashionable way that I immediately got one for myself as well. It keeps everything neat & tidy and I never lose an earring anymore!
Last, but not least, I use this crazy mirrored jewelry box from Zara home to store any delicate or more expensive item of jewelry. The top flips open and houses my collection on rings, brooches and bangles. I also keep the box of my engagement ring tucked in there as well. The two drawers down house all my dainty bracelets and necklaces. I used some acrylic dividers from -you guessed it- Muji in the bottom one to separate all my bracelets.
Do you have any great jewelry storage solution that you really like? I would love to know! I also selected a couple of storage items that I find both beautiful and practical in case you're looking for some new ideas! Hope you'll like it!