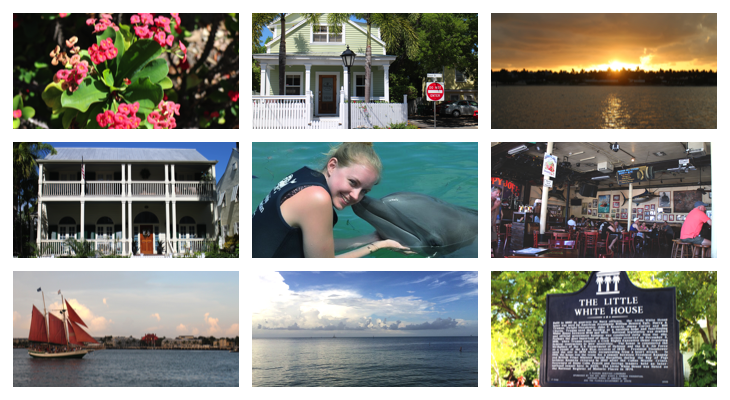 Last summer, Renaud and I headed off to Florida for a much needed holiday. While we first though about going to Orlando & Miami, we finally settled down for 5 days in Miami (read my city guide here) & 5 more days in Key West.
The Keys Islands have been highly recommended amongst our group of friends and I have to say that I now see why! Our trip to Key West was fantastic and I cannot wait to share my tips with you!
Where to stay
When we looked up hotels in Key West, we stumble across the Reach Resort by Waldrof Astoria. Since my stay at the Chicago Waldorf Astoria was a magical moment (I am going back in March, so happy!) I figured out that this resort would be in some way similar. Sadly for us, our stay there was a nightmare. We had flooding issues in our room, the cleanliness was more than discusable and our 'ocean view suite' was in fact a relatively large room with a view on a street and a glimpse of the ocean. The staff was beyond rude and even after we got stuck in the elevator, they did nothing to make our stay a bit more enjoyable. After a quick walk through the city, we quickly realised that there is a lot of nicer places to stay in town. A few we are keeping in my if we ever go back are The Southernmost hotel, The Ocean key resort and The Westin Key West Resort.
Where to eat
As vegetarians, we struggled quite a bit to find fresh healthy food. Since most of the restaurants have endless fish menus, we often had to go with veggie burgers or grilled cheese. But, of course, a few exceptions made the cut.
The Amigo tortilla bar is a wonderful Mexican place. We loved it so much that we went back a couple of times. We tried almost everything on their menu, from tacos to burritos. If you head over there, grab a seat at the outdoor bar, try out all of their spicy sauces & make sure to order a Corona Famiglia! If you fancy a great grilled cheese with a big Coke, head over to Sloppy Joe's. This one of a kind tavern is a must on the Island and I loved the chilled atmosphere in there. If you fancy a cool drink, head over to the Smallest bar in Key West. Located in the busy Duval street, this place lives up to its name. The bartender is a great guy that can mix any drink that you'd like! For dessert, head over to the Key Lime Pie company. Treat yourself to a big serving of pie and you will not regret it! Finally, The Cafe is the place to go for delicious vegetarian food. We sadly only found it on our last night but it was delicious! Their menu is really big & they have something for everyone to enjoy!
What to do
Key West has a lot of options to offer. We spent a lot of time on boats and did almost everything the island has to offer. The glass bottom boat is a cool & chill activity, parasailling & jet skiing is so much fun (but make sure the check the refund policies on those trips because the weather can totally change within an hour). On our last night, we took a sunset cruise and it was a magical moment for us both. Last, but not least, I would highly recommend taking a trip to Duck Key at the Dolphin connection to go and spend some time with these insanely cute creatures. We both enjoyed the experience and left the place with a huge smile on our faces! Last, but not least, one of the highlight of this trip was renting a Ford Mustang to drive from Miami to Key West and back. It was a fun road trip and the sights you're seeing are priceless.
Where to shop
Believe it or not, but the shopaholic in me didn't do any damage in Key West. Sure, there are the usual CVS & Walgreens (these are pharmacies where you can get anything, from the latest Maybelline foundation to maxi packs of Reese's butter cups). There are a Coach & a Banana Republic outlets in town that have some pretty good deals but I didn't find anything that I liked.
What to pack
Key West is a small island where you can do anything you want by feet. I highly recommend taking cute workout clothes & sneakers to walk around town and chose a light backpack or a cross body bag to stroll around. Don't forget to pack a handful of bikinis as you'll probably spend a lot of time at the beach, at the pool or doing nautical activities. Of course, a pair of flip flops is a must as well. People tend to dress very casual during the day, so a pair of denim shorts and a tank top is totally fine. At night, a light dress is great to look chic while keeping yourself cool as well. Don't forget your sunglasses and pack a really high SPF (I recommend SPF 50 or above). The sun is really hard on the skin and whenever you're on a boat, it gets even worse. Lastly, pack a Go Pro if you have one. I purchased mine before the trip and I couldn't be happier with the footage that we got!