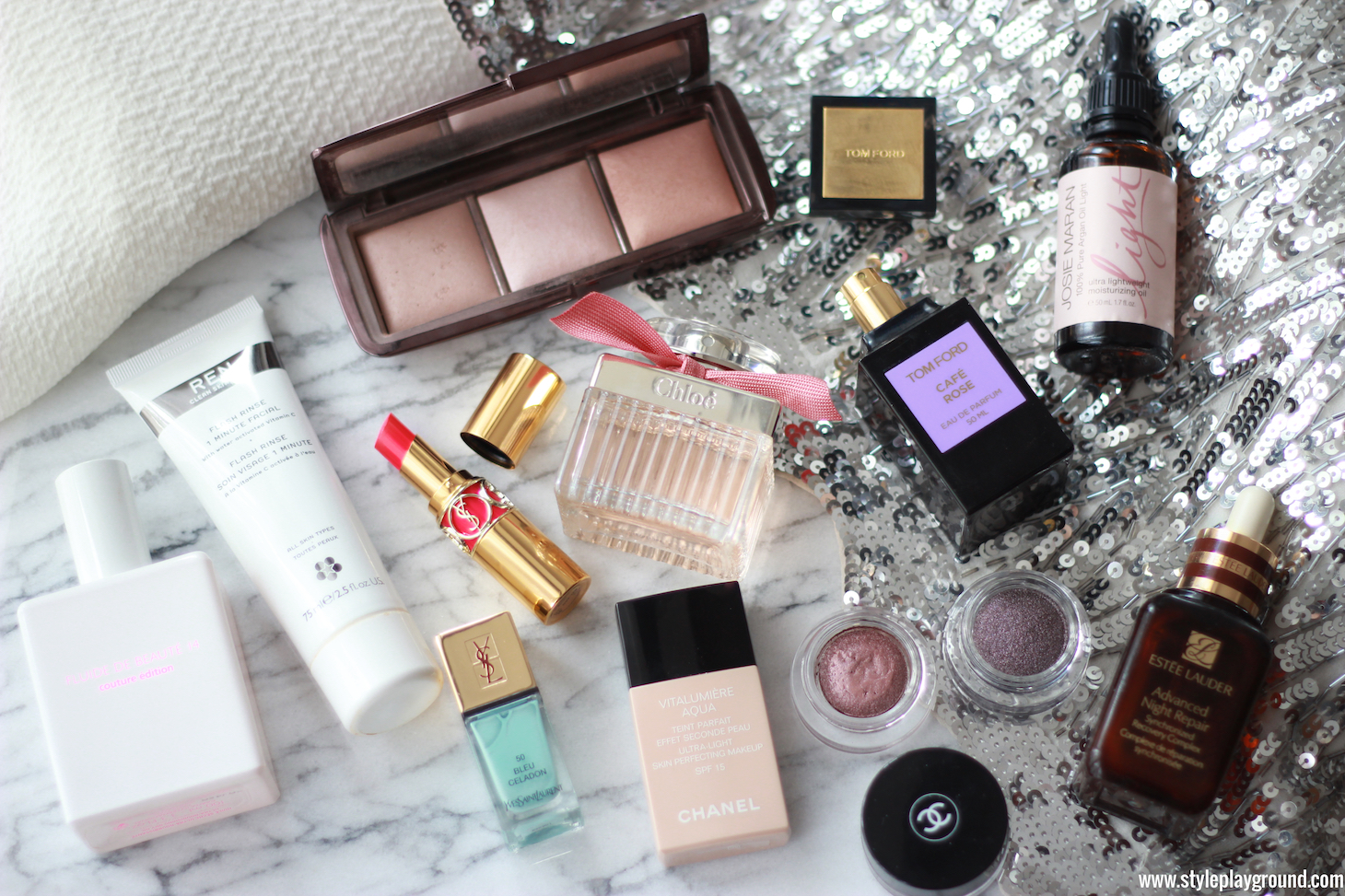 While investing in a beautiful designer handbag is pretty much always a sure bet, the same isn't exactly true when it comes to luxury beauty products. First of all, these have an expiration date and if they don't suit you or if you don't wear them, it's pretty tricky to resell them like you would do with a handbag or a beautiful silk scarf. Then, the truth is that if you end up falling in love with them, you'll use them up and then throw them away… So is it really worth it to spend your money on beauty products?
My answer would be yes, but not always. While it's nice to treat yourself to the newest nail polish color, I think that it's best to invest in things that you know you'll love, like a delicate perfume, a shade of eyeshadow that you wear everyday or a serum that will rehydrate your skin overnight. So I've gathered all my favorite luxury beauty products and I am going to tell you why I love each and every one THAT much!
First of all, I am a firm believer that skincare is the one area that you should spend your money on. Finding the perfect serum or an incredible mask will make a huge impact on your skin plus chances are that the ingredients are more efficient in higher end products. My favorites include the Estée Lauder advanced night repair, that I reviewed here. This stuff is just the best thing that will happen to your skin. This creamy serum will hydrate your skin overnight while getting rid of blemishes in the same time. This one definitely breaks the bank but trust me, you will not regret it. Another skincare staple in my routine is the Josie Maran argan oil light. This very light oil is the best to get rid of dry patches, redness and unhappy skin. While I love to use it on its own overnight, I also like to layer it underneath my moisturiser or even mix it with it before applying my makeup. Another oil that I am currently loving is the Carita fluide de beauté 14. I've never tried anything from the brand before but let me tell you that I am super impressed by this dry oil. This spray can be used on your hair, on your body or even on your face and it's totally incredible. I like to massage it onto my face to give it an instant boost but I also like to apply it on my legs before going out in a dress or even apply it on my hair ends to moisturise them and combat frizz. I never thought that I would say that but this even beats my beloved huile prodigieuse from Nuxe, and that says a lot. Finally, the last skincare bit that I would 100% recommend is the Ren instant flash rinse. I see this as the at-home facial for us busy gals. I like to apply this green paste all over my face in the morning before applying a bit of water and using it in circular motions to activate it. I let it sit for one minute, no more, and I rinse it with warm water. The result? A brighter complexion and minimised pores. I simply love it. Plus, it's all natural, which is very important for me.
Perfumes are a great thing to spend your money on, but the last thing that you want is to smell exactly like the girl sitting next to you. To avoid that, I would suggest going for a more uncommon scent. The new roses de Chloé scent is pure delight. This light blend of roses, bergamot, musk and amber is like a modern twist on a classic scent. This doesn't smell too powdery or too vintage and it is one of my current favorites. Another scent that I can't get enough of is Tom Ford café rose. This is the one scent that I always go back to, no matter what. This dark, sultry blend of pepper, incense and amber is by far the most luxurious thing I've ever smelled. I love it so much that I save it for special occasions like birthdays or anniversaries.
Now, let's talk about makeup, shall we? To me, the main thing to spend your money on at a makeup counter should be a great foundation. Now depending on your skin type and on your personal preferences, you might like something very different to what I love but the Chanel vita lumière aqua is my personal favorite. This lightweight foundation feels light on the skin but doesn't dry it out. The color match is incredible and I find that it stays put the whole day, no matter what. Do not hesitate to go to the counter and to ask for help to pick up the right shade for you and don't be afraid to ask for a sample to try out at home first! Another product that I really like from Chanel are the illusions d'ombre. These little eyeshadows are just the best at delivering a subtle wash of shimmery color to your eyelids. My all time fave is émerveillé, a beautiful shimmery champagne color but I also love illusoire and fatal for darker looks. If you like a bold lip, the YSL rouge volupté shine in #12 is the way to go. This sheer coral color can be applied without a mirror and feels absolutely incredible on the lips. The formula is on point and it delivers a skiny finish that feels very moisturising in the same time. You can build it up to a very bold color but I prefer to apply just one coat for a subtle statement lip. Finally, a great nail polish from YSL is a must have. My favorite shade is bleu celadon, a Tiffany blue color that I never get tired of. The formula is creamy and long lasting, even on my crappy nails. If you're not into blue, pick a beautiful classic red or even a nude shade and you won't be disappointed! Finally, if you have never found the perfect powder, you should totally try the Hourglass ambient lighting palette. This palette contains 3 of the ambient lighting powders, which are finely milled powders that recreate the most flattering type of light for your skin. I didn't believe the buzz at first but now I am in love, it is that simple.
So tell me, what is the one beauty product that you can spend a small fortune on? Is it skincare, haircare or makeup?