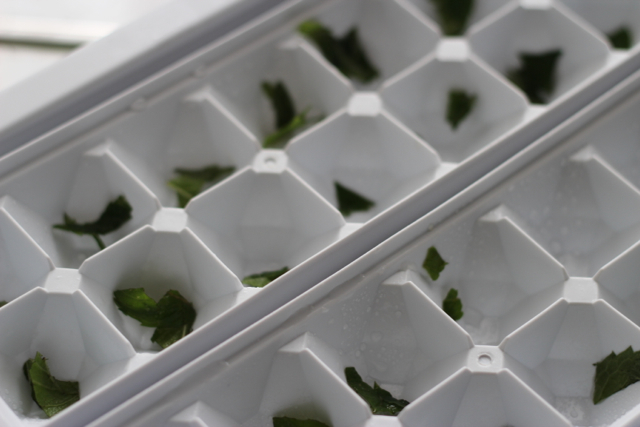 One of the easiest plant to cultivate at home is mint. I planted one in our garden back in May and it is now bigger than ever!
Taking advantage of that, I use a lot of fresh mint, to add a bit of taste to plain water or to make home made mojitos.
But I also love to make flavored ice cubes. They are the perfect way to refresh your drink and to add a little extra in the same time.
To make mint ice cubes, simply cut fresh mint leaves and put them in your ice cubes tray before filling it with water, et voilà!
L'une des plantes les plus faciles à avoir chez soi est sans doute la menthe. J'en ai plantée une dans notre jardin en mai et depuis, elle est tout simplement devenue énorme!
Alors j'en profite, et j'utilise beaucoup de menthe fraîche pour donner du coup à de l'eau minérale ou bien pour faire des mojitos maison.
Mais j'adore faire des glaçons aromatisés. C'est la meilleur façon de rafraîchir une boisson tout en y ajoutant un petit extra.
Pour faire des glaçons à la menthe, coupez tout simplement quelques feuilles de menthe fraîche que vous placerez dans votre bac à glaçons avant de le remplir d'eau!
❤ Axelle