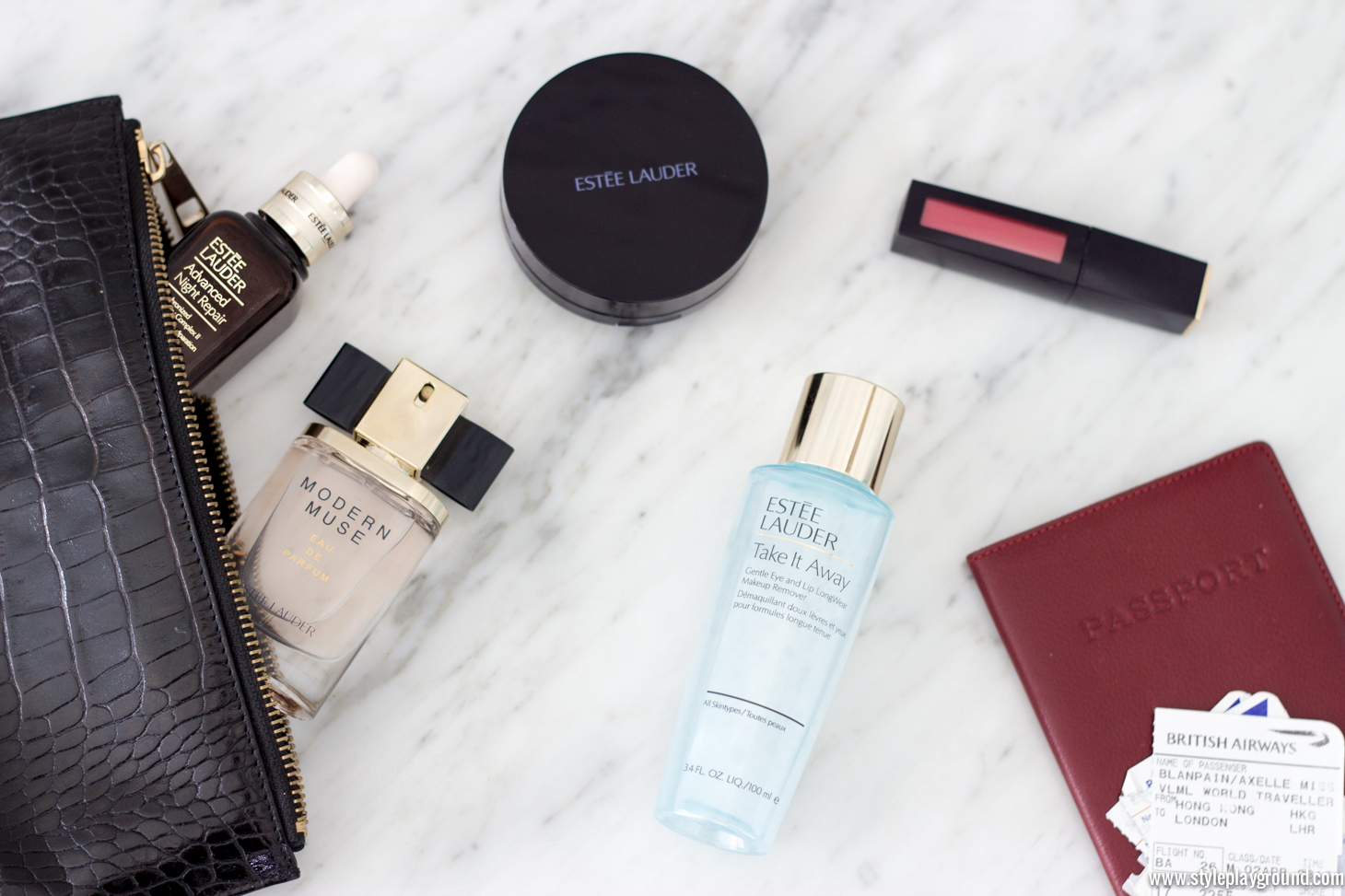 You know me, I am always up for sharing any travelling tips. And this time, I am sharing with you a couple of my favorite beauty products to throw into your suitcase if you're going away for a romantic getaway or a sunny destination (and if you are, I am totally jealous!).
Whenever I travel, my skin often gets dehydrated or sensitive. It's partly due to the fact that I am spending quite a bit of time on airplanes or trains but also because I don't pay enough attention to my water intake. Therefore, I always have my Holy Grail product, the Estée Lauder advanced night repair serum in my suitcase. I like to apply it underneath my makeup during the day but I always make sure to apply a few drops onto my face and neck before going to bed. If you'd like to know more about it, I have a full review right here.
Next, is the take it away gentle eye & lip makeup remover. While I usually use a balm or an oil at home, I find them a bit messy to travel with. This, on the contrary, is so easy to use on the go, with just a few cotton pads. And the best part is that it takes all my makeup off within seconds and leaves the skin nicely hydrated afterwards. This is especially great to use after a long day exploring a new city or to get rid of waterproof mascara after a splash in the pool.
When it comes to makeup, I always find it a bit tricky. Sure, I have my palettes for blushes and eyeshadows, but I am always a bit worried about my foundation dripping in my suitcase or my lipstick melting because of the heat. But right now, I've found two products that are absolutely great to travel with. The first one is the new Estée Lauder double wear to go foundation compact. You read it right, my favorite foundation is now available in a very practical travel friendly compact. What I love about it is that the little button gives just the right amount of product and the application is super easy thanks to the little sponge and the beautiful mirror housed inside. I like to pop it into my handbag for touch ups on the go but I also use it in the morning to do my full face. Then, the other product that I am currently loving is the much raved about pure color envy lip potion in lethal red. This color is a vibrant red (as seen on Kendall Jenner right here) that stays put on the lips all day (or all night) long. And the fact that it's actually a liquid lipstick makes it so easy to pop into your suitcase, even if you're heading to a crazy hot destination (again, I am jealous!).
Finally, I never travel without a perfume and right now, I am loving Modern Muse. While I love the 'le rouge' version, I feel like this small bottle of the original version would be perfect to travel with. It's tiny but very cute & powerful!
What are your travel essentials? Let me know in the comments down below!
This post was created in collaboration with Estée Lauder