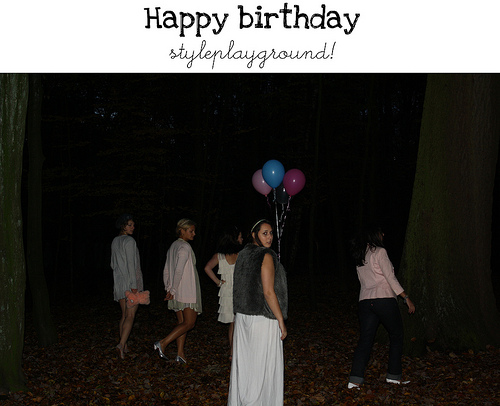 I can't believe it had been a year!Acutally, I didn't really realise until this noon!Styleplayground.com is one year old!
A year ago, I was sitting in the same place, and decided it was about time to start my own blog. I read a lot of blogs and I wanted to share my point of view, my looks, what I like and what I don't. But I didn't believe it would be that amazing!
In only a year, I met wonderful people, some became friends, I shot with De Modenaar and Heide Winne, I've been invited to parties, press days and samples sales.
I want to thank you all for visiting the blog and supporting me, it means a lot! And a special thank you goes to my boyfriend, who I annoy all the time to take pictures, so thank you honey!
I hope you enjoy reading my blog as much as I love writing on it.
Also, I feel that after a year, it's time to ask you what you think about styleplayground. What do you like, hate? What do you want to see more? Now it's your time to speak it up!
And, Happy Birthday Styleplayground!
Je n'arrive pas à croire que ça fait un an!En réalité, je ne m'en suis rendue compte que ce midi!Styleplayground.com a un an!
Il y a un an, j'étais assise au même endroit et j'ai décidé de commencer mon propre blog. J'en lisais pas mal et je voulais partager mon point de vue, mes looks, ce que j'aime et ce que je n'aime pas. Mais je ne pensais pas que ce serait aussi génial!
En seulement un an, j'ai rencontré des personnes extraordinaires, certains d'entre eux sont même devenus des amis, j'ai fait des photos avec De Modenaar et Heide Winne, j'ai été invitée à des soirées, des présentations presse et des ventes privées.
Je tiens à tous vous remercier tous pour vos visites et vos encouragements, ça signifie beaucoup pour moi! Et un merci tout spécial à mon copain, que je persécute pour qu'il prenne des photos, merci honey!
J'espère que vous aimez lire mon blog autant que j'aime l'écrire.
J'ai aussi le sentiment qu'après un an, c'est le moment de vous demander ce que vous pensez de styleplayground. Qu'est ce que vous aimez, que vous n'aimez pas? Ce que voudriez voir en plus?  C'est maintenant l'occasion pour vous de me donner votre avis!
Oh et, joyeux anniversaire Styleplayground!