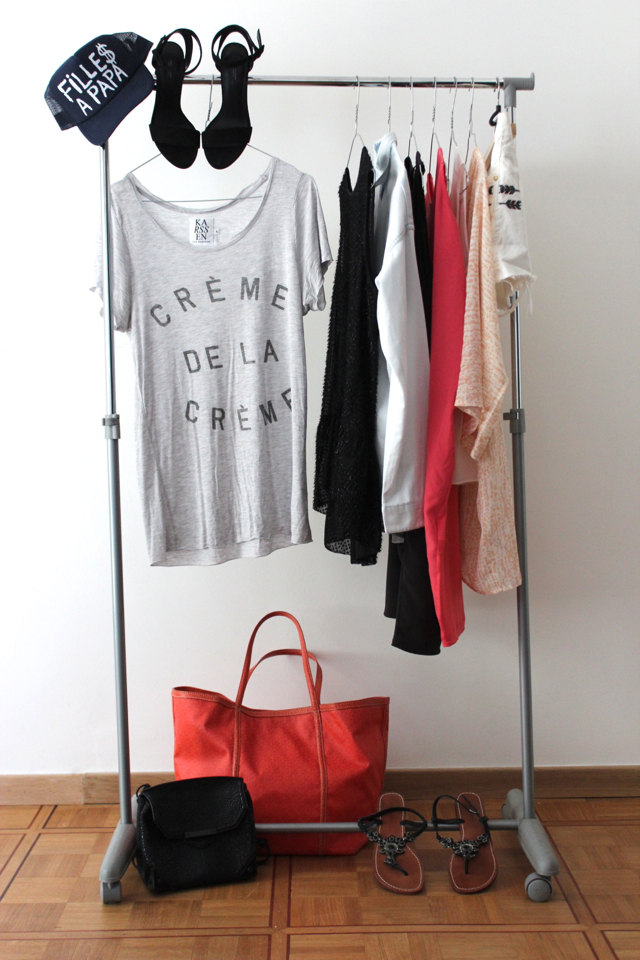 At the end of this week, I'll be on my way to Spain to spend a much needed vacation that includes lying by the pool, shopping at Zara and starring at the sea for hours. Since I am currently in the process of packing I though I'll share with you my must haves for a beach holiday as well as a couple useful tips. Let's get started!
Fashion must haves

casual t-shirts in neutral colors
 I love to pack several t-shirts whenever I am going away. Worn during the day with denim cutoffs or with a fun skirt at night, these are the basics of any wardrobe.
a pair of comfy neutral sandals 
These Zara sandals that you've already seen here, fit the bill perfectly. They're comfortable, not too high and simple enough to go with everything.
a fun dressy top 
This time, I packed this black H&M tank. I love how light it is while being fun thanks to delicate detailing and a loose cut. Perfect to dance the night away!
a denim shirt 
I believe that a good denim shirt is a staple for everyone. This light blue one from Zara (seen here) will be my companion during this trip. I plan to wear it on the place with dark denim and sneakers and to add it on top of bikinis to go and grab some refreshments.
a little black dress 
I always travel with a little black dress. It turns out to be a life saver if you decide to go on a fancy date and looks amazing on tanned skin. I added this one by H&M in my suitcase because I love its feminine cut and simplicity.
a bright shift dress
Another must have for me is a colorful dress. It can be worn to explore the city during the day, or dressed up with heels and a belt for a romantic diner.
a delicate top 
You might remember this white Zara top from my recent new in post. When I bought it, I knew it was coming on holidays with me. White looks incredible when you have a tan and the fabric is so light that it will be my best friend when the temperature rises.
a bikini cover up
On holidays, we tend to live in our bikinis. Because of that, I always make sure to pack some sort of bikini cover up to throw on when I am having lunch or running across the street to get gelato! I chose to take this sheer one from H&M because I love its pattern and color!
denim shorts
Although I am not a shorts person (they usually don't look good on me), I managed to find the perfect pair of denim shorts this year. They're made from white denim and have cute detailing down the side. I can already picture myself wearing those with a black t-shirt and jeweled sandals.
a small cross body bag
Ever since I got this Alexander Wang, it has been my favorite companion. It is perfect to take with you on shopping trips as it leaves your hands free but also appears to be perfect during happy hours with friends!
a giant tote
Every summer, I steal this gorgeous DKNY tote from my mum. It is huge and houses my whole life, from magazines and sunscreen to my wallet and sunglasses. I use it for everything: getting on the plane, going to the beach or exploring the city.
cute flat sandals
These black ones are from Mellow Yellow ages ago but they always come on holidays with me. Worn with a bikini and shorts they are my go to shoes to hit the beach but I also wear them at night to go out and have fun.
My tips for packing
◇ Make lists of everything you'll need or want to bring with you. Cross items as you pack them to make sure you don't forget anything important.
◇ Pack in advance. There's nothing worse than packing the day before leaving only to find out that your favorite bikini is missing or that your little black dress is dirty. Pack at least two days in advance to avoid any of these situations.
◇ Put everything you want to take with you on a clothing rack, this way you'll be able to tell if you're over packing.
◇ Pack wisely. Try to think of at least two outfits for every item you throw in your suitcase. A dress can be worn as a top and a simple white t-shirt goes with everything.
◇ Pack some accessories. A colorful belt, a statement necklace or a beautiful scarf can completely change an outfit. Make sure to pack some accessories to turn your beach dress into a dressier version at night.
◇ Pack your valuables in your carry on. One of the worst surprises that can happen to you is to find out that your suitcase has been lost. So, make sure to pack a change of clothes, minimal makeup and all your valuables in your carry on bag. This should include your laptop, camera, designers items and a full outfit.