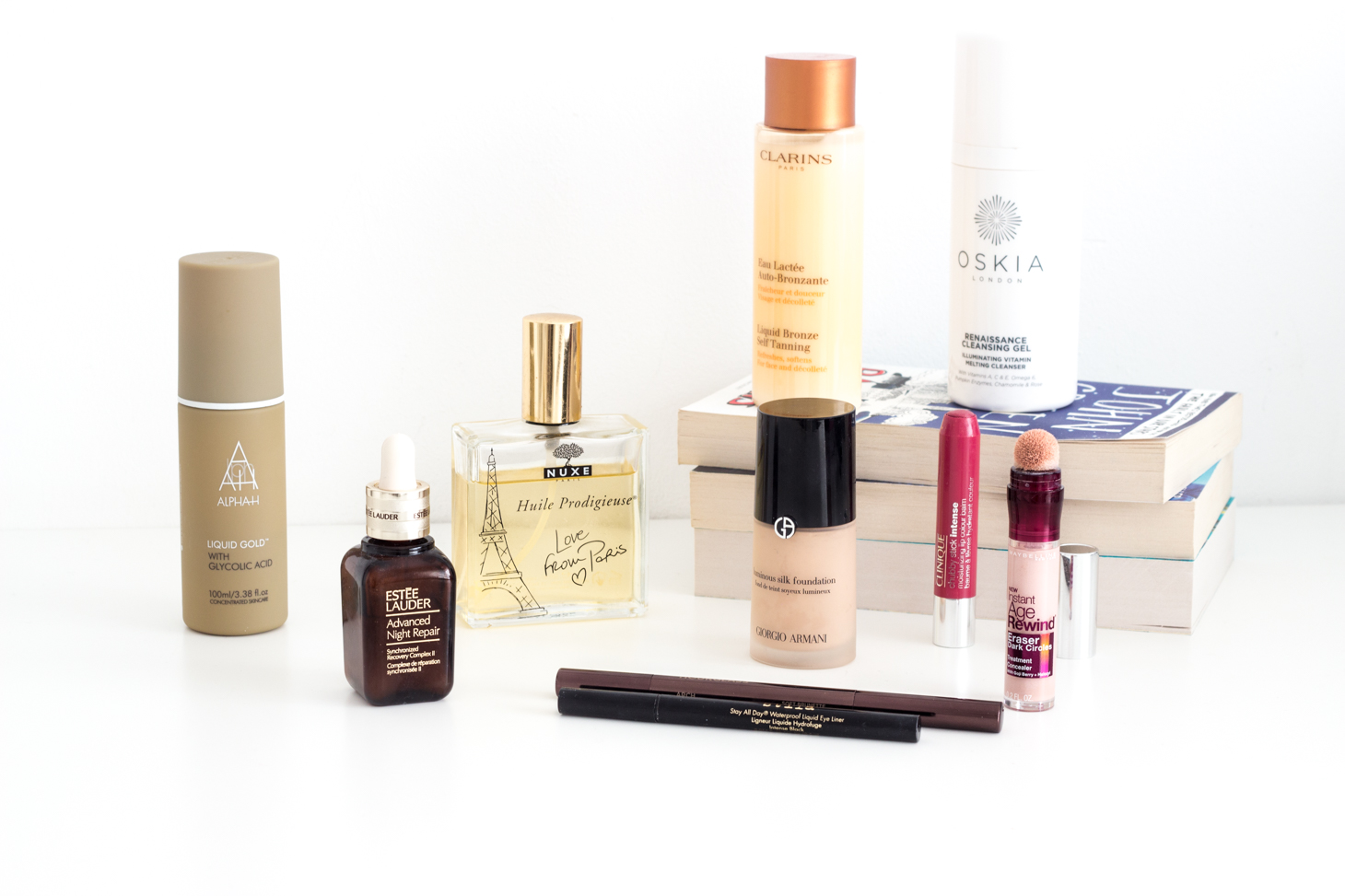 As much as I love trying out new products, I have a handful of skincare and makeup bits that I simply can't live without. Whether it's a wonderful cleanser, a magical self tan or a statement lip, I always make sure to have back ups on hands, especially if I use them on a daily basis… Here are my most repurchased beauty products!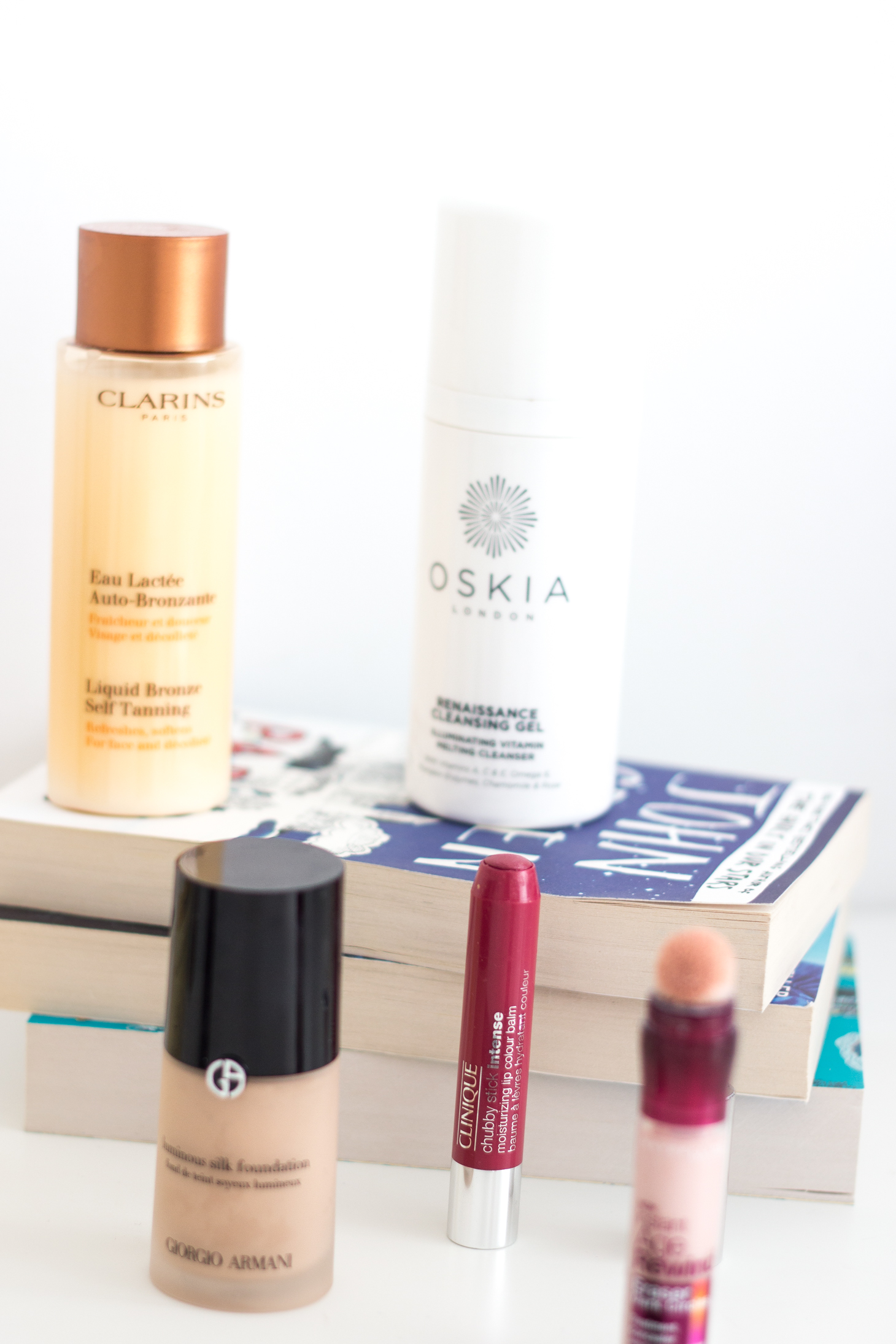 Let's start with my all time favorite cleanser, the Oskia renaissance cleansing gel. Don't be fooled by its name, as I've mentioned it here and here before, this is more like a balm than a gel and it is simply wonderful. Whether you're using it to remove your makeup after a long day or to cleanse your face early in the morning, this will quickly become your favorite step in your routine, I guarantee it. Of course, I also had to include the Estée Lauder advanced night repair in here as well. No matter what, I always come back to it, no matter if my skin looks spotty or dry. It's simply the best all around serum and it makes a huge difference on my complexion! Another bottle that I always keep on my skincare shelves is the Clarins liquid bronze. This is the foolproof way to get a natural, glowy tan on your face, neck & decollete. You simply apply it with a cotton pad (no more orange hands) & a few hours later you'll have a beautiful beach babe glow!
The Nuxe huile prodigieuse has been one of my favorite ever since I lived in Paris. It's a great multitask product: you can apply it all over the body, add a few drops to your bath and even use it as a hair treatment. Needless to say that its mini size is perfect for traveling (and it is super cute as well, I'm not gonna lie!)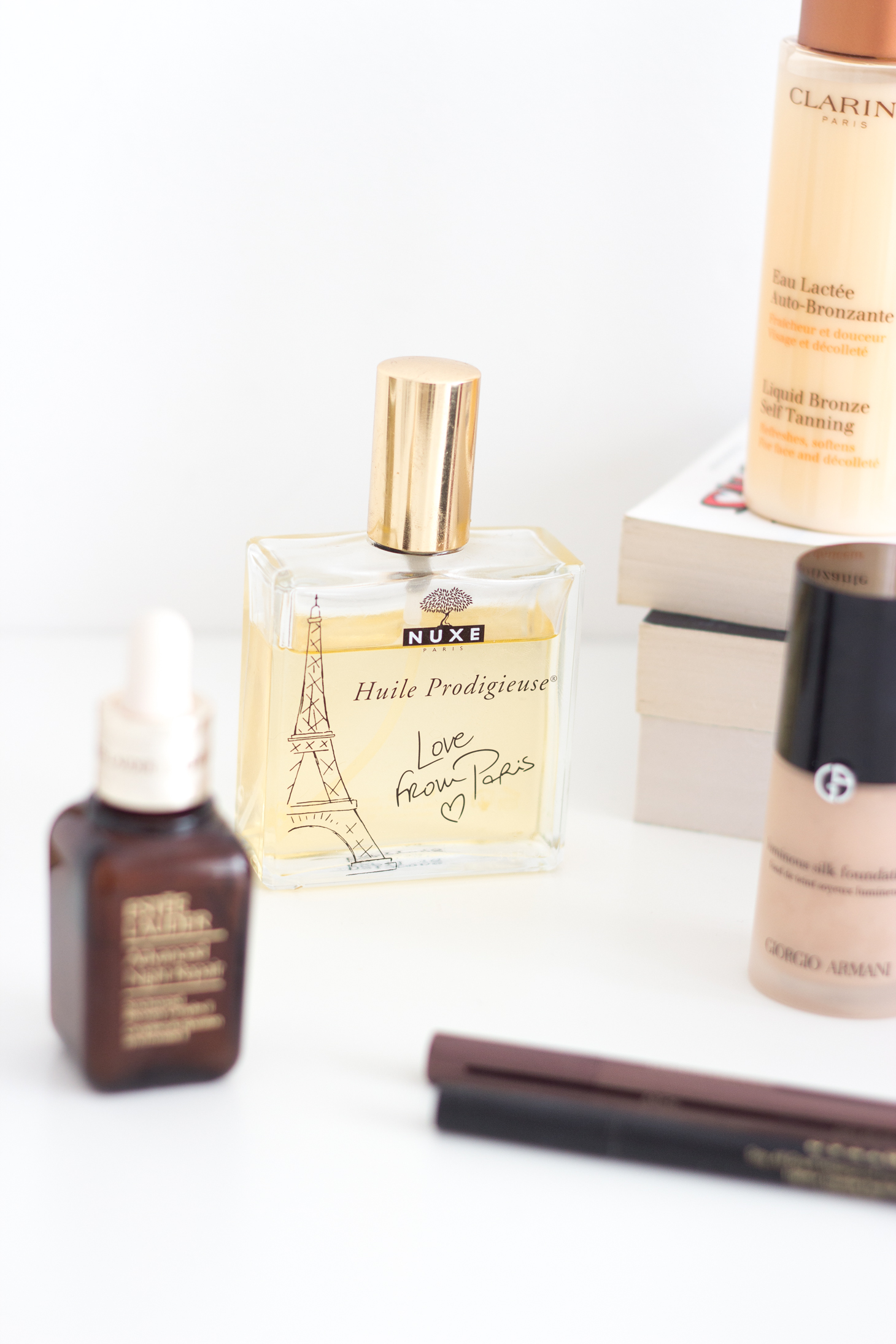 For makeup, I only have a couple of products as I tend to switch things around quite a bit but, no matter what, I always have these on hands. First, there's the Hourglass Arch Brown sculpting pencil. This was the first product that I found that was the perfect match for my brows (I use the shade light brunette in case you're wondering). This waxy pencil is great to quickly filli in your brows and the fact that it comes with a little brush on the other end makes it the best daily companion. Then, I have my all time favorite concealer, the Maybelline age rewind in the brightening shade. This is the best to highlight your face to give it more dimension. You can see how I apply it in this video to get an idea of the result. Another complexion must have for me is the Giorgio Armani luminous silk foundation. This is the best foundation if you're looking for a medium coverage that delivers a beautiful natural satin finish. It comes in a wide variety of shades so chances are that you'll find your perfect match!
Of course, I had to include my favorite eyeliner. While I use to love this one, I only wear the Stila stay all day waterproof liquid eye liner nowadays. This liner provides a beautiful, long-lasting color that stays on all day, no matter what. No wonder I chose it for my wedding day (see the full tutorial here). Finally, last but not least, I've included my favorite statement lip, the Clinique chubby stick intense in the shade roomiest rose. This creamy raspberry lipstick is just the best all year long. I love how hydrating it feels and how easy it is to reapply on the go. This must be my third tube, so that says a lot!
Do you have any favorite beauty products? Make sure to share in the comments down below!