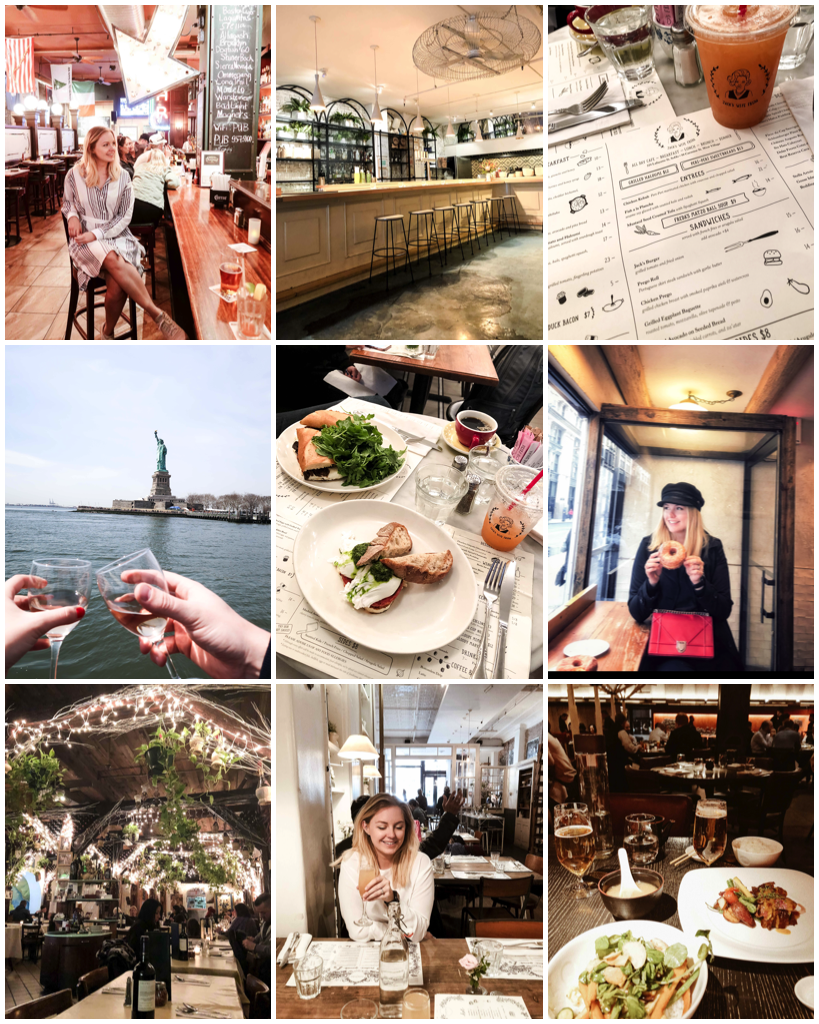 As you all know, Renaud and I spent a week in New York City last month. We both visited the city a couple of times already so this time around, we decided to do some research about food, local dishes, and restaurants and we had the best time! And since I promised to share all my favorite addresses along with some tips with you, here we are!
---
BREAKFAST & BRUNCH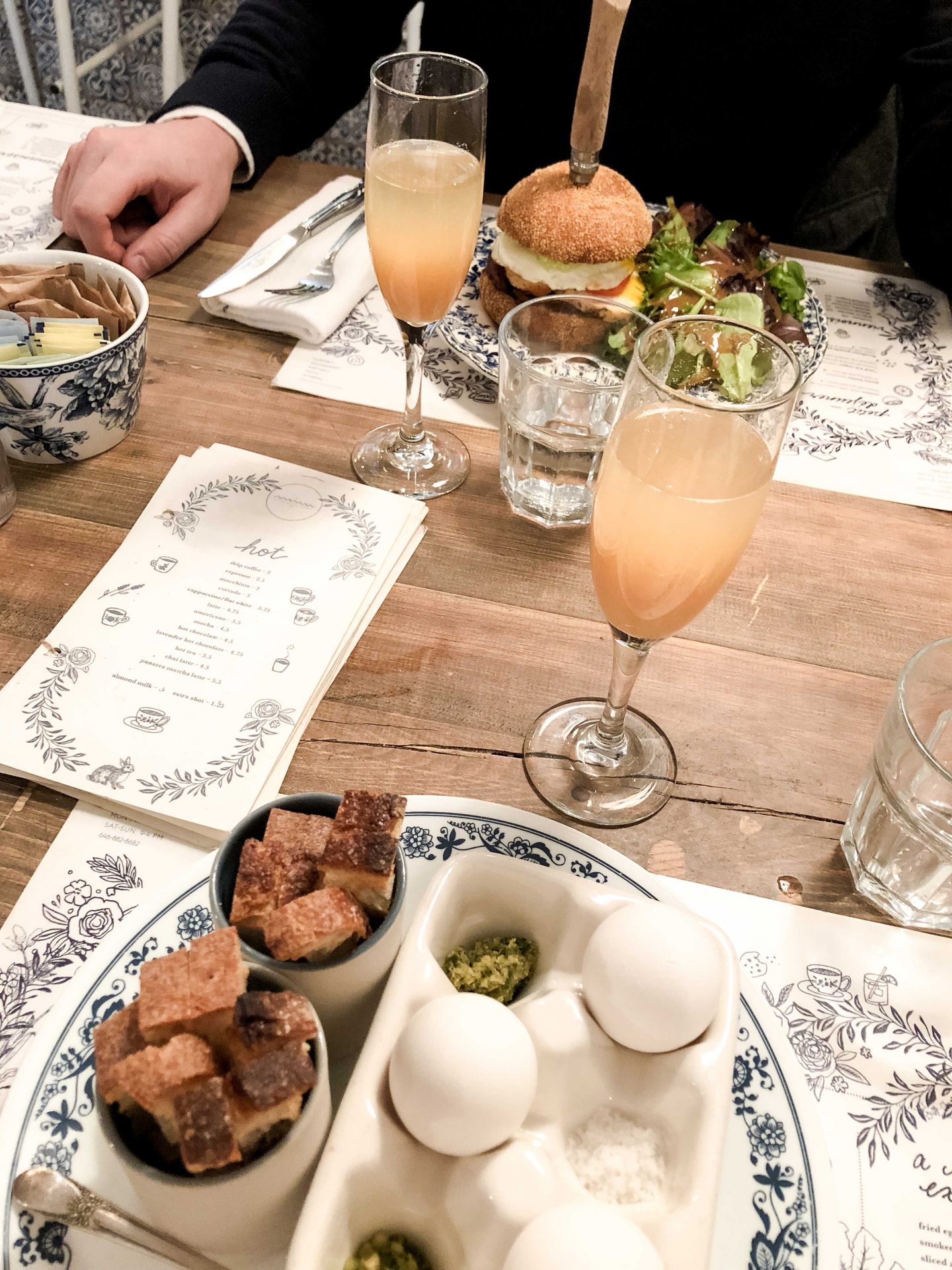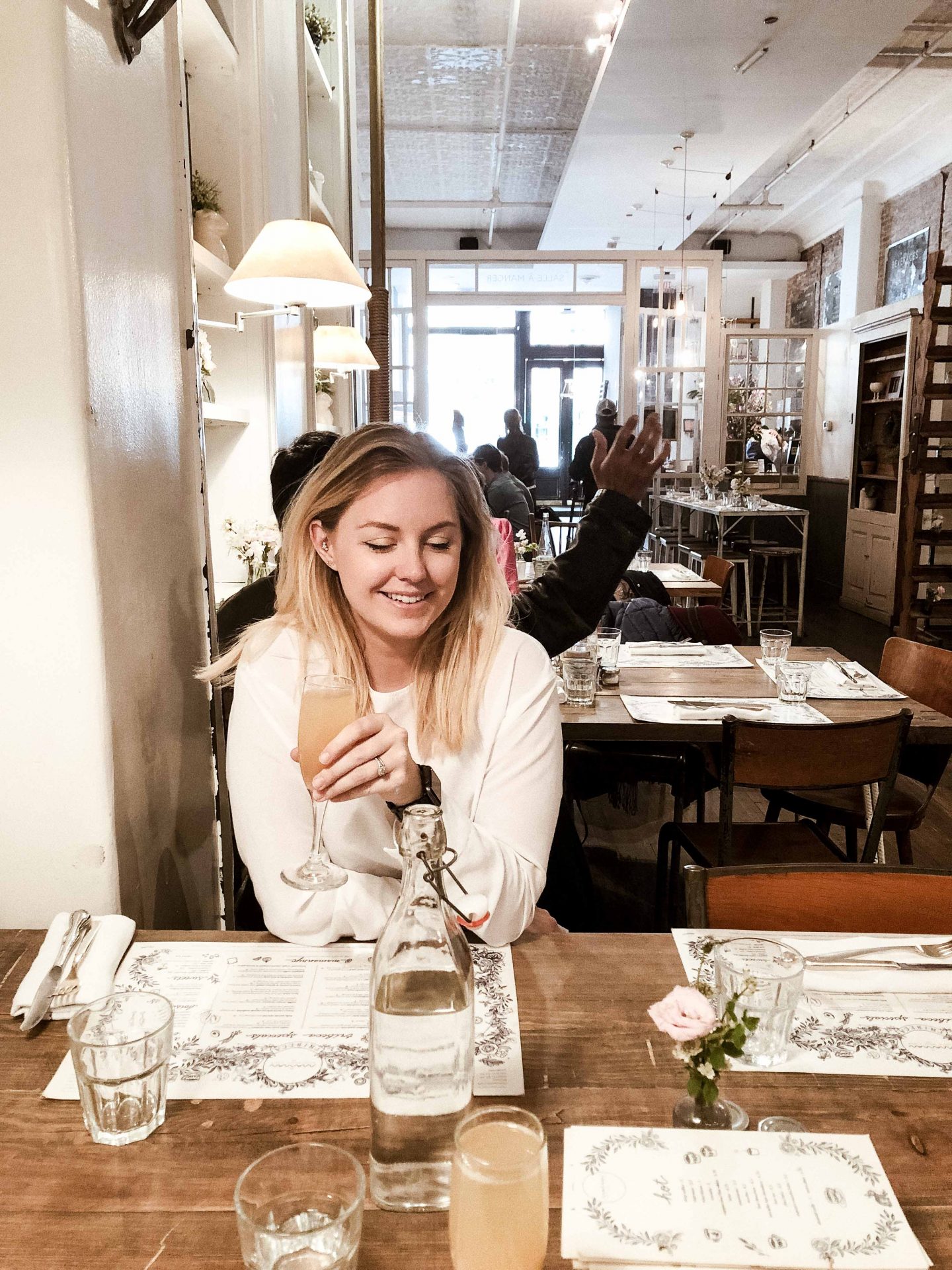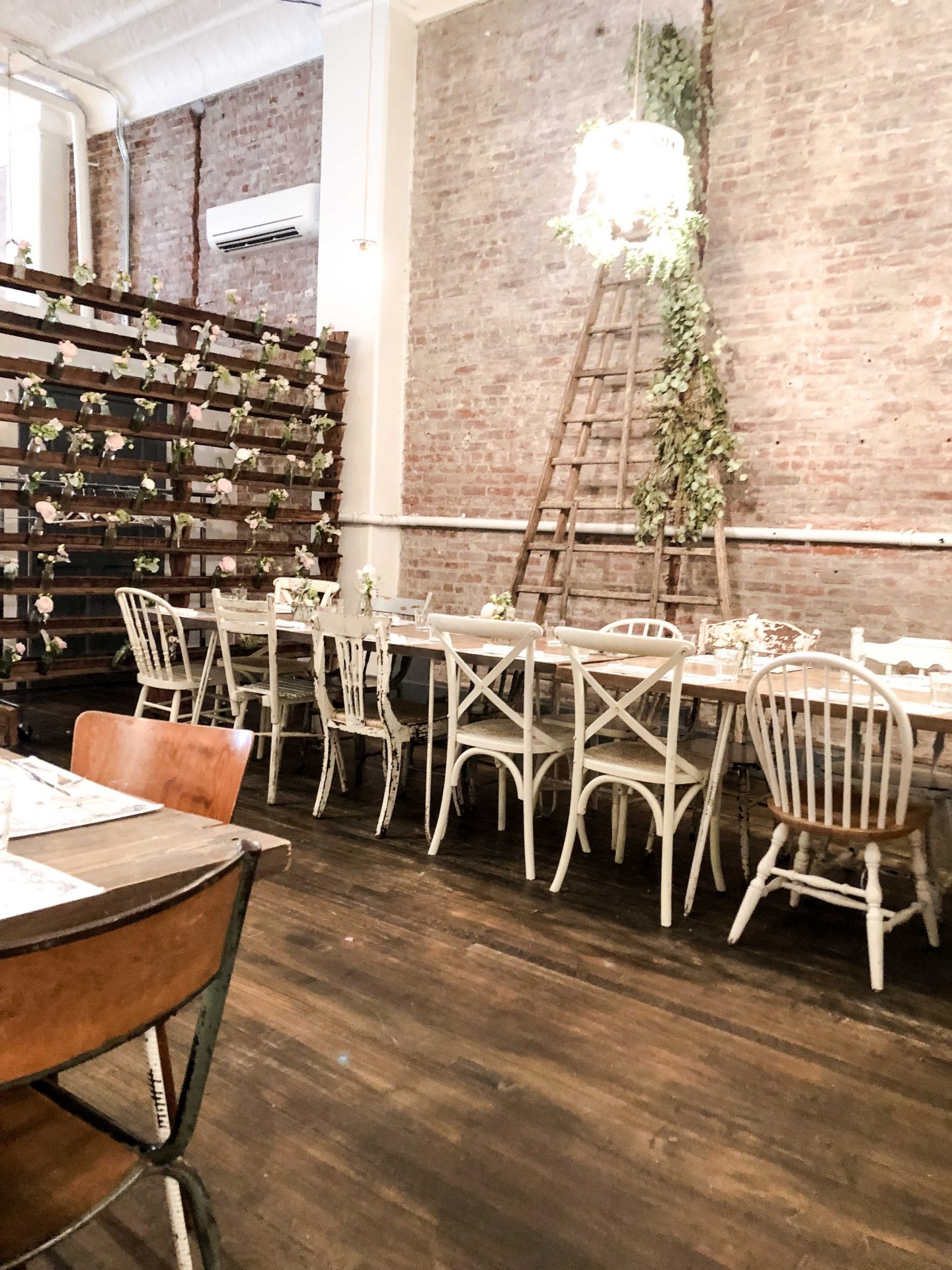 Maman: when I researched breakfast around Tribeca, I didn't come across many options… We ended up settling on Maman and it was the most perfect spot for a simple yet luxurious breakfast. The decor itself is really cute and Pinterest worthy. We both enjoyed Bellini and I had soft boiled eggs while Renaud chose a breakfast sandwich. Needless to say that both were delicious!
No reservation needed.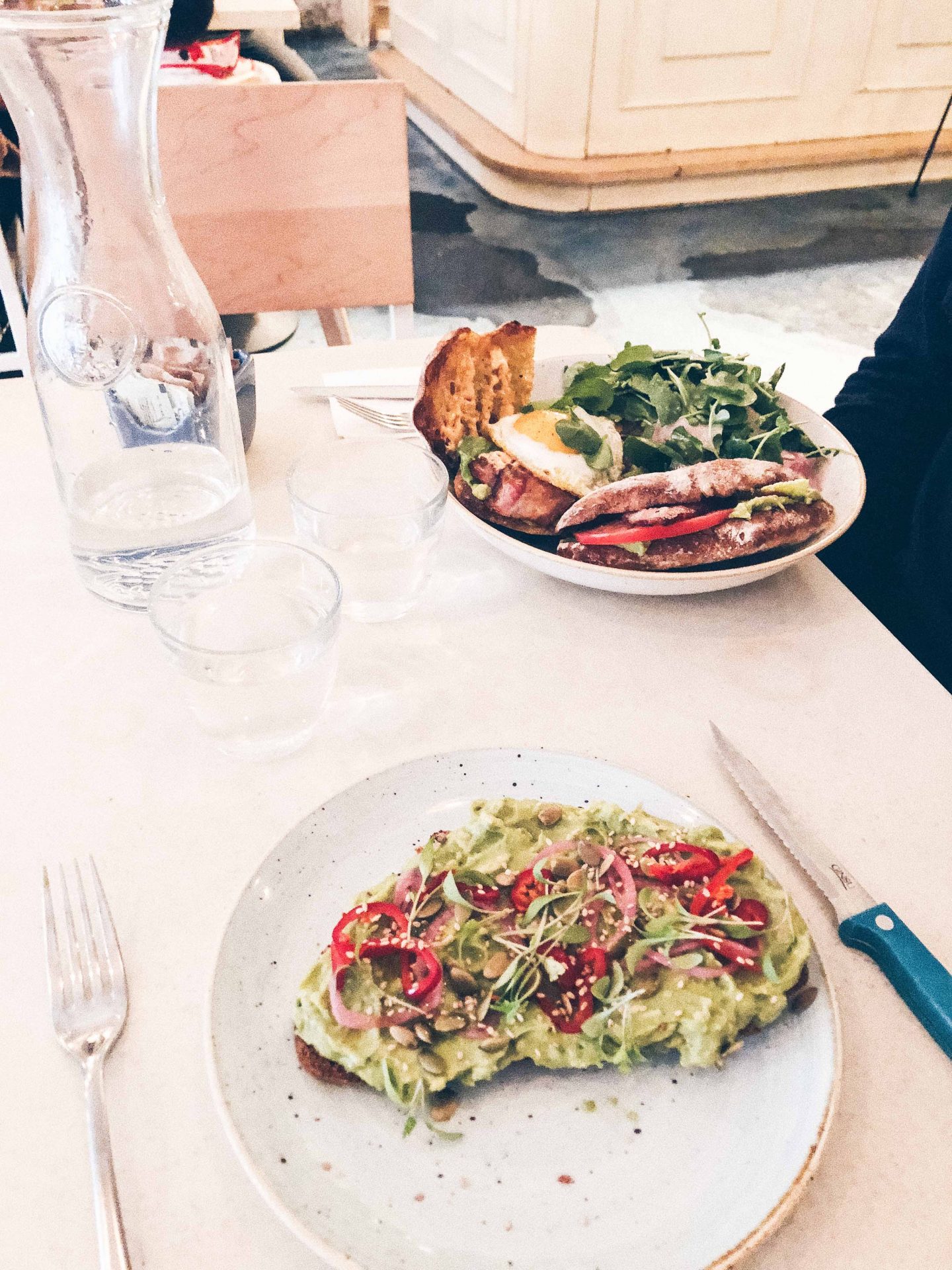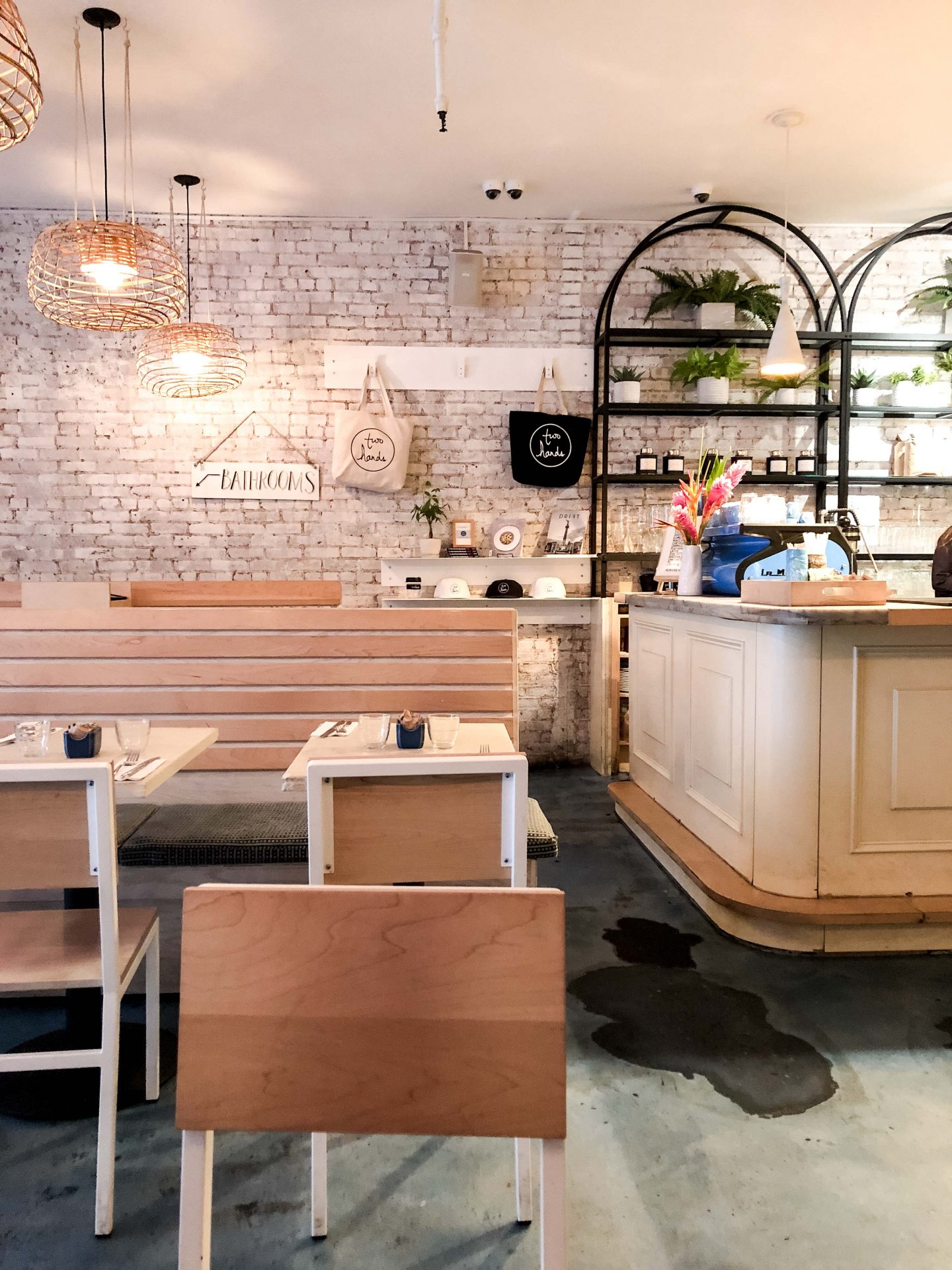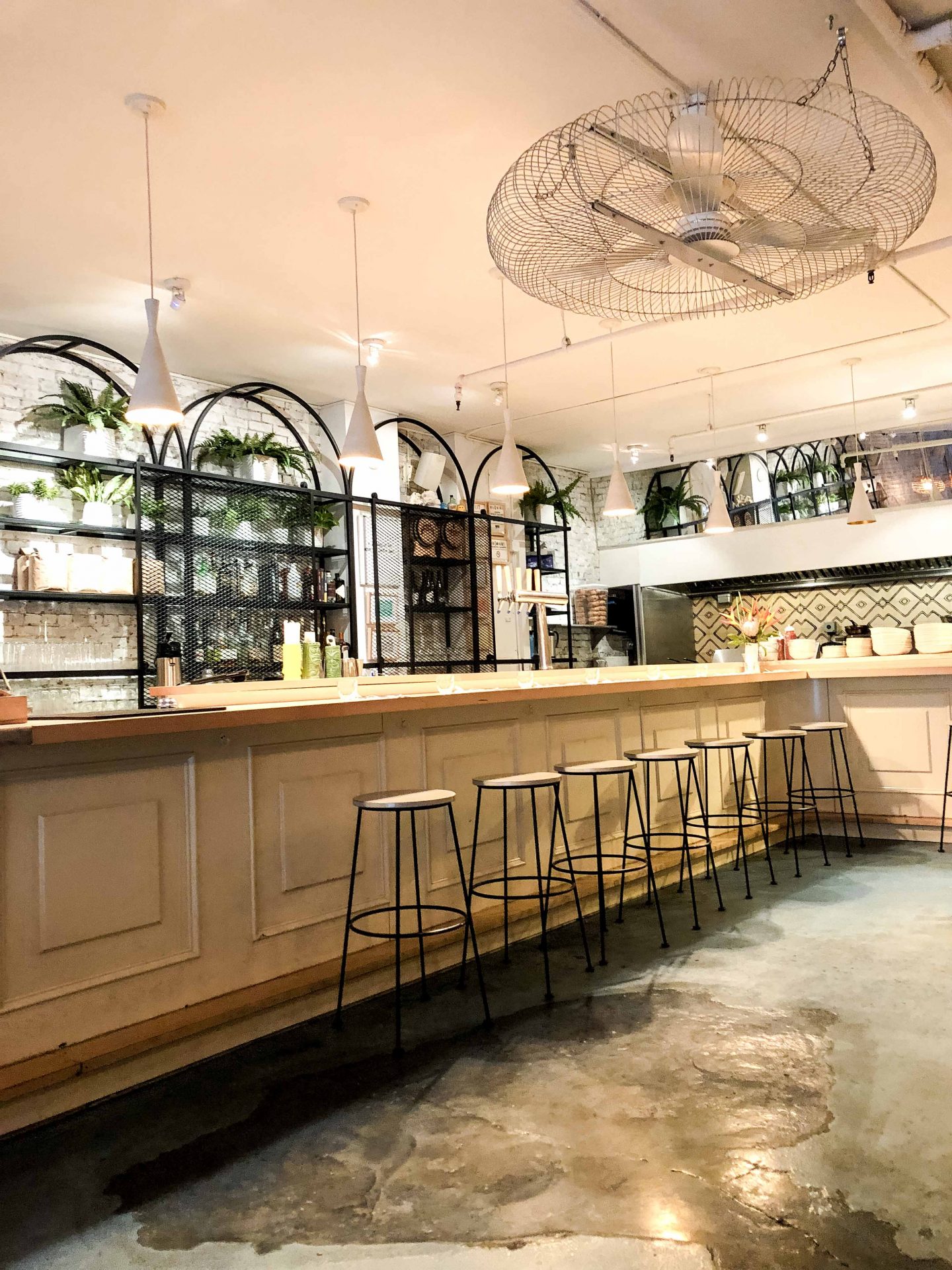 Two hands: if you like healthy food, this is the place for you! We went to Two Hands super early (jet lag!) at 8 AM and we were the first one around and I am glad that we were! Within half an hour, the place got crowded and people were queuing up front as they don't take reservations. In all honesty, it was good but not worth waiting in line for more than 20 minutes for it.
No reservations but get there extra early!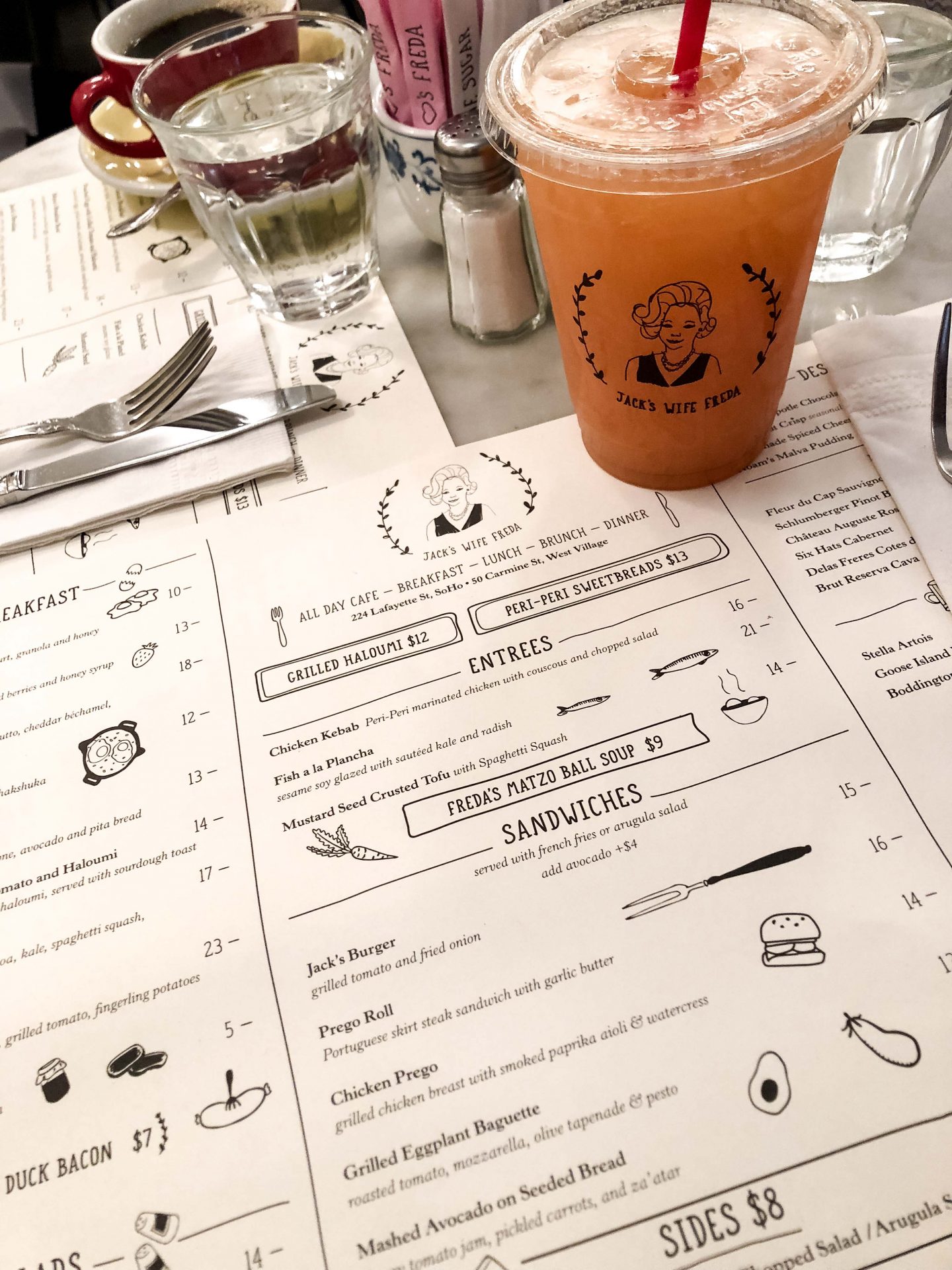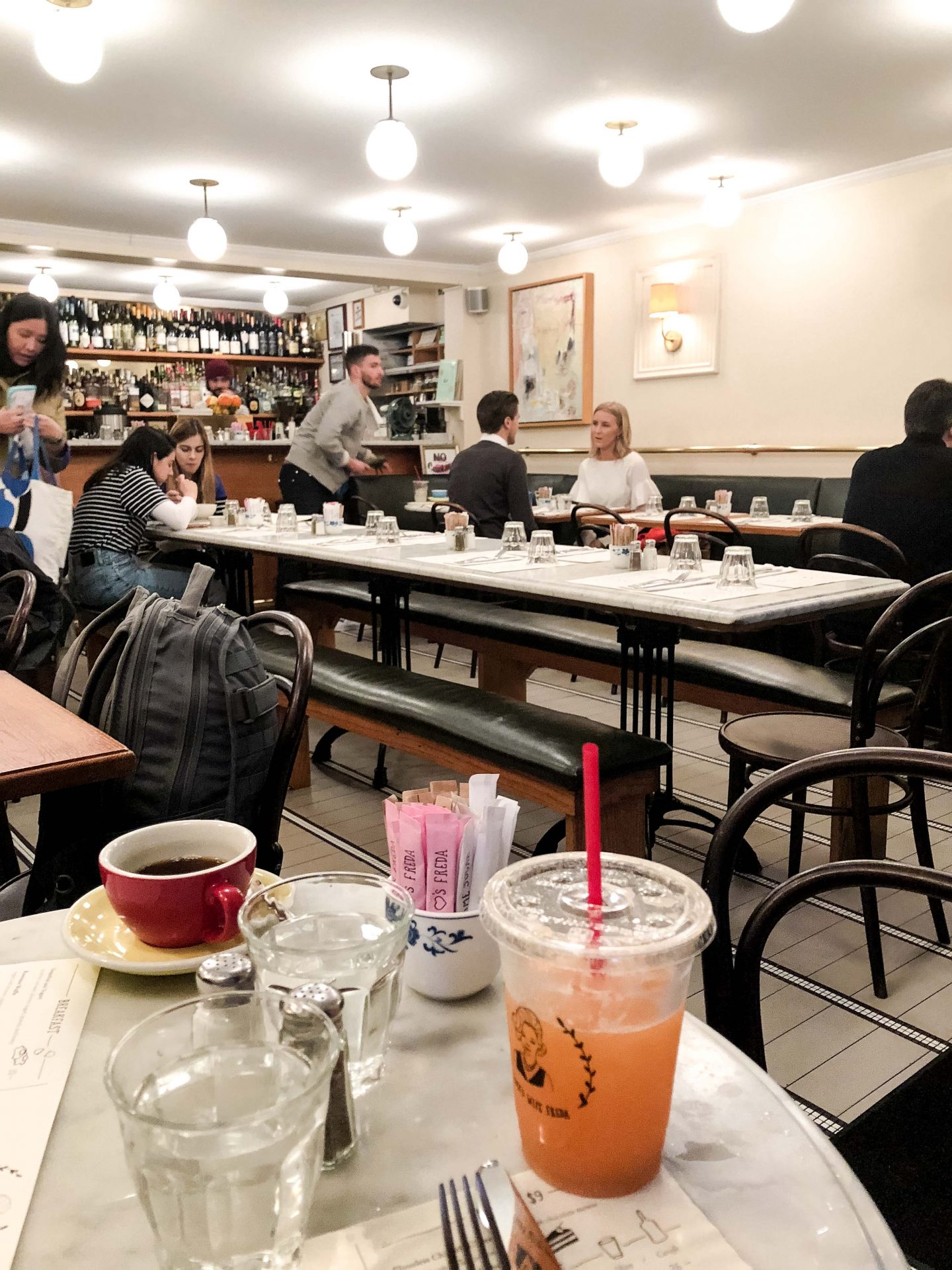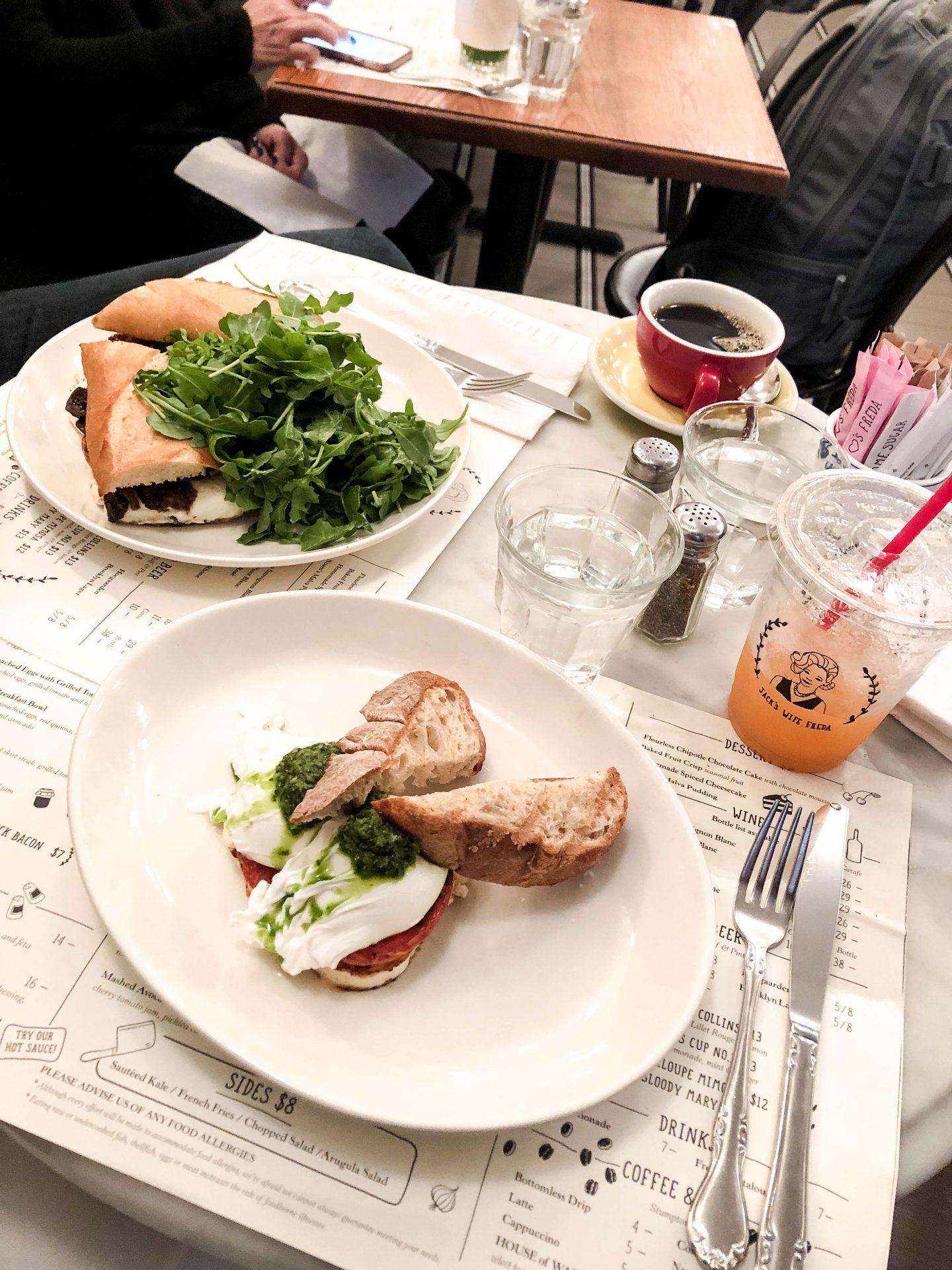 Jack's wife Freda: this particular place was high on my list as it is perfectly located in Soho. We ended up arriving soaking wet as it was pouring that day, so needless to say that we were glad to be welcomed by the fresh coffee scent! I tried their cantaloupe juice which was a revelation as it is so refreshing but not too sickly sweet- I loved it! I got poached eggs with halloumi which was a lovely combination and Renaud got his usual breakfast sandwich but this time with roasted vegetables… Yum!
No reservation needed.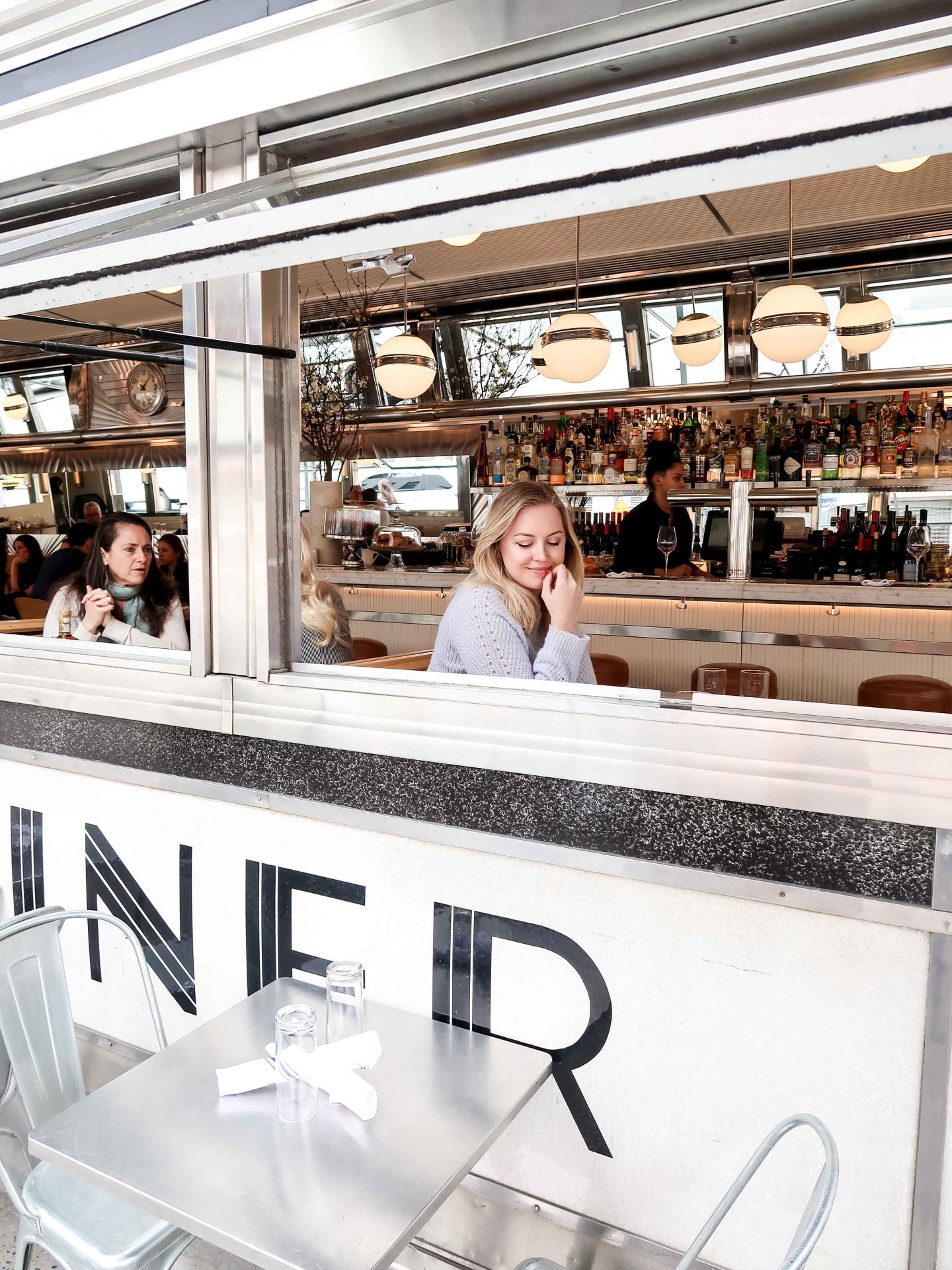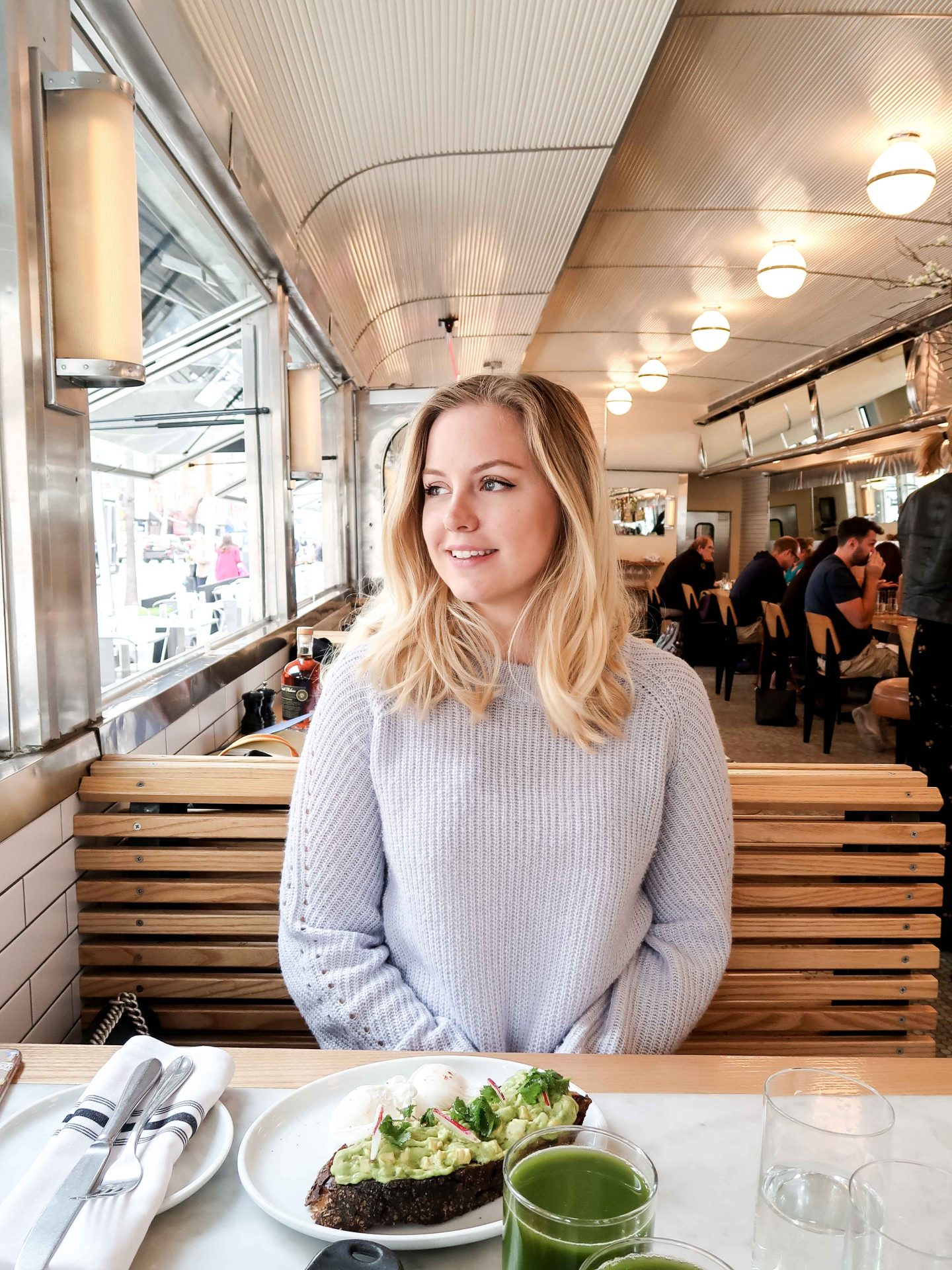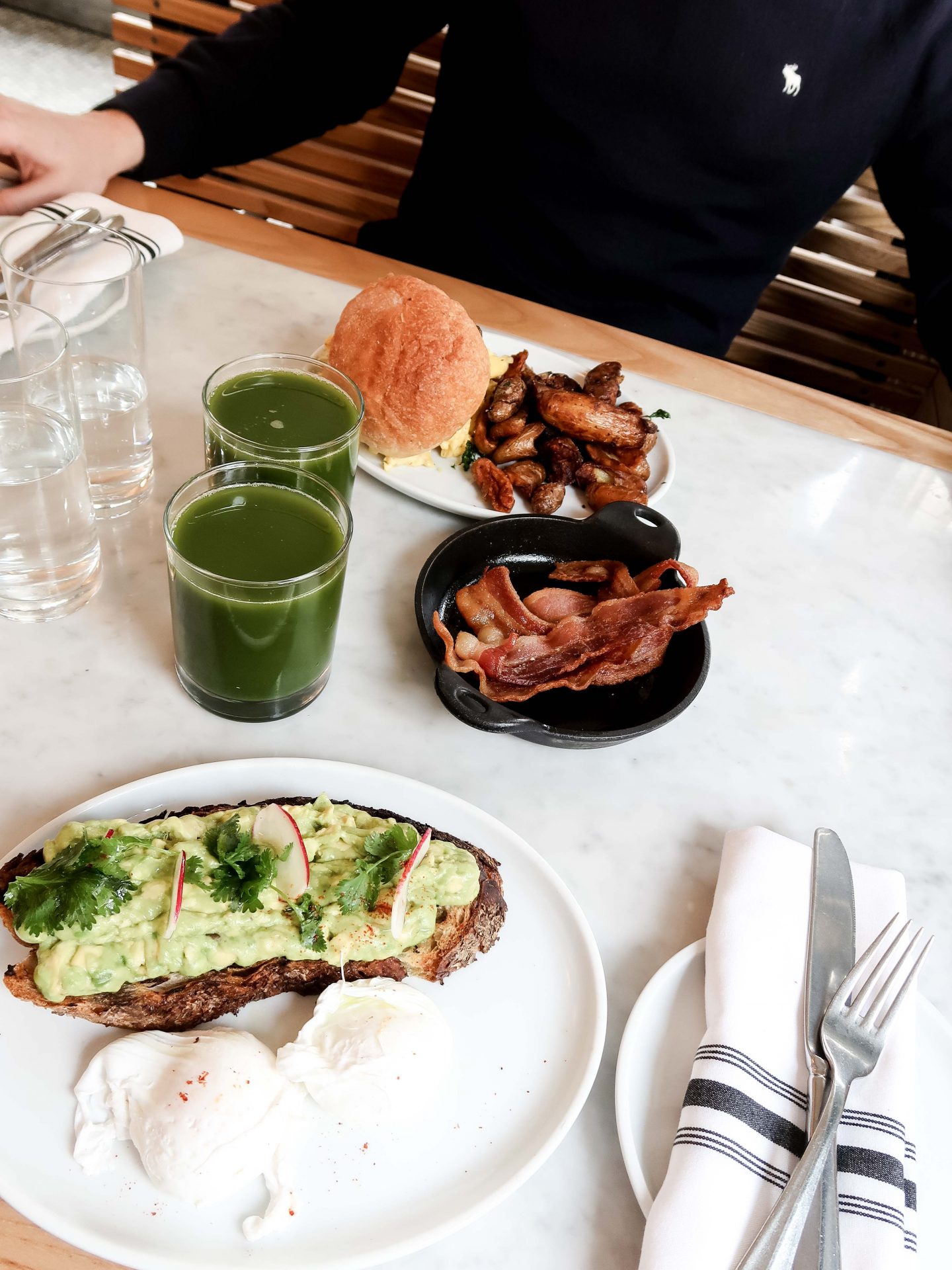 Empire Diner: our first full day in the city was Renaud's birthday, so I made sure to plan a fun day. It all started with a very filling breakfast at the Empire Diner, a place that was high on my list! The place is simply beautiful and exactly as I imagined it. I got the avocado toast with poached eggs while Renaud got the burgers and we were both super happy with our orders. We got a place right by the windows which allowed us to do some people watching as well!
Book online to avoid queues.
Balthazar: sadly, I don't have any photos of our brunch at Balthazar, so you'll have to believe me when I tell you that it's good stuff! This place looks like a typical Parisian brasserie with plush seating, a busy atmosphere, and incredible bread! We decided to head there for brunch and we were pleased to see that they have everything on the menu: from smoked salmon to eggs benedict and burgers.
Book online, especially on the weekends.
---
LUNCH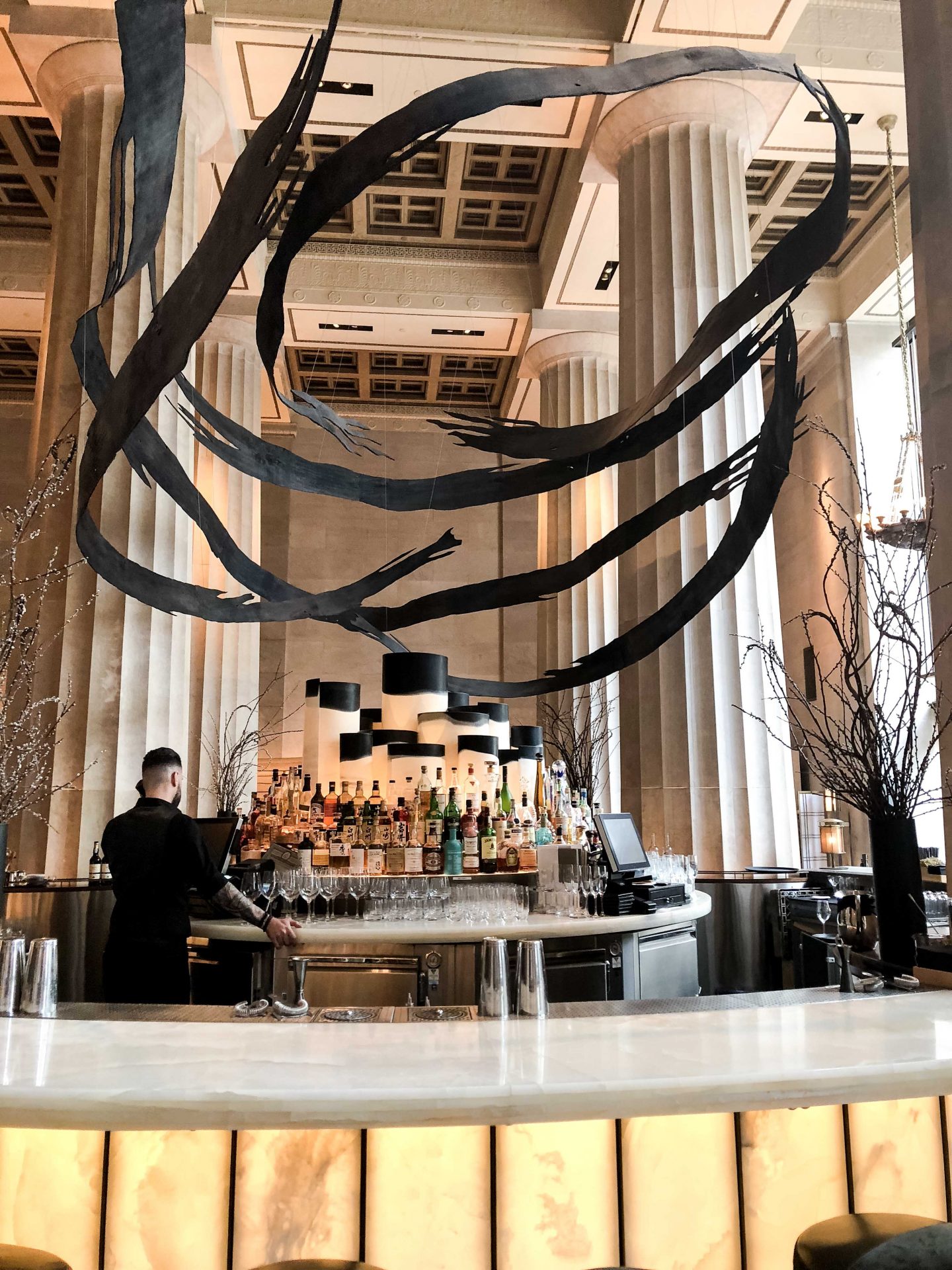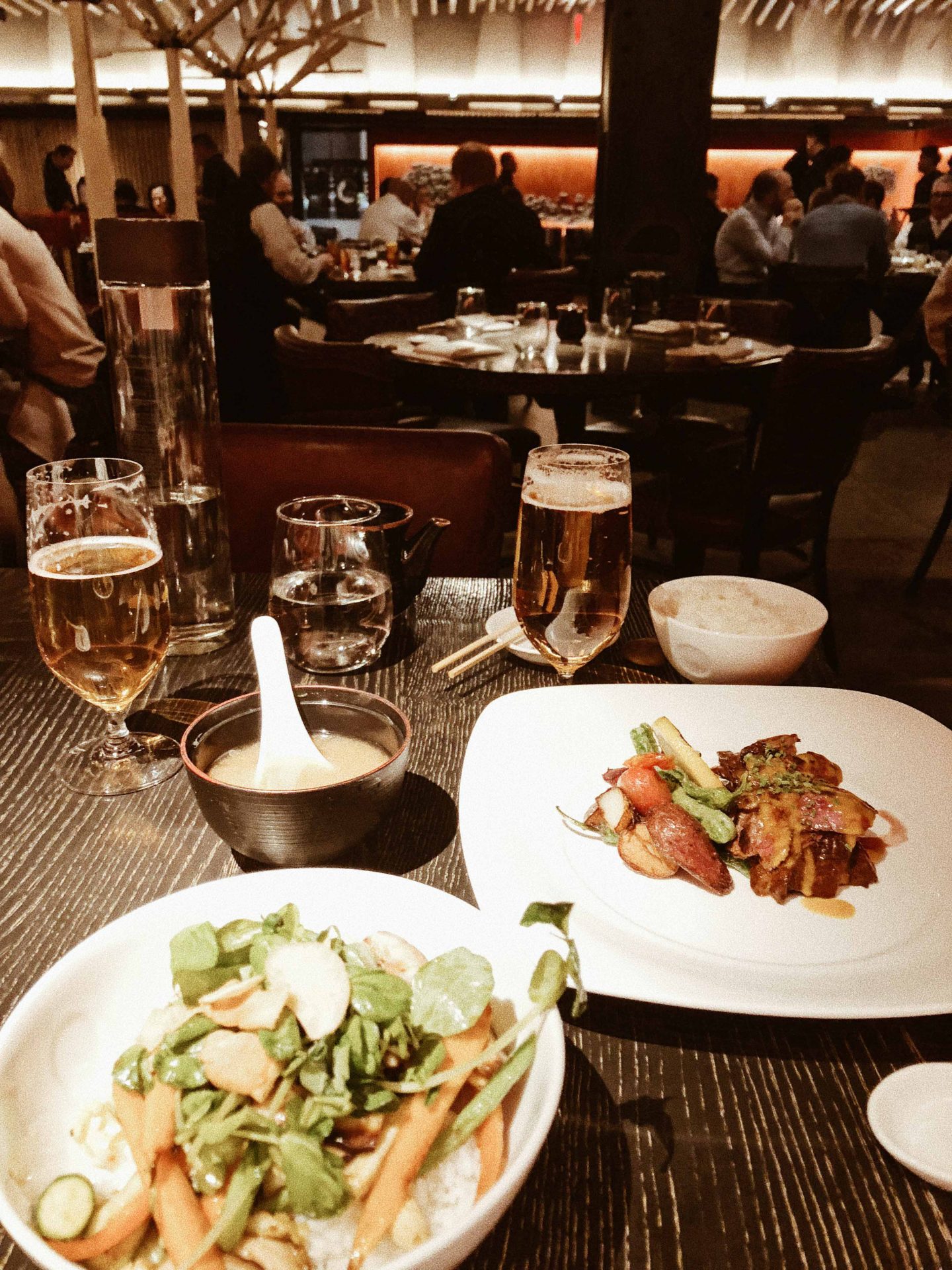 Nobu downtown: Nobu is the kind of place that doesn't need an introduction anymore… Amazing Japanese food, beautiful locations, and impeccable service have made the restaurant's reputation through the years. This time, we decided to book a lunch for two at Nobu downtown as we visited the One World Observatory in the morning. The place is simply sumptuous. The upstairs bar is filled with natural light and the decor is simply beautiful. The main restaurant is located downstairs and feels very cozy with dim lighting and plush chairs. We spent a good two hours in there just trying out new things on the menu and laughing about anything and everything. While this restaurant is a bit more pricey than others, it is totally worth it. To put it simply: it was our absolute favorite.
Book online in advance as it is very popular.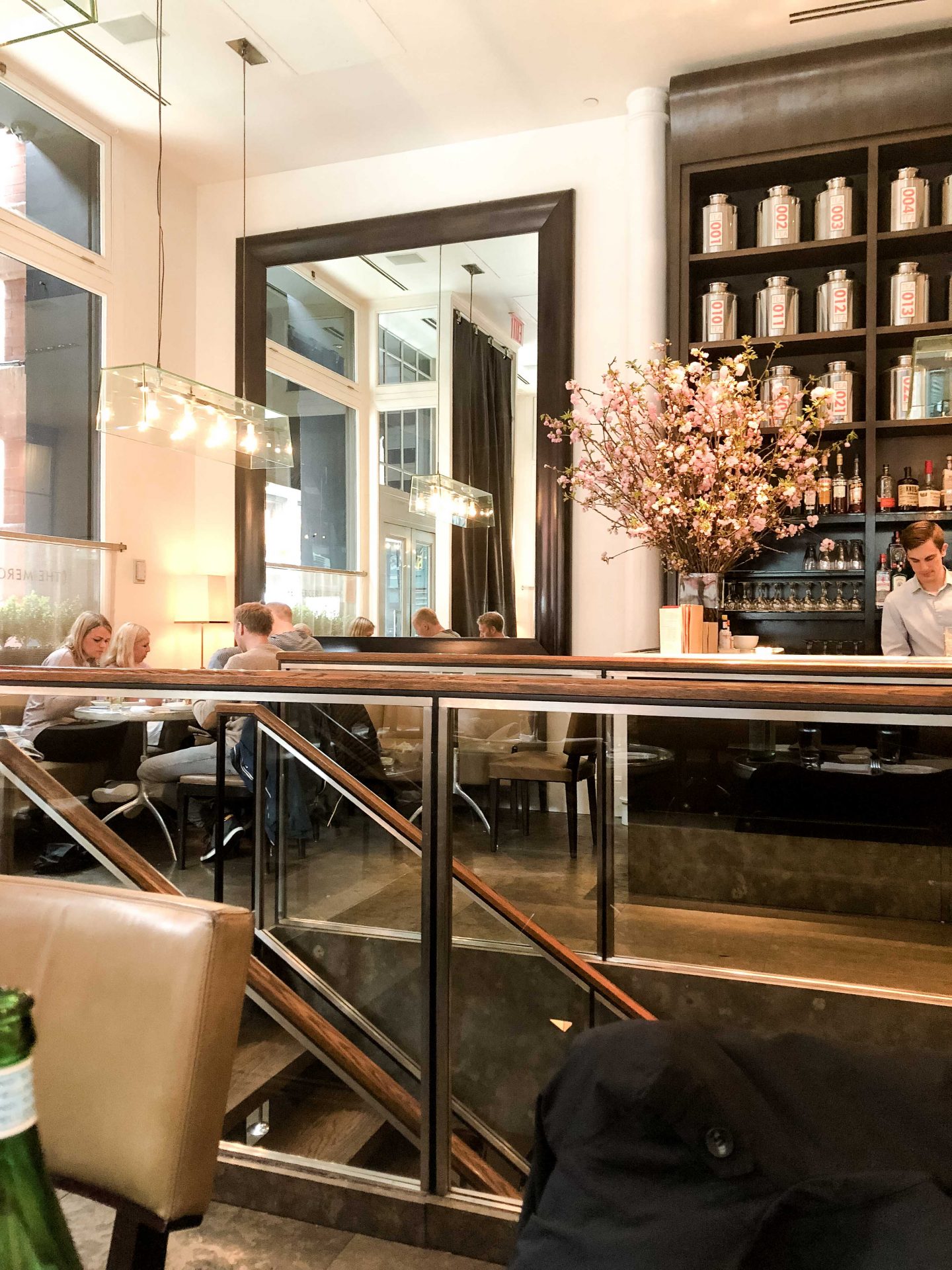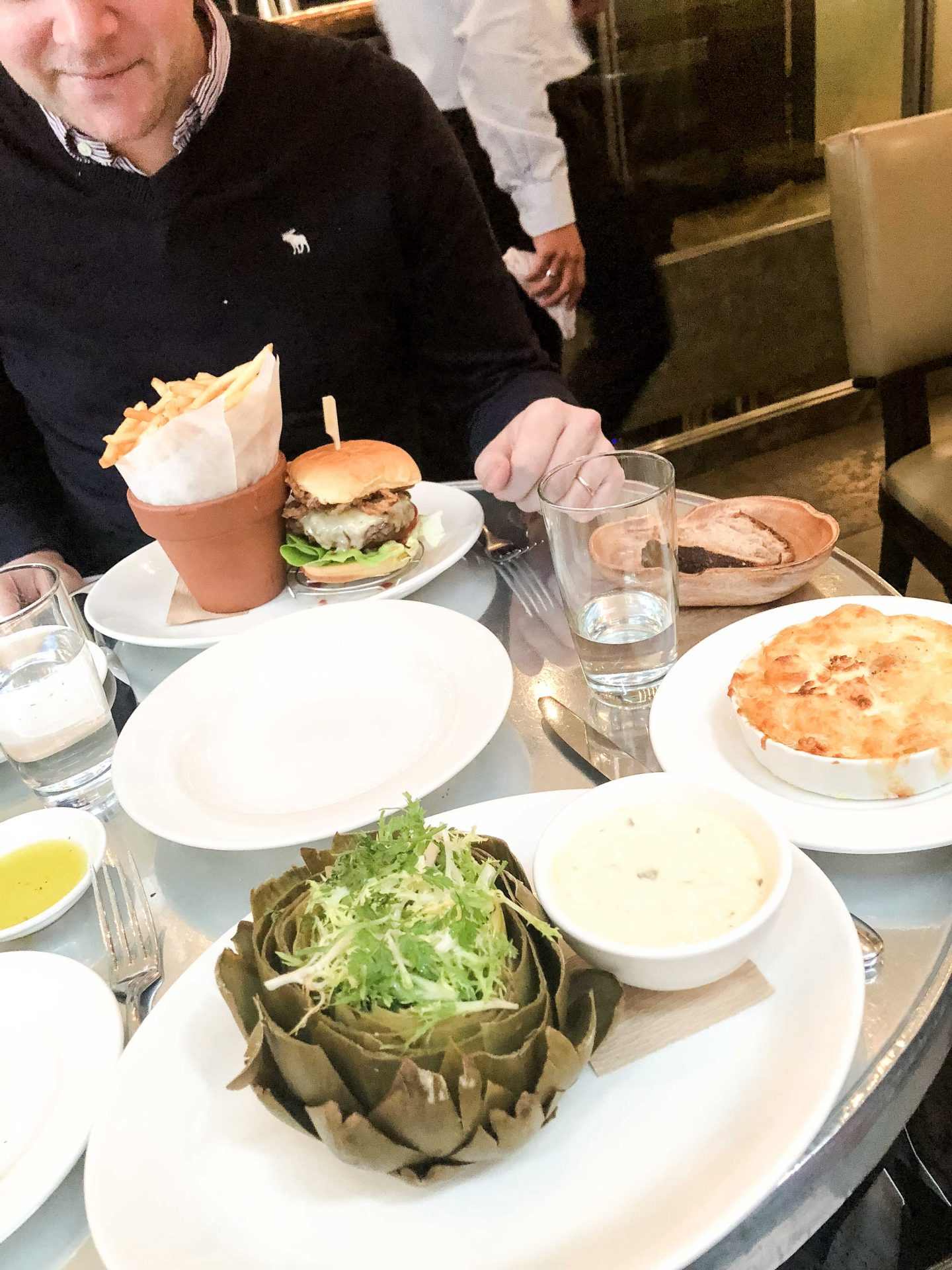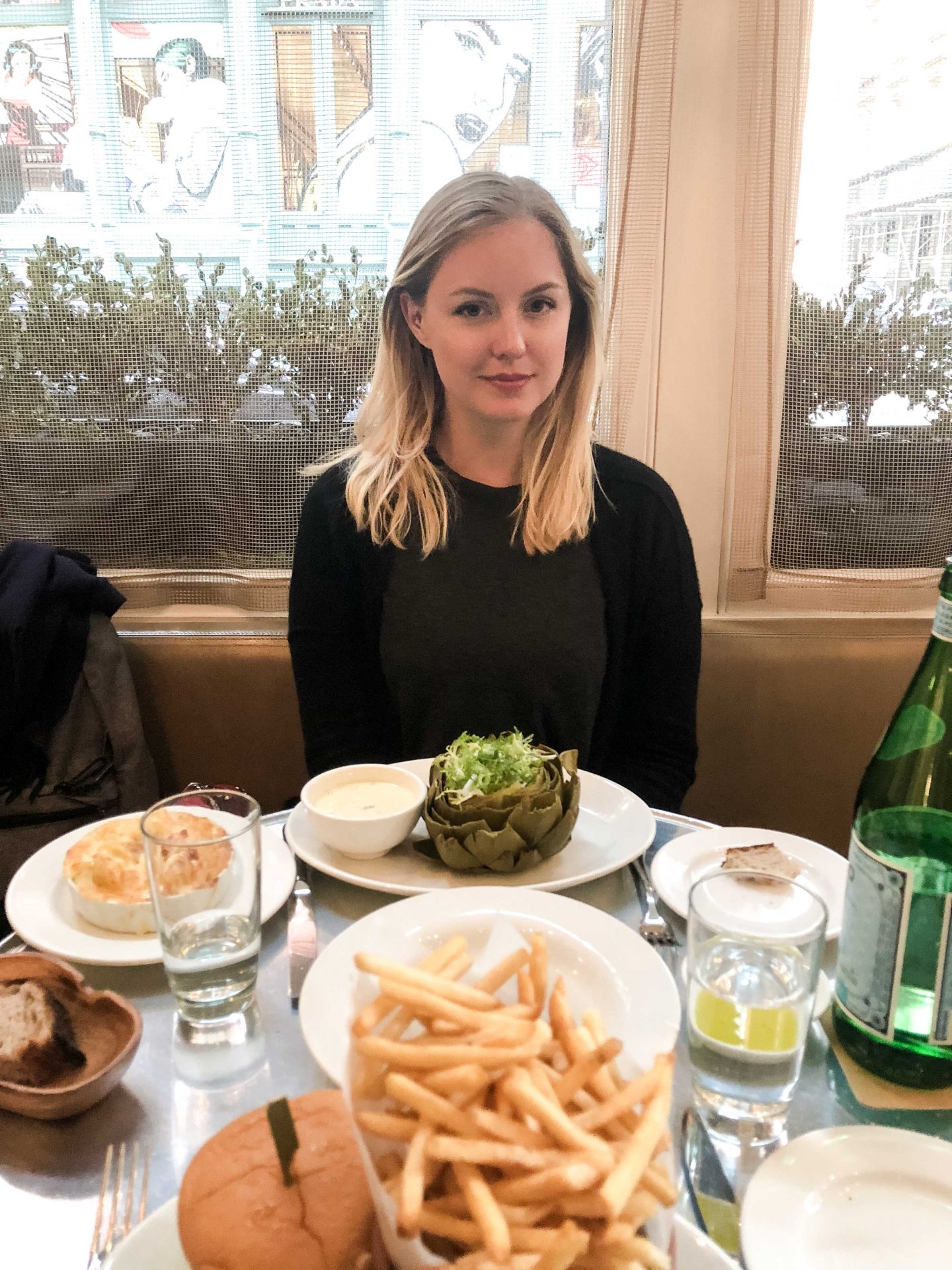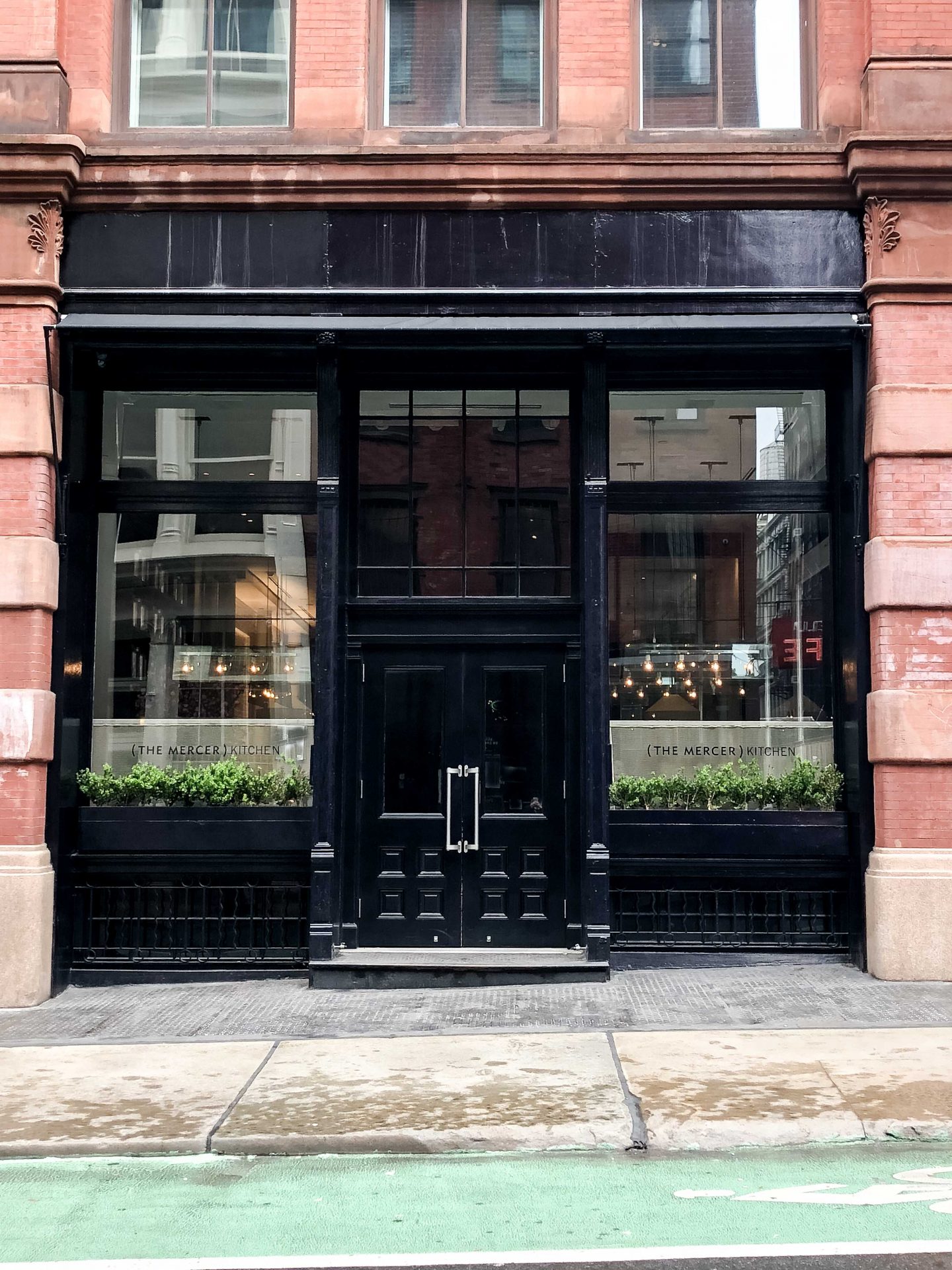 The Mercer kitchen: another one high up on my list was Mercer kitchen. I've heard people going on and on about it for years so it was about time that we paid a visit! We ended up going for lunch as we were spending the day in the neighborhood. Renaud had the burger while I opted for a simple artichoke with a side of mac and cheese. The downside? The drink menu isn't as extensive as I would have loved…
Book online.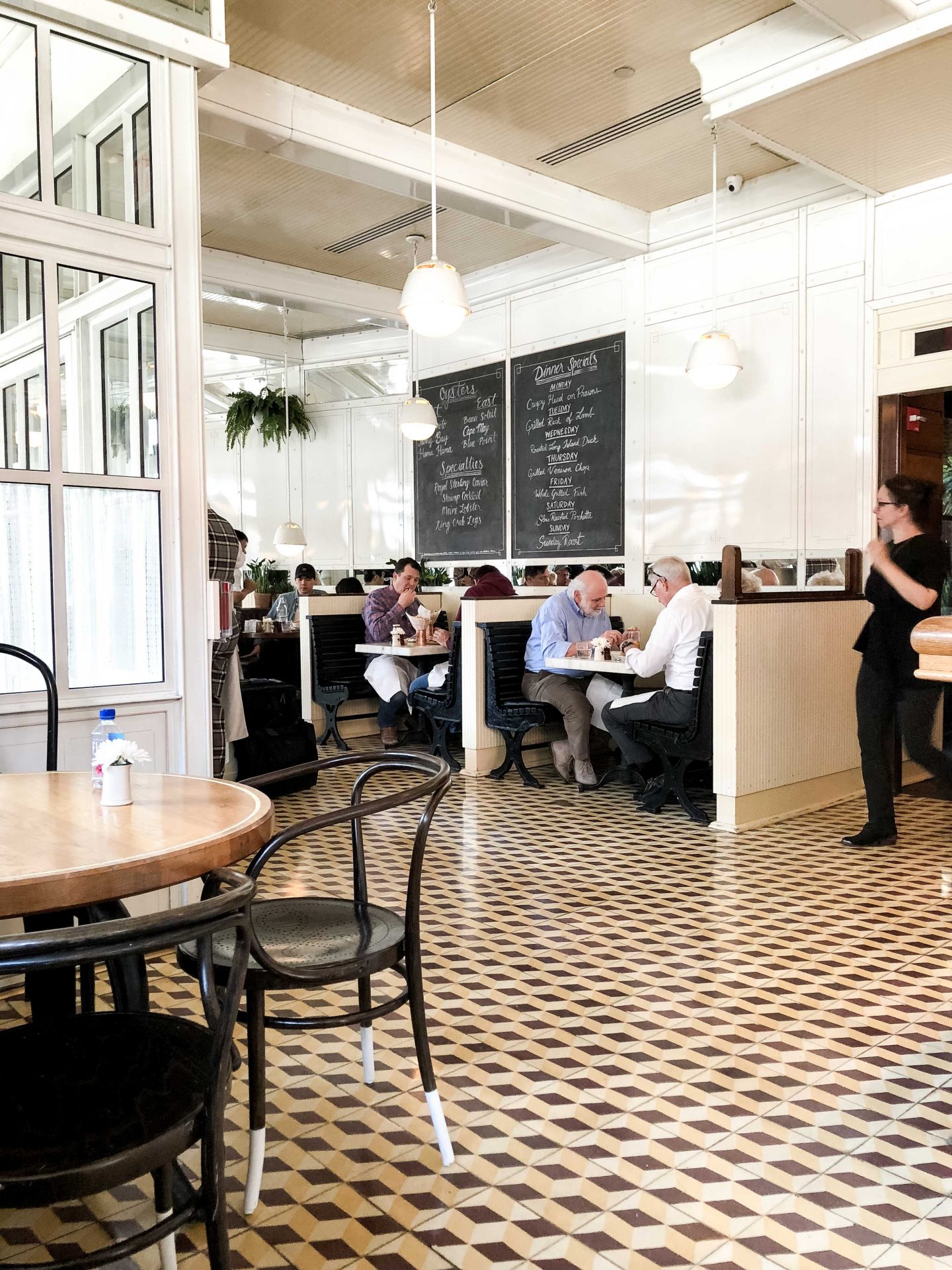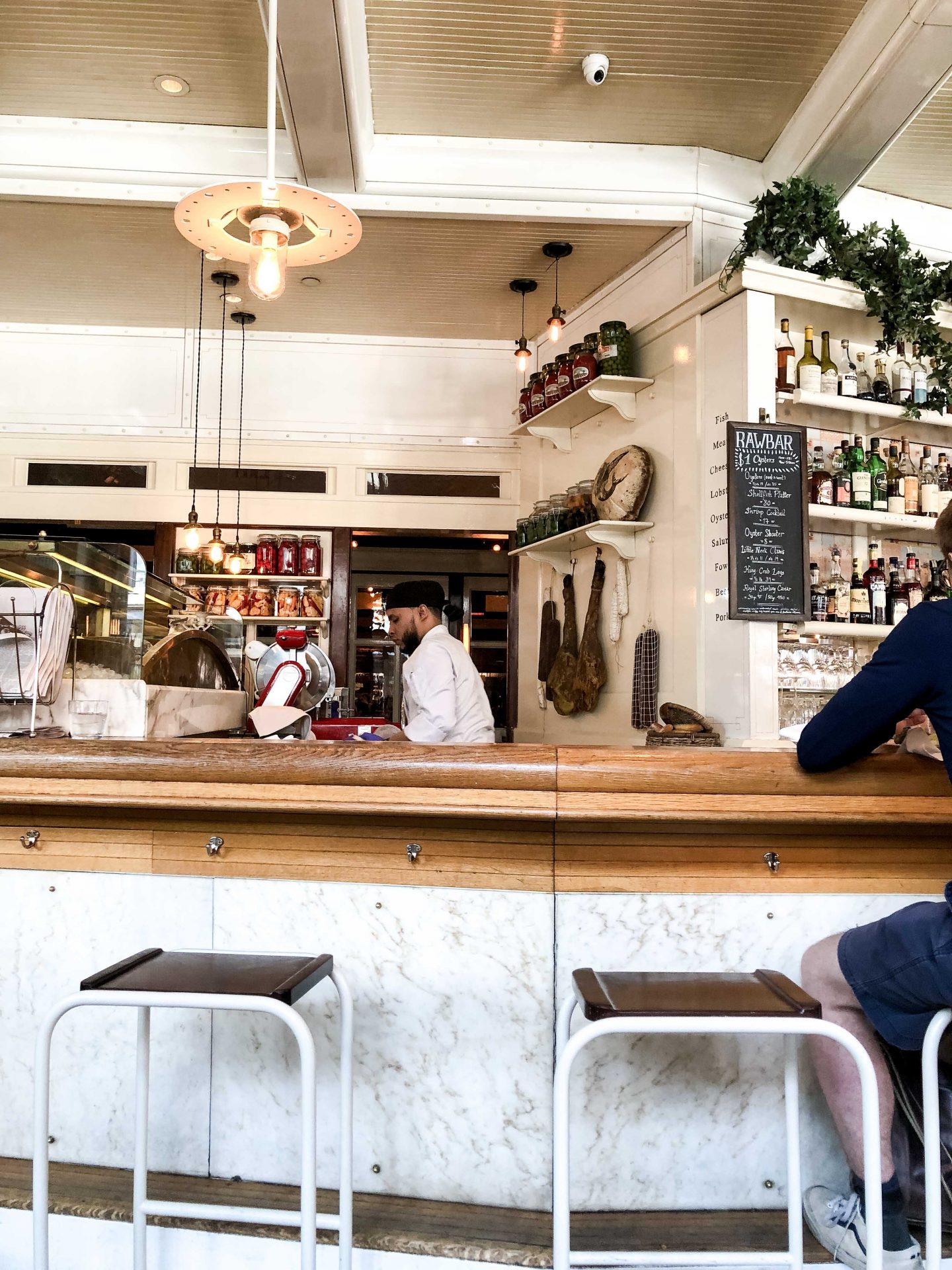 The Standard: after a long walk on the Highline, we were both starving and decided to try our luck at the Standard. We didn't have a reservation and it was a beautiful sunny day but after a 20 minutes wait at the bar, we managed to get the best table on the sidewalk. We ended up spending a few hours there just drinking beers and enjoying the good food. You can expect the classics but also great seafood (they do happy hour on the oysters!) and charcuterie boards. Also, if you like beer, make sure to try their own as it is delicious and so refreshing!
It's usually best to book in advance but you might just get lucky!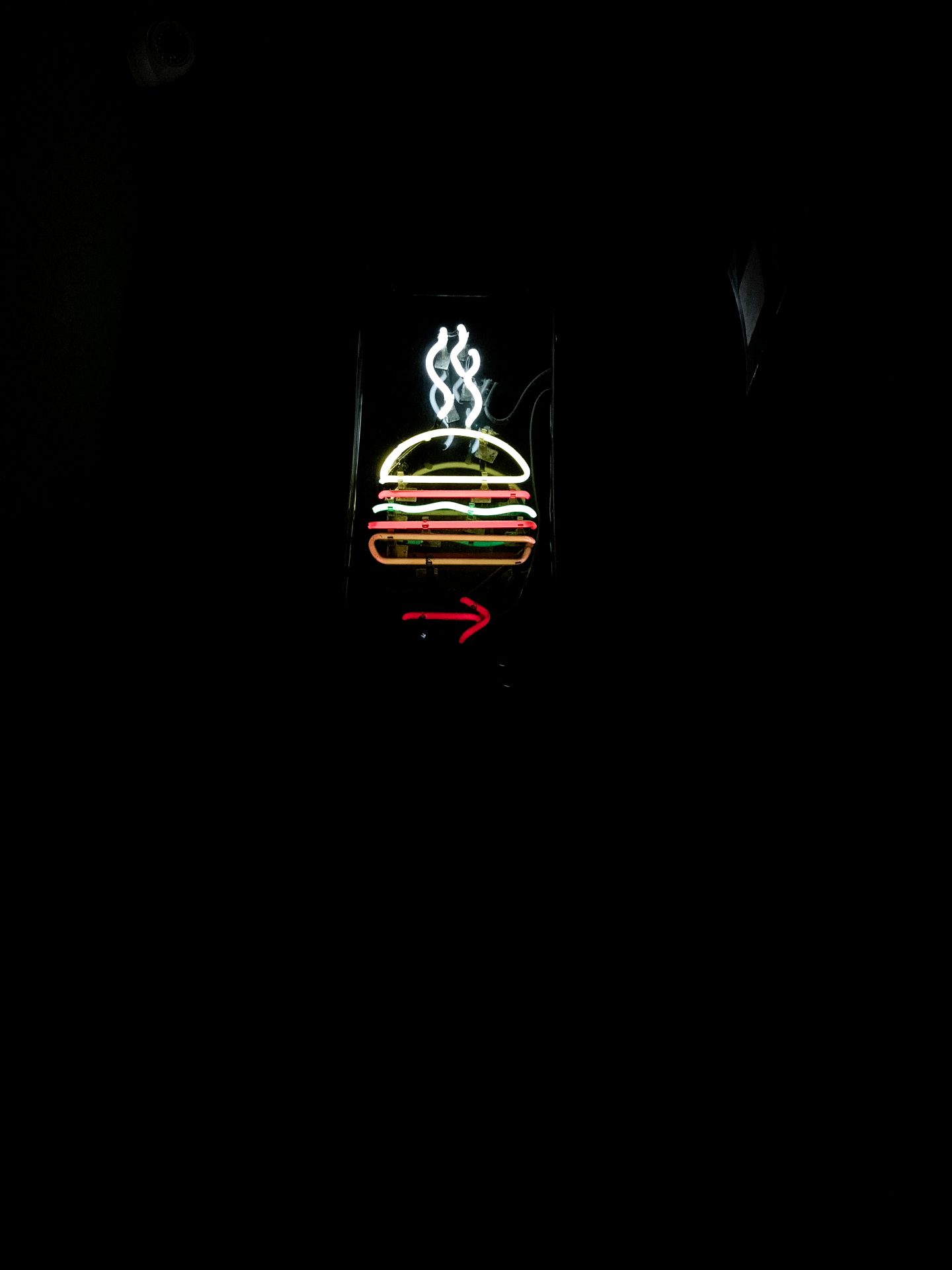 The burger joint: for our last full day in the city, I wanted to surprise Renaud by taking him to the best place to get burgers in town: the burger joint. This tiny restaurant is in fact, hidden inside the Meridien hotel near Times Square and people are always queuing, no matter the time. Thankfully, the service is really fast and you'll get a table pretty quickly. This place is perfect if you like burgers and fries with no frills. Don't expect too much on the menu as burgers are all that they have but trust me, they do it well! We both got burgers, fries, and a beer and we were impressed by everything! I didn't get a single decent photo of the place but the decor is really fun with scribbles on the wall and posters everywhere!
No reservations, look for the burger sign.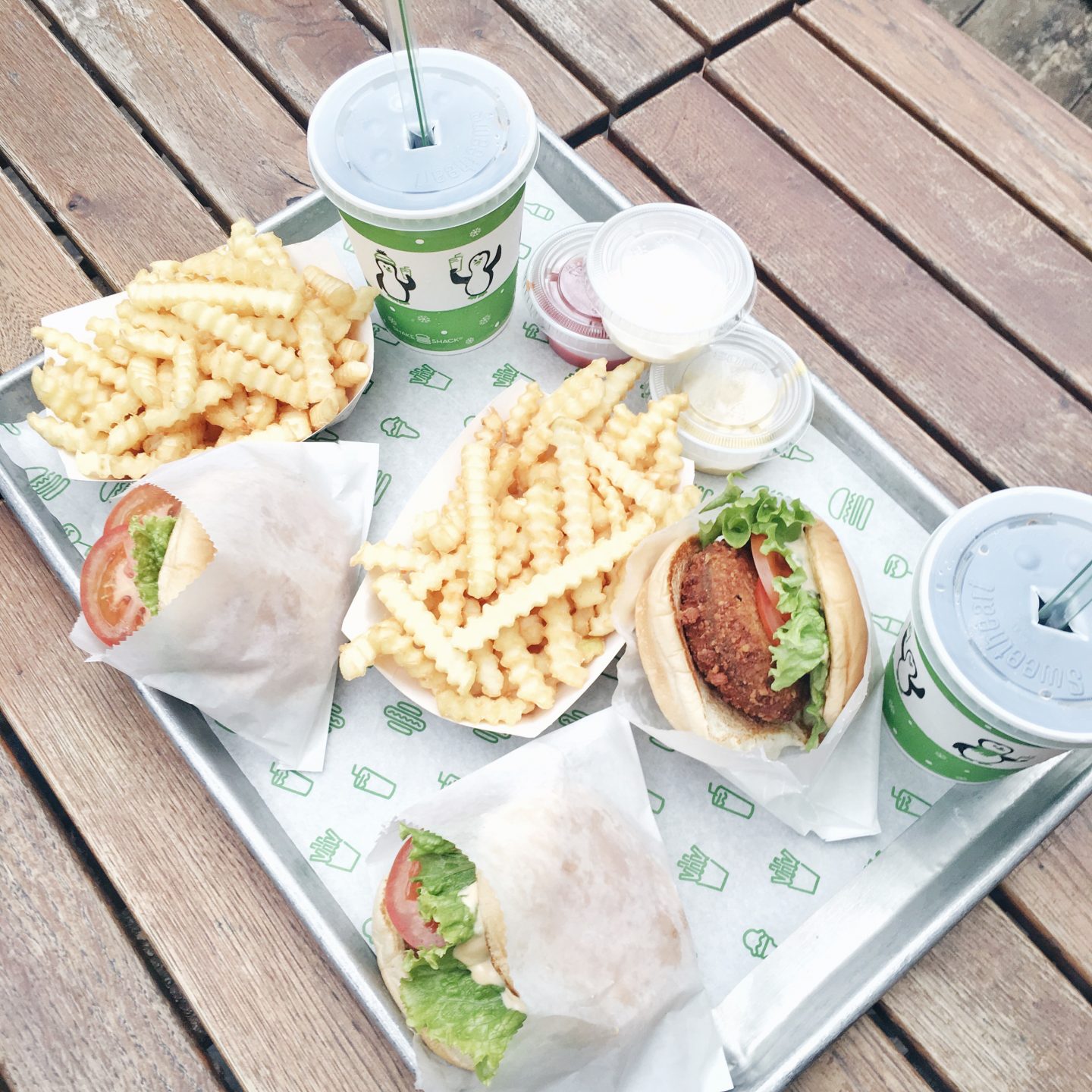 Shake Shack: this is probably everyone's favorite fast food when visiting the US. We absolutely love it and it's always a mandatory stop for us! You can get pretty much any burgers that you like with fries or -even better- cheese fries! Their shakes are also delicious and I love their lemonade as well. Only downside? There's always a massive queue as it is so popular!
No bookings. 
---
 Sweet treats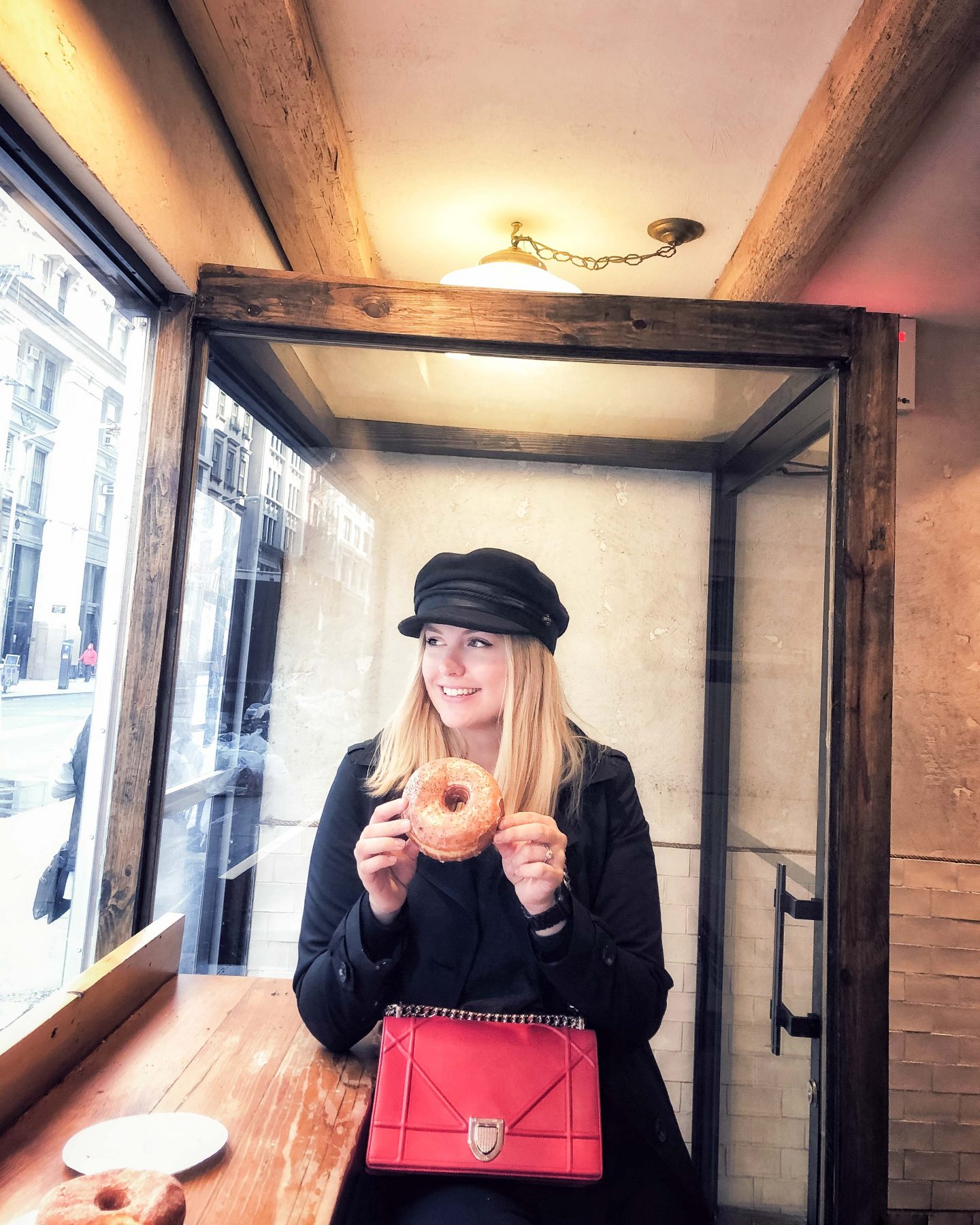 Dough: if you like donuts (or even if you're not that into it), head over to Dough. This little bakery does the most incredible, fluffy and delicious donuts I've ever tried in my life! I got the poppy seed & lemon one while Renaud picked up a simple glaze and we both absolutely loved it. The truth is that it was hard not to visit every day!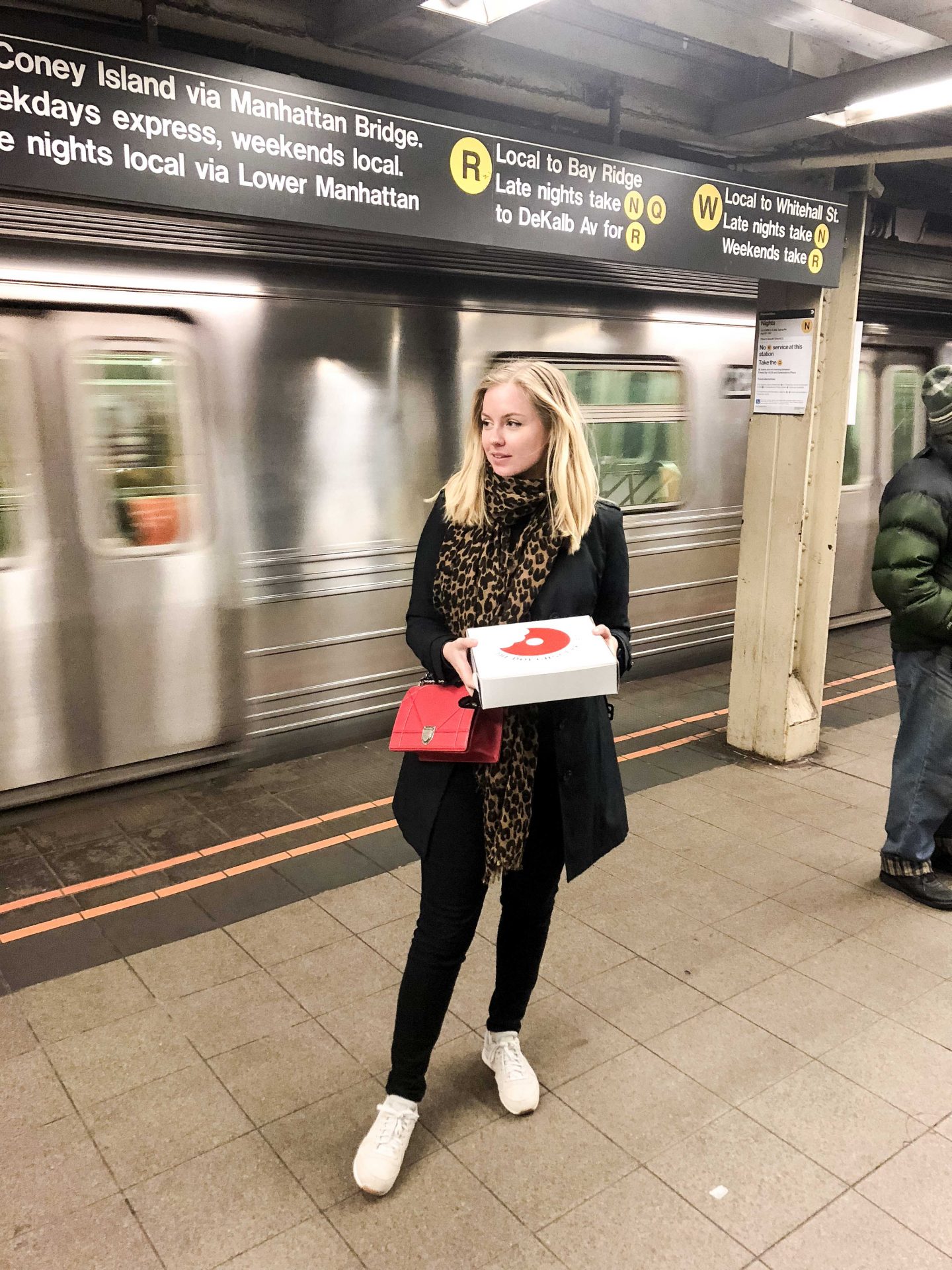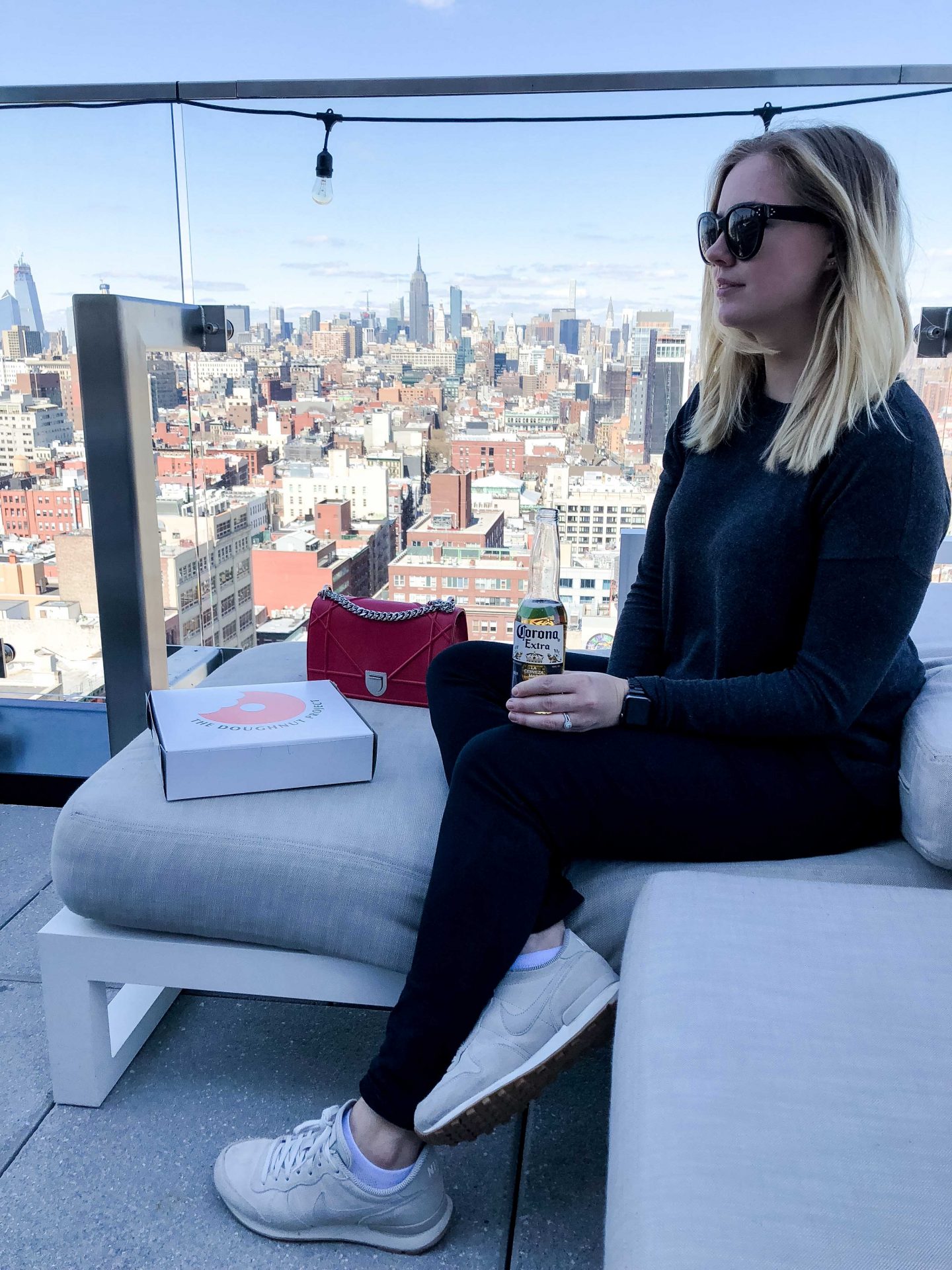 The doughnut project: contrary to what it seems, I never considered myself a big donut fan but this trip definitely changed me! We came across this place quite randomly as we found ourselves craving something sweet in Midtown. The place itself is tiny but filled with goodness. I couldn't resist picking up 3 donuts and I ended up taking them on the plane with me! They were soooo good!
---
Drinks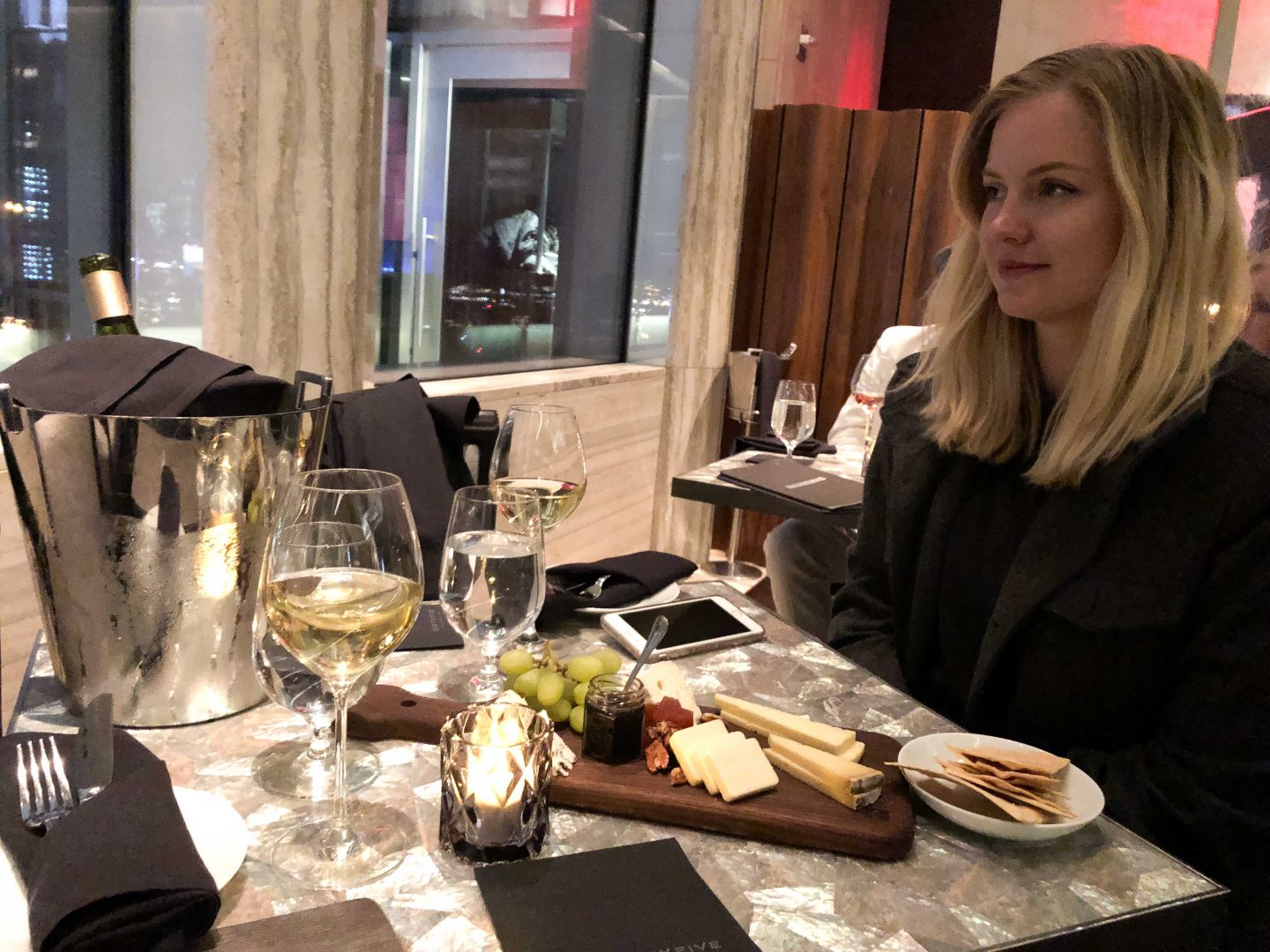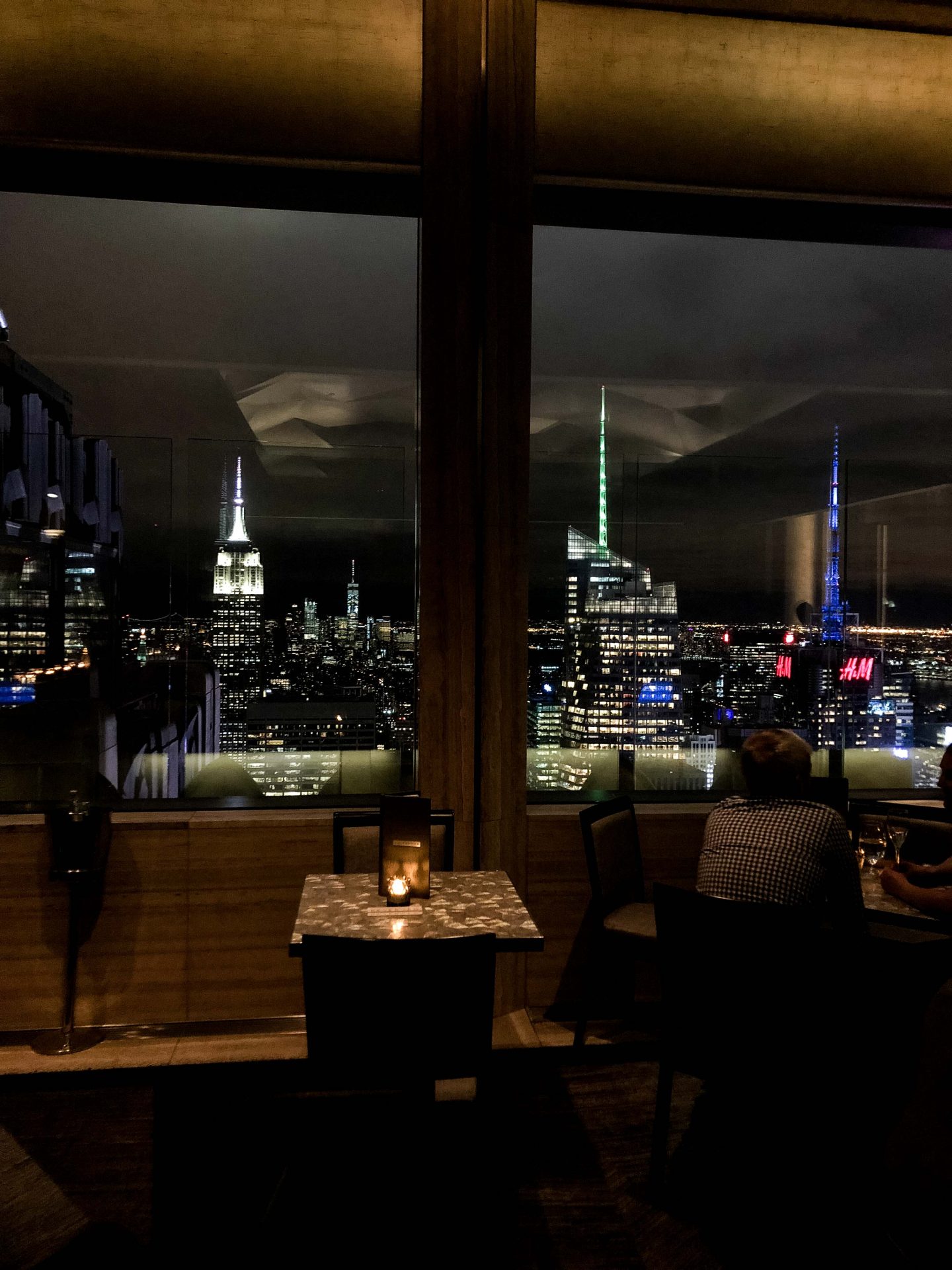 Bar Sixty-five: upon researching rooftop bars, I came across Bar Sixty Five. This incredible place is located on top of the Rockefeller center which offers the best view of the city if you ask me! We both visited Top of the Rocks before so we didn't plan on visiting again but this felt like a great alternative. While the place is stunning with large windows with views on the Empire State and Central Park, a few things were pretty annoying. First of all, the dress code is strict and you have to leave your hats, coats & large bags at the cloackroom. While I usually don't mind that, the place was freezing cold, especially near the windows, and we ended up going down and back up to get our coats. Also, the service was terrible. We had made a reservation well in advanced but we ended up waiting nearly half an hour for a table while a couple were totally free. When Renaud mentioned that to the person in charge, he was rude, to say the least. Finally, the food and drinks are pretty expensive and not worth what they charge for. To sum up, it's a nice alternative to the Top of the Rocks, especially if the weather isn't that great, but don't expect too much.
Book online and read through the extensive dress code!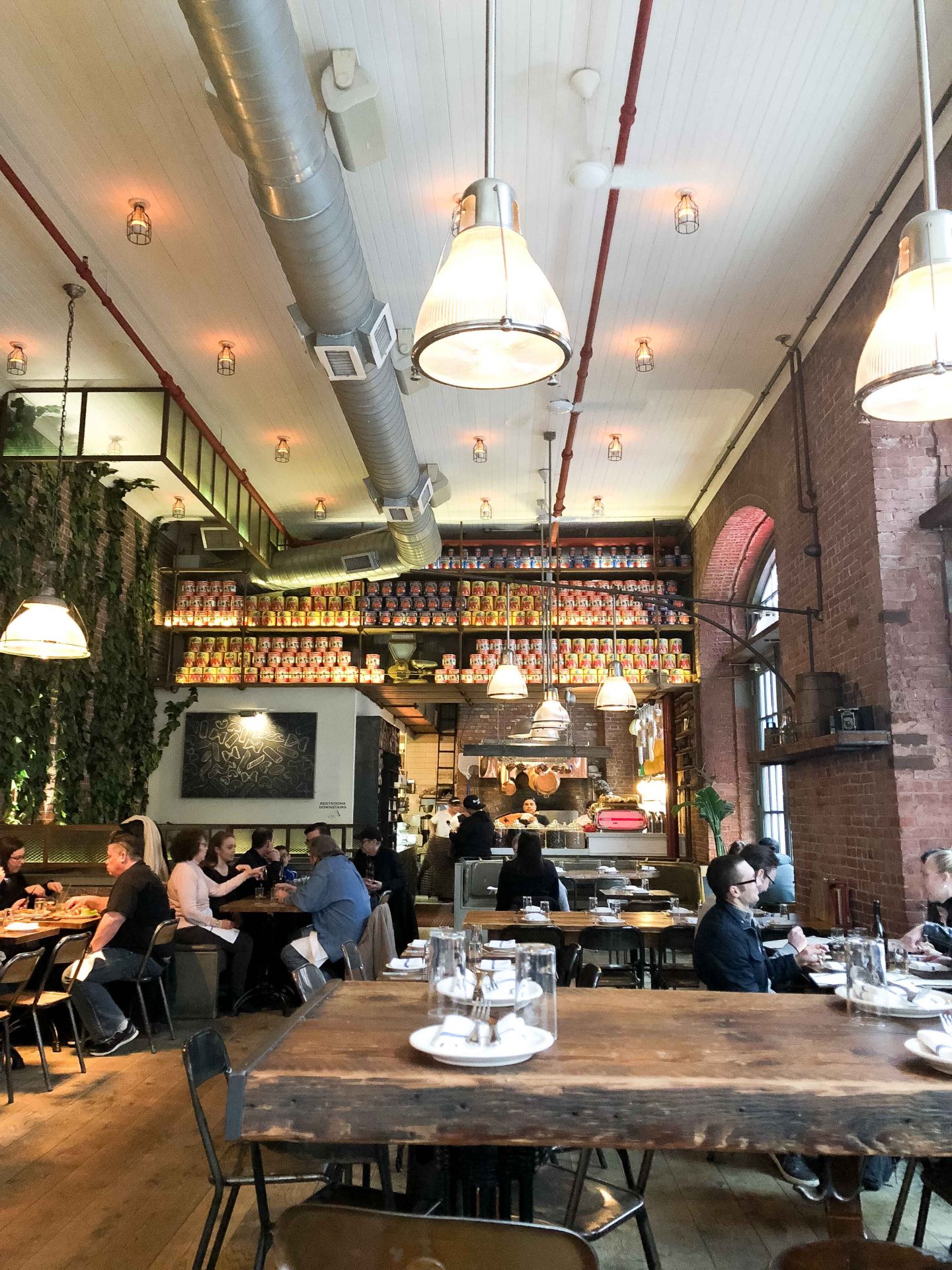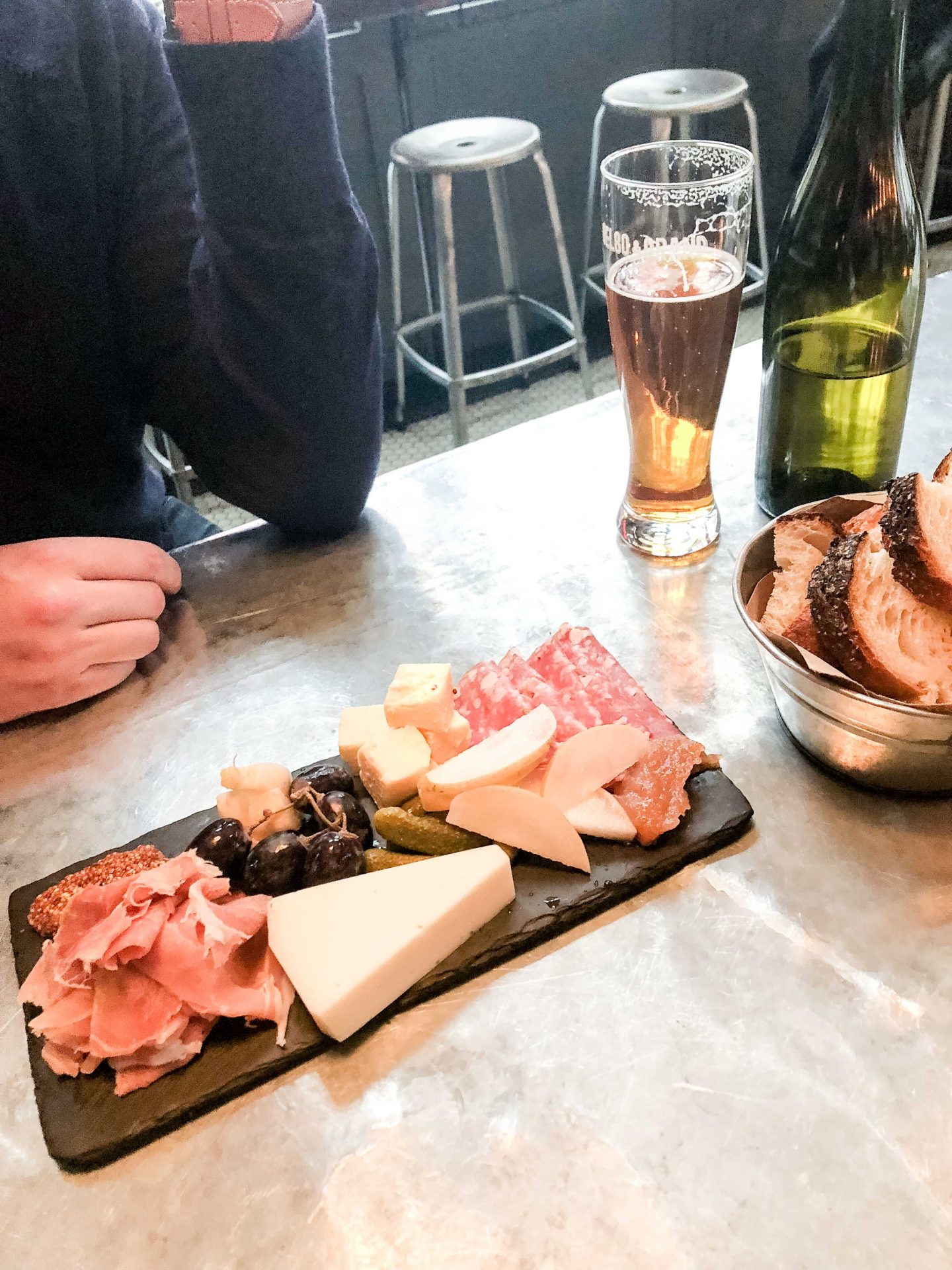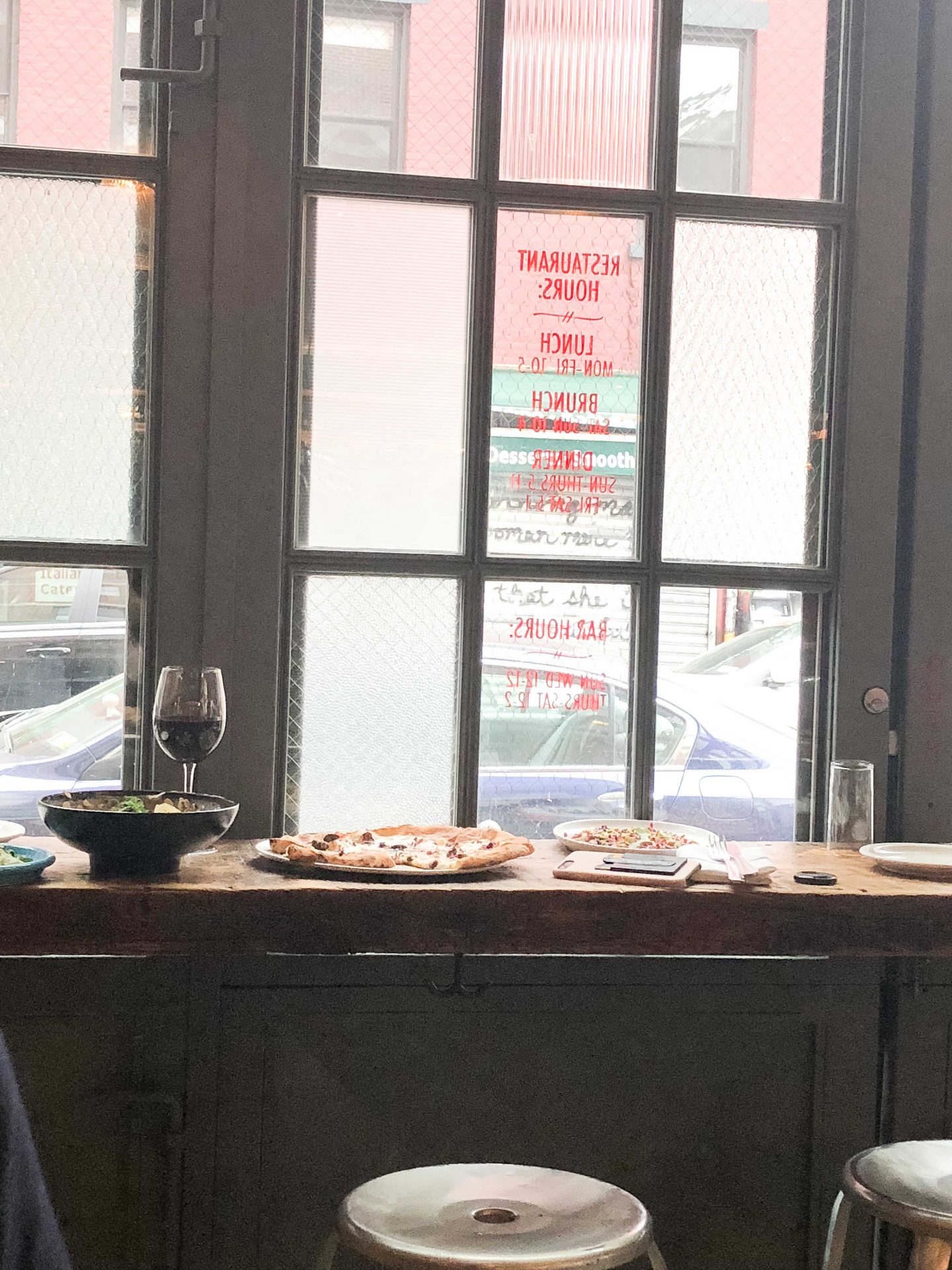 Gelso & Grand: this beautiful, industrial looking place is a gem located in the heart of Little Italy. We stopped by for some antipasti and a glass of Peroni and we loved the laid back vibe. The place is also a restaurant and although the dishes looked delicious, we didn't have dinner there…
No reservations needed.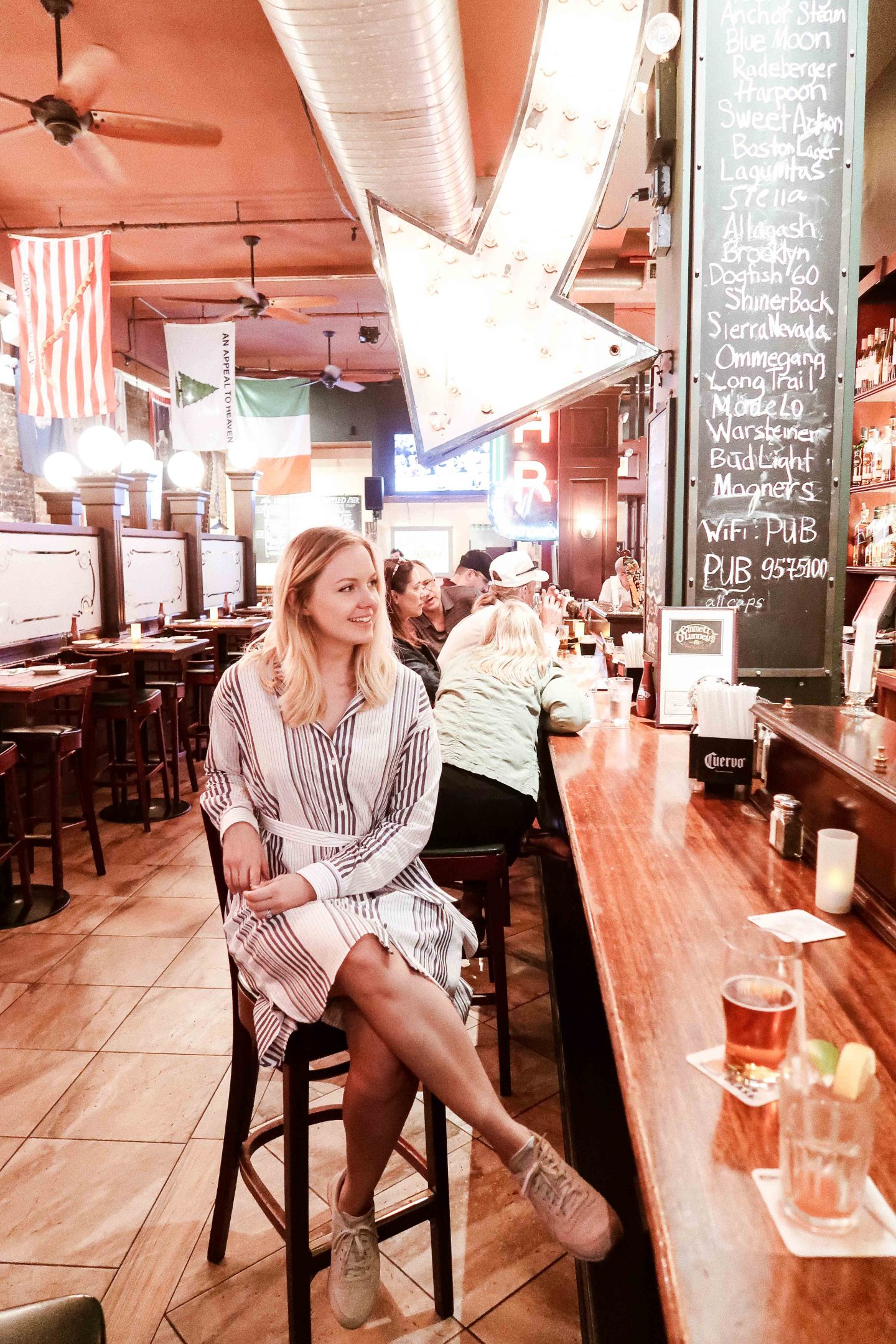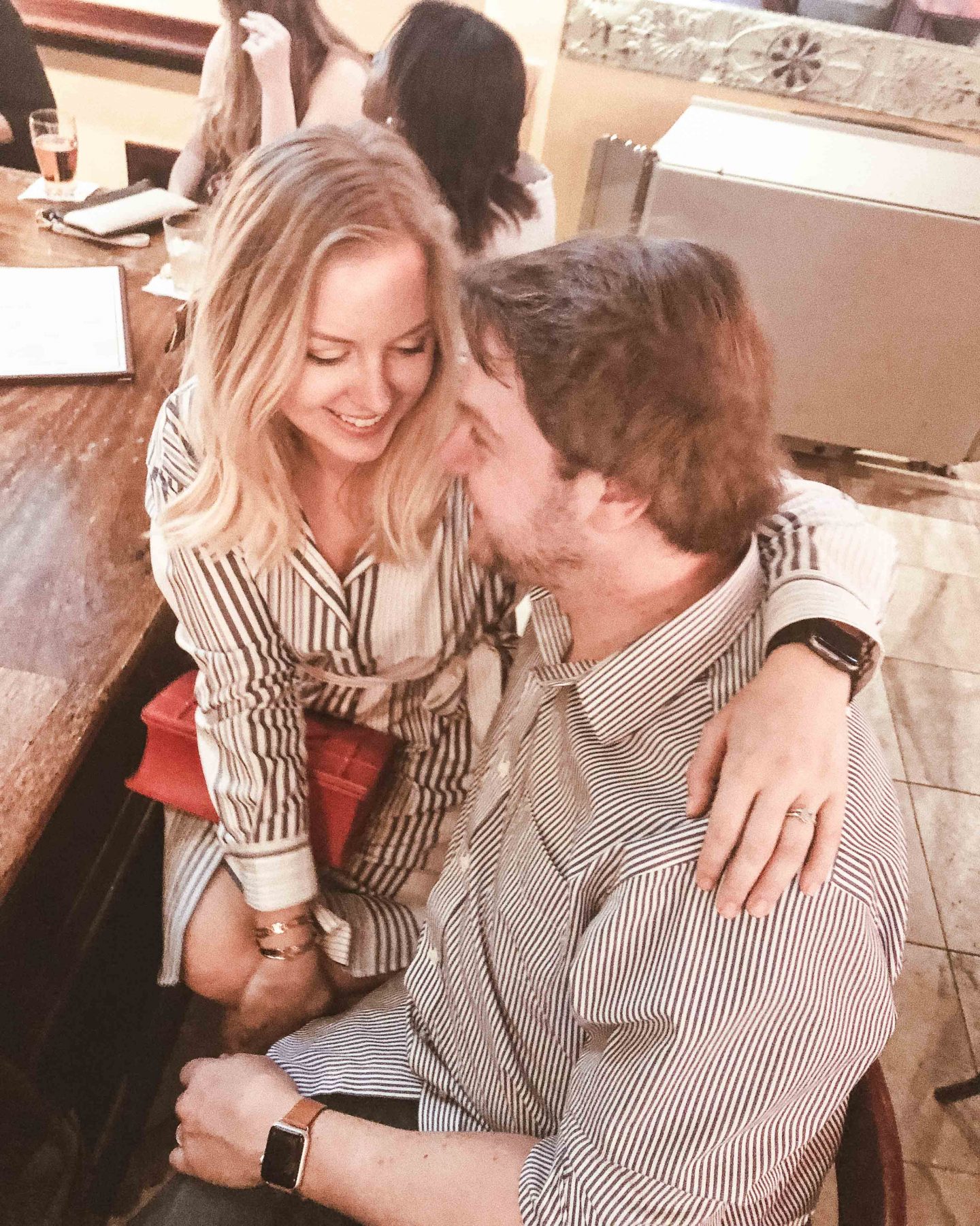 Emmett O'Lunney's: when I am in the UK, I love to stop at the pub for a glass or two in the afternoon. So when a friend of ours that was with us offered to stop by his local favorite pub, we immediately said yes! This cozy place is located right next to Times Square and it is the perfect place to relax from the hustle and bustle of Midtown.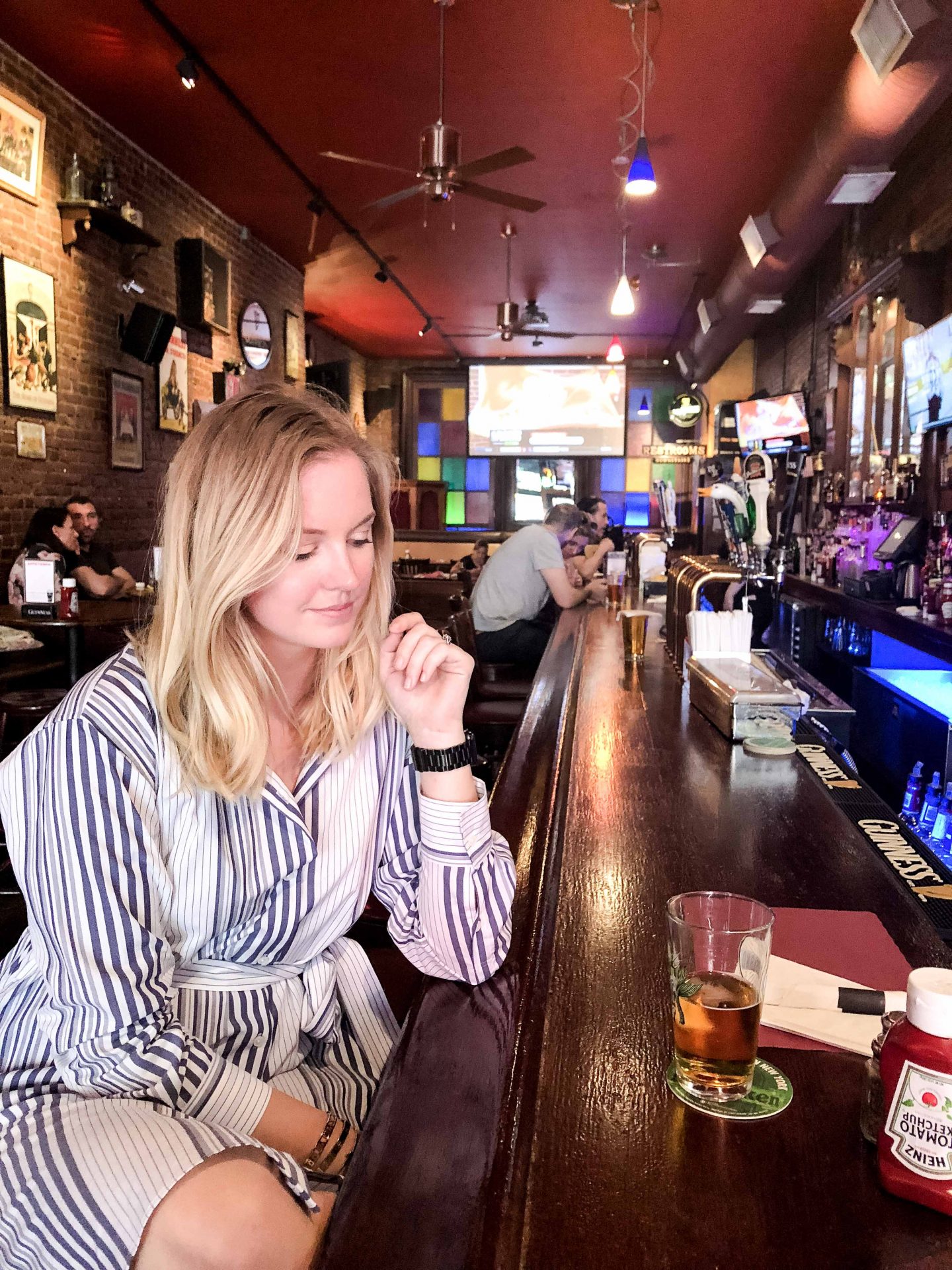 Rumour's: after a long bike ride through Central Park, Renaud and I were famished. Thankfully, after a quick look around, we settled on Rumour's, a little friendly pub on the 8th Avenue. While we first stopped for drinks, we ended up having lunch there and we really liked it. They have pretty much anything from vodka pasta (my favorite) to sandwiches and burgers.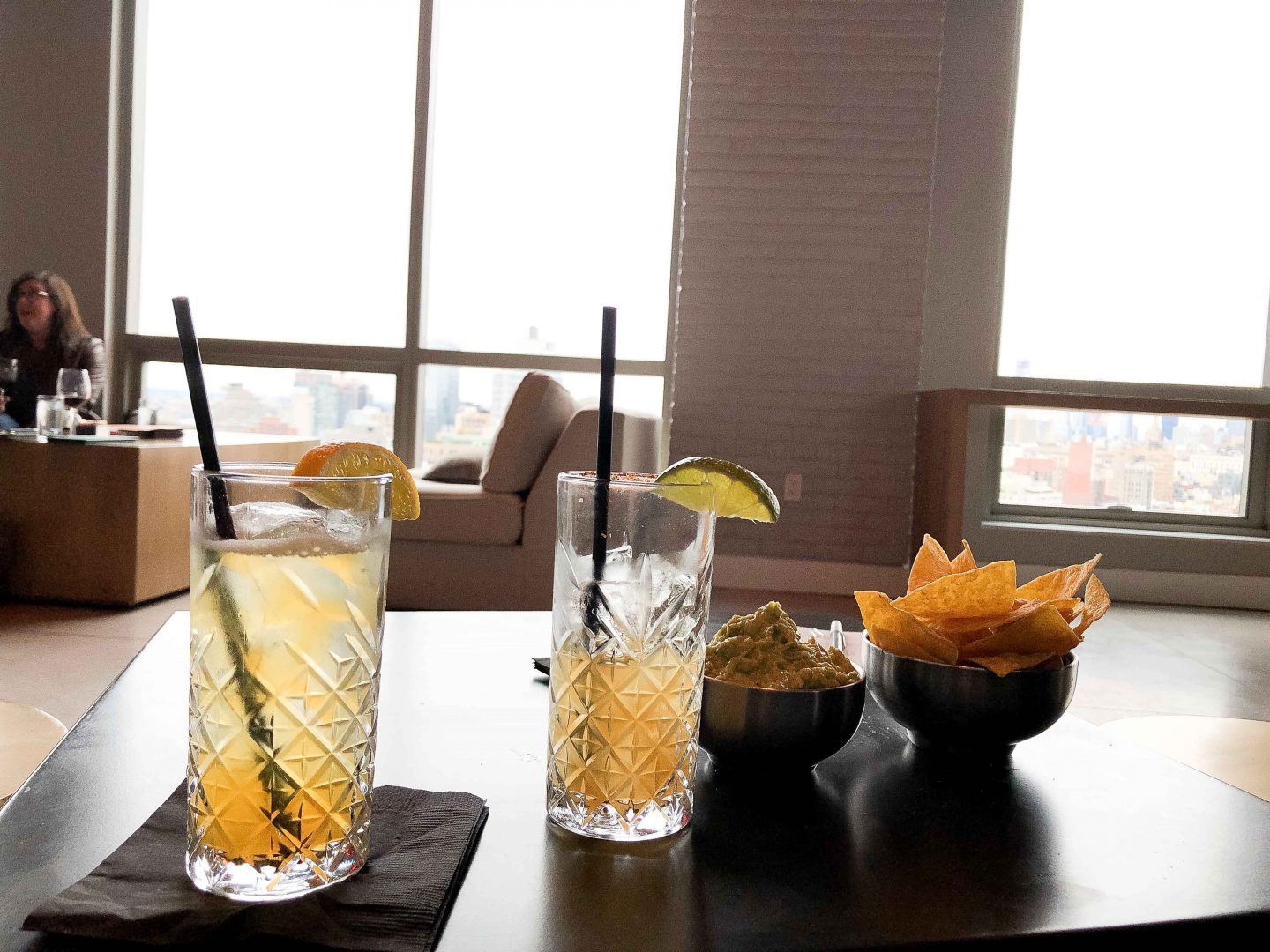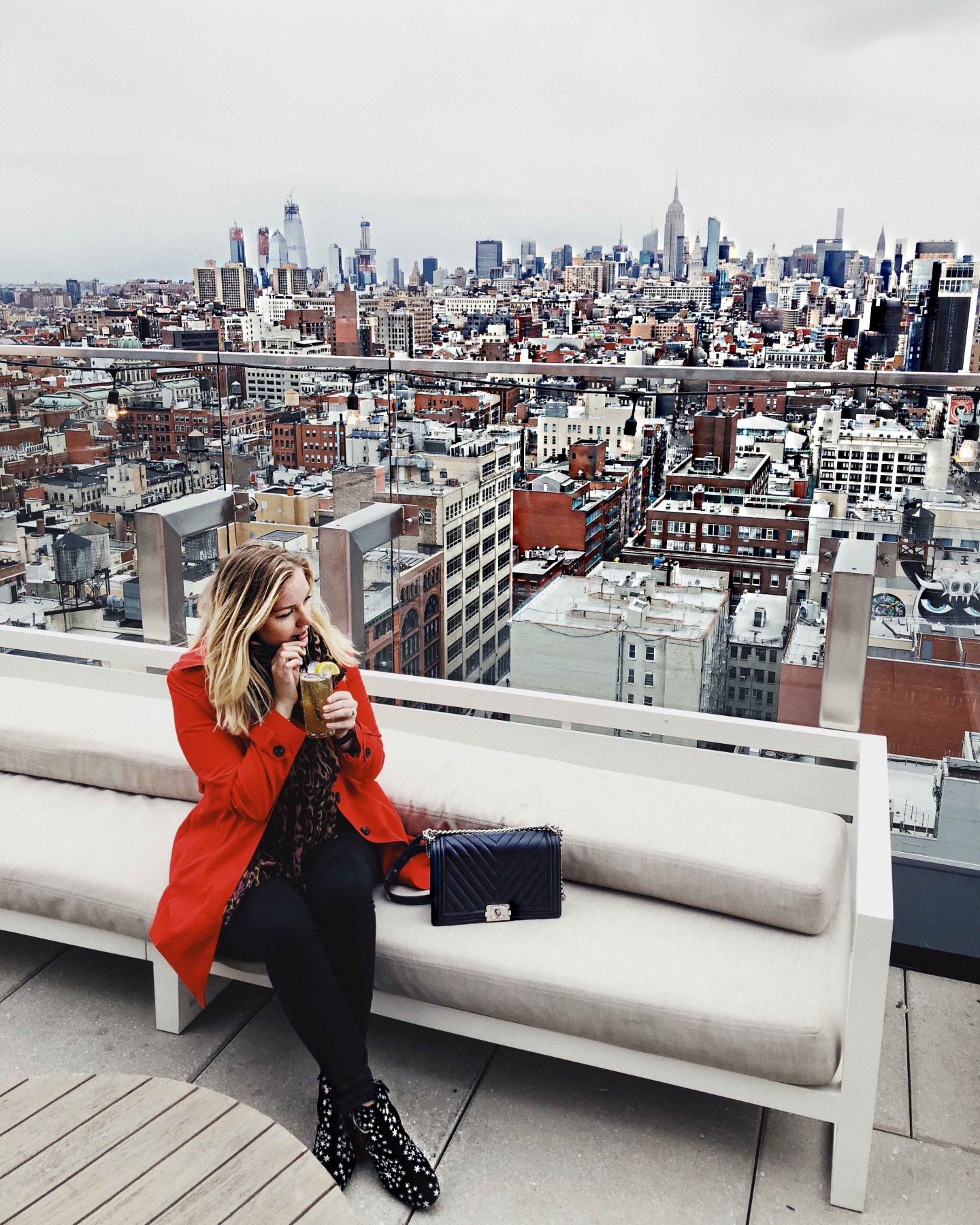 Bowery 50 rooftop: while our hotel deserves a post dedicated to it (coming soon!), its rooftop had to be included on this list. We ended up going two times as we loved it so much! The hotel is located in Chinatown, which means that it's the perfect place to grab drinks while enjoying a breathtaking view of the city.
230 Fifth: this is probably the most famous rooftop of them all but for a good reason! This place has the best view on the Empire State in all New York! You can't really make an advanced booking unless you're booking for a large group which is pretty annoying as this is a super popular place, especially when it's sunny. They have Happy Hours with buckets of Corona so make sure to check out their website to find more about it!
---
Dinner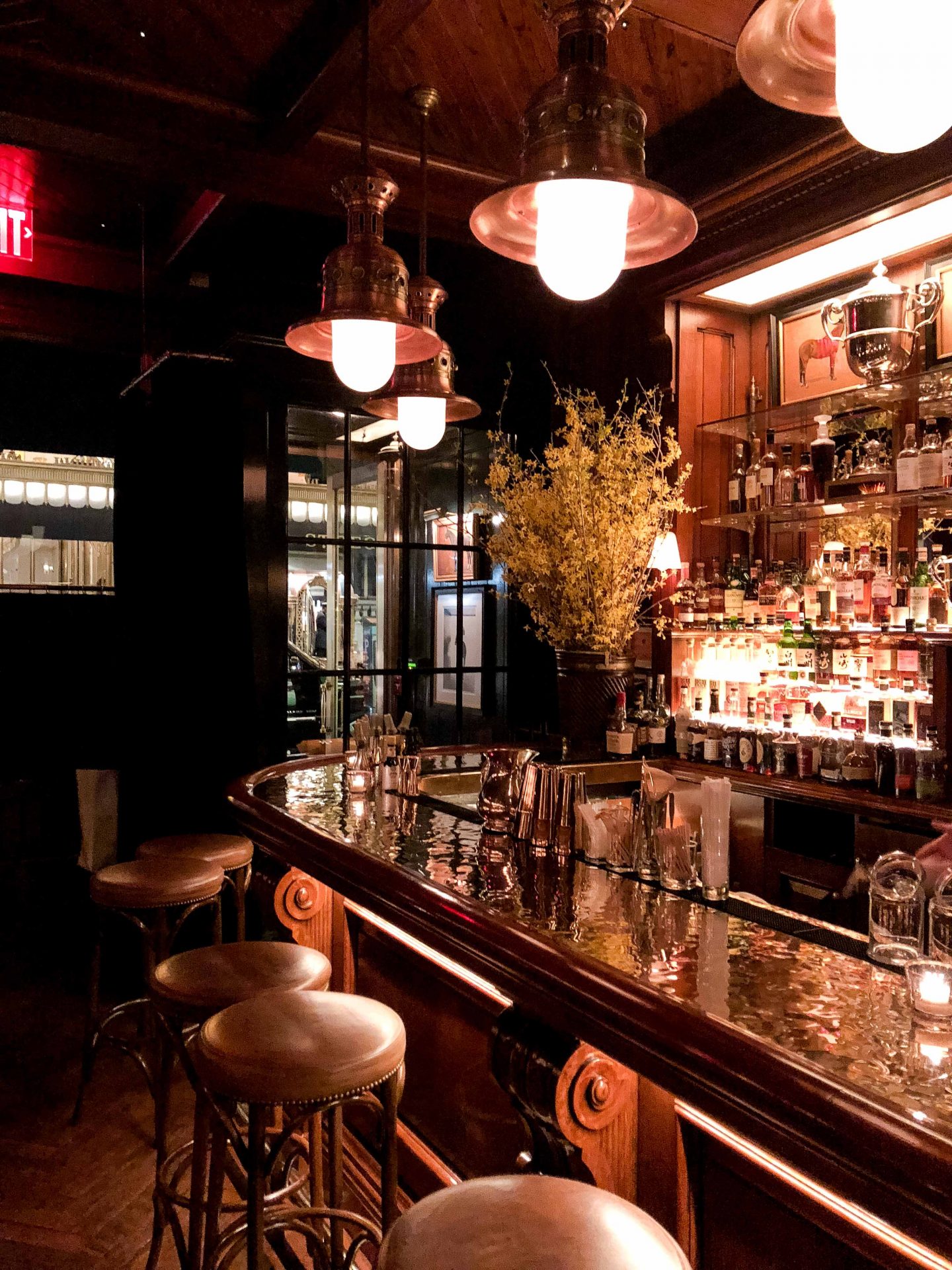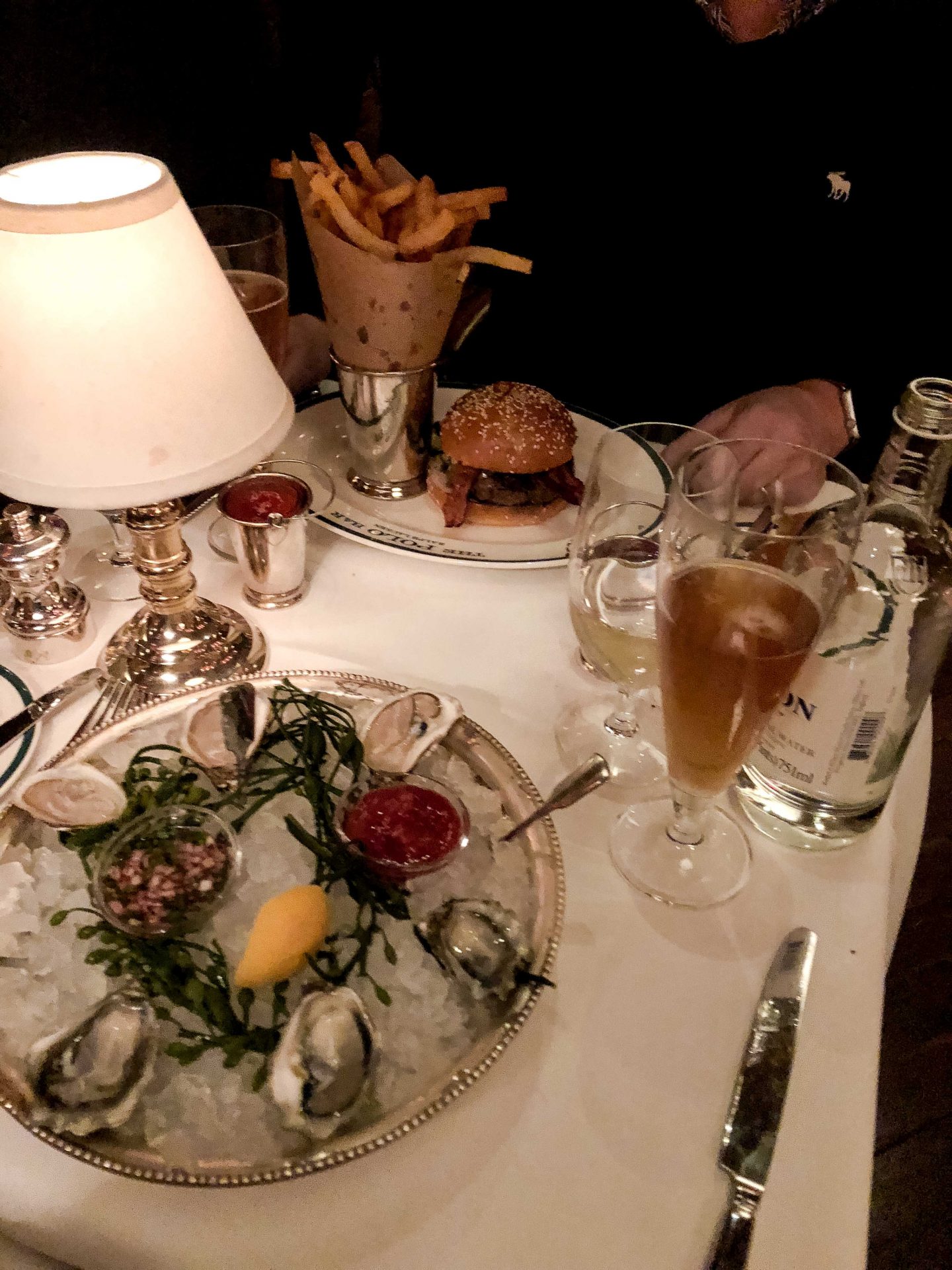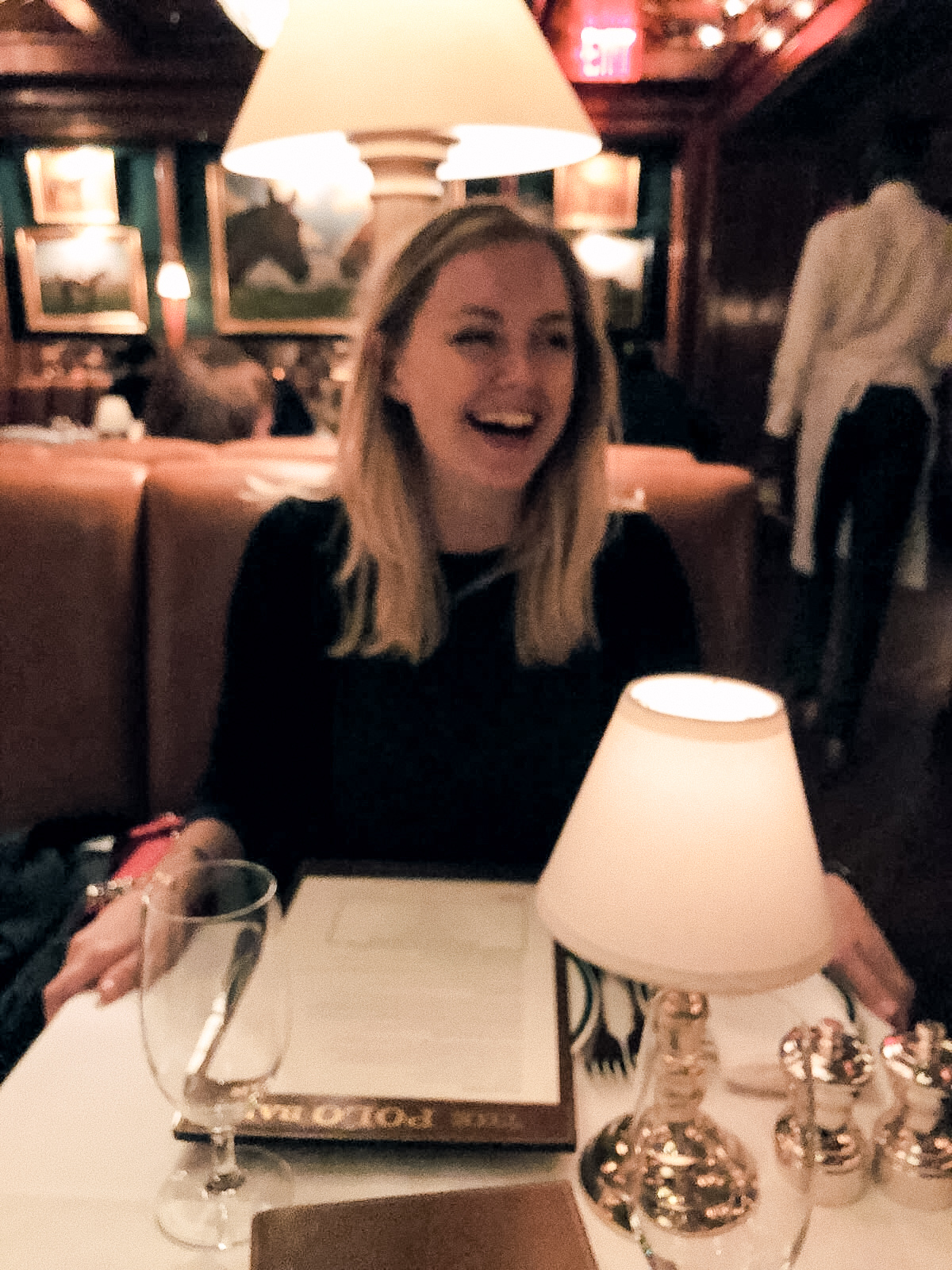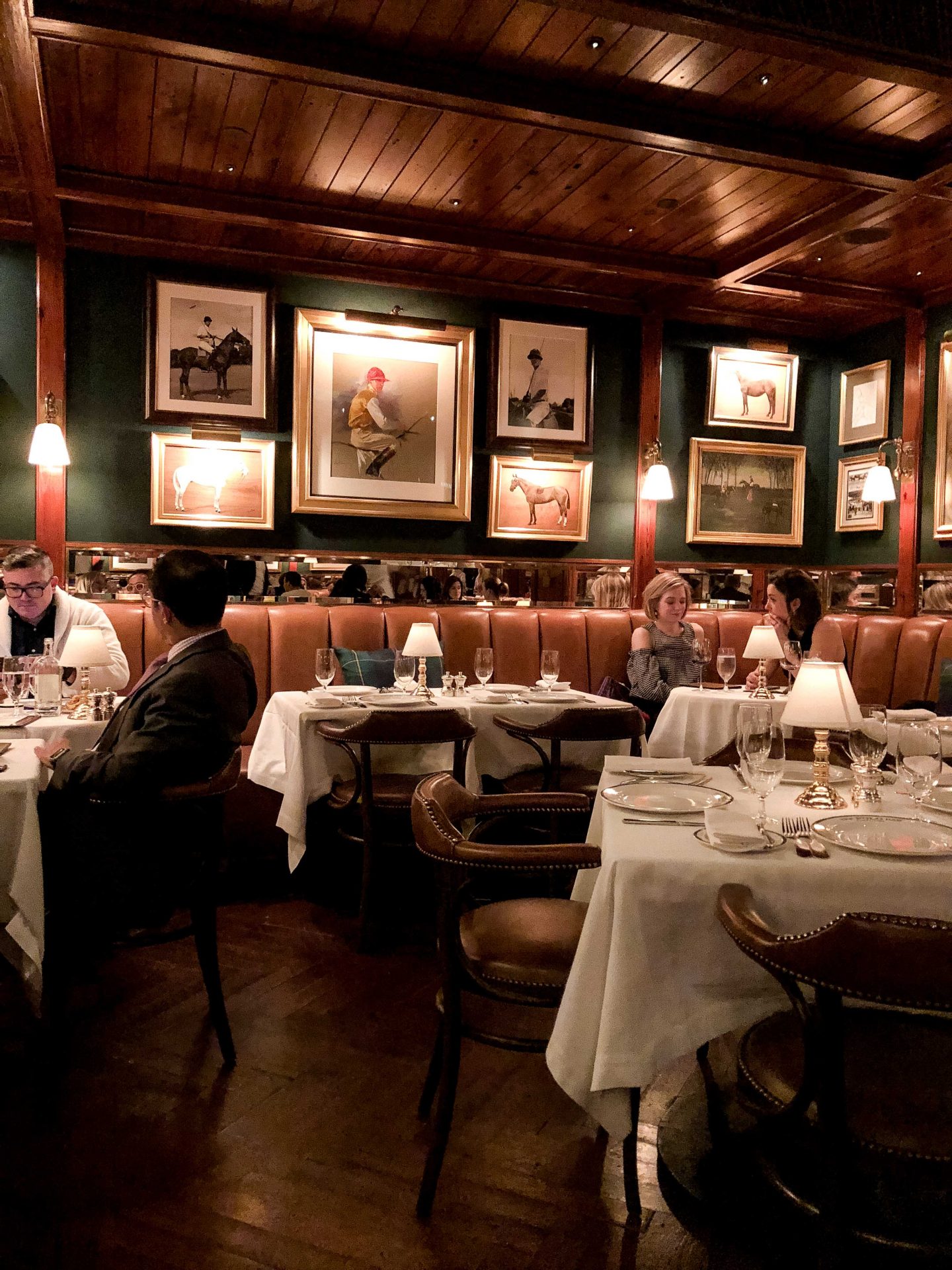 The Polo Bar: as a big fans of Ralph Lauren's restaurants (I love the ones in Chicago and Paris), the Polo Bar was high on our list. And I am happy to say that it's everything we had hoped for and more! The place is quintessential Ralph Lauren style with beautiful leather chairs, horse paintings everywhere and little luxury details. We had the best time there and the service was impeccable. If you'd like to go, make sure to book well in advance as the place get booked up really quickly!
Make a reservation weeks in advance.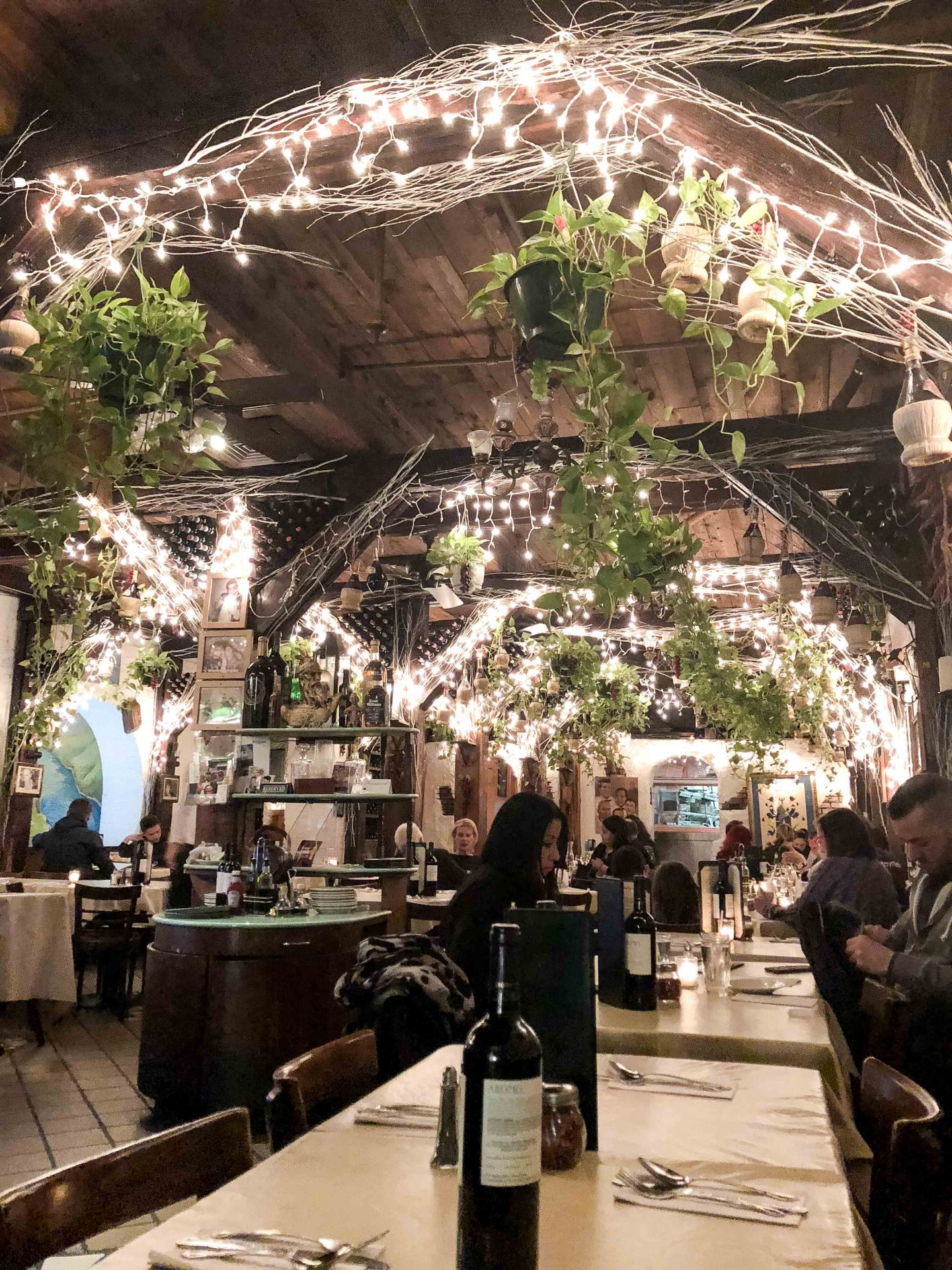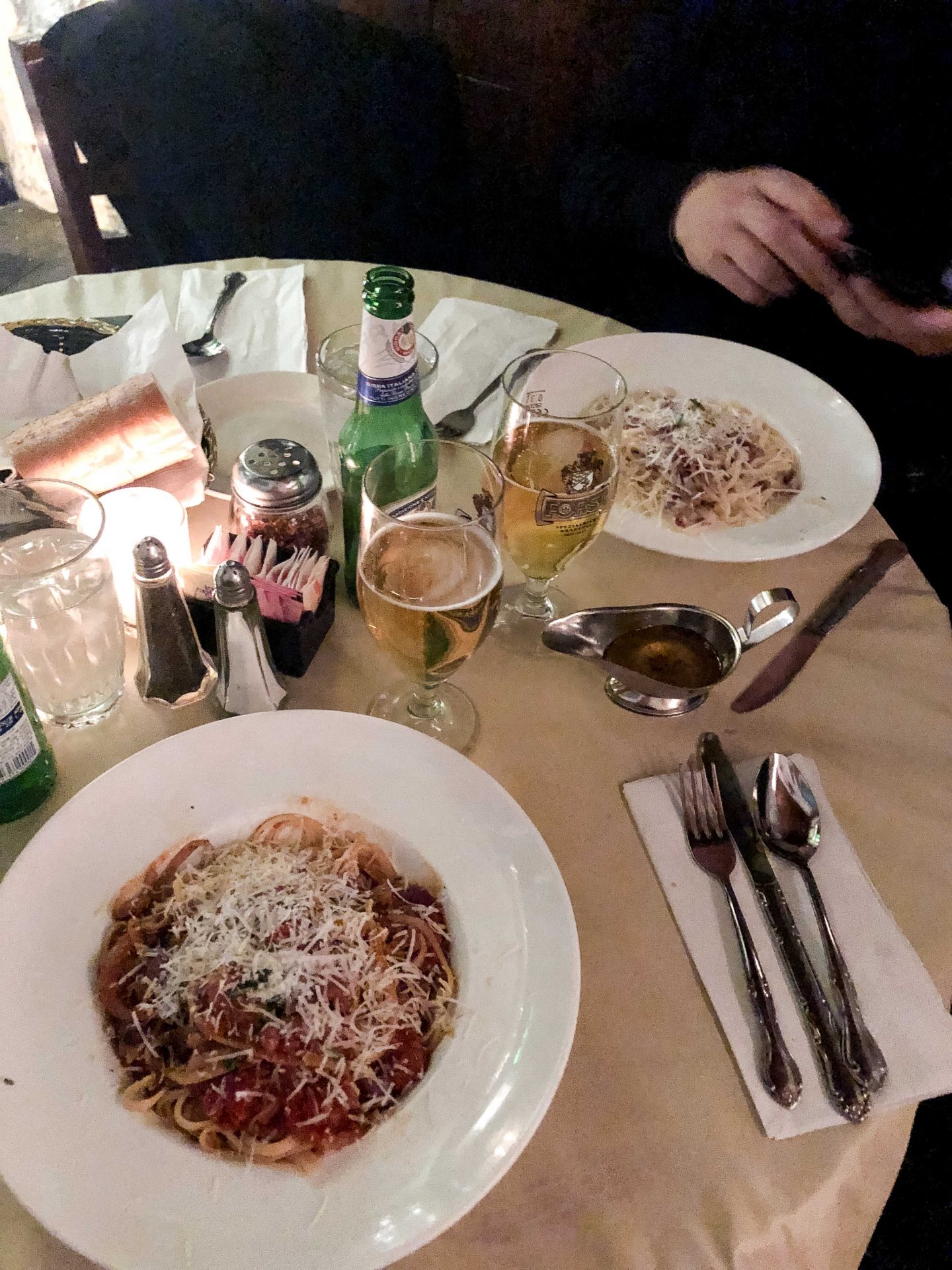 Paesano: when navigating the crowded streets of Little Italy, it's easy to feel a bit intimidated by all the restaurants. We came across Paesano quite randomly but it ended up being delicious. The place itself is very cute and romantic with string lights all across the ceiling. They have great pizza and incredible pasta. In fact, you can ask for any kind of pasta that you want with any kind of sauce, which, if you like pasta like me, sounds a lot like heaven.
No reservation needed.
Hillstone: for this one, you'll have to believe me as I don't have any photos. This is one of our favorite place that we discovered during our last visit. We loved it so much that we went back this time, on Renaud's birthday. Hillstone is quite cool as the place offers traditionnal American food like meat and burgers but they also have some of the best sushi and sashimi in town! Everything fresh is prepared behind the bar where you can see everything that is going on.
Reservations needed.
Jing Fong: when we decided to stay in Chinatown, I knew that I wanted to find the best place to have dim sum and Jing Fong came highly recommended and it's easy to see why. The restaurant is really big and located on the first floor but it still feels cozy at the same time. While their dim sum are insane, they also have great spring rolls, meat & noodles.
No reservation needed. 
---
You can also find me on Mapstr (@axelle) for more of my favorite places around the globe!