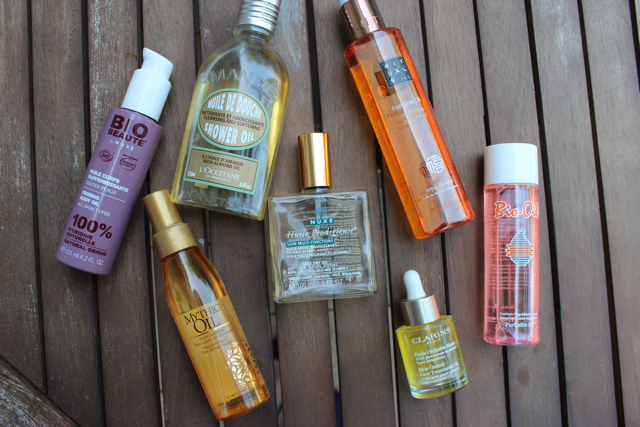 While this photo might have been better shot on a beach (no beach in sight for me before the end of July!) I couldn't resist to share with you my current oily favorites.
For years, I was scared to use anything oily on my skin or my hair. I was nervous about breakouts or greasy hair but recently, oils have invaded my bathroom. Here's what I am currently loving.
L'Occitane shower oil, 21€ from Feelunique
This product had been on my beauty wish list for months before I finally decided to give it a go and since then, we have had a true love affair. This shower oil lathers incredibly well once put on a loofah and massaged into the skin. The almond scent is to die for and makes you wanna hit Ladurée as soon as possible. It leaves a slight residue on your skin which makes it super smooth without being greasy.
Rituals Fortune oil, £8 from House of Fraser
When this little guys hit my shower, I was pretty nervous to use it. It is described as a sweet orange and cedarwood scent, and truth needs to be told: I hate orange. I can't eat, drink nor smell it. After a quick sniff, it appears to me that this fortune oil smells nothing like oranges,score! As the l'Occitane shower oil, it lathers really well and does wonders on your skin when applied before shaving. Perfect legs, here I come!
Nuxe Huile prodigieuse, 21€ from Feelunique
This oil is the one that started my obsession (as you can see by its nearly empty state). I bought it while I was still living in Paris as I heard everyone raving about it. The oil does just about everything. A few drops in your bath will leaves your skin feeling softer than ever, a few sprays onto the ends of your hair the night before you wash will repair the ends and a tiny bit applied on your legs before going out in a dress will turn your legs into perfection. But the most remarquable thing about it is probably that it comes in a spray. No more slippery floors and waste of product, it is so easy to apply that anyone can do it.
L'Oréal professionnel Mythic Oil, 17€ from Feelunique
This oil came as a great surprise in the first ever Deauty box. When I tried it for the first time, I knew that I was sold. Applied onto damp hamp, it leaves them silky smooth and visibly repaired. I usually use about 2 or 3 pumps and run it through my hair with my fingers before combing through.
Bio beauté by Nuxe, firming body oil, 23€ from New Pharma
As years go by, I tend to be more selective about which products I use on my skin, so when Nuxe released their Bio beauté range certified organic, I hurried to my local pharmacy to grab a few products. Their comfort exfoliant and sunscreens are staples products in my stash but this firming oil was a new test. After a few weeks of using it once a day, I noticed that my skin got more elasticity to it and, of course, felt well moisturized.
Bio-oil, 10€ from Feelunique
This is the most recent addition to the oil stash. The bio oil is one of these products that you always hear people talking about yet you don't really know what it does. I picked it up on a trip to the pharmacy (I was there to get painkillers but you know how it goes) and immediately oiled my whole body. It says on the packaging that it helps with scars, stretch marks as well as dry and aging skin. It penetrates almost instantly into your skin which means that you can get dressed up right after applying it. After a few weeks, I noticed that my skin looked smoother and healthier. It did help a lot with the few stretch marks that I have on my legs but didn't really do anything on my scars (truth is they have been there for years so I guess they will always be around!)
Clarins blue orchid face treatment oil, 38€ from Sephora
This Clarins gem has been raved about enough on my Youtube channel but I can't help but spread the love about it. As I mentioned it about a hundred times, my skin is extremely dry. I tried just about everything on the skincare market but I always felt like my skin missed something. And that something was an oil. I was skeptical about using oil on my face (I heard that it wasn't doing anything appart from clogging your pores) but now I can't imagine my skin care routine without it. A few drops applied at night, right before my serum, and I wake up with beautiful moisturized skin the next day -heaven! Cherry on top? It smells divine!