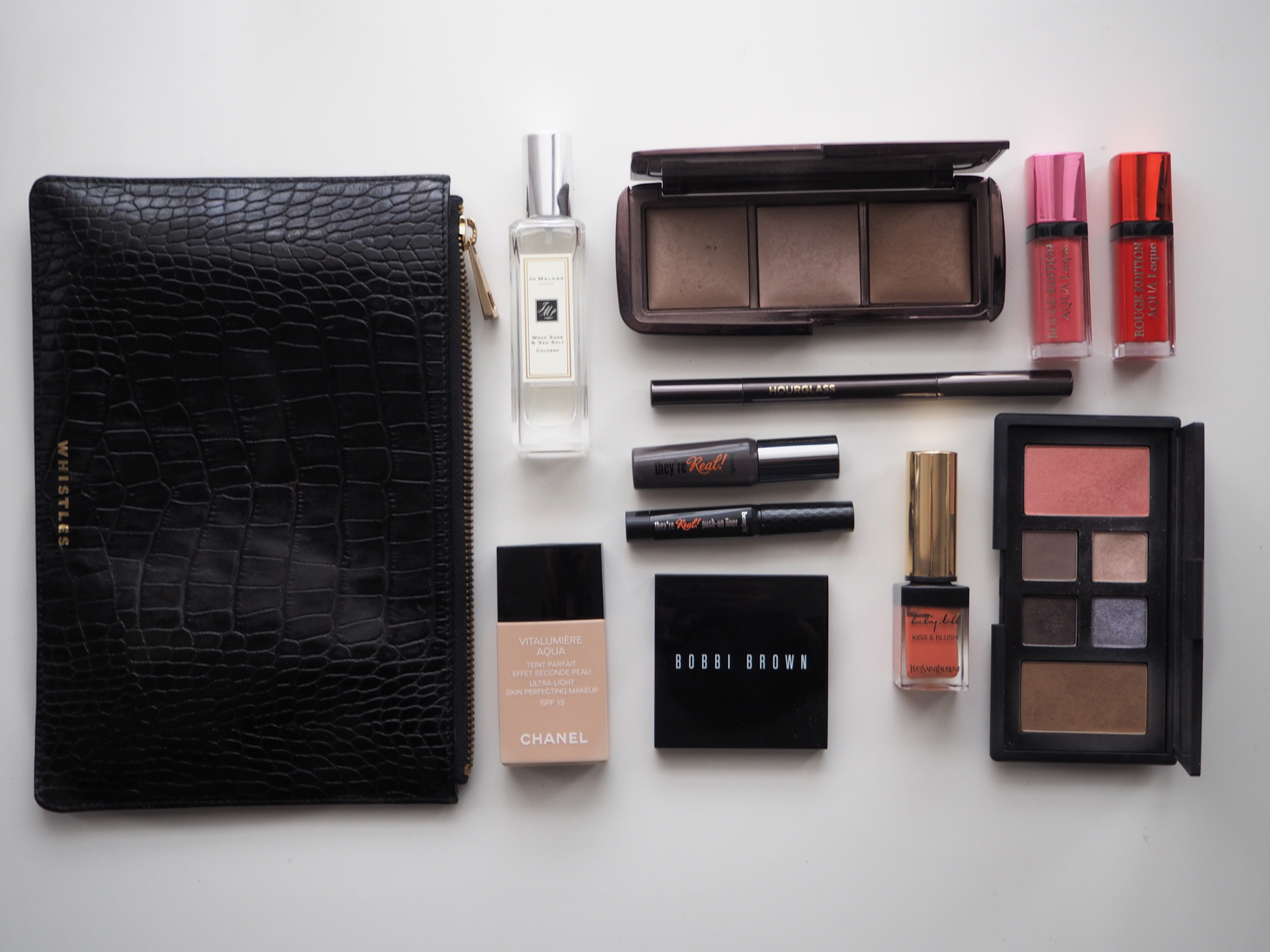 Whenever I visit Paris, I always tend to overstuff my makeup bag. Parisian ladies always seem to inspire me to go for a bolder lip color or to add a bit of glow to my skin, so I always like to come prepared. Although this time, I decided to pack a lot lighter than usual. I am only in town until Monday (I arrived yesterday) so packing a huge makeup bag wasn't really a reasonable thing to do…
Here's what made the cut:
First things first, Parisian ladies always seems to have incredible skin. Plumped, glowy and radiant which is everything that mine isn't. Therefore, the Bobbi Brown 'face touch-up palette' comes in very handy. This little palette holds a corrector, a concealer, a stick foundation and a pressed powder… You can read all the details about it here but let me tell you one thing: it is good. Then, to keep things light and glowy, I like to reach for the Chanel 'vitalumière aqua' foundation. This foundation is very liquid which means that it is easy to blend while covering any nasty imperfections. I like the very natural finish that it gives and it feels very comfortable on my dry skin, even after hours of wear. To set everything in place, I like to reach for my Hourglass 'ambient lighting palette'. I us the left shade to powder my T-zone & then use the middle shade to highlight my cheekbones. I don't really use the right shade at the moment as it looks a bit too dark against my super pale skin. I then move onto my eyes. I start by defining my brows with the Hourglass 'arch brow sculpting pencil'. I am completely addicted to this little guy and I find this to be the most foolproof way to quickly do my brows. I simply brush through them using the little spoolie on one hand, and then roughly apply the waxy product over my brows. Parisian ladies are all about beautiful strong brows but they should never look too perfect either -and that's right up my street!
For eyeshadow, I use a bit of the lighest shade that comes in the Nars 'at first sight' palette and define my crease using the medium brown shade. I then apply the best eye liner for long days –Benefit 'they're real push up liner'– and create a small flick at the end. This stuff will remain the same all day long and, although it is a nightmare to get off before bed time, it's totally worth investing in it. I finish off the look with two coats of Benefit 'they're real' mascara to elongate my lashes and make them really black.
I then apply a bit of blush, either Nars 'orgasm' or YSL 'baydoll kiss & blush' in #7. I finish off the look by a bold lip and I am all about the new Bourjois 'rouge edition aqua laque'. These glide onto the lips and leave a beautiful highly glossy stain behind. I absolutely love these and I can already predict that they're gonna be a huge hit in my spring makeup bag. Finally, a few spritz of Jo Malone 'wood sage & sea salt' finish off this very easy makeup look.