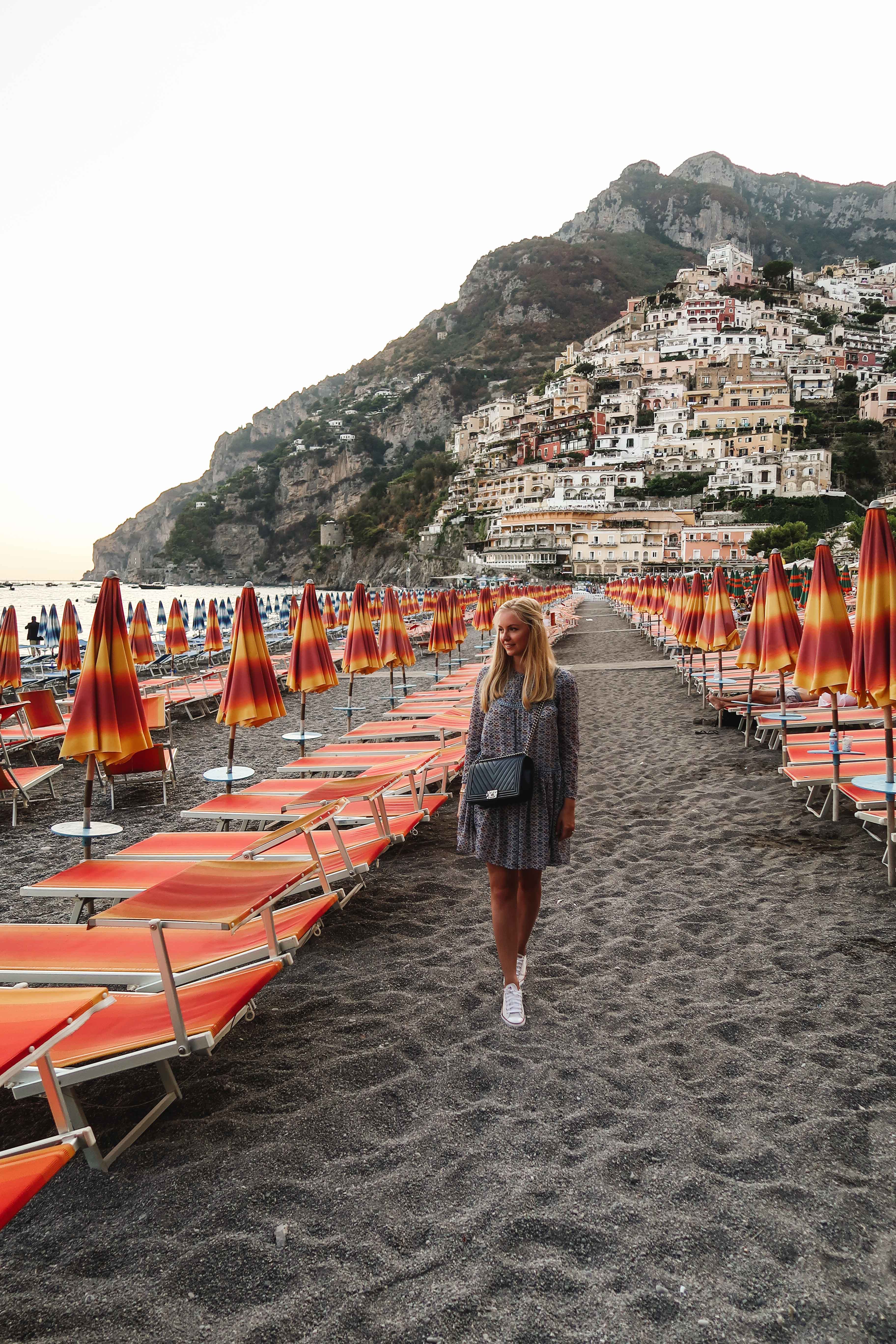 As you know if you follow me on instagram, Renaud and I spent 5 wonderful days last month in Positano, a lovely Italian town situated on the famous Amalfi coast. This trip was a bit special as Positano was the first place where we decided to spend our holidays together, way back in 2009!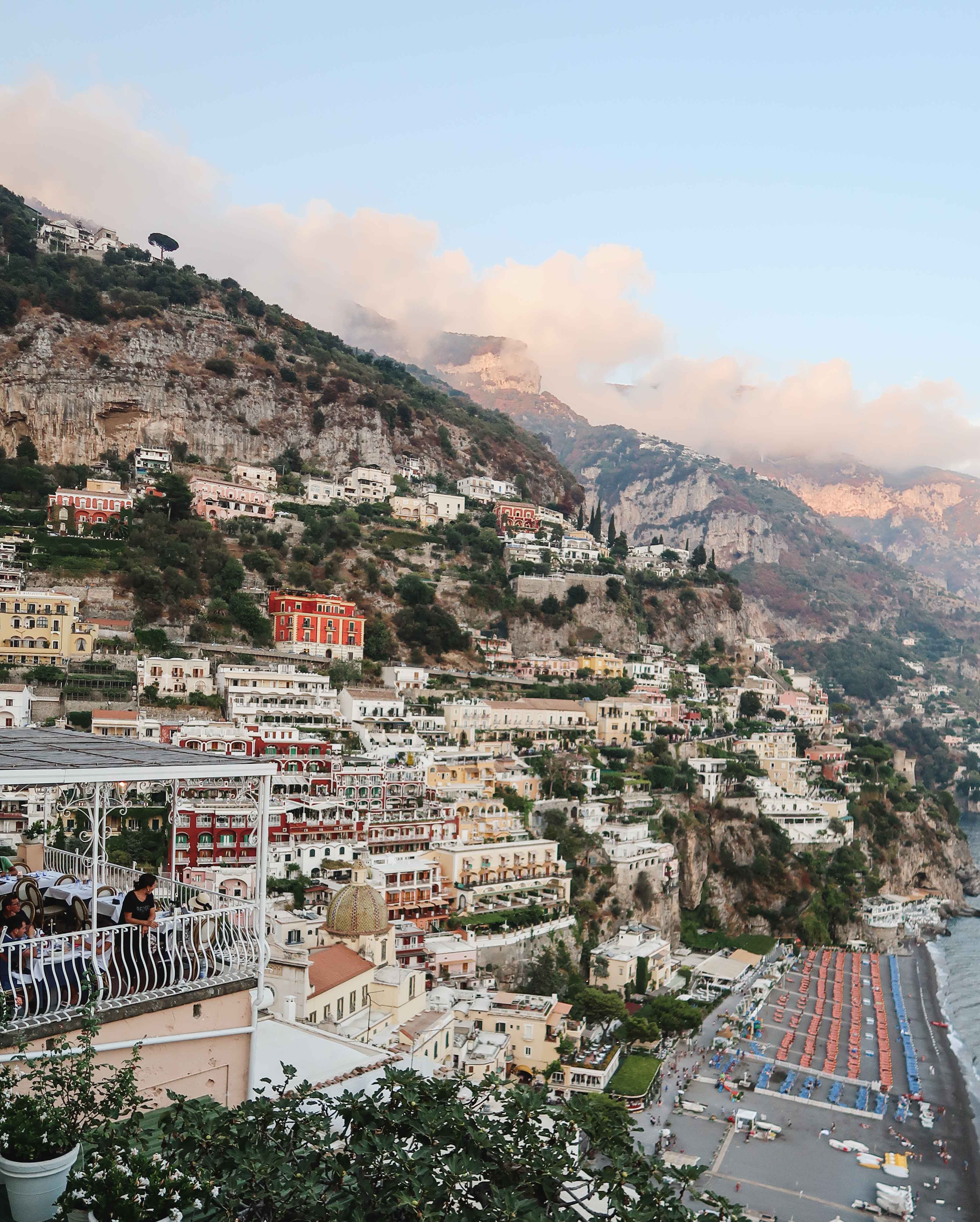 How to get there?
While we decided to go by car the first time we went, I can't stress enough that it was a bad idea. Not only is Positano 1700km away from Brussels, it is also a town with only one very narrow street… The city center is a complete pedestrian zone which means that having a car on hand is pretty much useless. Furthermore, parking on the streets is forbidden nearly everywhere which means that you have to park in one of the city car parks that cost quite a fortune. This time around, we flew to Naples, which is the closest airport and we had a private car transfer arranged in advance. I would highly recommend arranging your transfer with your hotel or a private company before your trip as a taxi would cost you a fortune from Naples to Positano.
Where to stay?
The first time we visited Positano, we rented a sweet but tiny apartment that we found online. While it was nice to have our own little space we quickly found out that we would have rather stayed in a hotel. First of all, there are only a few small grocery stores in town with sky rocketing prices. Also, Positano is invaded by ants and while it's frequent to find them on railings and stairs, they also love to come inside and invade your pantry… Which means that having food around is pretty much a nightmare. Finally, the place we rented didn't have a swimming pool, which we really missed, especially on super hot days.
This time around, the whole trip was arranged for us and we were really happy to stay at a hotel. We were lucky enough to have a bedroom with a wonderful view of the bay and a pretty roomy balcony but sadly, our hotel was located at the entrance of the city which means that we had to walk up and down stairs for a solid 20 minutes before reaching the city center.
In case you're not familiar with Positano, it is a city filled with stairs as it is located on a deep hill. And while one or two flights of stairs are not too much to handle, I can guarantee you that walking up (or down) 20+ flights of stairs when it is boiling hot outside is a real torture.  There is a small shuttle service that goes down to the city center but it is crowded with locals and tourists all the time and while there are taxis available, they often charge you a small fortune for a 5 min trip. My recommendation would be to check out hotels or apartment rentals as close to the sea as you can. These are often more expensive but I can guarantee you that you'll thank yourself once you reach your destination.
What to pack?
While it is obvious to pack a few bikinis and summer dresses, I would highly recommend packing good walking shoes! I packed my beloved Valentino rock studs, my Asos booties and a few pair of summer sandals but I ended up wearing my white Converse all the time. Because there is so much walking involved, a pair of sneakers or really comfortable gladiator shoes are a must. We never had an issue going to the restaurant or even in a club in sneakers as most of the people in town dress in a very casual way. Otherwise, I would recommend packing a smart cross-body bag and suprisingly enough, an umbrella! Indeed, we had two very rainy days while we were there which was totally unexpected! Luckily for us, our hotel had umbrellas available for customers but I would have liked to have a smaller one that would have fit in my handbag!
 Where to eat and drink?
Well, it's obvious that what I love even more about Italy than the landscapes is the food! From delicious spaghetti to oven baked pizza and creamy risottos, I am basically in heaven!
Our favorite restaurant in town is probably Restaurant del Covo. We visited twice and we had a wonderful experience each time. We would usually order two glasses of prosecco and 2 pizza to share. We absolutely loved their 4 frommagi pizza which is pretty surprising for me since it's not my favorite one. We never managed to order dessert but their limoncello is quite worth it! Another of our favorite places in town is Chez Black. While this restaurant specializes in seafood, they have a great vegetarian menu with delicious options. We shared a plate of smoked mozzarella cooked in lemon leaves before indulging in creamy tomato pasta and zucchinis. Another great restaurant that we loved is Ancora hotel restaurant. Not only does this place has an incredible view over Positano, it also has a pretty large menu with everything that you can think of. We shared a few small antipasti before treating ourselves to cannelloni and penne. We ordered Pinot Grigio and it was absolutely perfect if you ask me!
For lunch, we loved going to Da Gabrisa. It wasn't too far away from our hotel and it had a wonderful little terrace on the sidewalk. While we ended up there randomly the first time, we decided to go again on our last night as we loved it so much the first time. This restaurant has great food but they also specialize in wines & spirits. I absolutely loved their mojito and their margarita while Renaud tried a few of their bourbons directly imported from the US.
For drinks, I would totally recommend going to the Fly bar located at the end of the beach and on top of the music on the rocks nightclub. This place serves incredible cocktails and has the best view of the seafront. We spent a wonderful evening there just sipping cocktails and enjoying the view and I can't recommend it enough! For a more casual option, we also love La Brezza, near the harbour. While they also have great cocktails, I especially love their lemon beer which taste incredible thanks to the amazing lemon trees that they have around. They also do a few antipasti which are great to snack on before dinner.
What to do?
To be honest, there isn't much to do in Positano. Now, don't get me wrong, it's great to just wander in its narrow streets and to enjoy a glass of prosecco while enjoying the view but that's pretty much it. Of course, you can spend your days at the beach or even rent a boat for a day but I would highly recommend taking the ferry to Capri and spend the day there. Capri is only an hour or so away from Positano by boat so it's well worth the trip!