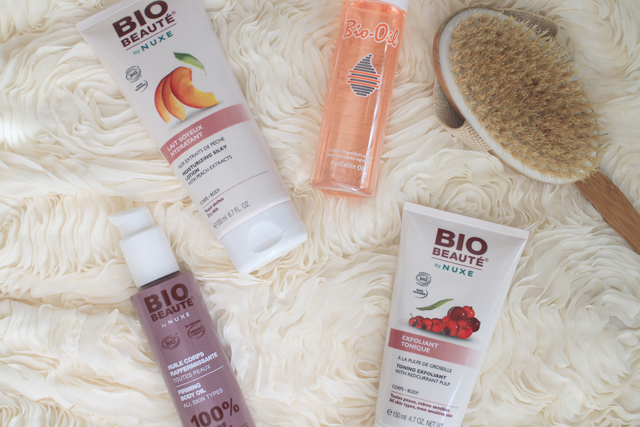 I don't know about you guys, but body care is the one area of beauty that doesn't get me all excited. Sure I love a good scented body scrub or a rich lotion but I have to admit that it's the one area in my beauty regimen where I am the least assiduous. Most of the times I just forget to put on body lotion or to dry brush in the morning. And other times I am just lazy. Here, I said it.
But the truth is that when I take good care of my body (that means scrubbing once a week, hydrating everyday and dry brushing… when I remember!) I see a huge difference. My skin looks more glowy and more even. My legs and arms feel toner and my skin gets silky smooth. I had a good run through my bathroom drawers to find the best of the natural body products out there and here's what made it to my daily routine.
Once again, Bio beauté by Nuxe is where it's at. With delicious scents and beautiful textures, this is my go to brand for body stuff. Their toning exfoliant with redcurrant is just as described, a scrub rich in grains that buff dead skin away and leave your skin feeling fresh and toned. The moisturizing silky lotion with peach extracts is my guilty pleasure. It smells like peach yogurt (my favorite) and sinks into your skin within minutes. This last point is very important for me as I hate waiting for my lotion to sink into my skin before getting dressed! Lasty, the firming body oil is something that I like to use during spring and summer, when my skin feels a bit dehydrated from the sun. A pump of product is enough for one leg and leave it beautifully glowy and moisturized. Another oil that I love is Bio Oil. I only started using it last year and I can't remember how I did without it. I have a fair amount of scars all over my body and this dry oil really helps to reduce their appearance! Last but not least is my dry brush. If you've ever read a healthy living book in your life, chances are that you've heard all the benefits that dry brushing has. It reduces cellulite, eliminate dry skin and help to improve blood circulation. While it is best to use it first thing in the morning, I like to use mine after an intense workout. It releases the tension in my muscles and leaves my skin radiant.
Do you have any great recommendations? I would love to hear from you! Enjoy the weekend peeps!