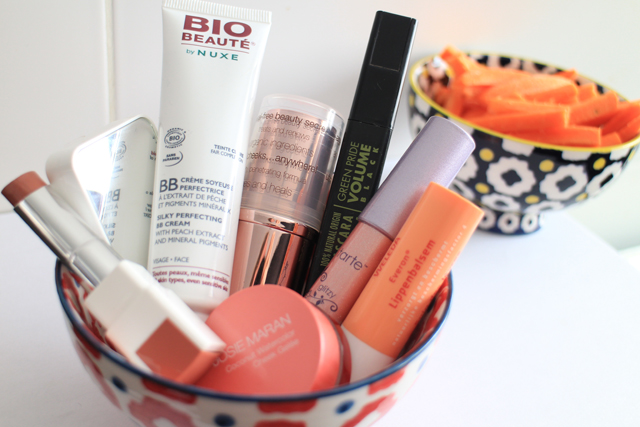 In the beginning of this year, I took the decision to live a healthier lifestyle. While I work out often and eat a pretty balanced diet, I knew that some aspects of my life could use a bit of improvement. The biggest being my beauty stash.Over four years of blogging (pinching myself right now!) I've accumulated quite a collection of various beauty products, from mascaras to shampoos, and I've been less picky about what I put ON my body. While I know that what you put in your body is as important as what you put on it, I haven't been reading the ingredients list on my beauty products as often as I used to….After a good three months of purging my stash (and making a few adjustments along the way) I thought it was time to start a new series on the blog about what I like to call reasonable beauty.
When I started this whole project, I soon realised that make up is probably the area where it is the toughest to switch to more natural products. While there are some incredible make up brands that are more natural (like Tarte, Josie Maran or RMS beauty), I find them incredibly hard to get in Europe, and especially in Belgium. So I worked with what I got and finally manage to have a decent makeup kit that you can (pretty) easily get your hands on!
To start off with, I recently discovered the Bio beauté by Nuxe BB cream. With peach extracts and mineral pigments, this is healthy glow in a tube. I like to apply it with my Real Techniques expert face brush or with my fingers for a flawless result. When it comes to cheeks, Josie Maran is killing it. If I want to look like I spent hours surfing in California, I reach for her argan color stick in the shade coral. This huge stick is acutally packed with argan oil, leaving your skin nourished while delivering a beautiful peachy color. On the other end, if I want to go for a more pinky red flush, I turn to the coconut watercolor cheek gelee. Let's first take a minute to appreciate the texture of this little guy. As its name suggests, it feels like a highly pigmented stiff jelly. I was a bit skeptical at first but thanks to its coconut based formulation, it literally melts into your skin. Dreamy. I like to use it with my fingers or use a lip brush when I want to apply it on my lips for a just bitten effect. Eyes is where I find it hard to get a lot of options. Thankfully, Une has a pretty good selection of nude eyeshadows. My favorite one is the sfumato eye shadow in #S15, a gorgeous greyish brown, perfect for defining my eyes. I also love their green pride mascara in black as it gives my lashes a good curl while adding in a bit of volume. Sold! Now lips is probably the category where we can have a bit more fun. I always start by applying Weleda lip balm on my pout as it keeps it highly nourished while staying matte. I tend to either go for something really natural, like the Rouge by Une in #R10 or go for something a bit more funky, like the Tarte Lipsurgence lipluster in the shade Glitzy. Now this isn't typically a color that I would pick, but somehow this antique shimmery pink is really flattering on me when I pair it with a bronze smokey eye.
Do you use any natural beauty product? If so, let me know in the comment section below!