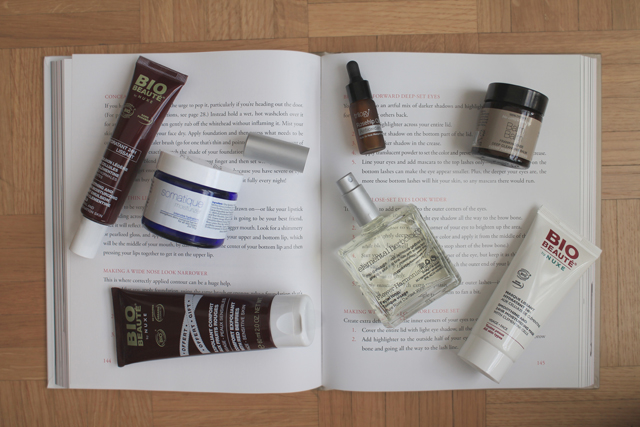 If there's one area in my beauty regime where I am particularly picky, it has to be skincare. My skin changes its mood more quickly than Lady Gaga changes outfits, and that says a lot about it. It's definitely dehydrated most of the time, breaks out pretty easily and above all it is pretty sensitive. Therefore, I don't mess around with my skincare. When I decided to switch to a more natural skincare routine, I found the task to be incredibly easy and invigorating. Not only does the drugstore offer quite a good selection, I discovered that my local pharmacy had a vast selection to choose from. Here's what made it to my bathroom shelf:
When it comes to taking my makeup off, I like to reach for the Balm balm frankincense deep cleansing balm. This thick organic balm literally melt your makeup, including waterproof mascara and lip stains. I take a pea size amount of product, rub it between my fingers before applying it all over my face. I massage it in for a minute or so before taking it off with a warm damp cloth. This first step in my routine helps me to relax and gets rid of any nasties on my skin. I then move on to the Elemental herbology flower harmonizing mist to refresh my skin even more. This little bottle goes everywhere with me, from the gym to my handbag. I use it through the day to refresh my makeup or inject a bit of moisture back into my skin after a long hour at the gym. If my skin is feeling particularly dry, I add two or three drops of the Trilogy rosehip oil into my Somatique moisturizer. The oil sinks into my skin and smooth it from the inside while the moisturizer keeps it moisturized for hours and gives it extra vitamins A,B, C, D & E.
Then, let's talk about Bio beauté by Nuxe. If you've been watching any of my beauty videos, you probably know that I have a bit of an obsession with the brand. It was launched a couple of years ago by Nuxe, an old favorite of mine, as a great and affordable organic skincare line. They started off with a very limited selection of products, but fast forward to now and Bio beauté occupies an entire wall in my local pharmacy. From masks to lip balms and soaps, they have everything you need and everything you didn't know you needed. My all time favorite product has to be the Comfort exfoliant with red berries. This exfoliant is formulated as a thick oil with crushed berries that you apply on dry skin. A few round motions, a good rinse and your skin feels fresh and moisturized. After that, I like to use the Smoothing and moisturizing mask all over my face and neck. While I am not too keen on the smell (it smells like clementine, which I hate) it works so beautifully well that I am willing to let it sit on my skin for 15 minutes. Last but not least, is the Smoothing light emulsion. This moisturizer is too light to be used on its own, but layered over the top of my day cream, it makes my skin super smooth, hides my pores and ready for makeup.
Do you use any organic or natural skincare product? I would love to hear about your recommendations!