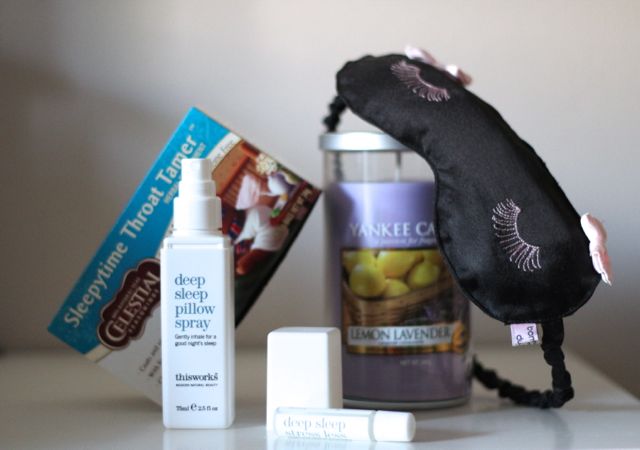 For as far as I can remember, I've always had trouble sleeping. As a kid, I would use any trick possible to go to bed later and would often end up watching TV in our living room at the break of dawn.
When I was living on my own in Paris, I took the very bad habit of going to bed at around 3AM. Needless to say that it became harder and harder for me to wake up in the morning!
When I moved in with my boyfriend, I decided to work on that and I try to go early to bed and to wake up early as well.
The only thing is that I am dealing with insomnia. I can fall asleep within minutes only to find myself fully awake at 2AM. I can't go back to sleep and therefore use this time to read or get some work done.
Being insomniac is killing me. When you don't get enough sleep, everything you do seems harder than it is. So, after months of sleep deprivation, I finally found a couple of things that help me sleep and thought I would share them with you!
My first tip if you have trouble falling asleep is to get into some sort of routine. Take a bath, make yourself a nice cup of tea and read a good book in bed. Try to go to sleep at regular hours and, most importantly, try to wake up at the same time everyday (and yes, this includes weekends!). Before going to bed, I like to sip on Celestial seasonings tea in the flavor Sleepytime throat tamer. It helps me to unwind and relax while keeping me warm, bliss!
Then, before slipping in my sheets, I spray my pillow with the This Works Deep sleep pillow spray. This mix of essentials oils has the most relaxing scent ever and helps me to get to sleep easier. I had mixed feelings when I first got it as I imagined it to be a bit gimmicky but it truly works as its name suggest!
Another incredible product from This Works is their Deep sleep stress less rollerball. I use this little guy at night but I also take it with me on busy days or plane rides. I apply a bit on my wrist and behind my ears and I immediately feel relaxed. The scent is really herbal and reminds me of the scent of a really nice spa!
I also like to have a candle burning in my bedroom and right now, I use the Yankee Candle in the scent Lemon lavender. After a few minutes, our whole room smells like the South of France! If you love candles as well, just make sure to air your room during the day to freshen up the atmosphere!
My last tip is to take time to listen to your body. I know that I sound like a self help book here, but it is really important to know what your body needs to rest. Try different things to see what works for you. Do you sleep better with a bit of light or in the darkest room ever? Try to eat earlier before going to bed and switch off your phone at night, do you feel more energized the next day?
I hope these little tips help you to sleep like a baby!