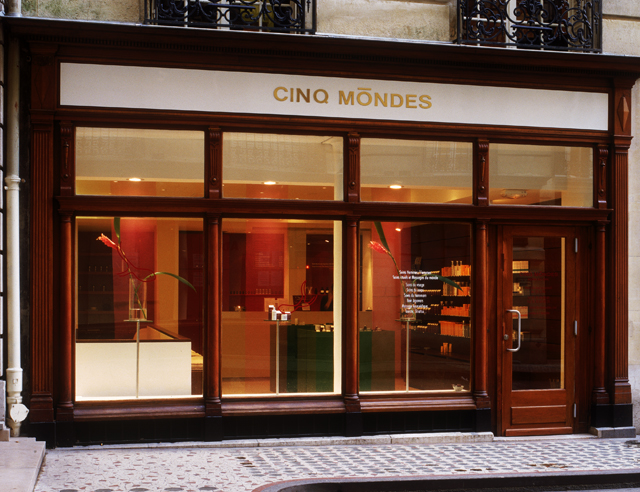 Last week, I had the chance to spend a few days in Paris. Those four-ish days flew by and were filled with shopping sessions, Christmas magic and a naughty little purchase from Chanel (more on that really soon). This period of the year can be a bit stressful so it seemed like the perfect time to try the Cinq Mondes spa in Paris. This little gem is hidden behind the Paris Opera and I couldn't believe that I spent three years of my life leaving next door and never hear about it. I bet Parisians wish they could keep this little sanctuary for themselves, and I totally get why!
I was warmly welcomed with a cup of tea before taking the stairs down to the spa space. I quickly changed into a soft robe and head over to the relaxation room where I enjoyed another cup of tea before my therapist came to take me into my treatment room.
As soon as I entered the room, I already felt relaxed. Soft music playing, warm towels and a calming scent got me all smoochy. Things started off just right with an Ayurvedic back massage. I get stressed rather easily, and all my tensions tend to pack onto my shoulders and upper back. I never tried Ayurvedic massages before and I was a bit skeptical about it but it turned out to be one of the best massage I ever had. It is pretty strong but your body will thank you for it later! After a solid hour of relaxation, and a big temptation to snooze, we moved on to a facial treatment. To be honest with you, I am not really into facials. I have a really sensitive skin and I find them to be way too much for my skin to handle. Although, this one made me change my mind. Yep, it was that good. My beautician made sure to question me about my skin, my sensitivity and my skincare routine. We talked a lot and I learned a few good tips along the way. I loved the way she was passionate about her job and knew so much about skincare. It might sounds obvious to say that about a beautician, but I find it really rare to meet someone that truly knows what they're talking about. But now, let's go back to the facial itself. My favorite part of the whole treatment was the 3 minutes Phyto Peeling gel mask. I am all about a good exfoliator so I was beyond thrilled to hear that this mask is packed with fruits acids, glycolic acid and avena sativa. My therapist applied it gently all over my face and left in there for the recommended 3 minutes. She made sure that I was feeling okay half way through as the mask gives a hot sensation on the face. She then lightly massage my face before applying a face oil, a moisturizer and an eye cream. Sadly, it was already time to say bye bye but I was welcomed to stay in the relaxation room for as long as I wanted.
I spent a bit more time in there, drinking water and chilling before going back to the changing rooms and to reality. One last thing that I absolutely want to mention is that when I first looked into the mirror, I couldn't believe what I saw. For the very first time in my life, my skin was glowing, plumped and beautiful. Usually, after a facial, my skin is puffy, red and sore. But this was all the contrary. I was so happy that I wanted to hug everyone around me. I even went out and about in Paris WITH A BARE FACE. NOT EVEN MASCARA. Trust me, it is a big deal for me. I haven't done such a thing since I was 11 years old. That says it all.
Anyways, I don't think I need to tell you more about my spa Cinq Mondes experience. It was simply fabulous and it sounds especially tempting to stop by during Paris Fashion Week next February…