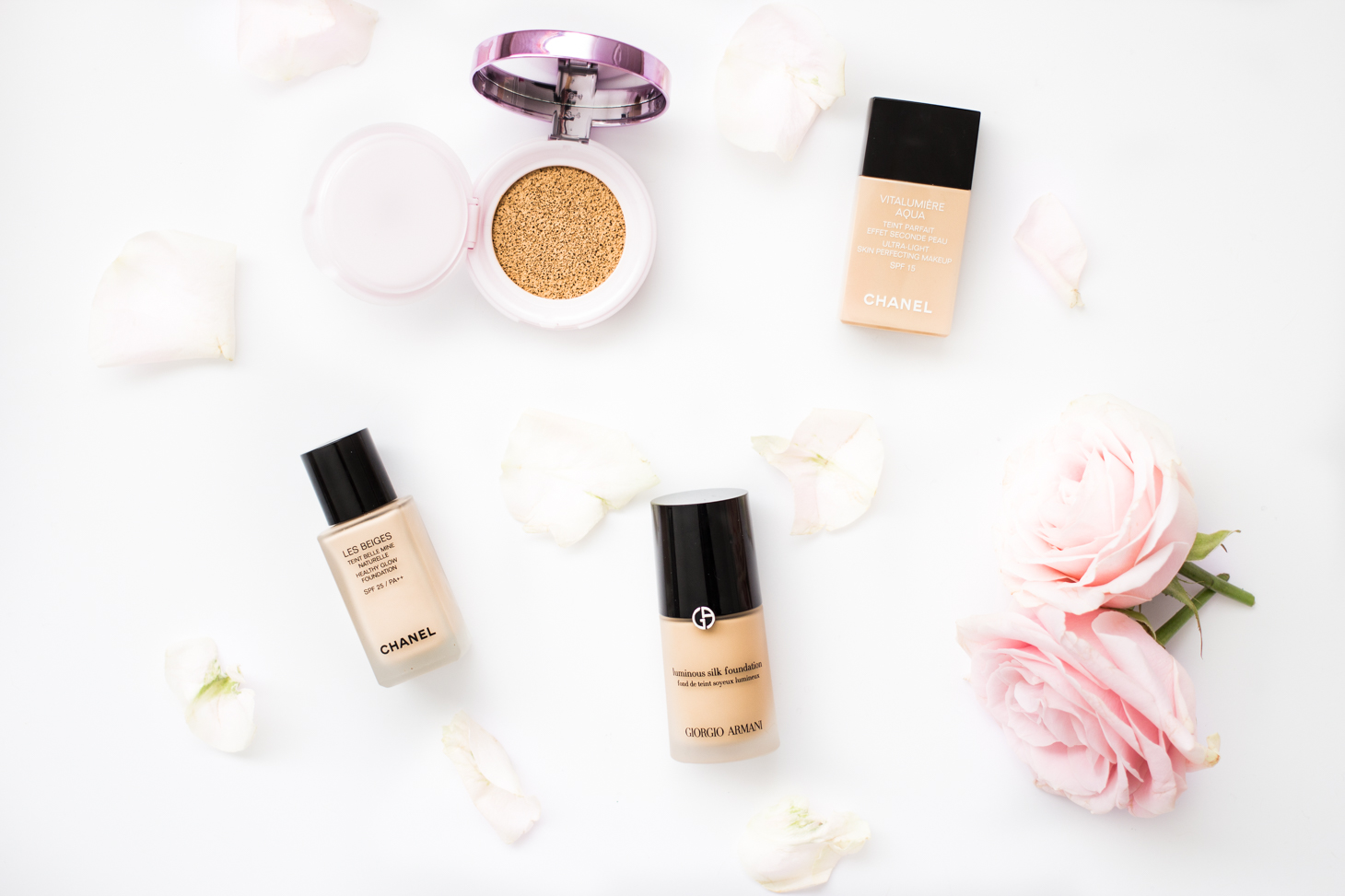 It's no secret that I have super pale skin. In the dead of winter, my complexion looks somewhat similar to a bathroom sink and although I tend to tan a bit in summer, I am still very fair. So it goes without saying that finding the perfect shade of foundation is sometimes tricky.
In the past, I've made the mistake of going one shade darker to look a bit more healthy. Ladies, learn from my mistake. It doesn't make you look healthier, it makes you look like a oompa loompa. Ever since, I've tried my fair share of foundations, tinted moisturisers and so on but I've finally found the best foundations for pale skin! Now not only are these a great match if you have very pale skin, their formulation is also on point!
The first one that I tried years ago and immediately fell in love with is the Chanel vita lumiere aqua foundation. I decided to get it at the airport as I was leaving for St Tropez and heard so many great things about it. This foundation is very liquid but sets in place rather quickly. It has a beautiful glowing finish with a medium coverage -just enough to make you look healthy but not overly done. I usually go for the shade 32 beige rosé in the summer but during winter, I use the shade 10 beige. This latest one is an Asia only shade but I managed to find one in the Chanel beauty boutique in Paris. Oh, and before I forget, this foundation also has an SPF of 15, which is perfect for spring & fall!
Another beautiful pick from Chanel is their latest release, les beiges. I was completely drawn to this after trying out a sample and I finally decided to break the bank as I was on the market for a new everyday lightweight base. I ended up going for the shade 12 rosé which is perfect for my pale skin. This one has a very light coverage, so it's best for days where you just want to look a bit more put together but not over the top. I usually prefer to apply it with a damp beauty blender as I find it tends to sit in my pores with a foundation brush. This one has an SPF of 25, so it's perfect for sunny days where you're out and about.
It's pretty rare that I buy the same foundation over and over again but this one is the exception. The Giorgio Armani luminous silk foundation is one of the rare foundation that ticks all the right boxes. First of all, it has a incredible color range, which makes it very easy to find your perfect match. This one has no SPF, which I actually love as it is a foundation that I tend to wear for more special occasions like a date with my fiancé or a night out with my best friends. The finish of this is close to perfection. It has a very luminous finish, as the name would suggest, without ever getting too shiny or dewy. And the best is yet to come: this foundation stays in place for the whole day -and even night- without adding powder on top, which makes it absolutely incredible for those of you with dry skin!
Finally, my last pick is the only one available at the drugstore. The reason behind that is that I often find drugstore foundations to be a bit too dark or orange on me. But the new nude magique cushion foundation* from l'Oréal is quite the contrary. This little compact hides one of those cushion foundation which consists of a sponge saturated with a light foundation. You can either apply it with a little sponge or a brush but I find it best buffed with my fingers which is a bit messy but offers a flawless result. The shade range is pretty good for a drugstore product but since the foundation itself is very light and liquid, it's easy to blend in with your skin tone.
So there you go! I hope that this post will help some of you to find their perfect match! And if you have any other recommendations, make sure to pop them in the comments down below!