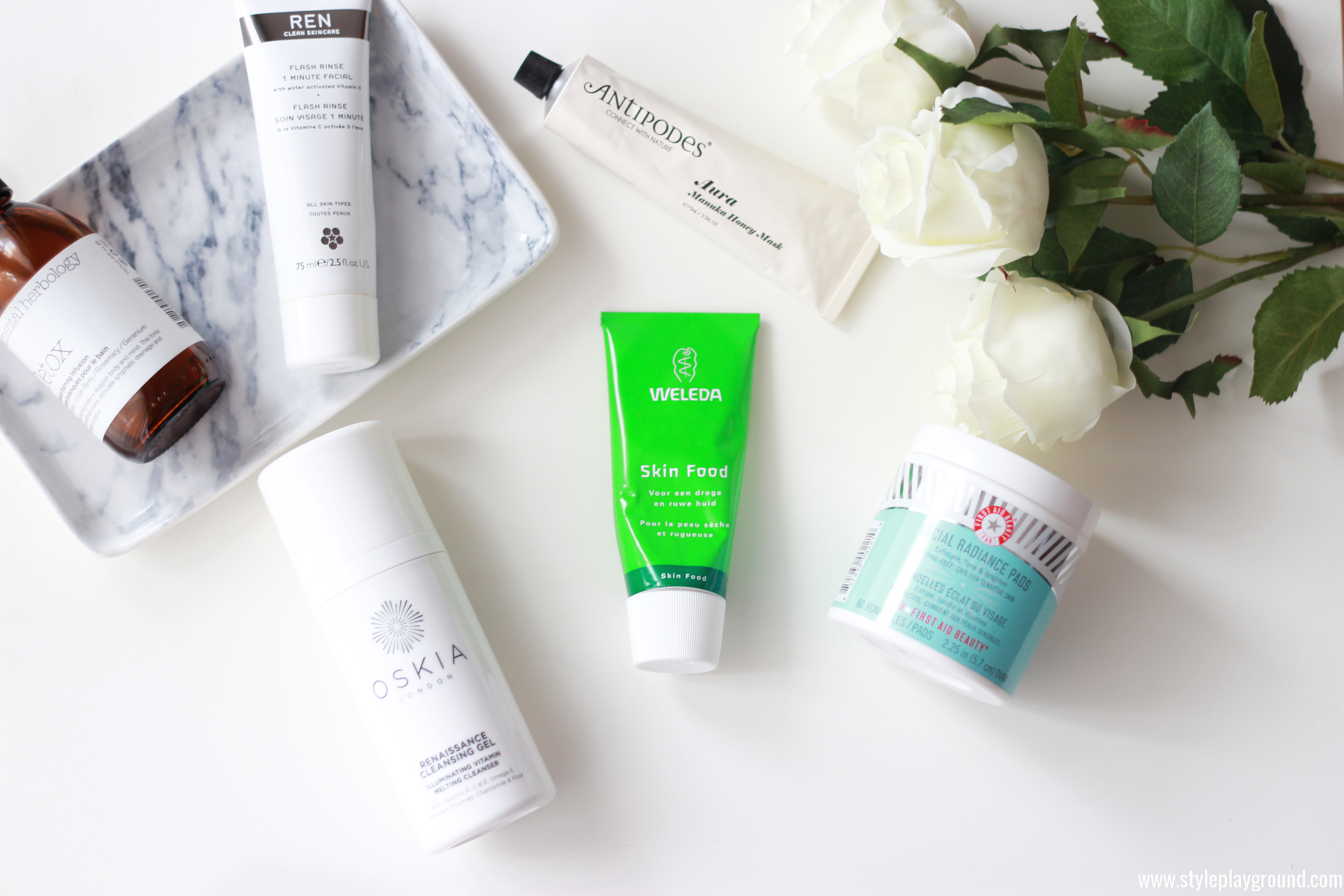 Whenever I go to the States, the one beauty department that always got me excited is the one with all the gorgeous natural brands. Josie Maran, Boscia, Tarte… those names are like sweet music to my ears but they're nearly impossible to find over in Europe… So I've been exploring a little bit more and trying out new brands that are more easily available over here. So get your notepads ready because these are wish list material!
One of the very first brands that got me into natural skincare is Ren. At the time, I've received one of their gift sets and I was so impressed by the quality of their products. Since then, I've been trying out a couple of their products but the one that blew me away is the Flash rinse 1 minute facial. I already reviewed it here so I won't go on & on about it but this is a fantastic product if your complexion is a little uneven and if your schedule is as busy as mine.  Then, if you have a little bit more time on your hands, I can only stress good things about the Antipodes Aura Manuka honey mask. This brand is a recent discovery for me but I am already in love. This mask is both moisturising and cleansing which is everything that I always wanted in a mask! I love to apply a generous amount on my face and leave it for as long as possible. Then, I am left with plumped, radiant skin that feels so comfortable.
I've been using acids on my face for a couple of years now and I love it. They sound way more scarier than they are since they're more gentle on my skin than a physical scrub. The idea is that the acid (like glycolic or lactic for example) will get rid of all the dead cells on your skin, leaving it fresh and ready for your skincare. I recently picked up these First Aid Beauty facial radiance pads and I am impressed so far. These are pre-soaked little cotton pads and although I usually prefer a regular lotion, these are pretty amazing. They're soaked in product and have just the right amount for your whole face. They don't feel harsh at all but I can already tell a difference. My pores are getting smaller and my skin is overall smoother. Another recent purchase is the Oskia renaissance cleansing gel and I really have to blame my favorite beauty bloggers and Youtubers for this one! I got it only because everyone was raving about it and although I don't think it is groundbreaking, it is a really good cleanser. I love its balm consistency and the fact that it comes in a pump makes it super easy and convenient to use. I usually massage it in with my fingers but I've tried it with my Clarisonic and it works fine as well.
If your skin is as unpredictable as mine is, the Weleda skin food* will soon become your best friend. This thick, heavy cream is the best to get rid of dry skin all over your body. It works great on your arms, legs but also on your face. I love to use it during the colder months or if I've been a little bit lazy with my skincare. Finally, if you're looking for the ultimate bath product, may I recommend the Elemental Herbology detox bathing infusionl? This oil smells heavenly and will make you feel at a spa right in your bathroom. I usually use it on its own and pour a cap into my bath. It helps me to unwind after a long day and it leaves a slight residue on my skin which makes it more soft and moisturised. I've even managed to convert my fiancé to it so that says a lot right?!