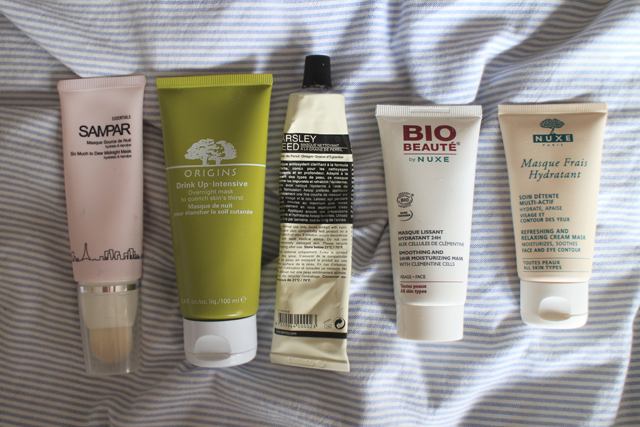 When it comes to skincare, face masks are where it's at. I love the idea that I can target a specific issue of my skin with a mask that will work within minutes. In case you're looking for some new options, you've come to the right place.
First off, we have the Sampar 'so much to dew midnight mask'. This overnight mask is the perfect companion for a long haul flight or to take with you on a city trip as it is highly moisturising and comes with a built-in brush! It comes out clear on the skin, which means that you can apply it without scaring anyone in your household. Just saying. If your skin is desperately dry, the Origins 'drink up intensive overnight mask' is the answer to your prayers. Apply a generous amount of this stuff on your face, go to bed and I promise that you'll wakeup with plumped nourished skin. Plus, it's smells like a tropical cocktail!
If my skin is acting a bit funky -read if it's covered in spots- I reach for the Aesop 'Parsley seed mask'. This applies and dries a bit like a clay mask but it really helps to reduce spots and redness. I love to apply it with an old foundation brush and rinse it away in buffing motions with a muslin cloth. My skin feels super clean and fresh afterwards that I tend to use it on a weekly basis.
If my pores are getting larger or if I have a special event coming up, I tend to use the Bio beauté by Nuxe 'smoothing and 24h moisturising mask'. While I am not to keen on the smell of it (it smells like clementine) I love the tithing effect that it gives to my skin. My makeup tend to go on smoother afterwards and my pores are looking a bit smaller.
Last, but certainly not least, the Nuxe 'refreshing and relaxing cream mask' is my go to after a long flight, a long day at work or simply if my skin feels a bit sore and inflamed. I tend to leave it on for as long as I can as my skin literally drinks it. Trust me, you'll thank me on that one.