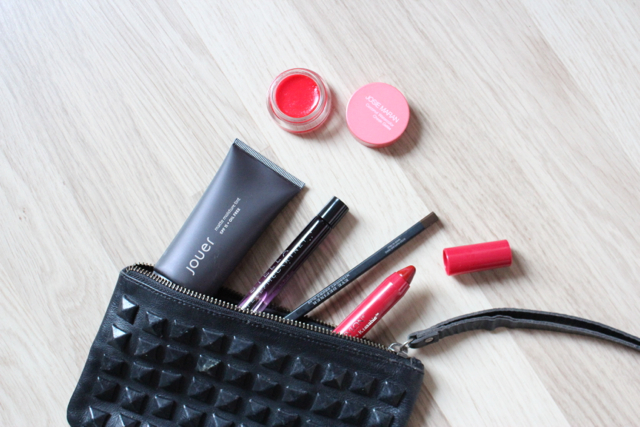 Since fall is officially here, it was time to switch things up a bit in my makeup bag…
The first thing that I added is the newest of the bunch, aka Jouer matte moisture tint. I tried it on while I was in Chicago and loved it, but as they were out of my shade I had to order it on Cult Beauty (not that I am complaining though!). It came in earlier this week and I already find myself reaching for it over anything. This tinted moisturizer delivers the perfect amount of coverage while leaving your skin matte, but not too matte (us girls!). Next up, I have my new Stella by Stella McCartney perfume rollerball. A heavier scent than what I usually wear but t turns out to be great for this season. I also added my Burberry eye definer in Midnight brown for quick touch ups. A tiny bit applied on my upper lash line transforms any day time makeup and get me ready in minutes to grab drinks with friends. For the lips, I am all about a sheer berry shade, so this Revlon Just bitten kissable in the shade Romantic fits the bill perfectly. You don't need a mirror to apply it as it goes on pretty sheer but still add a bit of color to your face. The last product of the bunch is the Josie Maran cheek gelée in poppy paradise. The texture of this cutie is really unique but delivers the prettiest flush to my cheeks.
So, I want to know, what is in your makeup bag this month?