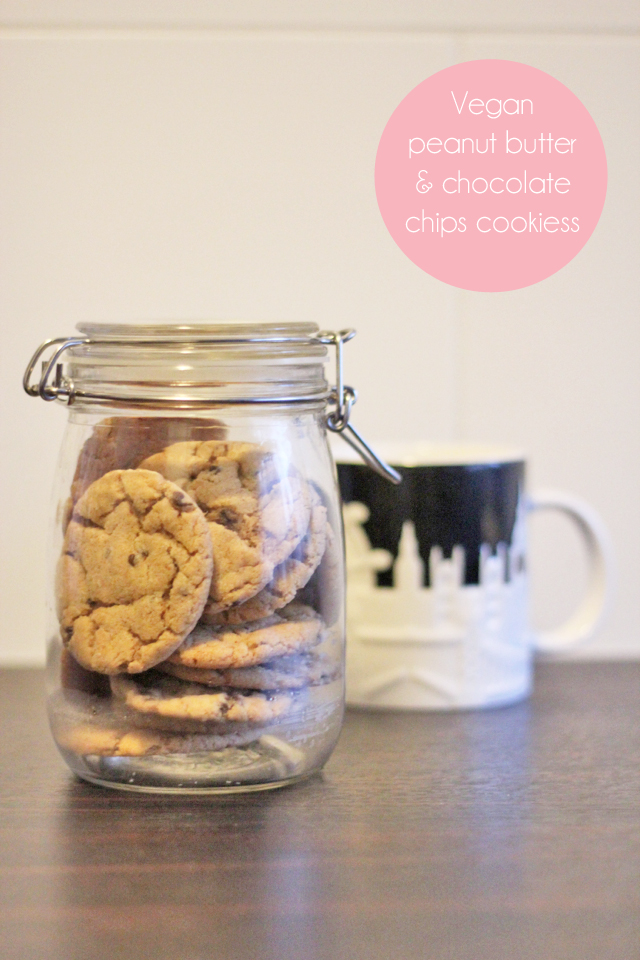 Last weekend, me and my closest friends headed over to the countryside for a fun and relaxing weekend. In prevision of long afternoons spent by the fire, I made a big batch of vegan cookies to take with me. Since everyone found them delicious, I decided to share the recipe with you.To make 20 cookies, you'll need:
2 cups of flour
1 cup of margarine (at room temperature)
1 cup of sugar
1 cup of brown sugar
1 cup of peanut butter
1/2 cup of applesauce 
1 1/2 teaspoon of baking soda
A pinch of salt
Some chocolate chips
In a bowl, mix together the margarine, sugar, applesauce and peanut butter. Whisk until you get a smooth consistency (I like to use my electric mixer to do so). Then, add the flour, baking soda and salt and mix everything well. Finish off by adding a good amount of chocolate chips into the dough and mix a bit more.Roll dough balls between your hands and spread them nicely onto a baking sheet. Bake at 200° in the middle of the oven for 10 minutes. Transfer the cookies onto a cooling rack before storing them in a airtight container (I like to use a rustic looking container to accentuate the home made look).