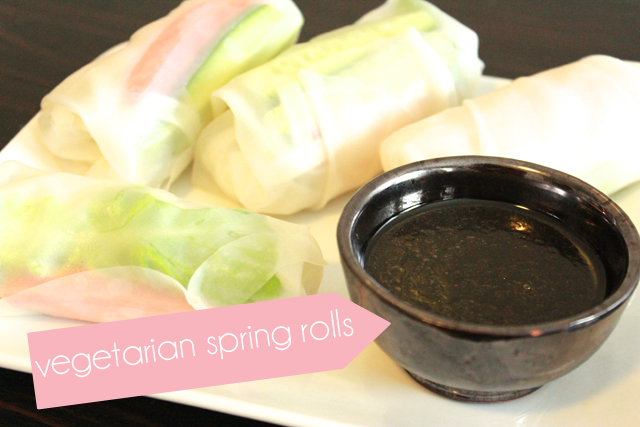 During the week, I usually don't have a lot of time to get lunch. I find it pretty difficult to prepare something tasty, quick and fresh without turning the whole kitchen into a mess.One of my favorite things to make for lunch are these vegetarian spring rolls. They only require a handful of ingredients and once you get the right move to wrap them (I find this video to be very useful) they'll be ready in minutes.
You will need:
Rice paper

Rice noodles

Carrot sticks

Cucumber sticks

Coriander

Salad
Start by placing the rice paper in a pan filled with warm water to soften it. Then, place it on a flat surface and place a bit of salad, 2 sticks of carrots and 2 sticks of cucumber on the bottom half of the paper. Make sure to leave enough room on the side to fold it and finish by adding a bit of noodles and coriander. Fold the bottom half over your ingredients, and then fold the sides on top to secure everything in. Continue to roll and then place on your plate.
I like to serve mine with a bit of sauce that I make by mixing together 2tbsp of rice vinegar, 2tbsp of soy sauce and 1tbsp of sesame oil.Enjoy!