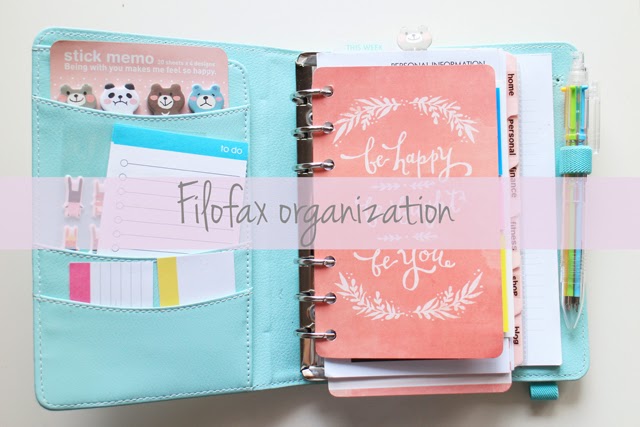 As I told you in this recent post, I think that the New Year is the perfect time to get organized. We all want to do amazing stuff in 2014 and I strongly believe that a bit of planing can help you achieve a lot and takes a bit of the stress out. So for today's post, I decided to show you what's in my (beloved) Filofax.

I love my Filofax case! It is actually a travel wallet that I converted into a "all I need for my Filofax" pouch. I like to keep sticky notes and page flags on hands as well as my single hole puncher (perfect to punch just about anything into my Filofax!)For my monthly planning, I love to use washi tape. It can be peeled off easily and visually helps me to have a clear view of the month ahead.

I customized my original Filofax tabs with pink washi tape and labels that I printed using my Dymo. This way, I can keep track of lists really easily and always have an eye on my budget!I also like to keep business cards and ID photos on hand, you never know when you might need these!
If you would like to see more of my Filofax, make yourself a cup of tea and click play!