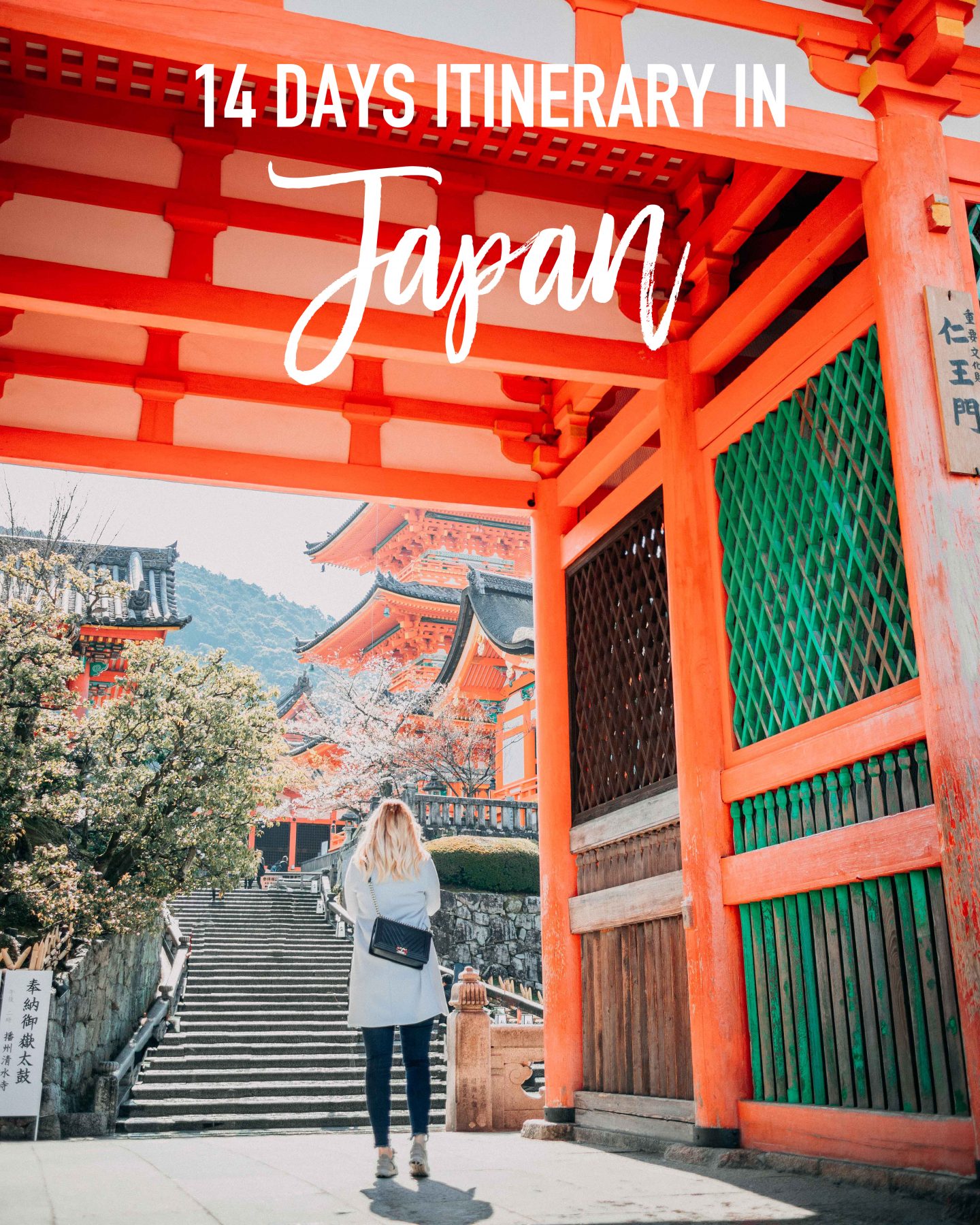 For years and years, I've dreamed of visiting Japan. When I met my husband Renaud, we quickly started talking about our dreams and goals and we both realized that going to Japan was high on both our lists. We had originally planned to go there for our honeymoon but with a wedding to plan and a new house to decorate, it got pushed aside.
So when we thought about taking a trip to celebrate our ten years anniversary, Japan was the first place on the list. While we planned everything in a rush (we booked everything 6 weeks in advance), we had a great travel agent that helped us to really see everything that we wanted. 
So here's our complete 14 days itinerary, along with a few tips & one thing that we would change, I hope that you'll like it! And don't worry, more posts are coming with our favorite activities, shops & restaurants!
---
Day 1 – Flight to Tokyo & practical stuff
Our flight to Tokyo from Brussels arrived at 4 PM, which meant that we couldn't really visit Tokyo that day. So we decided to make the most of it by getting organized for the rest of the trip. We picked up our Japan Rail Passes at the airport, bought a data sim card that lasted 14 days and bought our Suica cards for transportation across the country. We dropped our bags at our hotel and went straight for a delicious bowl of ramen next door. After that, we were pretty much exhausted so we went to bed to have a good night of sleep.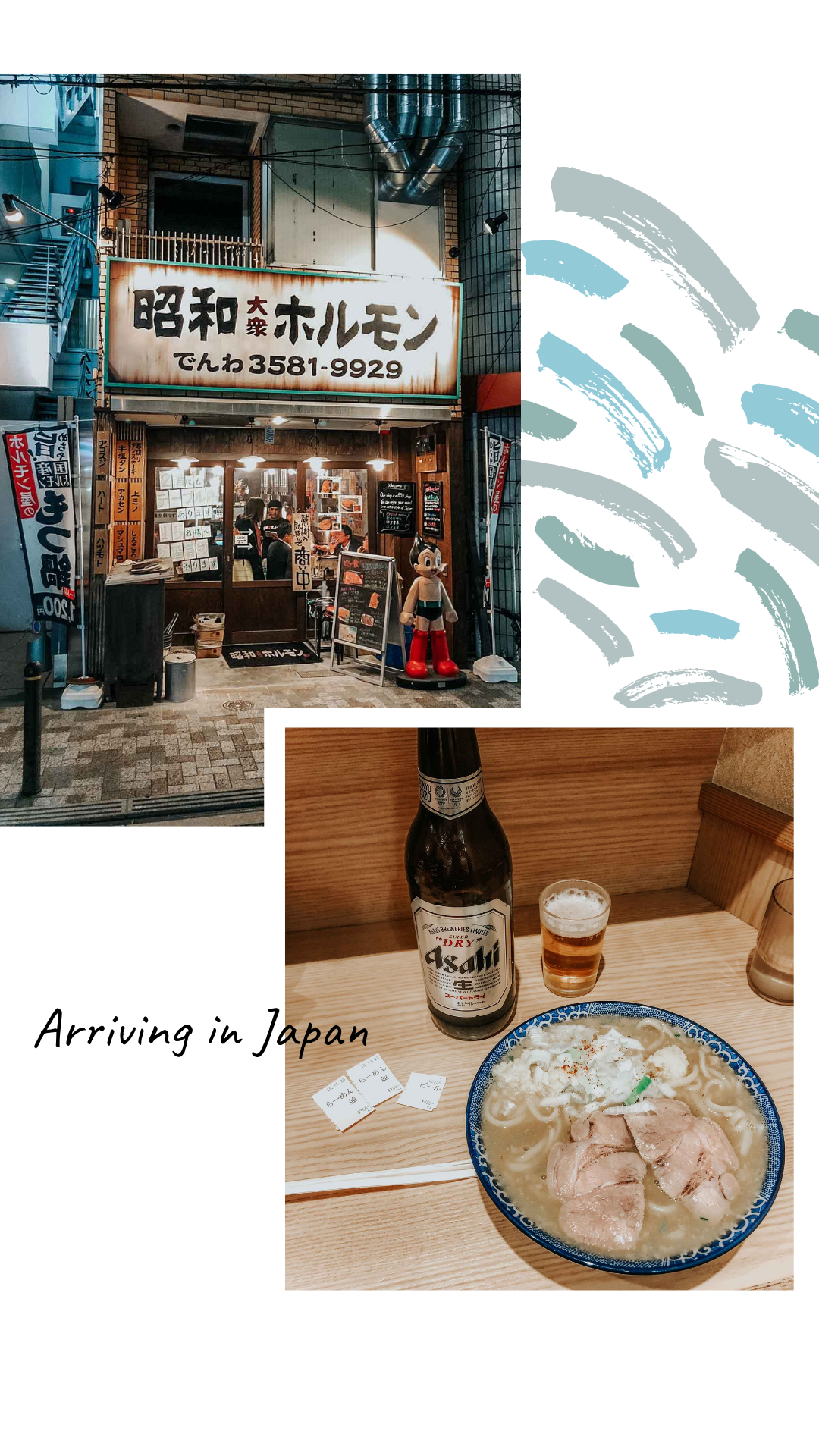 Day 2 – Kawaguchiko & Mount Fuji
After an early wakeup call, we caught a bus at Tokyo Station to head to Kawaguchiko, a small city on a lake with a beautiful view on Mount Fuji. The bus ride was 2 hours long so we packed snacks, water and audiobooks with us. We dropped our bags at our Ryokan (a traditional Japanese accommodation but more on that later) & went out to explore the city.
While the town is pretty small, it's popular amongst Japanese & international tourists so there are a dozen of restaurants, cafés & souvenir shops. We had lunch and walked around before checking into our Ryokan. These traditional Japanese Inn are truly an experience in themselves as everything feels very authentic and different. Once you come in, you're welcomed with a cup of green tea and asked to sit on the floor, without your shoes. The funny thing is that your room is set up with just a table and floor chairs at that point as your bed will be installed after your dinner.
We wanted this experience to be extra special so we had a room with a private bath – also called onsen- with a breathtaking view on Mount Fuji. We spent the rest of the day relaxing and enjoying the view before dinner was served in our room at 7.30. Dinner was amazing and we couldn't have had a better introduction to Japanese cuisine. A lovely lady dressed in traditional kimono explained the whole dinner to us, including the order in which to eat the food and information about the ingredients and preparations. It felt surreal to be eating dinner dressed in Japanese traditional clothing with a view of Mount Fuji and it truly was a highlight of this trip. After dinner, a member of the staff comes to your room to push aside the table and set up your beds on the tatami.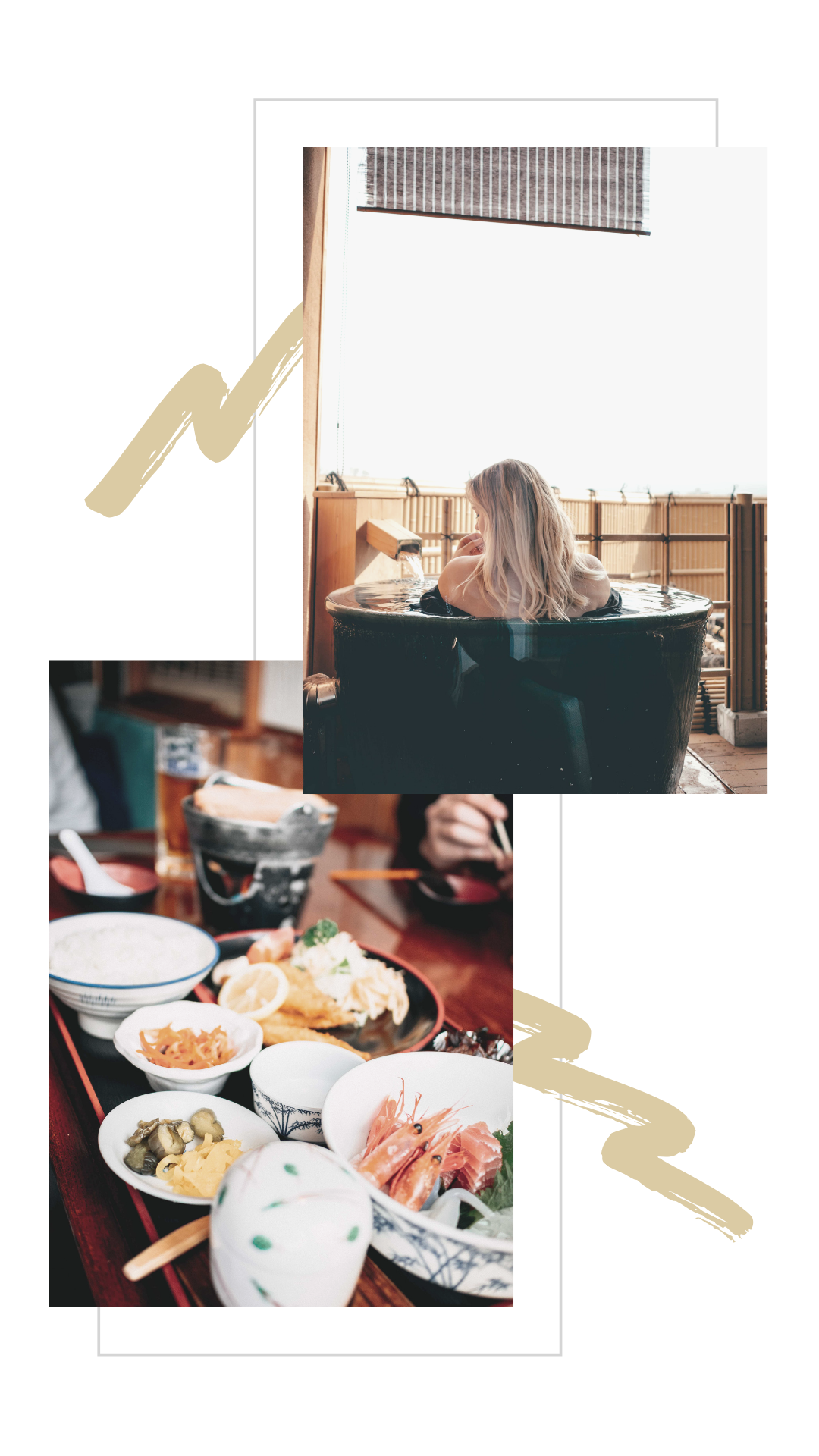 Day 3 – Mount Fuji area & return to Tokyo
On day 3, we woke up to a bright & sunny day which made us excited to visit the area even more. We took a loop bus to the Chureido Pagoda, just 15 minutes away from Kawaguchiko. The pagoda sits on top of hundreds of stairs but the climb is so worth it! Indeed, Mount Fuji comes into view and it is truly spectacular. A small temple is also situated right next to it and we stopped for a few minutes just to take it all in. The colors, the sounds, and nature really blew us away and got us even more excited about this trip!
We took a taxi back to Kawaguchiko for lunch & we took a boat tour on the lake in the early afternoon. The view on Mount Fuji is even more breathtaking from the water and we couldn't stop taking photos! After that, it was time to catch our bus back to Tokyo.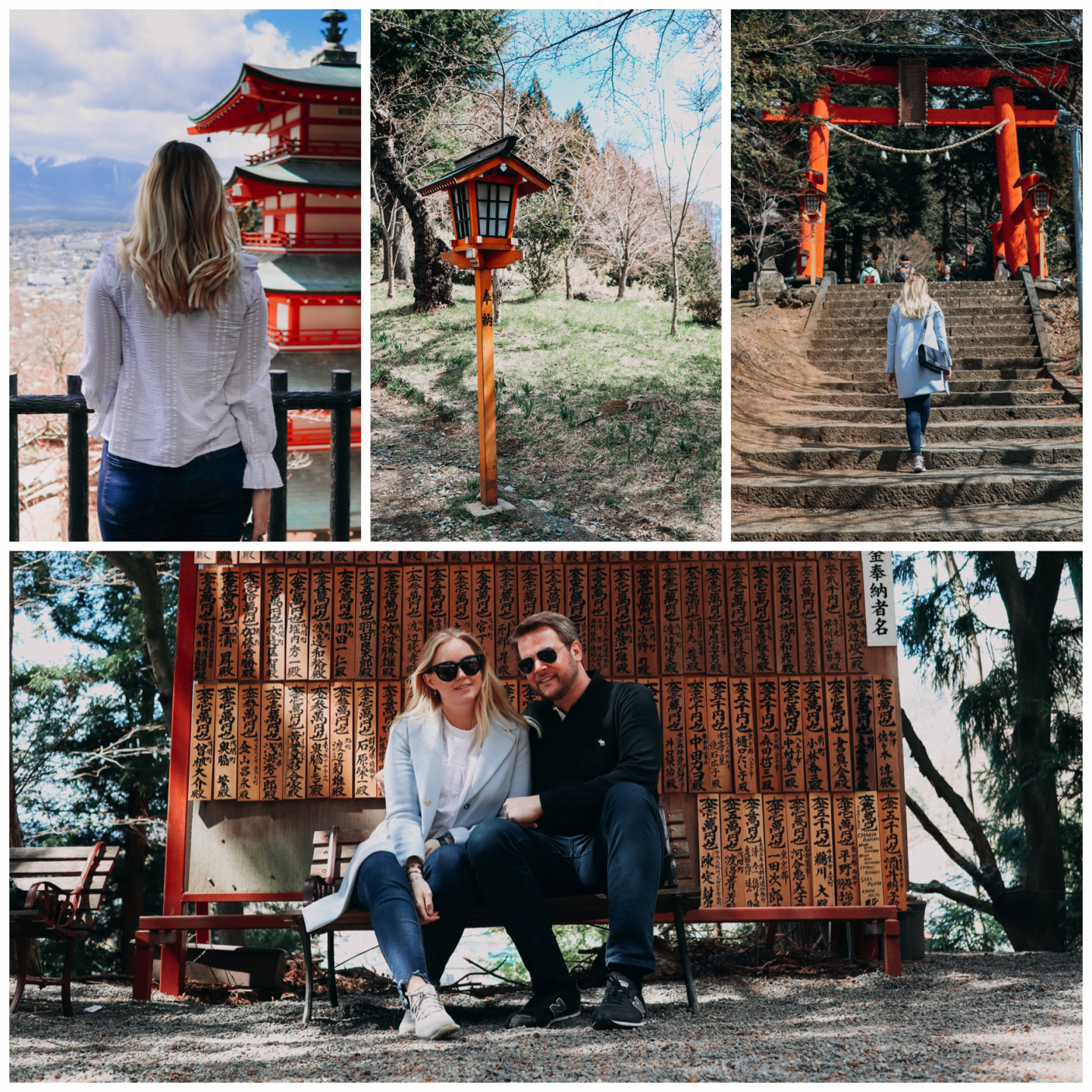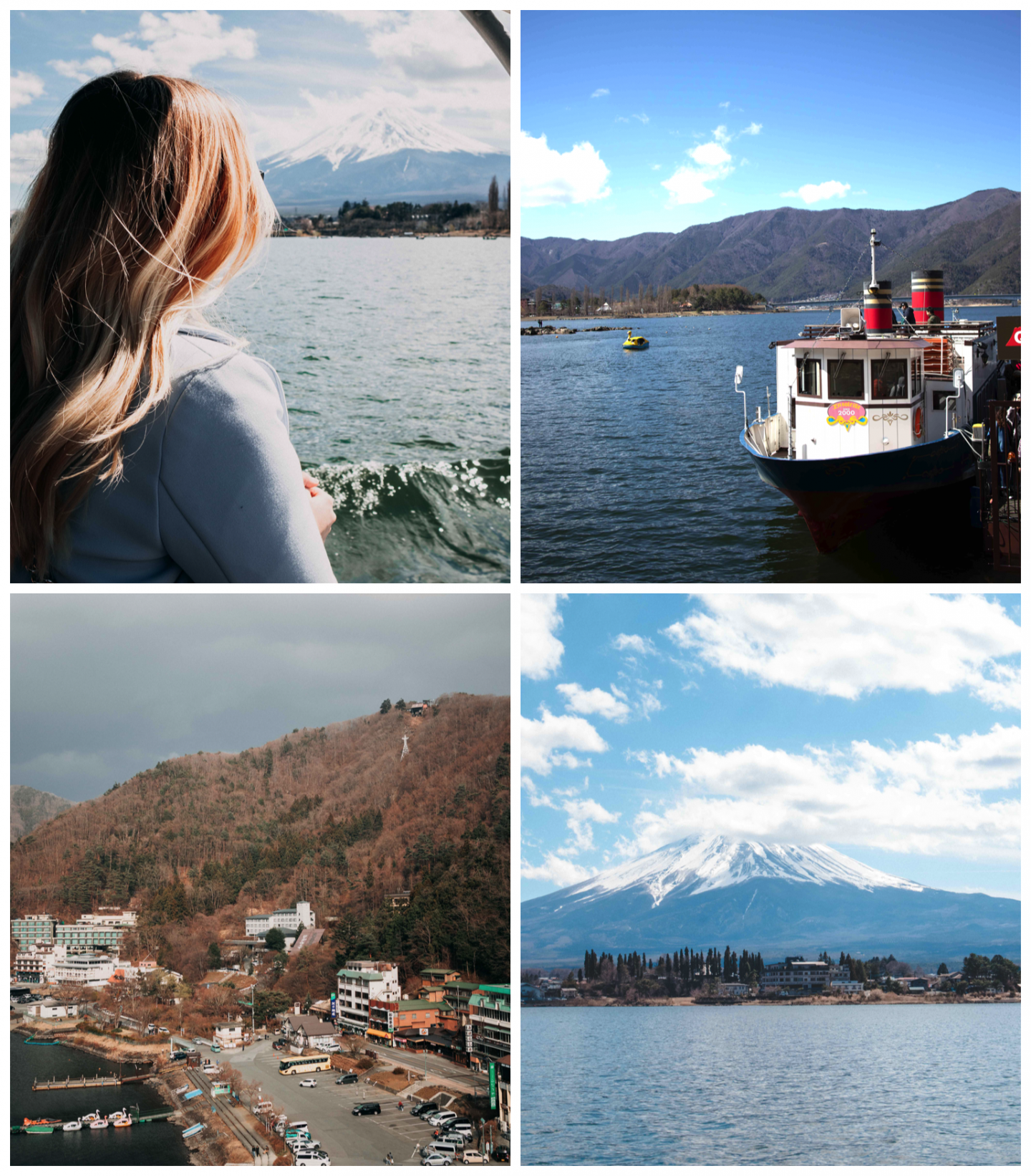 Upon arriving at Tokyo Station, we headed to the basement floor, also known as Character Street. Each of the shops is dedicated to popular characters such as Hello Kitty, Moomins or Pokemon. We spent a good hour or so just browsing and buying souvenirs before grabbing an early dinner in the food court on the first floor.
Day 4 – Tokyo
Day 4 was our first full day in Tokyo and we wanted to make the most of it. We started the day at the Tokyo Sky Tree, one of the highest skyscrapers in the world. I didn't buy tickets in advance as the weather can be pretty tricky in Japan and it's simply not worth it to go if it's raining… Which meant that we had to queue for 45 minutes but it was all worth it!
For lunch, we headed to the food court located inside the Skytree Town Mall and it was absolutely delicious!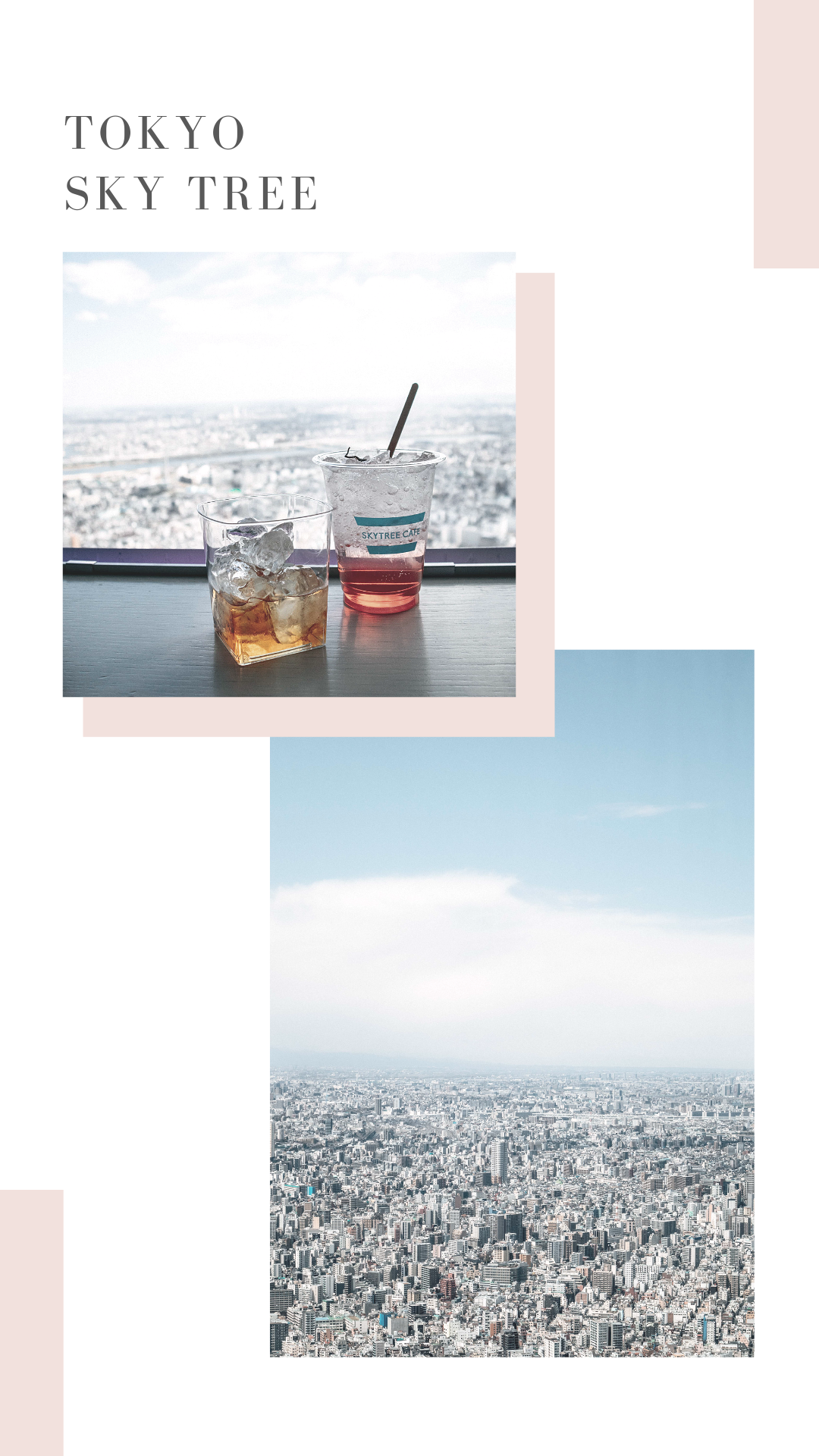 After that, we took the subway to Akihabara, also known as the Electric City. If you're a videogames enthusiast like we are, you will love this place! Dozens of shops specialize in retro gaming, computers & figurines and it was so much fun to walk around. We didn't really buy anything but it's pretty impressive to see all the technology and gadgets that they have!
We had booked tickets for the Robot Restaurant at 7PM, so we headed off to Shinjuku a bit early to get dinner beforehand. I know that it sounds silly to have dinner before heading to a restaurant but the Robot Restaurant is more of a show than a real restaurant and I was advised by many people not to eat there! That being said, the show blew us away and while it's packed with tourists, it's really fun nonetheless! It's by far the most expensive thing that we did during our stay but we really enjoyed it and had a good laugh!
Side note: we found Japan to be much more affordable than expected. Everyone kept telling us that it was expensive but really, once you're there, it's cheaper than Belgium. For example, the Robot Restaurant was the most expensive thing we did, and we paid $80 for both of us.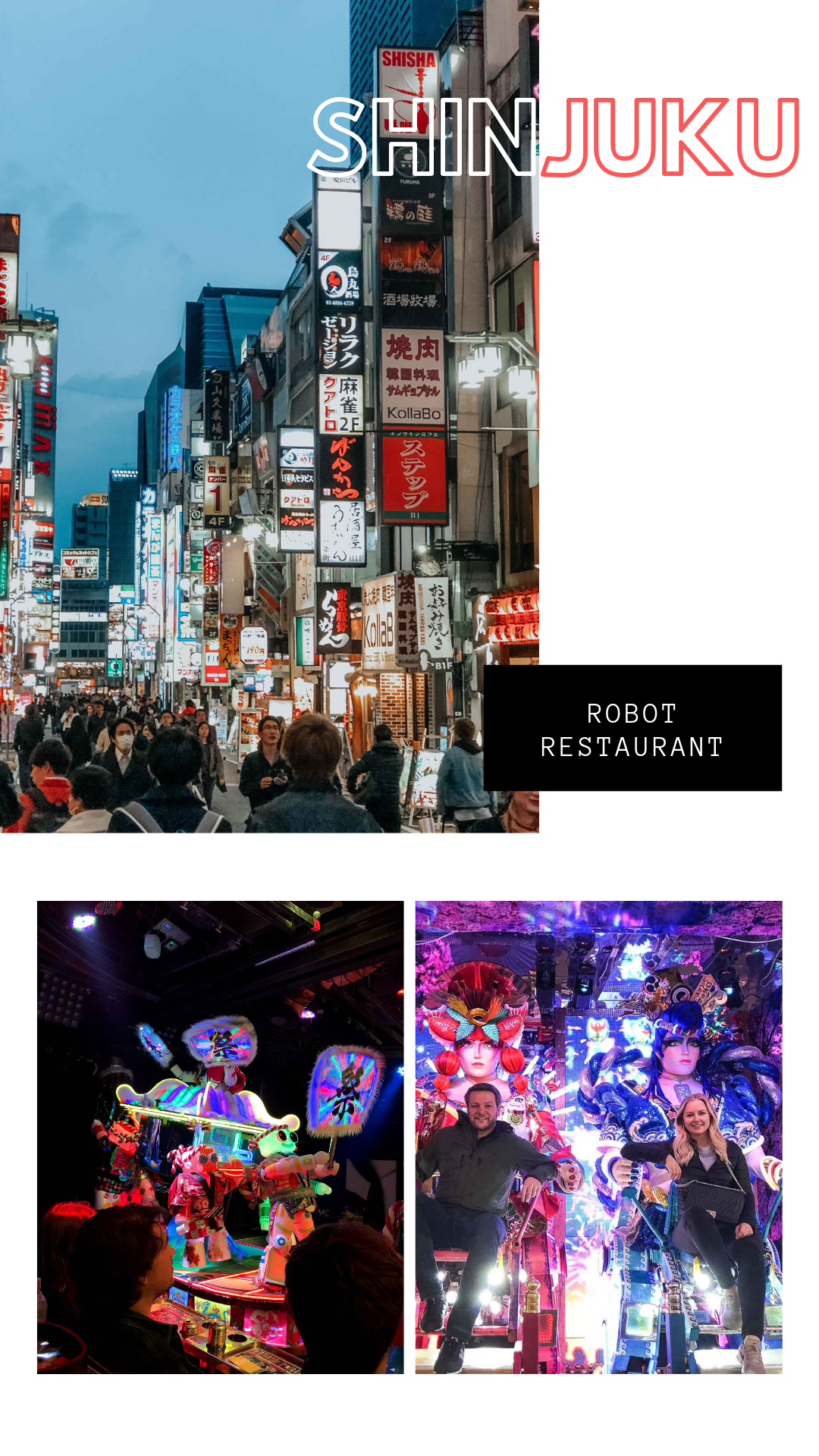 Day 5 – Travel to Kyoto
Day 5 was our first day taking the Shinkansen, the high-speed train that connects all big towns in Japan. We had a Japan Rail Pass, which means that we didn't have to worry about buying tickets. While our travel agent told us to book seats in advance and to send our luggage beforehand, we quickly realized that none of this was necessary. Indeed, while there's no space dedicated to larger suitcases on the train, each row of seats can turn to better accommodate people or luggage. I'll do a separate post all about traveling within Japan, so I'll share all of my tips & tricks with you then!
Upon arriving in Kyoto, we checked into our hotel room and went straight to sushi. We found a great conveyor belt restaurant close by and we had a nice, relaxing lunch there before going out and exploring the city.
We found so many great cherry blossoms spots around town that we spent nearly all afternoon taking pictures and just enjoying the scenery.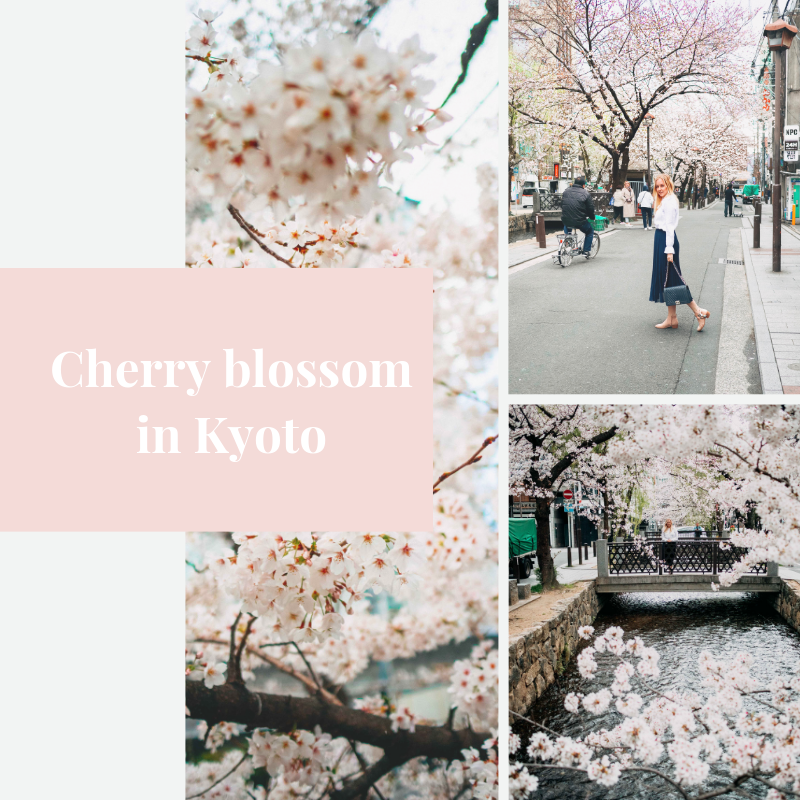 Day 6 – Kyoto
Kyoto is probably our favorite city in Japan. The town is filled with dozens and dozens of temples and shrines and while it was packed with tourists, we quickly found out that visiting the sights early in the morning was the best way to beat the crowds.
We spent the morning visiting Kiyomizu-Dera temple and its beautiful surroundings. Everything about the place felt very serene and peaceful, almost magical really. We took our time and stopped along the way to shoot photos.
We had lunch at the food market in town before doing a bit of shopping. We then headed off to Kinkaku-Ji, the Golden Temple which was truly beautiful. It was packed with tourists but really, it remained just as beautiful. We walked around the area a bit before heading to dinner and crashing into bed.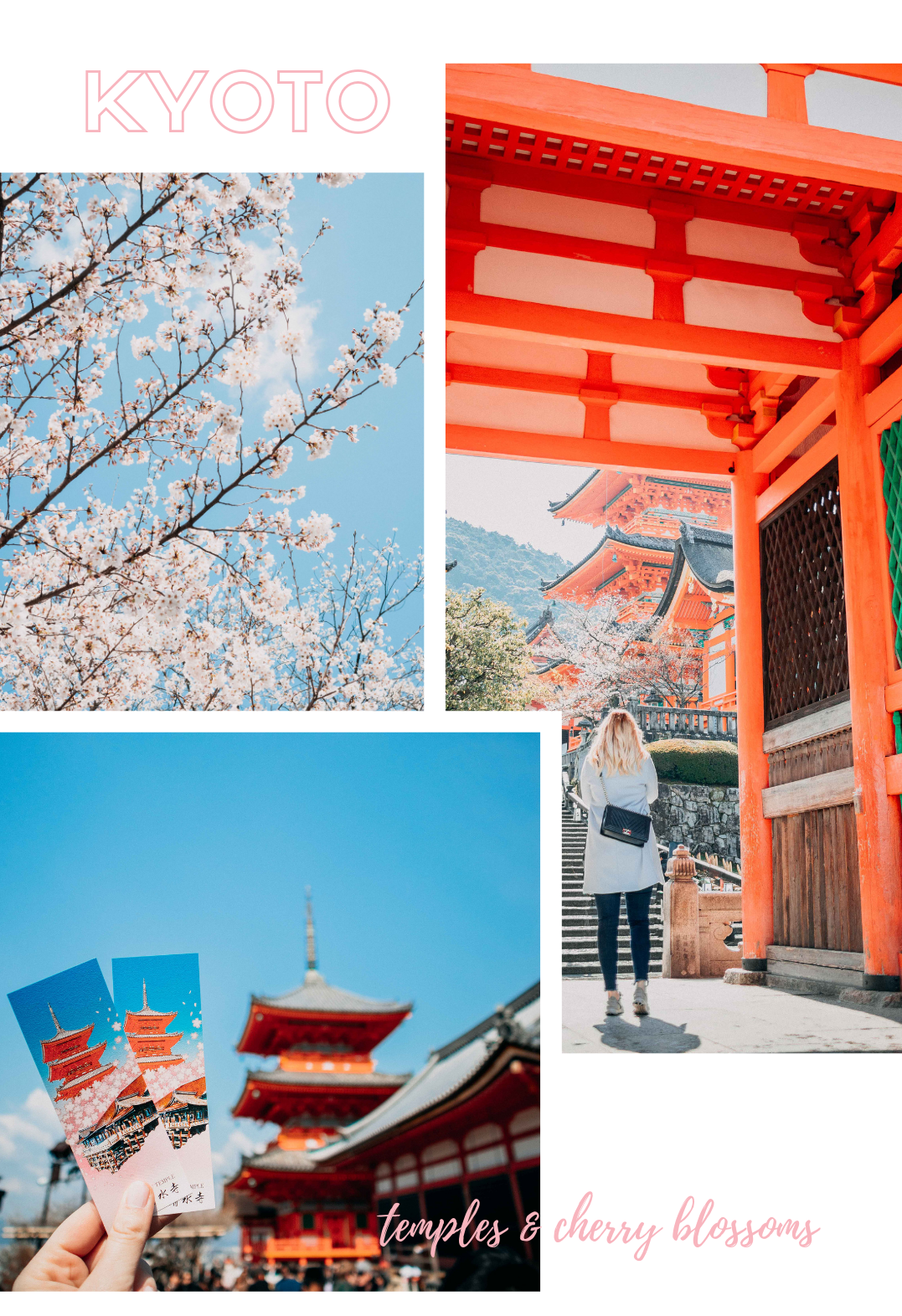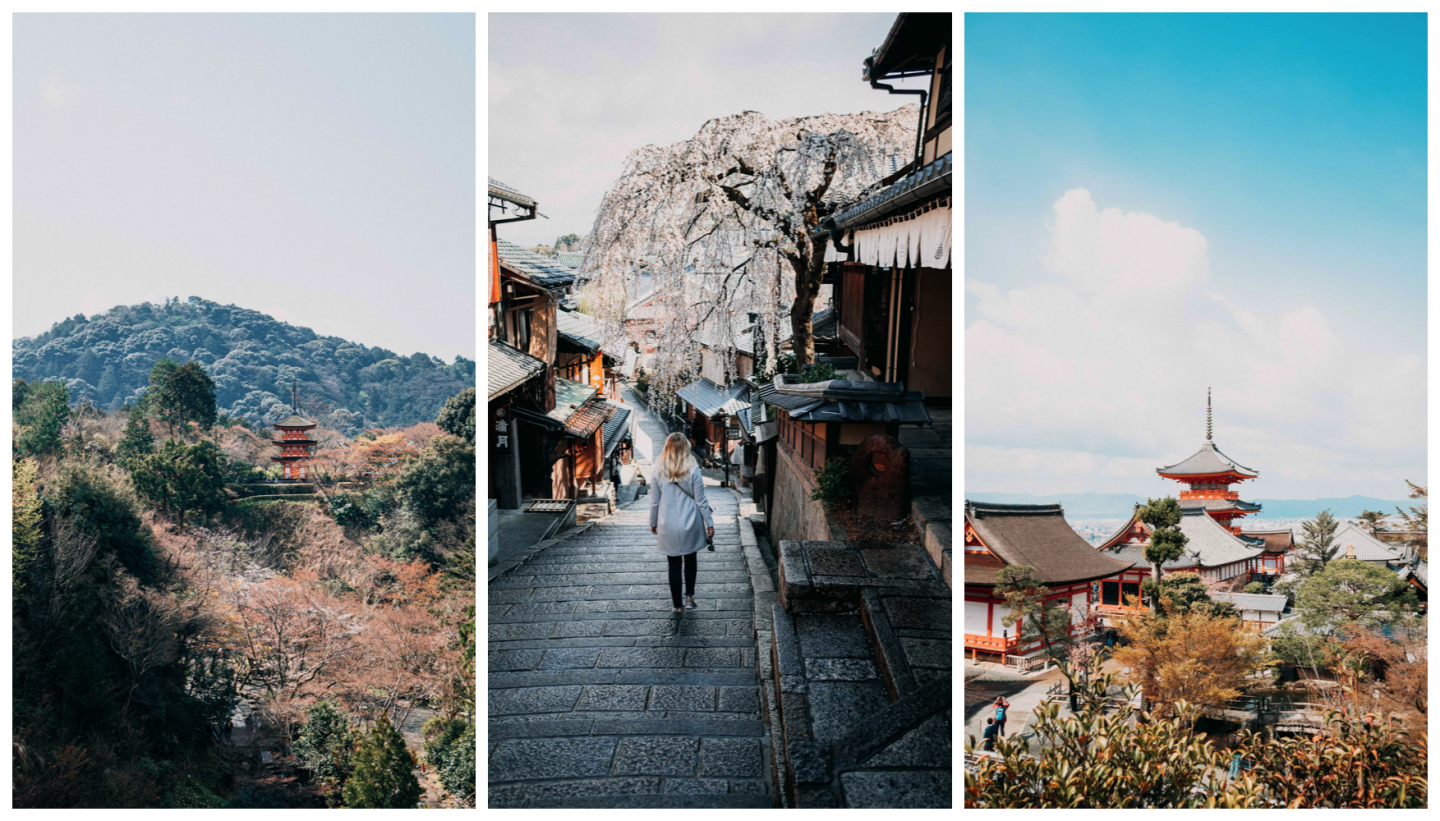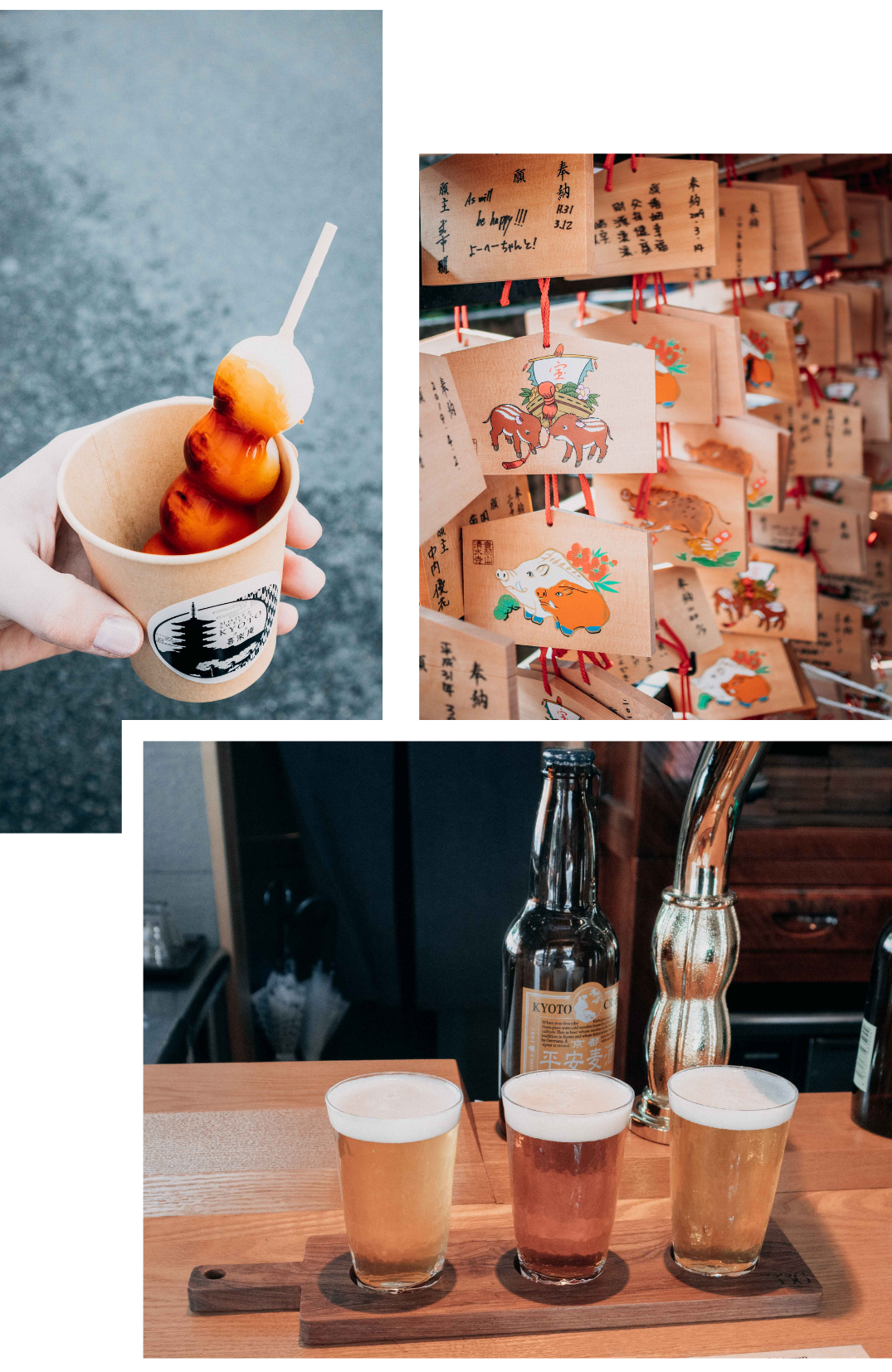 Day 7 – Bamboo Forest, Fushimi Inari Taisha & Gion
The next day was a busy one. We woke up extra early (around 5 AM) to go to the Bamboo Forest. To be honest with you, we expected something huge but it's more two alleys than a real forest. It remains beautiful and unique nonetheless but really, go there super early. We were there around 7 AM and people were already there and by the time 10 AM arrived, it was packed.
We walked around the beautiful nature that surrounds it and we stopped for coffee along the river. This place was just so beautiful that we ended up sitting on a bench and just taking it all in. After a quick breakfast on the way to the station, we took a train to go and visit Fushimi Inari, the famous mountain with rows and rows of shrines. As we expected, the place was crowded but we managed to snap some pretty photos while remaining patient. The place is truly unique and lost in a beautiful forest and we really enjoyed it. Afterward, we headed to the famous Gion district where we walked around for a bit. We finished the day with a delicious BBQ dinner before heading back to our hotel.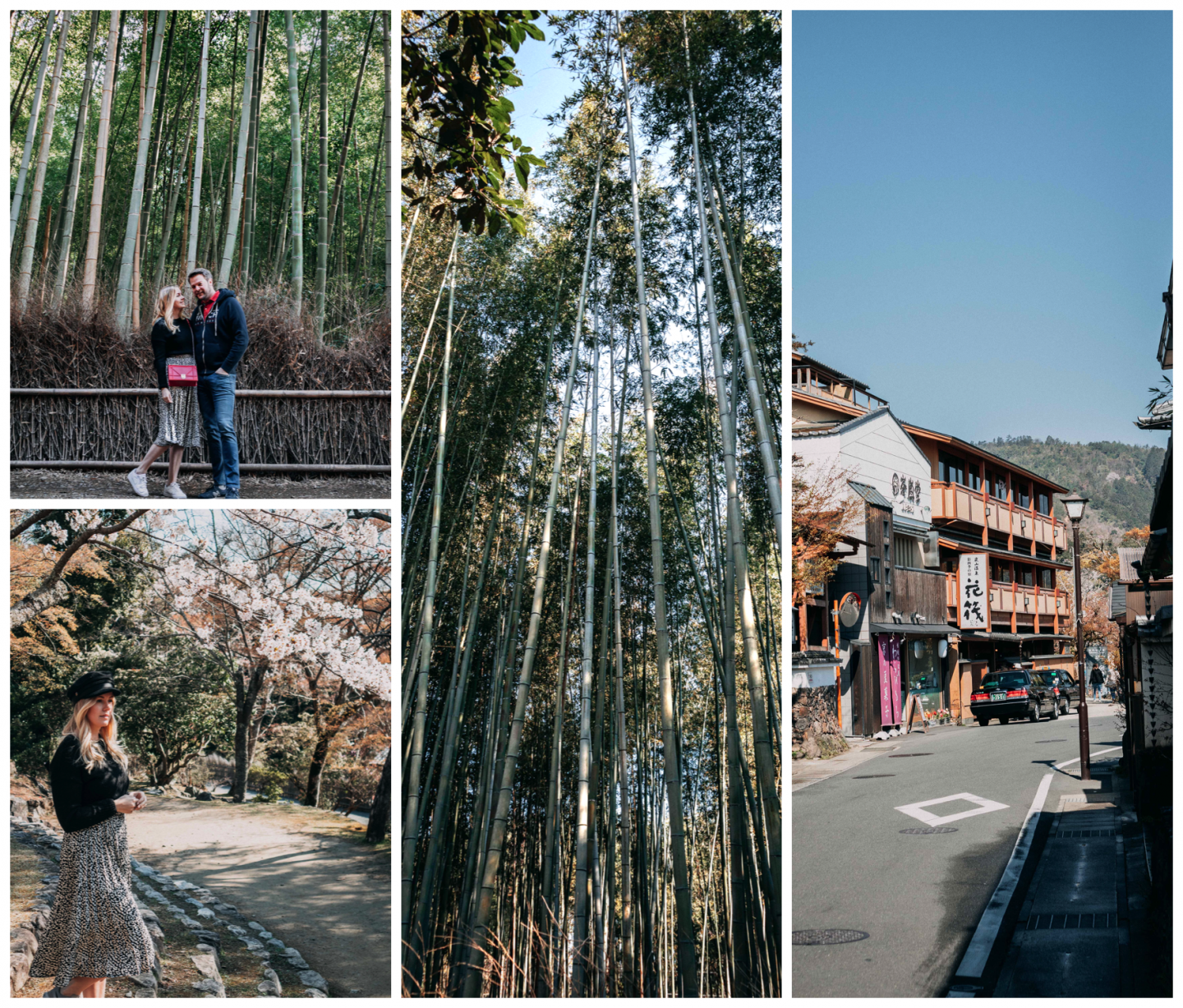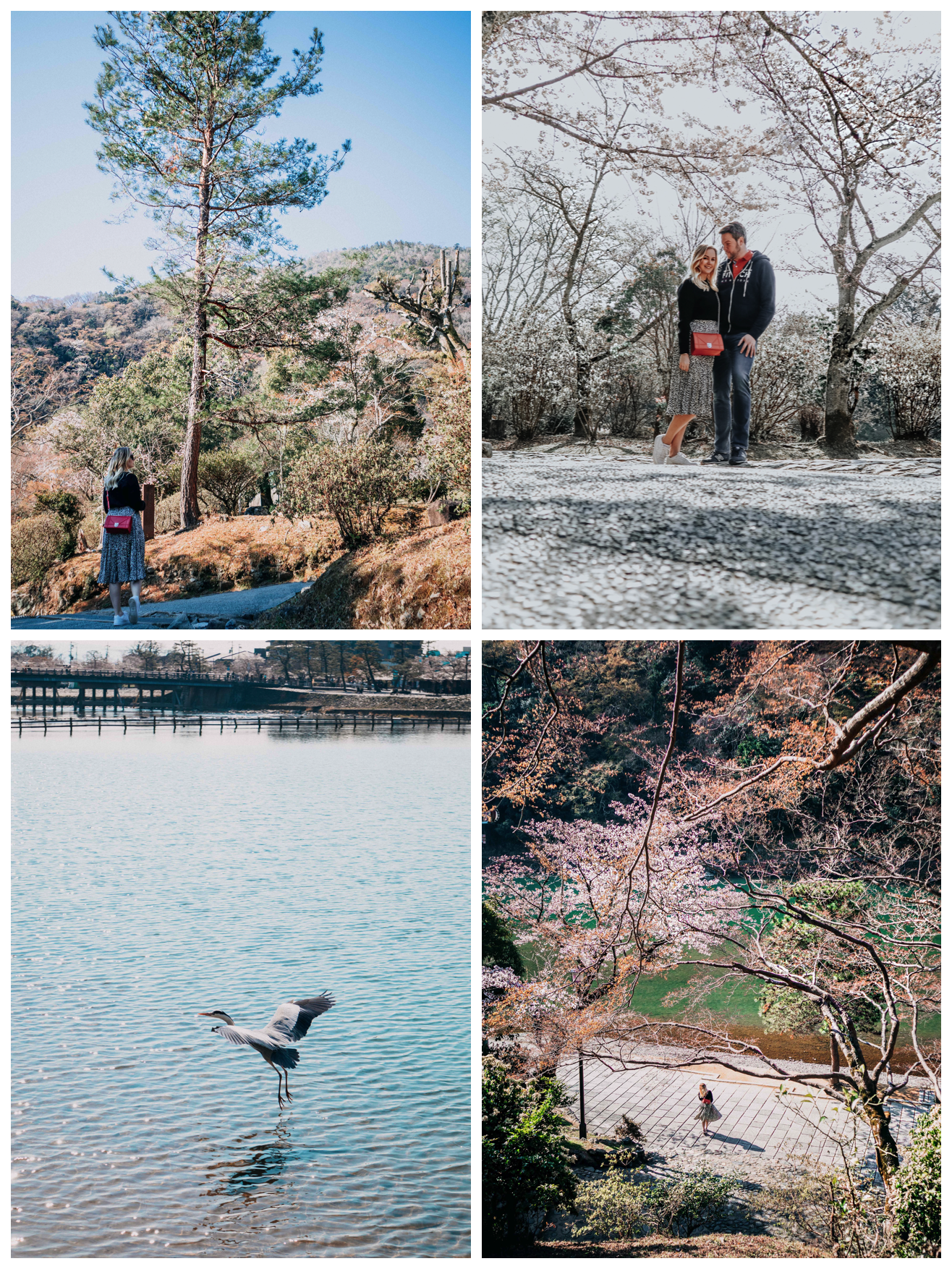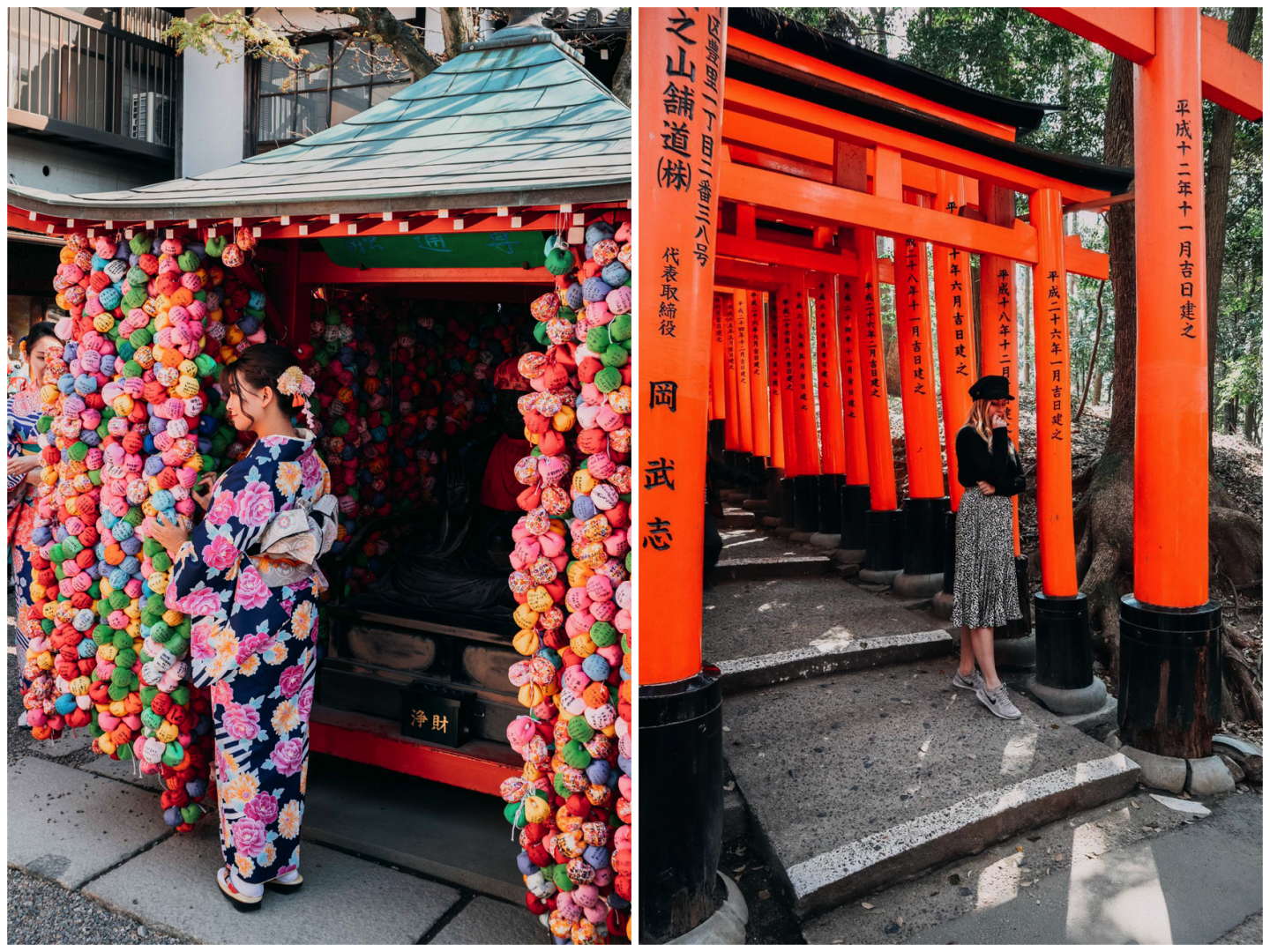 Day 8 – Himeji Castle
On day 8, we took a train to Himeji, to see the famous castle. Before even flying to Japan, I knew that I would really like this place but really, I fell in love. The castle is gorgeous but seeing it amongst the cherry blossom trees was a whole other level. I think I took about 500 shots that day just trying to capture the beauty of it all. We did go inside of it but trust me on that, it's not worth it at all. We cut the visit short and spent some more time in the surrounding park. We stopped for lunch at a tiny Kobe beef restaurant on the left side of the castle and everything we ordered was delicious yet very affordable.
We then took the train back to Kyoto where we stopped by a cat café and spent some time playing with the cats. The decor was beautiful and the experience was a bit surreal! After a while, we went to an Arcade, close to our hotel before having Yakitori next door for dinner.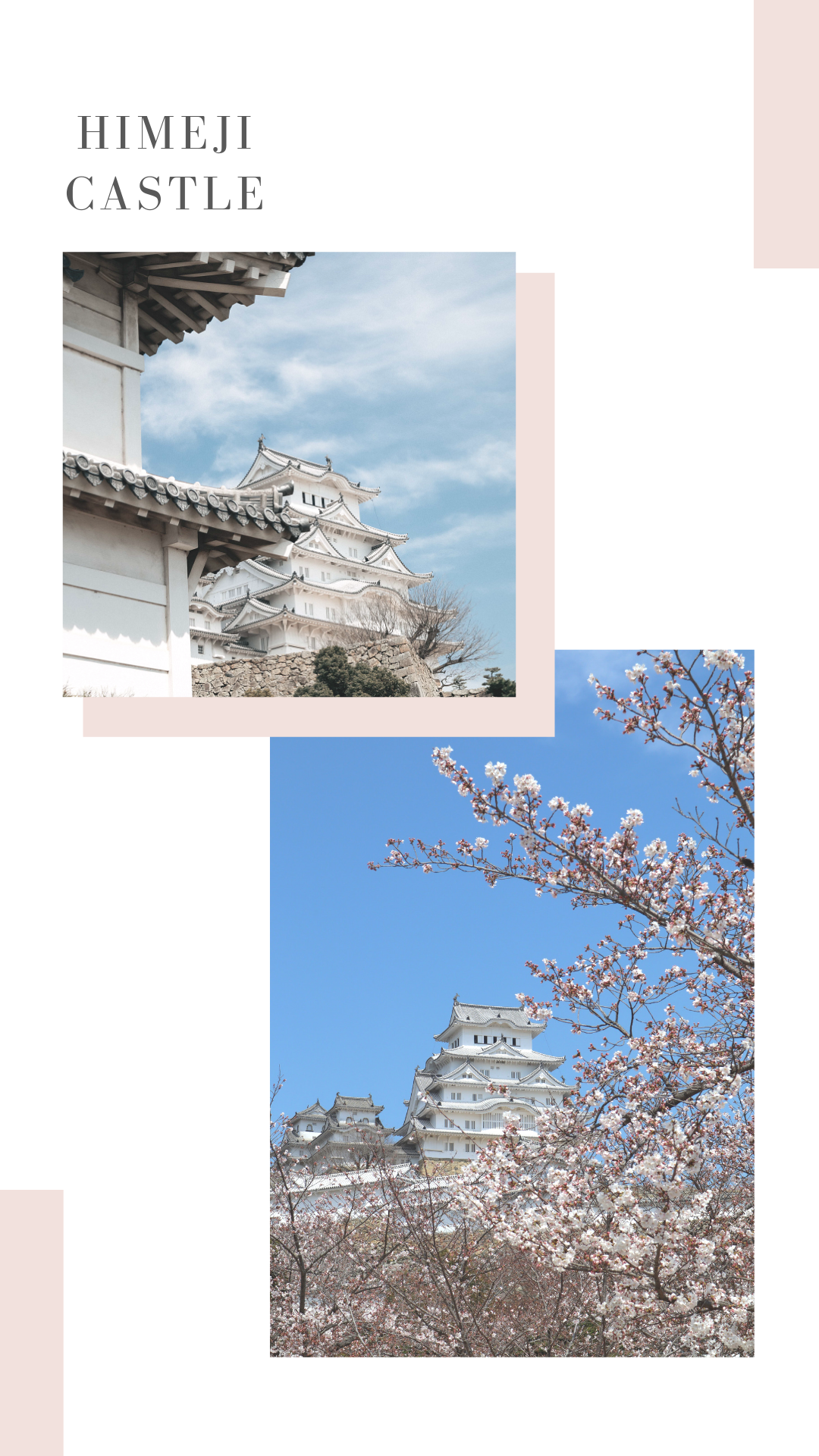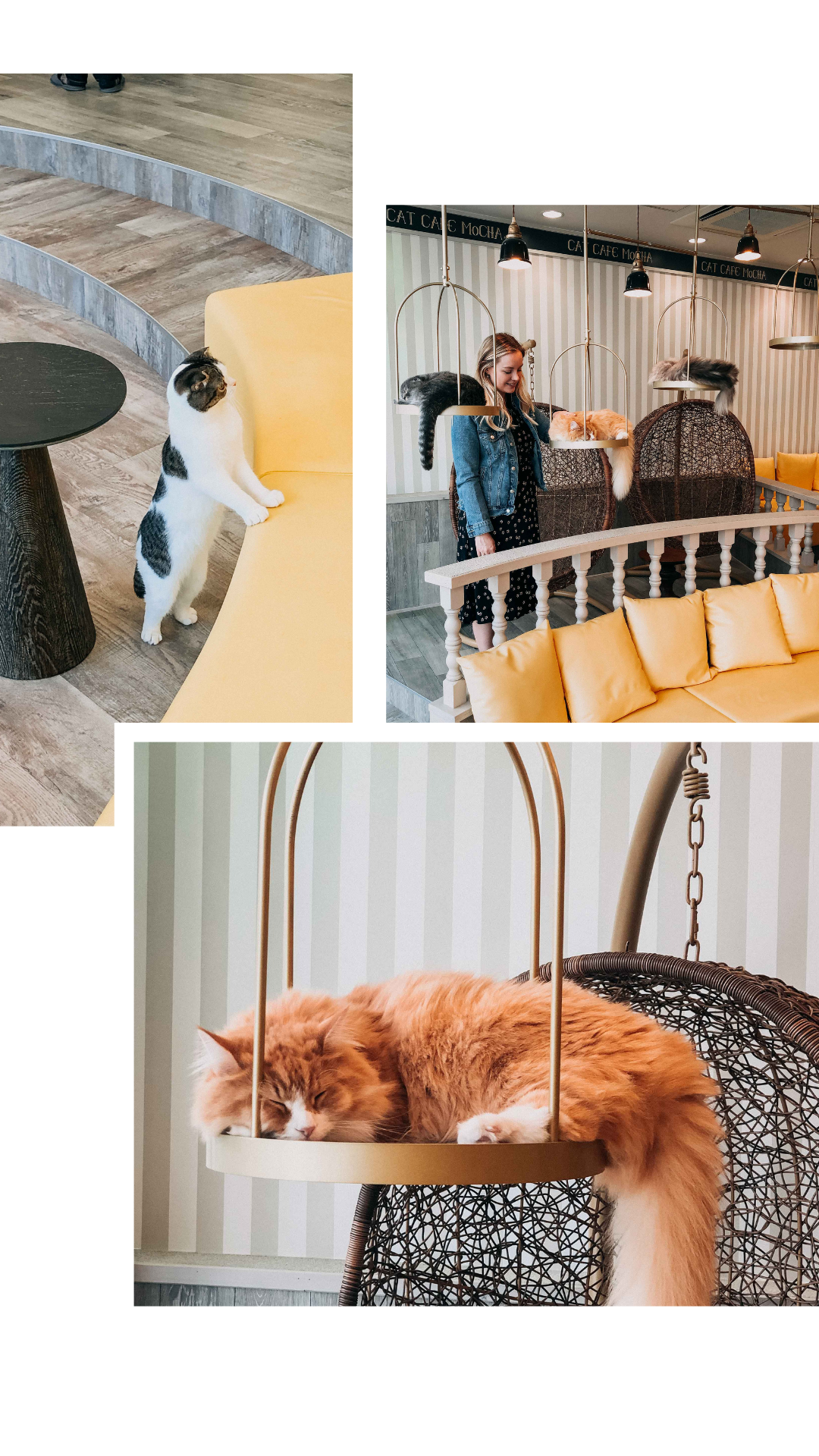 Day 9 – Nara & travel to Kanazawa
Another day, another train ride! This time, we headed to Nara, most famous for its deer park. Amongst the temples and shrines, dozens of deers are running free and love to bow to ask for treats. We had a good laugh even if some of them were really insistent! They don't bite but they do pinch you with their lips if you don't deliver treats quickly enough! We quickly got lunch before heading back to Kyoto to catch our train to Kanazawa.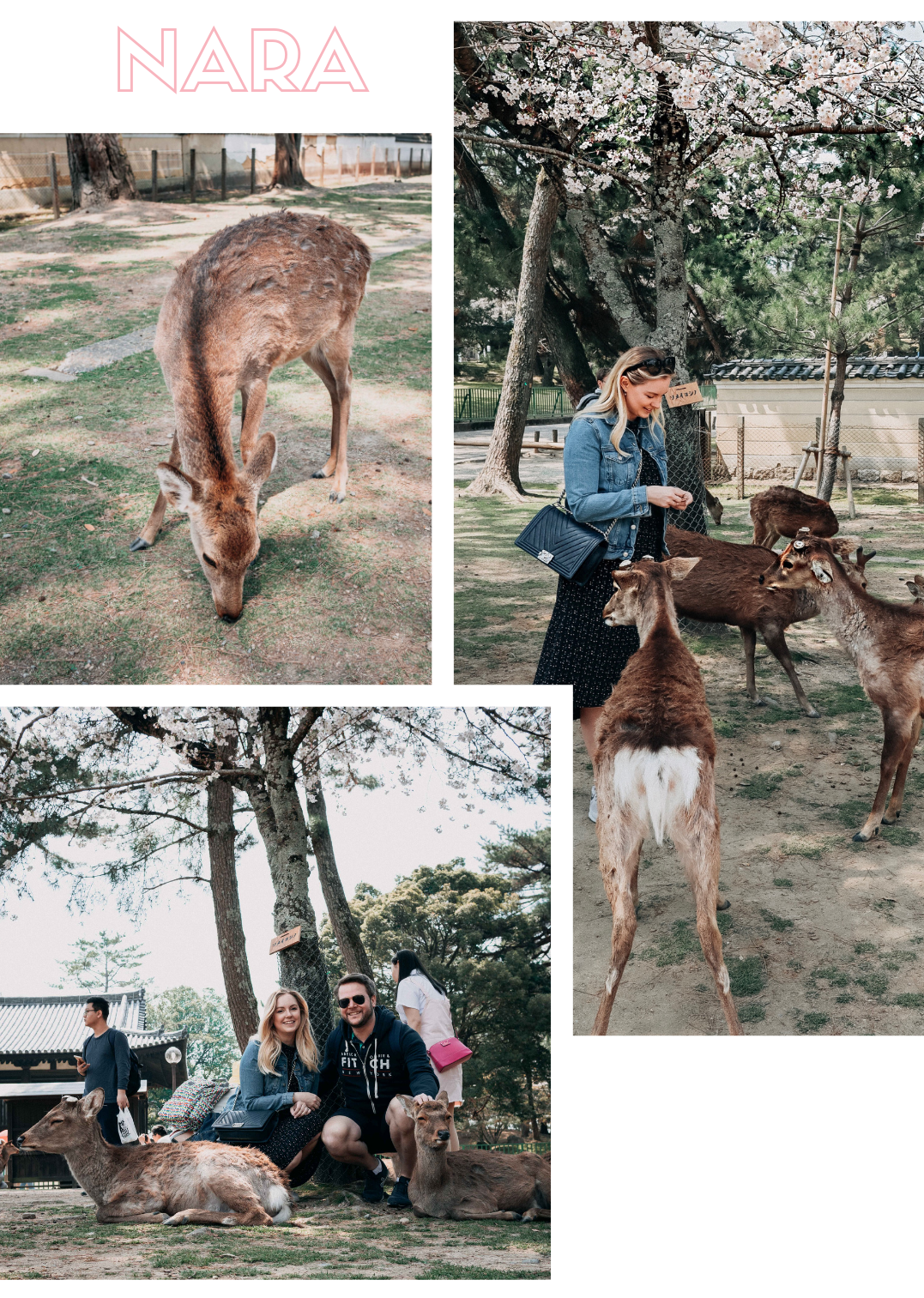 Day 10 – Kanazawa
To be honest with you, we kind of regret stopping by Kanazawa. Truly, it's the only thing that we would change about our trip. Our hotel was pretty bad -think modern 80's that has never been updated- which kind of put us on the wrong foot. We were booked to visit the Ninja Temple which we learned, upon arriving, is not an actual Ninja temple… Furthermore, the visit is only available in Japanese but they do give you a flip through folder so that you can follow along, but really, it was not worth it in my opinion.
Afterward, we went shopping & visited the Contemporary Art Museum but since it was a rainy day, we quickly got back to our hotel for a much-deserved nap!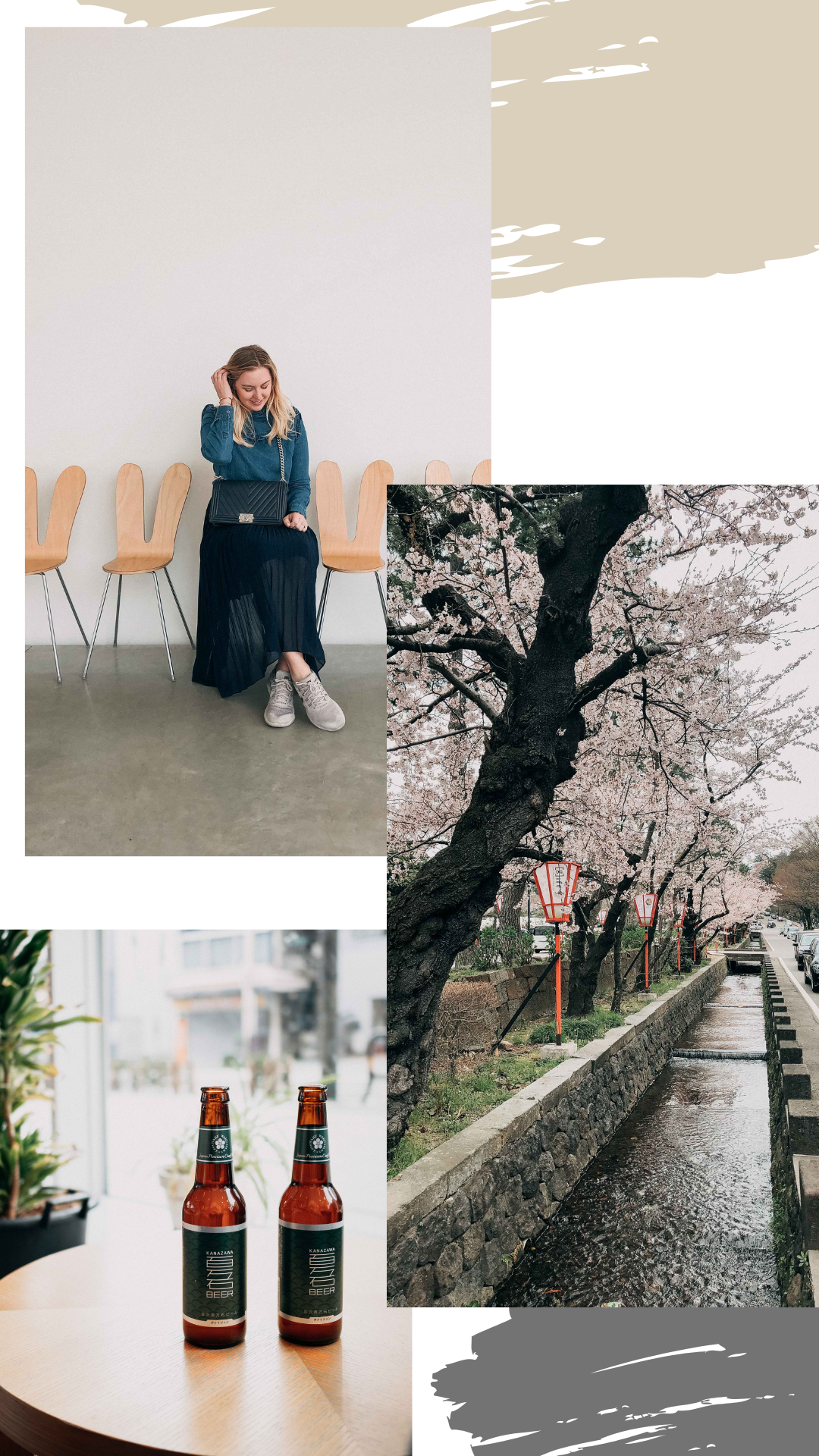 Day 11 – Travel to Tokyo, exploring Ginza & Shibuya
Since we didn't enjoy Kanazawa that much, we took the first train out to Tokyo to have an extra day in the city. We quickly stopped by our hotel to drop our bags before taking the subway to Ginza. We arrived a bit too early (nothing was opened yet) so we stopped by a Starbucks inside Ginza Six, a beautiful department store. We then went to Uniqlo to do a bit of shopping & I took advantage of their in-store embroidery service and made myself a cool custom t-shirt. I also stopped by a beautiful stationery store where I spend way too much time looking through planners, stickers & office supplies! We spent the rest of the day exploring Harajuku where we had dinner with one of Renaud's friend who was in town.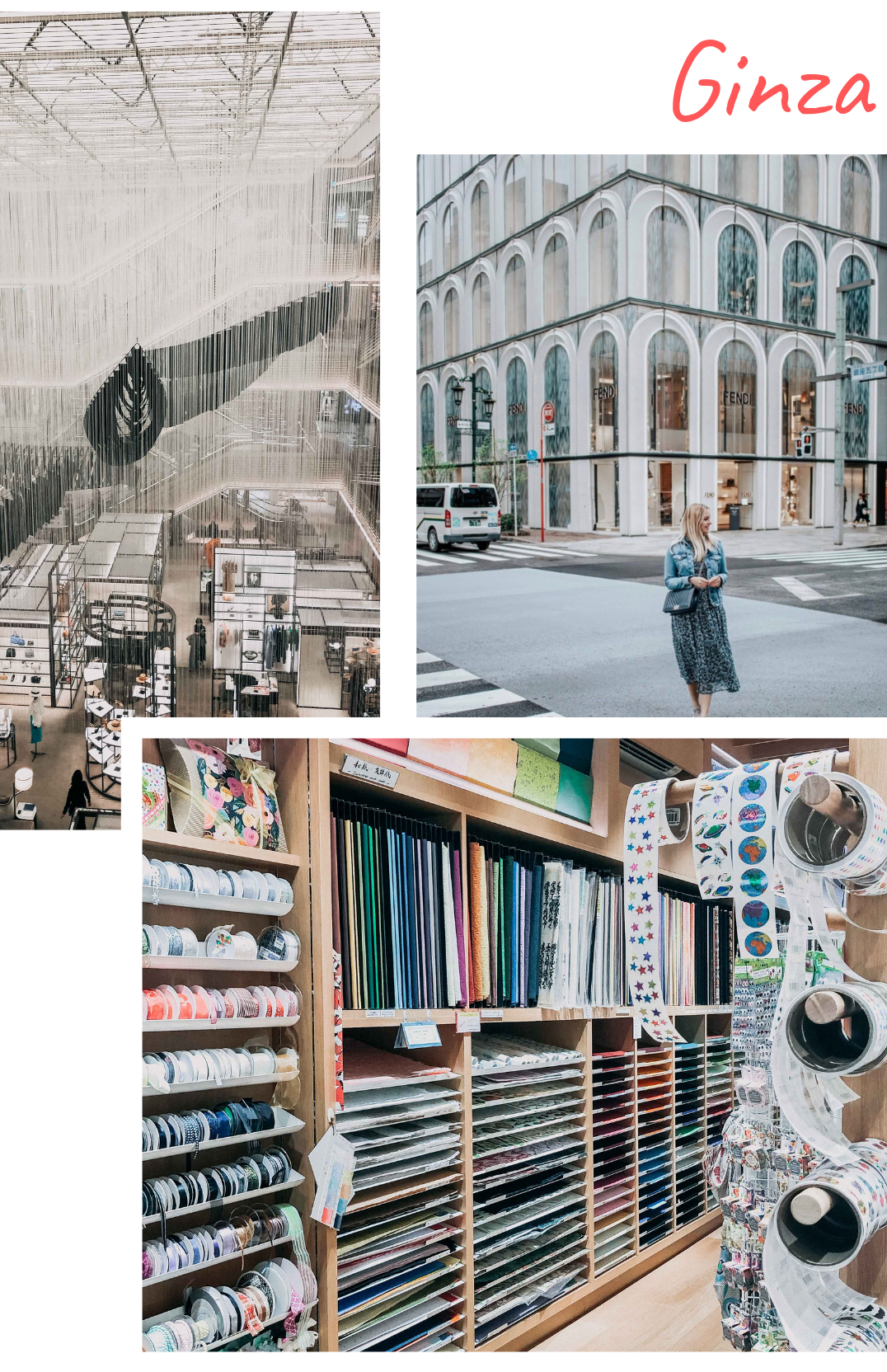 Day 12 – Exploring Tokyo
On day 12, we woke up early to go and explore more of Tokyo. We started the day at the famous Shibuya crossing where we had breakfast at the Pierre Hermé x l'Occitane café that has an incredible view over the crowds.
Afterward, we walked to Harajuku, by far the place on top of my Tokyo bucket list. We spent some time window shopping before going to Yoyogi park & the Meiji shrine. Since the weather was sunny, we walked up to the Shinjuku Gyoen Gardens where we stayed for an hour or so just admiring the nature around us.
For dinner, we went to Gonpachi, the restaurant that supposedly inspired the one in Kill Bill. Well, don't waste your time. While the decor is unique and unlike anything else we saw, the place is packed with tourists and not a single local. The food is mediocre at best and way too expensive for what it is. The service isn't great either and truly, we regretted spending an evening there!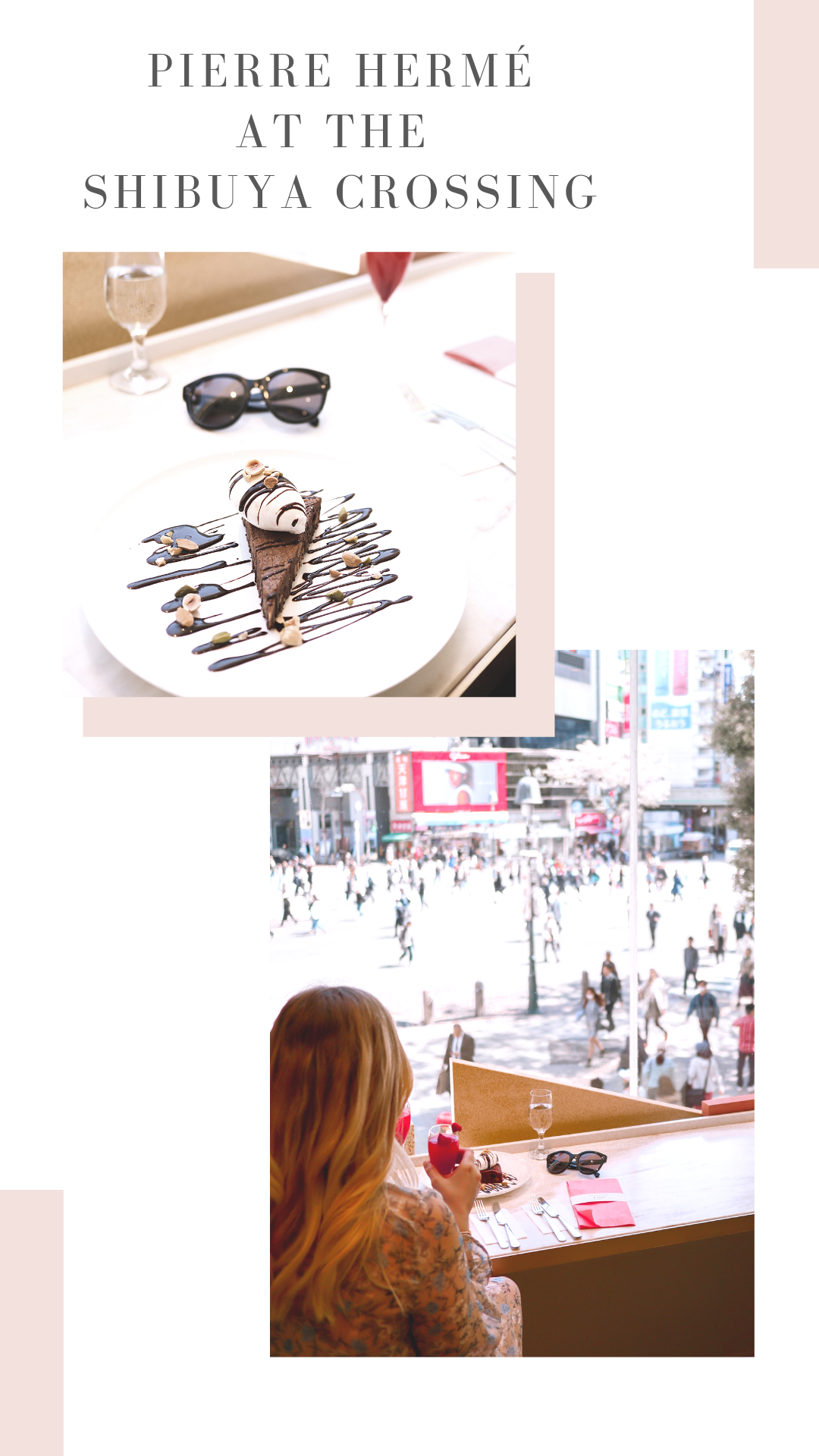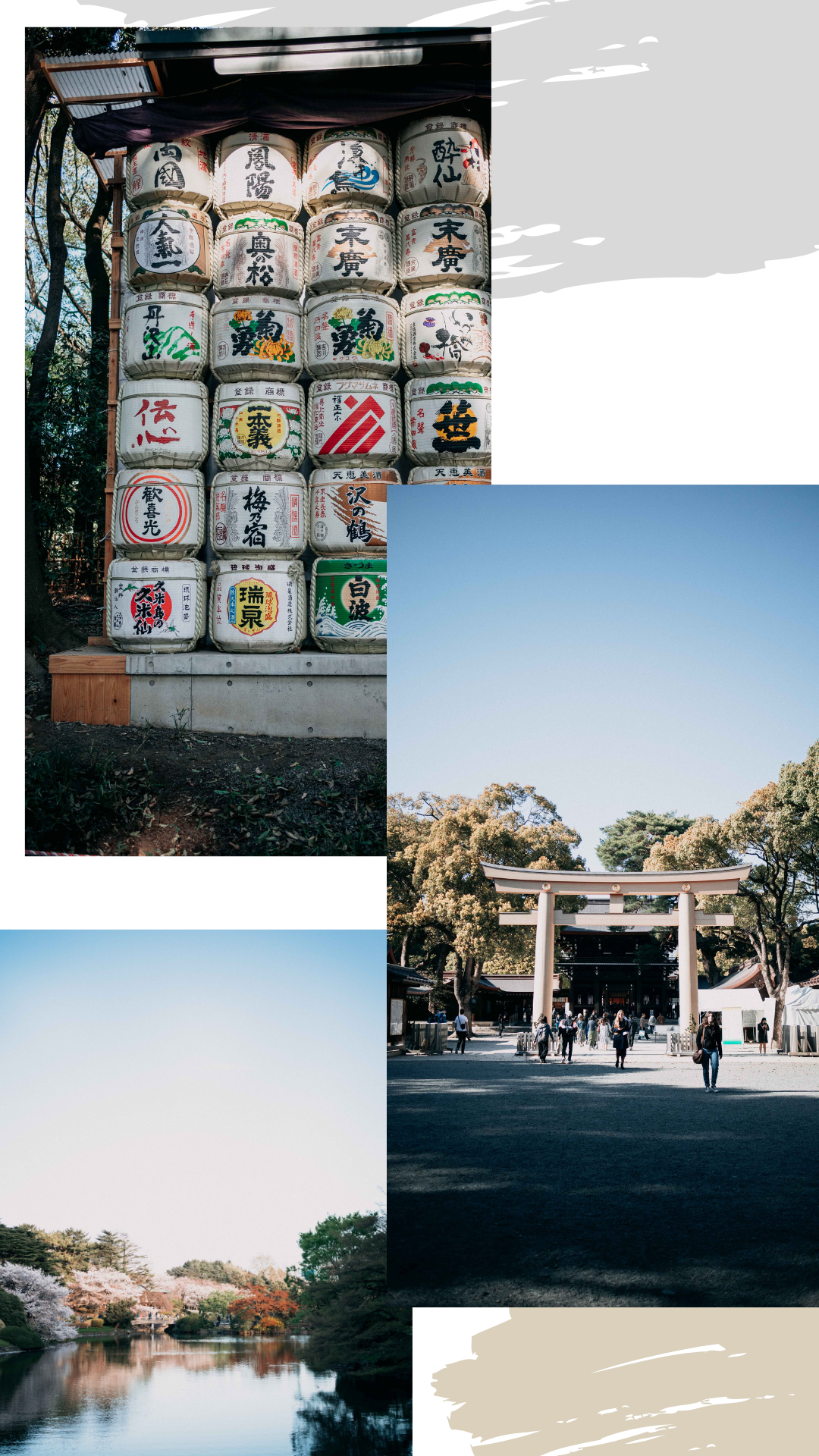 Day 13 – Cooking class in Tokyo
When researching our trip to Japan, I watched Allison Anderson's videos and read her blog. I've been following her for over 8 years but it's so cool to see her evolving and getting more and more into travels. Back in the day, she was the one that introduced me to Tripit, one of my favorite travel apps, and this time, she made me discover Tokyo Kitchen.
We booked ourselves for a cooking class with Yoshimi, a warm and friendly Japanese lady that welcomed us into her cooking studio is Asakusa. We learned all about Japanese etiquette & different flavors but we also learned to make gyoza & a yummy, rich bowl of ramen. Needless to say that this was the perfect way to forget the pouring rain outside!
We also visited the Senso Ji temple afterward but we didn't stay long as it was freezing and raining like crazy. Since the weather was so bad, we decided to go to the National Museum of Modern Art, a bit further south in the city. This visit was fun and really insightful into what Modern Art looked like in Japan. Of course, they also have art by famous Western artists but it was the Japanese side of things that interested me the most.
Afterward, we headed back to our hotel to pack as we were leaving the next day, but we went to the famous Park Hyatt bar for drinks in the evening. If you've watched Lost in Translation, you certainly remember this bar where Scarlet Johansson & Bill Murray meet. Sadly for us, the weather was so bad that we had no view whatsoever but the live jazz concert and original cocktails were enough to keep us entertained for a few hours.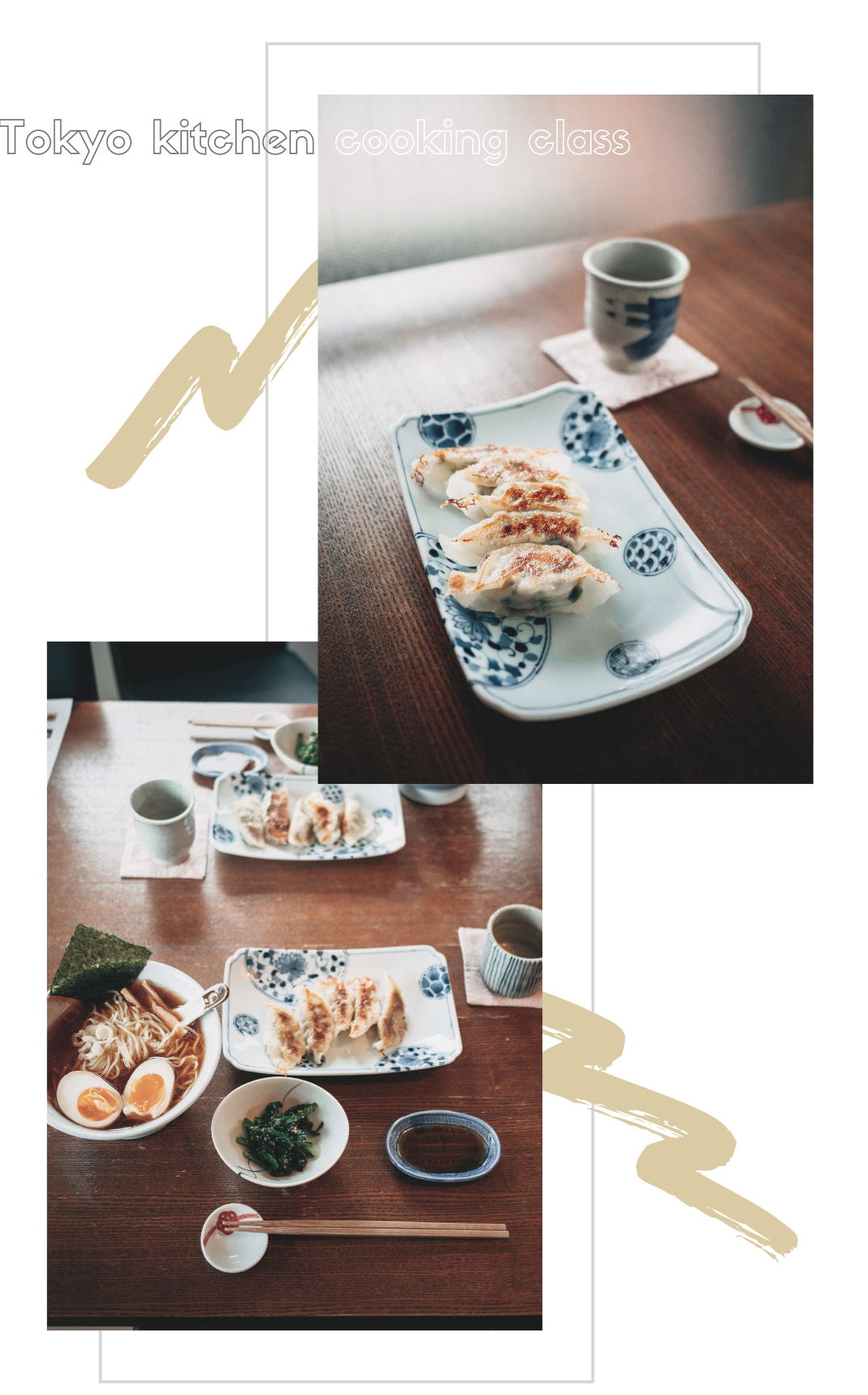 Day 14 – Our last day in Tokyo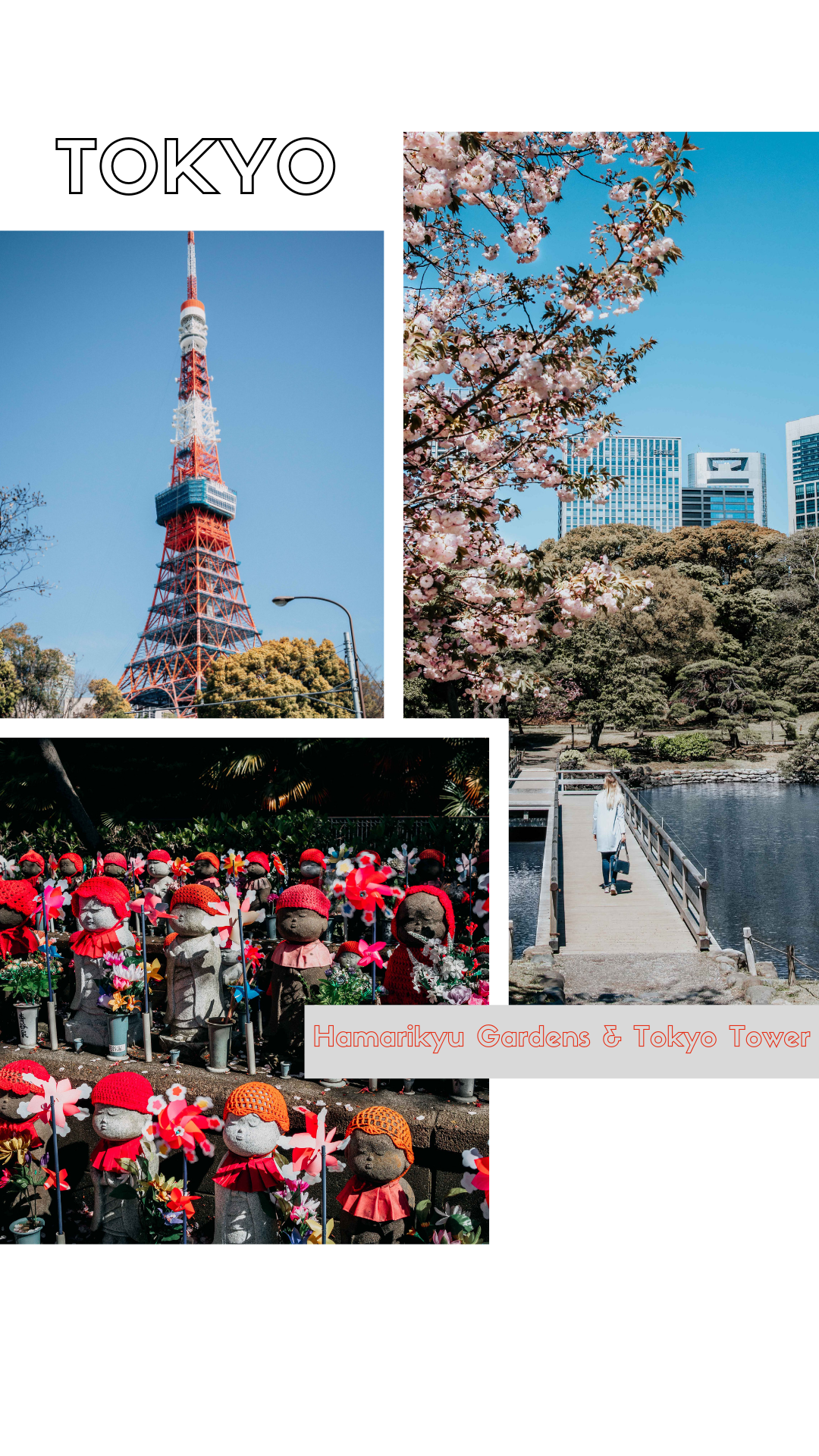 For our last day in Tokyo, we wanted to make sure to see everything that was on our bucket list. We started the day by walking to the famous Tokyo Tower. We didn't want to go inside as we already been to the Sky Tree but we really wanted to see it up close. We then caught a subway to go to Hamarikyu Gardens, located by the water. The weather was perfect and we really enjoyed getting lost amongst nature. Afterward, we headed to the famous Tsukiji market but we were a bit disappointed as we didn't find it as good as the food market in Kyoto. We finally decided to go back to the Sky Tree food court as we really enjoyed it the first time before heading to Shibuya one last time.
At the end of the day, we caught our train to the airport where our travel agent had booked us a room in an airport hotel. To be honest with you, we would have rather spent our last night in Tokyo, even if it meant getting up at 5 AM to catch our plane… Well, lesson learned for next time!
---
So what do you think? Is Japan on your bucket list? If so, what are you looking forward to the most?
I'll be back very soon with city guides on Tokyo & Kyoto so keep an eye out for that!